The Details
Startups, meet the best tech talent in Columbus.

As part of the State of the Columbus Startup Community, virtually hosted on October 12th, this startup & tech virtual career fair will help top startups in the region connect with the best talent in Columbus. At the career fair you'll be able to:
Post open jobs
Chat live with candidates
Promote open roles
and more
If you're looking for talent to join your startup or tech company that is based or hiring in Columbus, sign up!
Looking to join as a candidate? RSVP here as a jobseeker. And don't miss out on the virtual discussions at the State of the Columbus Startup Community. View the agenda here.
How the Virtual Career Fair Works
The virtual career fair is hosted on the Purpose Jobs app. During the career fair (4-5 PM on October 12th), candidates will browse and apply for tech jobs.
There will also be the chance for candidates to chat live with companies — that's where you come in. You'll be hanging out on the video conference link you'll provide for your team. Candidates will enter your virtual booth to ask questions and get to know you. You can control how to conduct your virtual booths — schedule individual meetings, run an open house, use breakout rooms, etc.
To Join the Career Fair
RSVP to get yourself registered (see options below). This is when you'll submit your video conferencing link.
Create a free employer account. If you already have an account, log in here.
Once your account is up and running, post your open jobs.
Don't forget to complete your company profile. Show off your humans, and help candidates get to know you.
On the day of the career fair, make sure your team is on your video conferencing link, ready to chat with candidates.
Pricing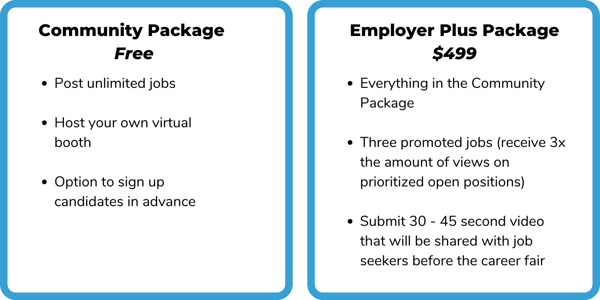 *for current Purpose Jobs employers, please select the free option during checkout.
FAQ
What kinds of candidates can I expect to show up to a Purpose Jobs career fair?
Our community is made up of about 50% technical and 50% non-technical candidates. Our jobseekers usually have at least 3-5 years of experience under their belt, and are looking for jobs that will help them grow professionally and personally.


What types of jobs are good to post at a Purpose Jobs career fair?
Our candidates are experts in technical and non-technical roles: software engineering, product development, marketing, sales, customer success, and more. Jobs like brokerage, insurance, and manufacturing are not the right fit for our community.


How do I get a virtual booth at the career fair?
When you register, you'll be able to submit your own video conferencing link (Zoom preferred). Please be sure to add this link to your calendar for October 12th, 4 - 5 PM (EST).


How do I schedule individual meetings with jobseekers at the career fair?
If you would like to meet individually with jobseekers and schedule those conversations in advance, please send us a scheduling link by October 1st. We'll be sending these links to registrants so they can sign up for time slots in advance. This is optional, and if you do not want to schedule time in advance and have your room be open to jobseekers the whole time, that's totally fine!


How do I submit my promotional video?
If you choose to go with the Employer Plus Package, submitting your promotional video is super easy. Just submit your clip here or below via VideoAsk. You can upload a pre-recorded video or shoot one live using your webcam or mobile device. It doesn't take long, and this sends the video directly to our team. We'll send it out to candidates and post in on LinkedIn. If you need help, feel free to reach out to our Relationship Manager, Jonathan.
If I want to attend the virtual panels before the career fair, how do I RSVP?
No need to double RSVP! If you sign up here, we'll make sure you have access to the virtual panels that start at 2 PM.