Join us for a virtual "Ask Me Anything" session with top tech recruiter Jamie Koblinski. Come with all your job hunting questions.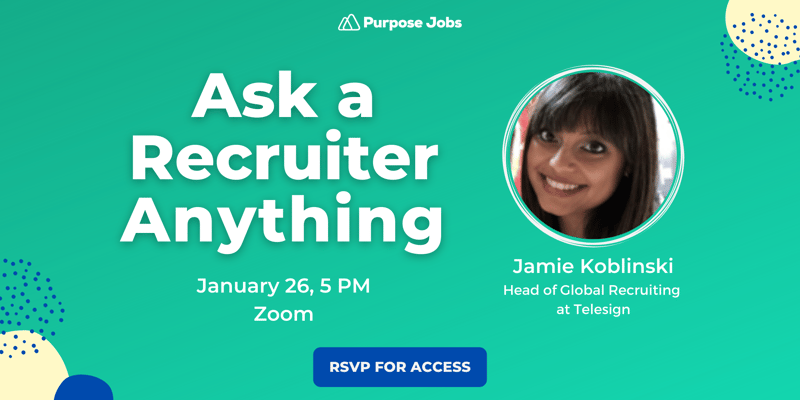 Get hired in 2021.
Applying for tech jobs is never fun and sometimes you feel like you're just lost in a huge crowd. How do you stand out as a candidate? What are the best practices when writing a resume? What are recruiters really looking for in candidates? How do I prep for a virtual interview?
Recruiting pro Jamie Koblinski is here to answer your questions. Any and all of them.
Join this virtual AMA session with Jamie to have all of your tech job hunting questions answered and get hired this year.


Meet the Recruiter:
Jamie Koblinski, Manager, Global Talent Acquisition at TeleSign
Hi! I'm Jamie Koblinski. I've been in the recruiting space for the past 10 years. I've worked for a wide range of companies - from tech startups to large, public corporations. I'm currently the Head of Global Recruiting at Telesign and I'm responsible for overseeing recruiting efforts in the US, Europe and Asia Pacific regions. Throughout my career, I've successfully coached many people on resume writing and conducted interview prep sessions for established career seekers. My specialty has been in the tech space—I've hired all levels of candidates from interns up to C-level executives in Engineering, Product Development, Marketing and Sales.


Join us on January 26th from 5 to 6 PM (ET) on Zoom to ask questions & get job hunting advice from Jamie. RSVP for access.