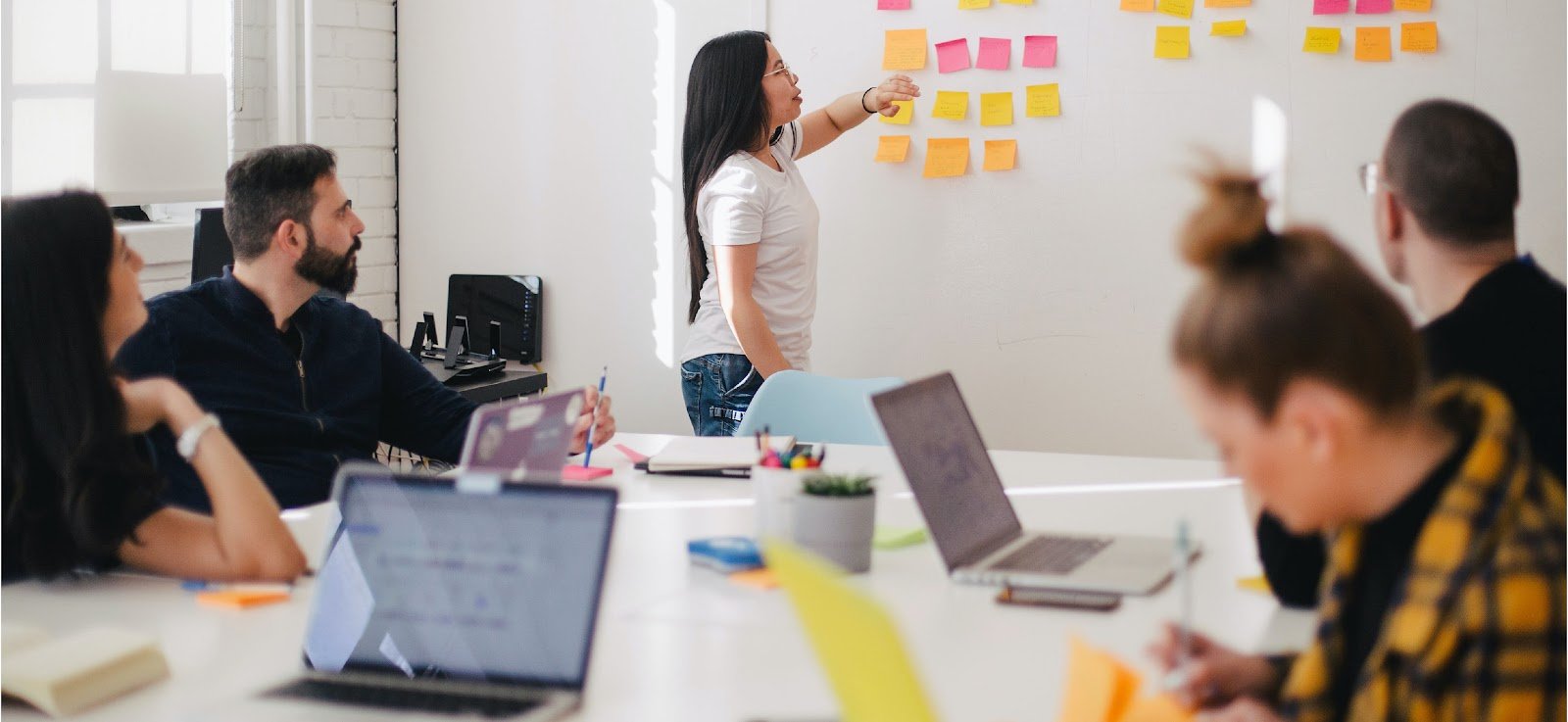 With your hiring plan, employer brand, and job descriptions in order, you're ready to begin sourcing talent. Research has shown that in previous years, the majority of people who took new jobs weren't searching for one.
So how do you reach people who may not be looking for opportunities?
In short — put yourself out there. Here are some ideas:


Tips for Outbound Hiring and Finding Diverse Talent
1. Join a role-specific community
Numerous groups are popping up on Slack and Facebook. For instance, organizations like Superpath (for content marketers) and TechLadies (for women technologists) offer job boards and educational programs for your company to make a presence, create an impact, and recruit talent from all walks of life.


2. Host an event
Invite people to learn more about your company. An event will be especially appealing for recent graduates who may be looking to take their first career steps. Whether online or in person, an event will bring awesome people together and get the word out about career opportunities. You can also work with university diversity groups to ensure that you're reaching a broad spectrum of people.


3. Open up referral networks
Mention to your employees that you're hiring, and ask them to spread the word. As the saying goes, good people know good people. You could even create a referral program and pay a bonus for successful placements. Create an incentive for employees to build out your larger team.


4. Join social media groups and chats
On LinkedIn and Facebook, you'll find a range of groups that reach audiences of different skill sets and interests. Take a look at some of the discussions taking place. Who's posting interesting content? Who's passionate about their work? Listening is the first step to establishing a connection.


5. Reach out to people 1:1
If you don't reach out and ask, you never know. While browsing social media, you may come across someone who seems perfect for a role. It doesn't hurt to gauge interest. People may be open to exploring new opportunities, even when they aren't actively listening.


6. Work with a recruiting firm
One way to extend your network is to work with a recruiting firm. Companies like Swing Talent in the San Francisco Bay Area have close relationships with venture capital firms and fast-growing companies. With a talent-focused approach, the company has also built a network of high performers who keep Swing in the loop when they're looking for a new gig.


7. Participate in a virtual career fair
You can host your own, team up with fellow companies to launch one, or tap into career fairs that university career centers are already hosting.
Shameless plug: We host virtual career fairs throughout the year! Check out our upcoming events.


8. Join a career matchmaking community
Platforms like Purpose are focused on the art of building connections between employers and job seekers. A community experience makes the job seeking process more human, conversational, and enjoyable.
In addition to sourcing traditional candidates who may come from a technology or university background, it is important to keep an open mind to career changers. Around the world, the pace of innovation is happening faster than technology can keep up. As this process accelerates, especially due to COVID-19, a new generation of career changers is rising. These individuals are leaving established career paths to pursue a career in tech. So how do you find them?
One suggestion is to build partnerships with coding bootcamps and alternative education programs. Many of these organizations help their students achieve upwards economic mobility and partner with companies on hiring and recruiting.
Examples of these programs include:
Lambda School for data science hires

HackReactor for developers and programmers

General Assembly for UX, product, and marketing professionals

Tech Elevator

Kenzie Academy

Grand Circus
A simple Google search will help you see the wide variety of alternative education programs available.
The key is to seek out programs that equip students with the skills that your organization needs. As a hiring partner, you may even offer to help inform the curriculum, as these organizations are continuously looking for ways to improve student outcomes and learning experiences.
Partnering with coding schools is also a way to source more diverse talent. Systemically, access to opportunity (like education) is not allocated equally across race, gender, socioeconomic status, etc. It's important to dismantle those inequities that candidates face before they even get to your doorstep. By partnering with organizations, like coding bootcamps, that make opportunity more accessible, you can open opportunity to more diverse candidates.
Beyond hiring full-time employees, it's valuable to build a network of consultants and freelancers who work on a part-time basis, as well. Freelancers are self-employed professionals who often have in-depth experience around a distinct skill (such as writing or graphic design).
As a startup with (potentially) uncertain future plans and/or stability, you may not be ready to commit to a full-time hire. By working with freelancers, in addition to your full-time talent base, you can bring more diverse perspectives from subject matter experts into your organization.
The key to finding the right person is to be open. For instance, some people choose to become freelancers because they value the flexibility and opportunity to work for themselves. Their skills are high in demand, so it doesn't make sense to be a full-time employee.
If the perfect hire for a role is a freelancer, you may want to consider this option. Platforms like Advisable, MarketerHire, and We Work Remotely can help you discover amazing people.
Even if you're having trouble finding the right candidate, don't take shortcuts. It's well worth it to wait, as each person has the potential to bring new value to your organization.


Interviewing Diverse Candidates
The goal of an interview is to build a rapport and connection. Empathy is crucial for this process—people have an innate desire to feel welcome and valued in their work environments.
As an interviewer, your job isn't to interrogate or quiz people. Instead, look at your role as a discussion facilitator. Your goal is to inspire candidates to open up, share insights, and share insight into their thought processes. After all, neurodiversity has been shown to be a competitive advantage for businesses.
"The tech industry has a history of hiring oddballs," explains Robert D. Austin and Gary P. Pisano (both business school professors) for Harvard Business Review. "The talented nerd who lacks social graces has become a cultural icon, as much a part of the industry mythos as the company that starts in a garage."
"This suggests that companies must embrace an alternative philosophy, one that calls on managers to do the hard work of fitting irregular puzzle pieces together—to treat people not as containers of fungible human resources but as unique individual assets."
How to Structure Conversational Interviews
Here are a few interview questions that you can ask, to encourage your candidates to open up:
What are you most passionate about learning professionally? How does this role fit into your career objectives?

In what ways do you think you can bring value to the organization and why?

Describe your ideal team environment. What do you need to be most successful, and what steps do you take to support others?

Can you walk me through a recent project that you enjoyed? How did this initiative support your overall company goals?

What has been a mistake that you've made that you often think about? What did you learn from it?

Tell me about an experience where you lost your temper at work. What did you learn from it?

Can you tell me about a time that you achieved a win-win solution to a problem?

How would you go about responding to someone who was disappointed in your work?

What have been some of your proudest moments in your career so far?
When you're interviewing, it's important to be mindful about your tone and style of communication—especially if you're interviewing diverse candidates. Your role as an interviewer is to sit back and listen—to truly hear your candidate and look beyond your own perspectives to understand their intentions.
Another common question that hiring teams have is whether it makes sense for the candidate to participate in a project such as a coding exercise, strategy building workshop, or other collaboration.
The short answer is that it depends on the role. If you're hiring an engineering or marketing director who will manage a team of direct reports, it may make sense to have them lead a meeting or inspire an idea.
One word of caution is to avoid putting people on the spot. For instance, don't put a complex math problem in front of someone and expect an answer on the spot. Interviewing has the potential to be a nerve-wracking experience — after all, the candidate's livelihood is potentially on the line.
This moment is also a reflection of your culture. If you value learning and growth, it should be okay for the candidate to look something up and learn a new skill.
Help your interviewee feel comfortable, safe, and welcome. This level of calm shows that you're creating a healthy work environment and culture where people can feel free to express their authentic selves.