When Kristina Oberly left her job for an Ann Arbor tech startup, she was only the 4th hire at the company—and the only woman.
"I came from the university, non-profit world, so it was kind of abrasive joining a startup and having limited access to people or resources. I just felt kind of lost," Kristina said.
She's the Head of People at Voxel51, a small startup where she's a one woman show in her department. Literally. Kristina missed the resources a big institution offered, plus being around like-minded people who worked on similar things. In search of a community to fit these needs, she found groups for women engineers in tech, but what about business women? She felt totally without a community.
She wasn't alone.
Through some Ann Arbor locals, she was introduced to Alison Todak, the Managing Director at Cahoots, the new coworking and event space in downtown Ann Arbor dedicated to the tech startup community. They started meeting up for coffee and lunch, and that filled a community gap both Kristina and Alison were feeling.
"We formed such a great connection and thought that everyone should be able to have something like this," Kristina said.
So Alison reached out to a few friends in her network and other women she'd met at Cahoots. She soon confirmed that she and Kristina weren't alone in their feeling of isolation. There really was a need for this kind of community they had been searching for.
So they built it themselves.
In July of 2019, Kristina, Alison, their friends Rachel Phillips and Katelyn Kelly at Generations Homecare System, along with a small group of founding members, together co-founded Shine & Rise, an organization built to fill a void in the Ann Arbor tech world. Members typically identify outside the cis male experience, work in an innovative, high-growth industry in Ann Arbor, and work primarily in business roles.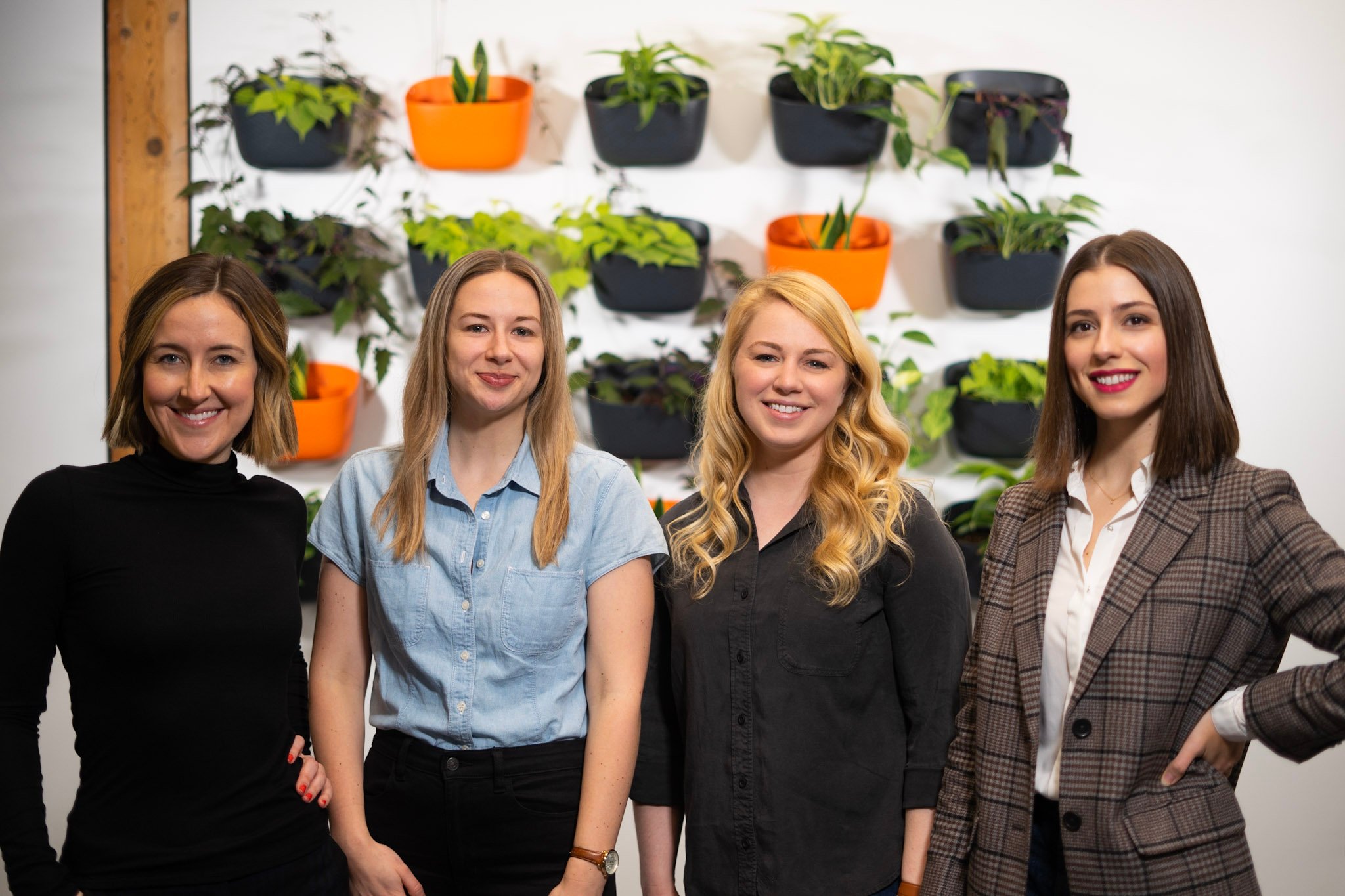 Shine & Rise co-founders left to right: Katelyn, Kristina, Alison, Rachel. Photo by Anna Veltman.
It's no secret that women are underrepresented at tech companies, but the numbers make it clear: 80% of leadership jobs at tech companies are held by men. Women often wear many hats in uncharted territory, and are underpaid or passed for promotions.
Enter the Shine & Rise vision: "Every woman working in a business role at an Ann Arbor-area startup/tech company feels understood, supported, and confident." How do they do it? They connect badass women with other badass women.
Their monthly events for members are centered around professional development—things like networking, panels, Q&As, and workshops. Events are face-to-face in physical spaces, but they also have a very active digital community. The Shine & Rise Slack channel is a great way for members to reach out to each other with questions and resources. They host a "Sweet 16" every couple of weeks on Slack where they pose a topic and encourage members to dive into conversation for 16 minutes.
"The Sweet 16 has been a fun way to engage with each other" Katelyn said. "All Shine & Rise members have a lot going on. We see this as a good opportunity for people to engage with the group when they can't come to monthly in-person events."
Many events develop from these kinds of conversations on Slack, too.
"A lot of our programming is inspired by the needs that our members have communicated to us," Rachel said. "And we're able to quickly jump on that and use our resources and network to create events that speak to our members and address what matters most to them."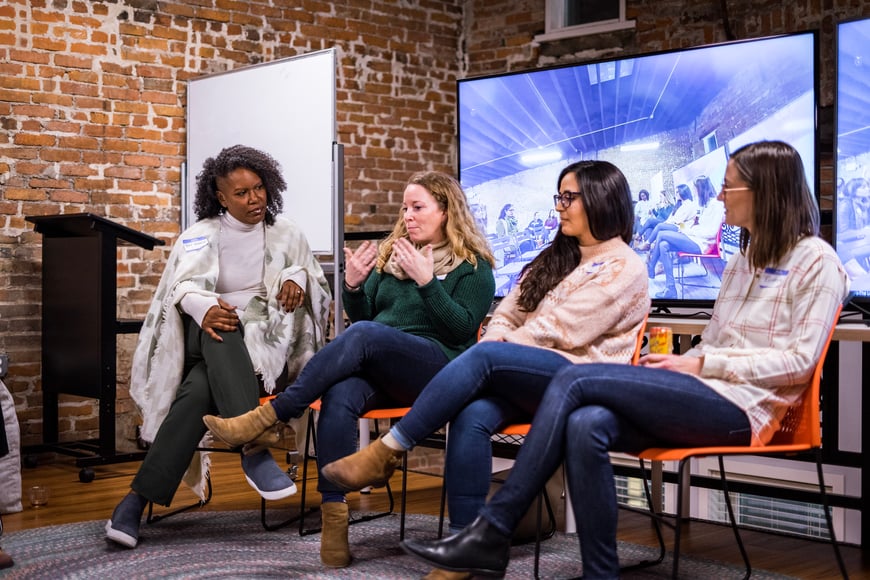 Trey B., Duo Security; Rachel B., Censys; Sogoal S., Gunderson Dettmer; and Elisabeth B., Multiverse Investments. Photo by Anna Veltman.
Making sure members find meaning and value in this community is key for the founders. One of the things women feel they lack? Mentors.
"Mentorship is something a lot of Shine & Rise-rs say they lack coming in," Alison said. "It can be hard for companies to cultivate mentorship within their own very small teams, so having a range of ages, professions and career stages among members is really helpful. We're really helping to cultivate direct mentorship, someone you can go to with your questions."
This makes having an engaged group of members all the more important. Shine & Rise isn't just some Facebook group anyone can join, creep on, and never participate in. Every member has to apply online. Once their application is reviewed, the Shine & Rise leaders reach out to the candidate if they seem like a good fit, and talk more about what joining the community looks like in practice. When a new member joins, they go through a quick onboarding so they can get started building connections right away.
"We feel that it is important for our members to be active, in that they participate face-to-face at events or digitally in conversations on Slack. We want members to contribute and add value to Shine & Rise and to their fellow members," Rachel said.
Members who don't exactly fit the bill are still welcome to apply. What really matters, Kristina said, is that the group fosters meaningful connections.
"We seek out members who will gain value from Shine & Rise but also contribute to the community we are building. If you think that this type of community would add value to your life, that being a part of a group like this would help you, then we encourage you to apply," said Kristina. "If Shine & Rise doesn't quite fit your needs, we're happy to connect you to other organizations that could."
Members also find value in the many resources that evolve from the Shine & Rise community.
"We have a good number of members who have moved from other parts of the country, are working remotely and looking to find a company that's local," Rachel said. "So we're putting together a database of Ann Arbor and Detroit companies. In it we are including information such as compensation and benefits. We're trying to create transparency for the women who work in tech in the area."
Transparency is key for the women of Shine & Rise. It's why they're also introducing the Compensation Transparency Initiative. "Knowledge is power," said Thressa Nichols, one of Shine & Rise's first members, who is leading the initiative. People (of all genders!) who work at startups and tech companies in Michigan are encouraged to participate in this survey on compensation and benefits. There is no sharing of personal information required to participate in the survey, and results will be free and easy to access.
"Having a survey like this be open sourced removes the barrier to accessing knowledge about compensation and benefits being offered in our community. It can help individuals, especially women, understand and negotiate their value and as a community help us identify the areas in which we are excelling or where there is room for improvement," Thressa said. In celebration of International Women's Day—which is this Sunday, March 8—the survey is launching today and will be live throughout the rest of March. It is Women's History Month, after all.
"As companies grow they will have access to this type of data through what we are collecting," Alison said. "We want to create transparency, especially in the local community, and get a better understanding of what companies should be offering, what is competitive. A lot of our members are the people who create these policies and programs for their respective companies. So we want to give them a benchmark as they move forward in creating their own programs."
The founders don't deny this is a tough job. It takes up a lot of their time outside of their full time roles.
"It's a lot of work. It's like its own startup," Alison said.
But what they gain—and what the community gains—is 100% worth it.
"The moments that bring me the most joy are when I hear from individual members just how much they appreciate Shine & Rise," Rachel said. "It tells us that all this work we put into this group is really worthwhile. Our members motivate us, push us to think bigger, do better and take this group further than we had ever thought possible."
Alison has loved watching the group grow too, especially getting to watch her many circles of friends intersect.
"I knew at least the first half of the group pretty well in different capacities. It's great connecting people who wouldn't have known each other but work in the same field, and watch their friendship blossom, not just as friends but as professional connections who are able to help," Alison said. "I never knew there was so much value in my friends of friends knowing each other."
"It's so important that every member of Shine & Rise feels welcome and supported," Katelyn said. "As we scale we are focusing on building thoughtful and strategic diversity and inclusion programs. Regularly checking our blind spots as white cis women founders is a top priority."
For Kristina, creating a space where women can be themselves—together—is what makes everything worth it.
"I just think back to a year and a half ago when I started working at my job and felt so alone and isolated. I think about all the women out there right now who might be feeling how I did. Shine & Rise is seeking out these women and giving them a place to feel part of something, to have resources, and to be vulnerable." Kristina said. "Corporate America, especially in tech, doesn't always leave space for that, so we're creating a space where people can feel understood, supported, and confident. I hope that doesn't just affect people individually but also spreads to the organizations that all these women are helping to build and change."
If you're working at a startup or a tech company in Michigan, take the Shine & Rise survey to help them with their compensation transparency initiative.
Follow Shine & Rise on social media to stay up to date with the great things they're doing in the community:
Facebook: /ShineandRiseA2
Instagram: @shineandrisea2
LinkedIn: Shine & Rise
Want more stories like this sent straight to your inbox? Subscribe to the purpose.jobs blog.