Thriving Inside — And Outside — The Office At AccumTech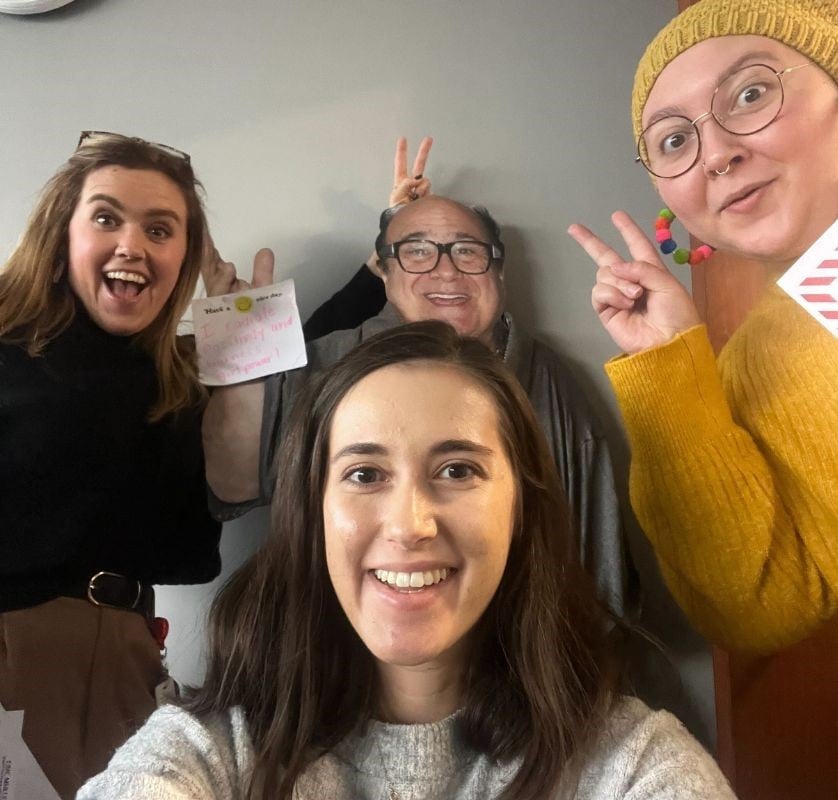 What do a mead maker, Danny DeVito cardboard cutout and healthcare claims all have in common?
AccumTech.
Located in Ann Arbor, AccumTech is an inclusive startup in the healthcare data space. They build custom technology for Blue Cross Blue Shield of Michigan, helping simplify the data exchange process for healthcare service providers.
Working with insurance carriers, pharmacy benefits carriers and third-party administrators, AccumTech acts like a Rosetta Stone for healthcare service providers. Each system has its own language, so as information comes into AccumTech's system, their technology disseminates it and passes it along to the companies that need it in their native language.
It's all about making it easier to exchange the healthcare data that's happening, and making sure that the data is correct.
This whole area of insurance and healthcare data was something Caroline Wilks never knew existed. When she joined the team in February 2020 as Corporate Portfolio Manager, she said the opportunity was exciting.
"Every day is something new," Caroline says. "We have to utilize logic and critical thinking on a second by second basis. You never know what the day will bring."
Caroline has spent the last two years building up the project management team at AccumTech, and she, alongside Nicki Kaplan and Anisa Ismailaj, gave us the inside scoop on what it's like to work at this growing startup.
'We're not transactional'
Back to the mead maker and the Danny DeVito cutout.
These are just some of the people — and things — you might come across at the AccumTech office.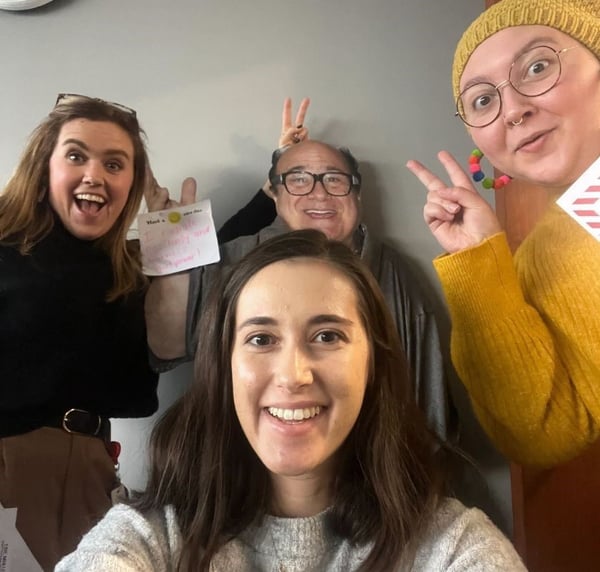 Caroline, Nicki and Anisa — and of course, Danny DeVito


On the Domino's Farms campus in Ann Arbor, the AccumTech office always has something going on. Whether it's a team break to the Domino's Farms petting zoo, a walk through the trails, time on the putting green, a movie night or a Danny DeVito cutout that moves around the office, it's never a dull moment at AccumTech.
"AccumTech takes care of its employees in so many ways," Caroline says. "The fridge is always stocked, there's always a fun event on the calendar, and if you need to take a break, you can."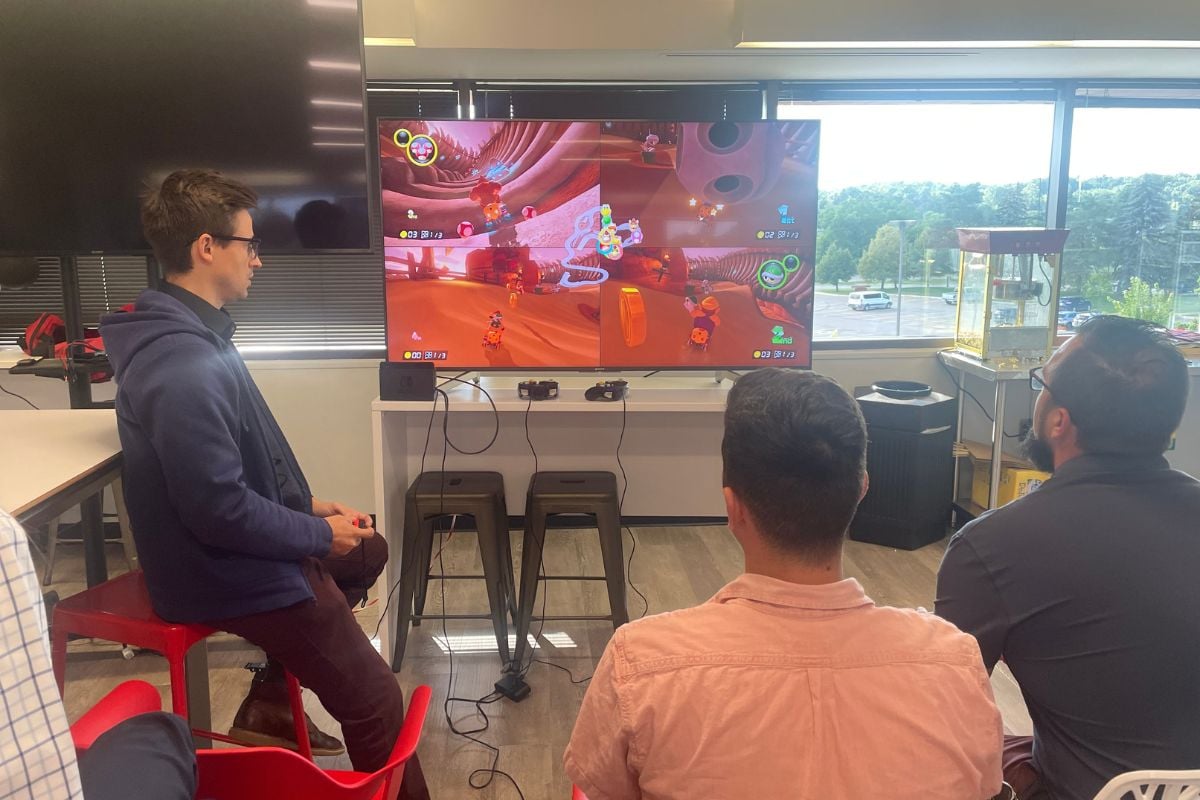 Some events the team has recently had include an "Axes and O's" ax throwing and game event, a karaoke party with pizza and cocktails, and a paint and pour pizza and wine night. In addition to after-hours gatherings, AccumTech hosts team events during work hours so that everyone can participate — it's okay if you're not available after work. There's also a mixture of events that are plus-one and family-friendly.
"At AccumTech, you're valued and seen and heard as a whole person," Nicki says. "Who you are in and out of the office matters and is celebrated."
That's because the AccumTech team is all about building relationships with each other.
"We get to know each other on a personal level," Caroline says. "We care about birthdays, weddings, babies, all those personal milestones."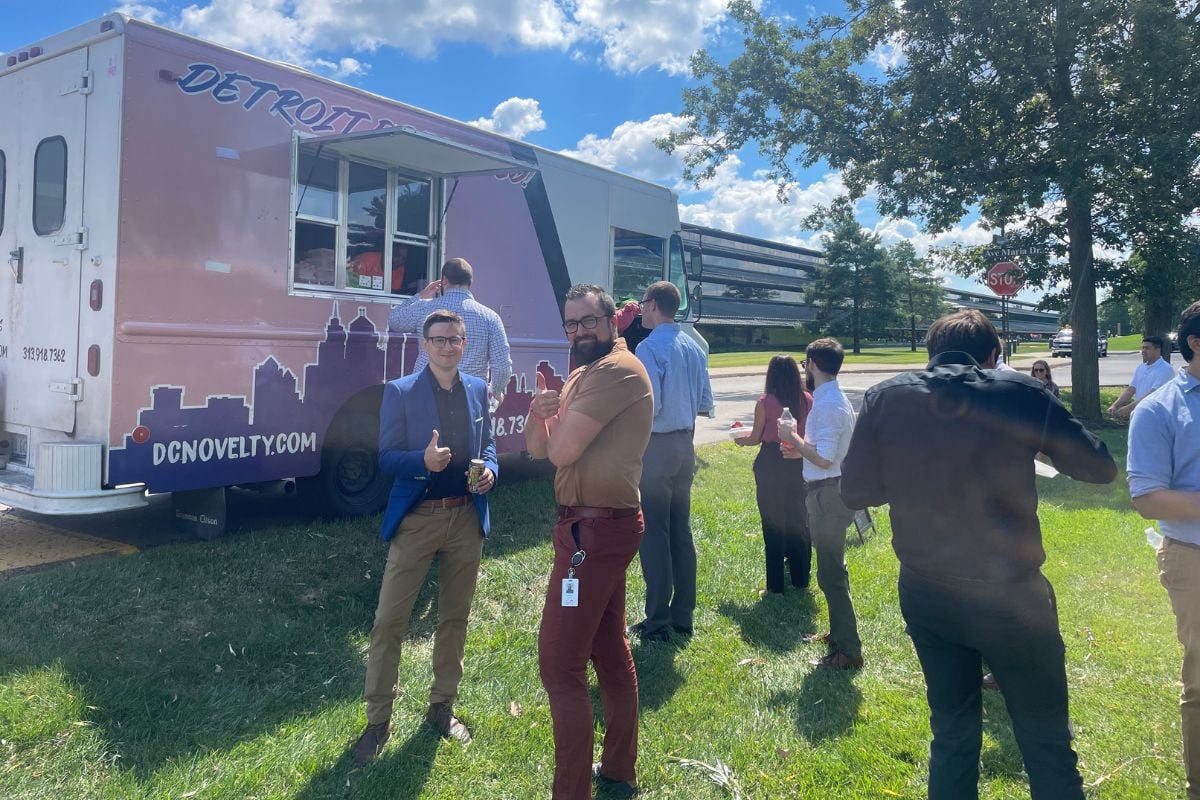 Nicki says that AccumTech also supports individual goals. When she pursued a project management certification, the company reimbursed her for the cost — and sent flowers to celebrate when she passed the exam.
Whether it's having access to training courses online or sending employees to professional conferences such as CodeMash, at AccumTech, employees have many opportunities to professionally grow — without sacrificing those important team relationships that have become an integral part of working at AccumTech.
"We are not transactional," Caroline says. "People are genuinely caring, thoughtful and kind." She experienced this before she even started at the company: while she was making the move from North Carolina to Michigan for the job, Caroline's boss called to check in on her, just to make sure she was doing okay with the big move.
"I've worked at a lot of different places, and I've never experienced this kind of support. AccumTech truly values you as an individual and an employee," Caroline says. "Whether you've been here for 10 days or 10 years, you'll feel the same sense of appreciation and support."
This approach from everyone on the team has also led to a great culture of belonging at AccumTech.
"There's a really big celebration of diversity and personality here," Anisa says. "Everything you bring to the table — quirks, needs, accommodations — they're all taken into consideration here. There's constant care and communication that makes you feel seen and understood."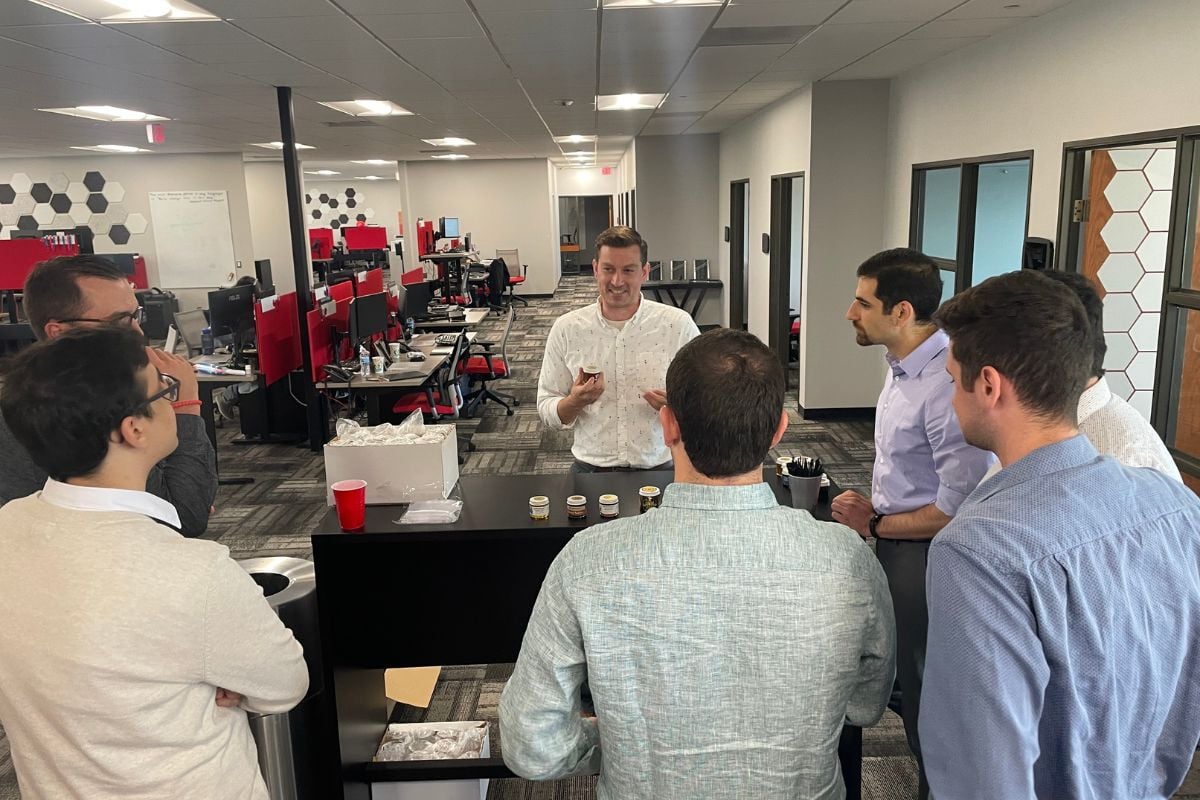 The team celebrates people's hobbies outside of the office. For example, they've done a mead tasting led by a colleague who makes mead. They also have interest groups that bring people together: movie buffs, avid gardeners and gamers all can find a place where they belong at AccumTech. Everywhere you go in the office, you can find an expression of people's personalities through memes printed out, tchotchkes and knick knacks on people's desks, and it makes the office come to life.
Caroline says these are the things that make people look forward to coming to the office, and it also makes healthcare data exciting.
"It's very encouraged to bring your personality to what you do. Be creative, put your own spin on it, add some whimsy to healthcare data," Anisa says. "Leadership really allows individuals the space to make it your own. We feel more empowered and trusted. There's no box you have to fit into."
Flexibility and freedom
Just as employees have the freedom to be themselves, the AccumTech team also has the freedom to work in a way that's best for them.
Right now, the team operates on a hybrid schedule. On Mondays and Wednesdays, All Hands days, everyone comes into the office. From there, individual teams decide which days they want to come in.
AccumTech also has "Core Hours" from 10am to 3:30pm. Everyone is expected to be fully available during this time. Outside of Core Hours, employees have flexibility on where and when they finish the remaining hours of the work day, which helps employees account for their priorities outside of work, whether that be an appointment, childcare, or other things that come up in life.
In addition to that, the team enjoys every other Friday off.
"The flexibility has been really nice," Caroline says. "We believe that if you are thriving outside of work, you'll thrive inside of work. So we really value that work-life integration."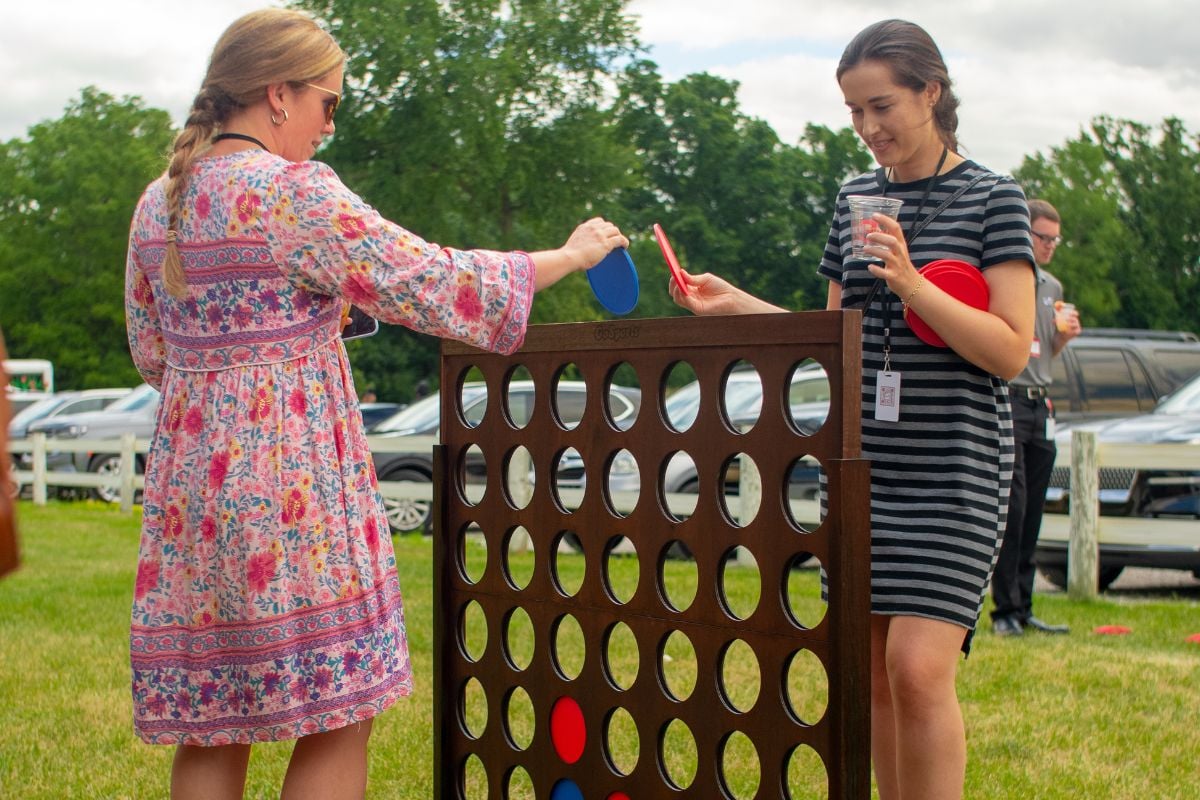 This flexibility (and understanding from leadership) is something Nicki experienced first hand when she was sick and couldn't make it into the office during important all-team meetings at the end of the year. Leadership hand-delivered her holiday bonus and gifts. They also called her into the holiday dinner to make sure she was virtually present when she received an award.
"You're fully supported here in every aspect of your life," Nicki says.
What's at the heart of flexibility and freedom is AccumTech's genuine trust in their employees.
"People really trust you to work the other hours and get your work done. It's all about building trust with each other and your manager. We trust you to make the right decisions," Caroline says.
Truly a startup environment
Trust is certainly a factor that creates a thriving startup environment. Which is exactly what AccumTech has.
"We're agile, we work fast, we're constantly solutioning, and we figure things out as we go," Caroline says.
In this environment, taking risks is highly encouraged. You have the freedom to try new things. But that also means you might fail.
"You're expected to fail sometimes. It's all about how you address it and overcome it," Caroline says.
Nicki says that you always have the whole team behind you.
"At AccumTech there's no sense of failure; rather, there's shared accountability," Nicki says. "It's a learning experience, and the goal is always to get better."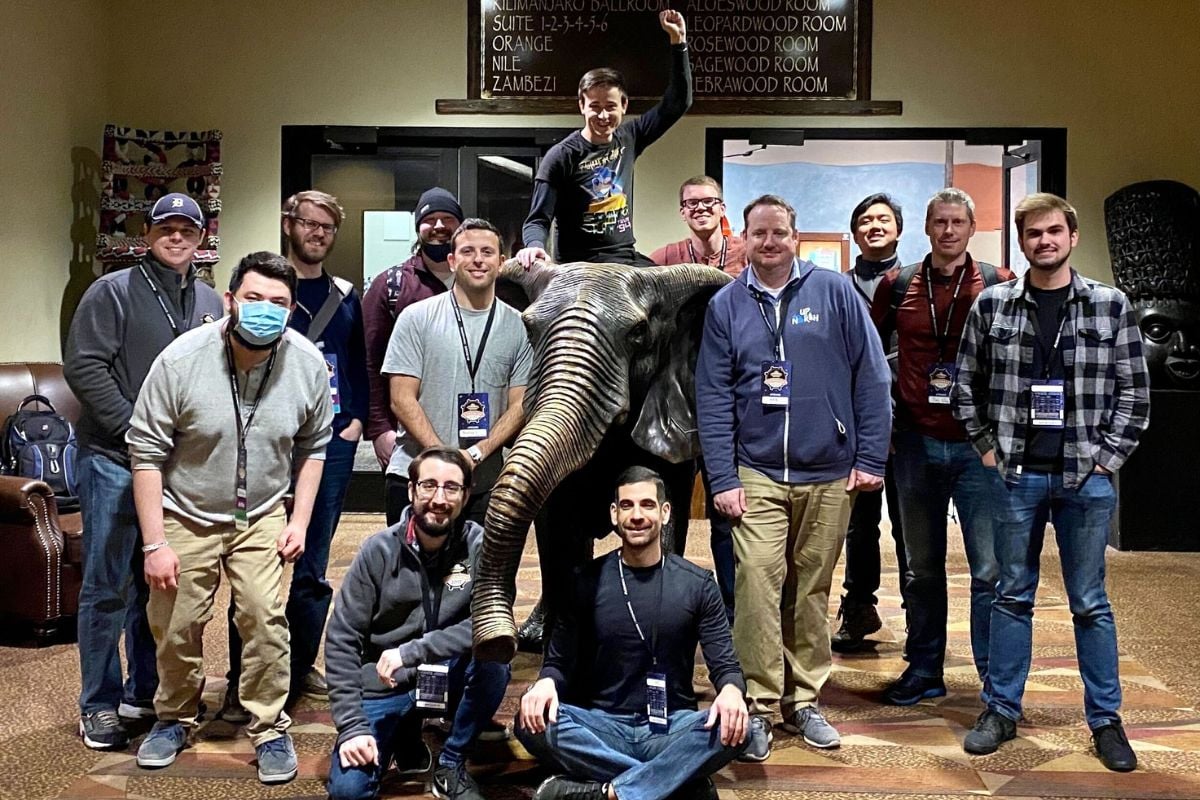 The AccumTech engineering team at CodeMash


Continuous learning is a huge part of the AccumTech culture. As a smaller team, Caroline says they wear many hats, and there's always so much to learn.
Which, for Anisa, always makes things interesting. She says, "You're never bored at AccumTech."
There's always something to try, something new to learn, something to solution. As the company continues to grow (they've already gone from 20 to 50 team members), that learning opportunity only gets bigger.
"Now is a great time to join AccumTech because we're growing so fast," Caroline says. "It's only about to get bigger and better."
AccumTech is hiring! Check out all their open jobs and apply now.