The Detroit startup community is home to a tight group of female entrepreneurs who are changing the game across the tech and consumer goods industries. While they may celebrate their wins in private, we're bringing their accomplishments to the forefront.
Ready to get to know who's at the top of our list? Meet the 6 Detroit female entrepreneurs to watch.
Related: The Midwest's Top Female Founders to Watch in 2021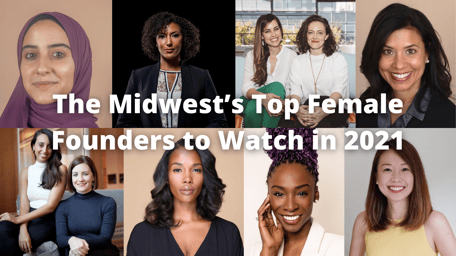 Amanda Lewan
Bamboo Detroit | Co-working Space
Company Size: 1-10
Launched in downtown Detroit since 2013, Amanda Lewan co-founded Bamboo to create flexible workspaces and a sense of community within the Detroit startup ecosystem. Since then, she's become a leader and facilitator of news and information for local entrepreneurs. Lewan also serves as Program and Mentor Liason at Backstage Capital Detroit.
Dr. Lingjia Tang
Clinc | Computer Software
Company Size: 51-200
Clinc co-founder, Dr. Lingjia Tang, founded the company in 2015 with her husband, Jason Mars. The company recently closed its Series B, securing $52M in the process. In addition to leading their Ann Arbor-based startup, she is also an assistant professor at the University of Michigan and co-runs the research group, Clarity-Lab.
Clinc is hiring. Get connected with hiring managers at Clinc by joining the purpose.jobs talent community.
Melissa Butler
The Lip Bar | Cosmetics
Company Size: 1-10
Shark Tank veteran and beauty innovator, Melissa Butler is the founder and powerhouse behind The Lip Bar: a vegan, cruelty-free cosmetics line based in downtown Detroit. The line is featured in Target stores across the US and is backed cosmetics giant and former SheaMoisture CEO, Richelieu Dennis.
Yelista Jean-Charles
Healthy Roots Dolls | Consumer Goods
Company Size: 1-10
It's not often that the toy category gets a piece of that startup action, but Yelista Jean-Charles is here to change that. She's the founder and CEO of Healthy Roots: a toy company that produces dolls and storybooks that teach natural hair care to young girls of color. Jean-Charles was recently awarded $100k at Detroit Demo Day, which allowed her to bring on the company's inaugural hire. Since launching in 2014, she has joined a coveted group of black women recognized as America's fastest-growing group of entrepreneurs.
Julia Winter
Alchemie | eLearning
Company Size: 11-50
Co-founded with a business strategist and game developer, Julia Winter launched Alchemie to create the next generation of teaching and learning tools. With a focus on science, technology, engineering and math, Winter has established herself as a leading figure in STEM within the Midwest, most recently in Crain's lists of Notable Women in STEM.
Jessica Willis
PocketNest |Financial Service
Company Size: 1-10
On a mission to help the world create a complete and personal financial plan is Jessica Willis, CEO and founder of PocketNest: a free fintech app that makes financial planning easy. In 2018, Willis was awarded $10k at the 2018 Women Up & Pitch Competition.


Interested in open jobs at growing startups like these? We can help
👇