If you've got career ambitions of becoming a leader in your organization, this blog post is for you.
Last week we introduced you to Jamie Hamilton, the Vice President of Engineering for one of the nation's top mortgage lending firms. He told us a humbling story about listening to feedback and the role it continues to play in his career today.
Meet Jamie: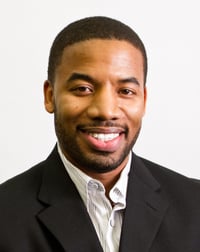 This week, he's helping us pull back the curtain to reveal what it takes to become a leader who people love to follow.
Jamie's advice is both sage and time-tested. He's spent nearly two decades refining his leadership style in various VP, Director of Engineering, and senior management roles.
And while he's learned a few hard lessons along the way, he's also developed a real taste for achievement and victory—the sort that only manifests when a team can trust their leader and a leader can trust his or her team.
When we asked Jamie for his best advice for someone who's got plans to become a great leader, here's what he had to say:
Focus on becoming an expert first
"I would say don't focus on being a leader right away," Jamie told us. "I would say even though that's your down-the-road goal, don't think about that. Ground yourself in the expertise of your field. Focus on being an expert in that skill because that will pay dividends for you far into the future."
"I say that because if you become a leader too soon without grounding yourself in your expertise, you tend to lead via authority. You tend to be a very authoritative, dictatorial-style leader. But if you have been an expert for a long time, when your team comes to you, you can lead via knowledge and influence."
"I think that's a much more persuasive and productive way to lead people than just simply based on authority, because if your experts know more than you or they're grounded in things you're not grounded in, they won't see value in your leadership. They will eventually stop coming to you to help solve problems and if they do that, who are you leading if no one is following you?"
Find a style that's right for you, then practice it
"It wasn't my plan when I started my career to be in a leadership position. But after a few years in the field, I was like, 'You know what? I love technology, but I also love the people aspect of it.' So I sought out an opportunity to lead. I wanted to help people move along in their careers and reach their goals and become leaders themselves."
"But when I first started to lead people, I was terrible at it. The way I was leading just wasn't effective. I was being tough on my team. I was pushing my team, and it simply wasn't getting results. So I started researching new ways to lead people. That's what started me down the road of servant leadership, and that's currently the style I implement today."
Servant leadership
Jamie says that as a steward of servant leadership, his goal as a leader is to lead by serving.
"You're removing roadblocks, you're caring about your team's growth and development, you're trying to give them assignments that push them forward as well as push the company forward. It's not a dictatorial style of leadership; it's not ivory tower leadership. In servant leadership, your goal as a leader is to help lay the road for the growth and development of your people, and help lay the road ahead for the company. It's about respecting your team."
Jamie added, "Servant leadership means, in a nutshell, being firm with people, but being fair. They may not always like what you say, but it's how you say it that matters. They may not like all the decisions you make, but you always make the decision with the right intent in mind."
Remember that it takes time
Jamie did the work to discover a leadership style that he was well-suited for. But it still took some time to implement and perfect.
"If you're a new leader, give yourself permission and time to figure it out. Sometimes it takes people years to figure out how to be a good leader. Some people can do it in a few months. Because it's one thing to read about a leadership style; it's another thing to put it into practice. And putting it into practice can be tough."
Jamie said, "When I decided I wanted to adopt a servant leadership style, what I did was I overcorrected. I went from being very tough to being too nice. Too focused on likability. I had to turn the dial back a little bit and focus more on, Am I listening to people? Am I being firm but fair with them? Am I leading via knowledge or authority? It took me a while to really dial it to the right place."
Factor in the team and the environment
"Sometimes the environment and the team are going to dictate the success of the leader," Jamie advised. "Remember that leadership is a customized endeavor. It involves a lot of components. It's the person who's leading, the team he or she leads, and also the company that they are all working for."
"I've seen it happen where there's a person in a leadership position who's doing really well. They knock it out of the park. Then they go into a similar leadership position at another company, and they struggle. They have to adapt to what's going to work with their new team and company. They'll have to abandon a few of their usual tactics, or evolve them into something different. That's just the nature of the game."
Listen—to everyone
If you read Part 1 of this 3-part series, it's probably not surprising to hear Jamie say that simply listening is one of the most critical things a leader is meant to do.
"Listen to your team and understand what issues they're having, what roadblocks they're having, and what it's going to take for them to be productive."
"At the same time you've got to listen to your leader, your supervisor, to understand the company's expectations of you as a leader, and the expectations around your team. Then be clear with your team: 'Hey you guys, here's our mission. Here's the mountain we're taking.'"
"Make sure they understand the mission, then ask them about the roadblocks they need removed to take that mountain. You move the roadblocks. You give them the tools that they need. And if you do that, I think you'll position yourself to be a successful leader."
More expert insights are on their way
Liked what you've read so far? Keep coming back for more!
In Advice from a VP of Engineering Part 3: Building a Dev Team, startup founders will get step-by-step advice on how to build a kick-ass team of developers from day one and on.
Subscribe for full access
Don't miss out! The re:purpose blog is quickly becoming Michigan's go-to resource for:
News from the local startup community

Expert advice from seasoned professionals

Tips on driving creativity and innovation

Proven methods for landing your dream job

And more!
Subscribe to the re:purpose blog
About Jamie Hamilton
Jamie Hamilton is an experienced IT Senior Executive with a
passion for people development, leadership development, and technology. He is a Servant Leader who specializes in planning, developing, and building cutting-edge solutions to address client opportunities and business-partner needs.
Jamie is also an award-winning Software Engineer, having received an eCommerce implementation award from Microsoft. He is currently VP of Engineering at United Shore Mortgage. Before United Shore Mortgage, he was VP of Technology at North American Bancard (NAB). Prior to NAB, Jamie was VP of Information Technology at Quicken Loans. He was responsible for all internal applications and internal business partner technology solutions. He also held the VP of Software Engineering role while at Quicken Loans, where he was responsible for all application, mobile, and website development for
Quicken Loans' internal and external clients. In this role, he also led the QA Team.