"Startups have to get their product into the market as fast as possible to compete."
This comes from Jamie Hamilton, the Vice President of Engineering for one of the nation's top mortgage lending firms, and a man who's spent the last two decades building a reputation for leading meaningful change in fast-paced, entrepreneurial environments.
In our last two blog posts, Jamie revealed what it takes to become a leader that people love to follow. He also shared a story from his past about humility and the importance of listening to feedback.
This week, in the third and final installment of this 3-part series, Jamie offers some advice on how startup founders can approach building a stellar software development team.
"The things I'm going to say are definitely hard and living them every day is difficult. But I'd consider them crucial for success."
Meet Jamie: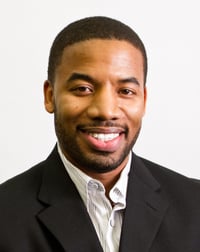 Grab a pen, because we're off to the races! Here are 7 expert tips that Jamie identified for building a solid development team.
(Jamie noted that there's some flexibility in the order that each of these goals can be accomplished; the important thing is that they stay on your radar and are referred back to regularly.)
Define a clear goal and be flexible in the approach
"The first thing," Jamie said, "especially when you're just a startup, is be clear about the goals. Be clear that here's the product we want to build, but be flexible in your approach to getting there."
"What's important about clear goal-setting in this circumstance is distinguishing the minimum viable product in the beginning from long-term vision for the product. Communicate what the big picture is, but identify and focus in on the small set of features out the gate that you absolutely have to deliver to satisfy early customers. Remember: speed to market is essential. Build incrementally. Don't shoot for the moon on the early releases."
Find the right people
"Hire people in the early stages who are self-driven," Jamie advised.
"People who don't need a lot of direction, and who can make decisions on their own. When you're interviewing candidates, make sure you get a sense of their ability to make decisions on their own. You don't need people early on that will need you to double check their work. Everything needs to be decentralized. Decentralized thinking and action ensures that members of your development team aren't spending an excessive amount of time checking in with you or the team leader."
"As a startup, you're inherently in a competitive situation, so you want really strong, action-oriented people. At this early stage, don't spend too much time on process stuff. Don't spend too much time defining culture—yet. That stuff, while important, will come later."
"And actually," Jamie added, "a small piece of culture is being created early centered around a clear goal, valuable features, taking action and building incrementally. This is all you need for now but it's happening naturally… no training, no marketing material, no speeches about culture. None of that! We're creating the culture by how we act everyday."
Make sure your team understands the value prop
"Focus on value. The team should be clear about the product they're building, but also what's valuable about the product. Or more directly: what about this product is valuable to the customer?"
Jamie said, "If the answer is unclear, that means going out there and talking to target consumers, and then relaying that information back to the team. That way, every moment your team spends building the product, you're confident that they're building the most valuable things first and not things that are nice to have."
Keep your tech stack simple
"The technology you're using is important, but keep it simple," Jamie said.
"Make sure you're using tools that are powerful, but that have a small learning curve. Unfortunately, and this is just the nature of things, startups often times cycle people in and out for a variety of reasons. So when you're doing a lot of onboarding, a big learning curve can slow innovation and productivity. Managing resources wisely is so crucial for young startups. So start with something simple, something that won't require expensive training and something people can get up to speed on quickly. You can always scale up later."
Don't get bogged down with process and documentation (...yet)
"Stay light on documentation and process, for now, " Jamie offered. "Because right now, that time just isn't valuable for you. The reality is you don't have a lot of money to hire technical writers, and you don't have the money or the time to have your Developers writing documentation."
"Your recruiters should be mindful of this too. It gets back to hiring action-oriented folks who can get work done without needing a process for every little thing or someone looking over their shoulder."
Jamie added, "If you are documenting, don't create documentation that covers 400 scenarios. Write just enough documentation to get the next person on the team—the person who will be maintaining the code—started in the right direction."
Refocus the culture
"Once you've got things moving in the right direction, now it's time to talk about culture. Before, you were focusing on getting the product into the market. Building something of value. Now, being clear about who you are plays a more important role, especially as it relates to hiring. When you miss on hiring in a startup, it puts the company, the project, and the product in jeopardy, so you want to be clear about who you are and who you're looking for."
"This means you're going to have to start correcting some habits of people that don't necessarily fit the culture any more," Jamie said. "And that's okay."
"The conversation doesn't have to be a difficult one; you just say, 'Hey, we've gotten to this certain point. We've been this company for a year, year and a half. Now here's who we're turning into; here's how we're pivoting."
In the long run, Jamie said focusing on building a healthy workplace culture also helps a company run efficiently.
"It allows people to understand the rules of engagement for a company. If you know the rules of engagement around the culture, then you can decentralize decision making, decentralize the actions that need to be taken, and things can move a lot faster."
Jamie added, specific to IT, "we really like that because there's so many micro-decisions that are made in IT. If you understand the culture, you don't have to keep double-checking with your supervisor or your leader or the person you report to. You can act and know that as long as you're working within the rules of engagement, you'll be given a lot of leeway."
"It's when you don't really have a defined culture that people start slowing down," he said. "The same type of question gets asked repeatedly in all corners of the company. Should I take action on this? Is this important to the company? It can be a real time suck."
Find talent however you can
"After all of that," Jamie said, "It becomes a talent game. Try to find talent any and everywhere you can. Because hopefully the startup has been successful and you're going to grow, and you have to find talent wherever you can because that will be how you live and die."
"Your product alone won't create large enough barriers of entry to keep other companies out, so it's going to have to be your talent," he said.
"It has to be your talent that makes it hard for other people to come into your industry and beat you. If that's not the case, then you're really going to struggle."
Jamie finished with this: "Let people work remote, let people work from home, let them work from the other side of the country. Every market is competitive so do whatever you have to do to get as many talented people as you can building your product and services as fast as they can. It's a matter of survival."
Subscribe for full access
Like what you've read? Subscribe to the purpose.jobs.
We'll keep you up-to-date on:
News from the local startup community

Expert advice from seasoned professionals

Tips on driving creativity and innovation

Proven methods for landing your dream job

And more!
About Jamie Hamilton
Jamie Hamilton is an experienced IT Senior Executive with a passion for people development, leadership development, and technology. He is a Servant Leader who specializes in planning, developing, and building cutting-edge solutions to address client opportunities and business-partner needs.
Jamie is also an award-winning Software Engineer, having received an eCommerce implementation award from Microsoft. He is currently VP of Engineering at United Shore Mortgage. Before United Shore Mortgage, he was VP of Technology at North American Bancard (NAB). Prior to NAB, Jamie was VP of Information Technology at Quicken Loans. He was responsible for all internal applications and internal business partner technology solutions. He also held the VP of Software Engineering role while at Quicken Loans, where he was responsible for all application, mobile, and website development for
Quicken Loans' internal and external clients. In this role, he also led the QA Team.