Feedback. It's one little word, but it can make or break a great product, a growing business, or a thriving career.
The latter was the case for Jamie Hamilton, the Vice President of Engineering at United Shore.
When we initially sat down to interview Hamilton, we were eager to learn about leadership development. Afterall, Jamie's in the midst of a long and successful run as a leader in the world of software engineering. Over the course of nearly two decades, his growth as a leader has been sure and steady. Before United Shore he served as the VP of Engineering at North American Bancard. Before that, a Technology VP at Quicken Loans. The list of titles and companies goes on.
Meet Jamie: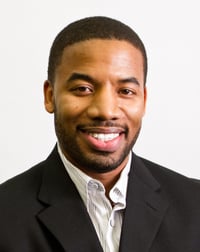 The interview was a success, and Jamie graciously offered more than a few of the amazing insights we were hoping for (—so many, in fact, that we're delivering them to you in three parts!).
But he also offered up a surprising story from his early days as an IT consultant—a turning point in his career that hinged on his ability to accept feedback.
Read on to discover the (slightly painful) lightbulb moment that helped Jamie launch his career as an Engineering exec.
Not an engineer? No matter. We think you'll find the following story poignant and relevant anyway. We did!
Jamie's lightbulb moment about feedback
When we asked Jamie to talk about one of his most memorable lessons-learned before becoming a VP, his response was immediate.
"It's about feedback," Jamie recalled. "Definitely feedback. Earlier in my career, I wasn't open to it. I didn't understand how to separate the personal and professional. Feedback is to make you better, and if you follow it, you'll get better. But I didn't do that. I was simply too hard-headed to listen, and I thought I knew everything. I thought that the people who were giving me feedback didn't know what they were talking about."
"I was a skilled developer, but I had cowboy approach. If my assignment was to do one thing, I thought I knew better than anyone about what the client wanted. So I would go out and code what I thought was best, but it would impact the other teams because now my subsystem, my software, wasn't compliant with what the other software managers and software architects built. And because of that kind of attitude, I was passed over for promotions and opportunities."
Then his lightbulb moment arrived, working with a consulting firm located in Chicago.
"A lot of companies rank and rate their consultants. At the end of my first year working with this one consulting firm, out of 40 or so consultants, I discovered I was rated as one of the worst consultants. I wasn't the worst, but I was in the bottom five."
"That's when the lightbulb moment came. That's when I realized, hey, maybe I don't know everything. So I started listening to the feedback from my manager so that I could grow. I started to do that over the next four, five, six months, and in the following year I was ranked as the top consultant in the Chicago office at the time."
Today, "listening to feedback" is still central to Jamie's approach to being both a team player and a leader.
The takeaway for team players
"You can't figure it all out on your own," Jamie said. "You need to get feedback from people. If you only have your own counsel to rely on, it's going to really, really slow your growth."
"But if you can have people around you talking to you, and you trust them and you can take their feedback and incorporate it, you'll take those leaps forward in development and your career will progress much faster than if you were to solve all your own problems by yourself and based on your own knowledge, which is limited."
As it relates specifically to IT, Jamie added, "If you're a developer that doesn't understand that development is a team sport, you're a dinosaur. You simply won't fit in because things are too complex now, too interconnected, and there are too many moving parts for one person to know it all. Development and building anything—whether it's a great infrastructure, great architectures, or great applications—it requires collaboration. To be successful in 2018, you have to understand that the team, the team, the team matters over you, you, you."

The takeaway for leaders
"For me, my biggest lesson as a leader has been to take feedback from my team. Listen to your team—about what's happening with their particular project or their particular application, or any issue they're having with a team member."
"People want to be listened to," Jamie continued. "They want to be recognized for their work, but they also want to feel that you listen to them. Nobody wants to feel dehumanized or minimized and dismissed. And if you don't listen to them, they will feel unappreciated, unimportant, and they'll be out looking for a new opportunity where they do feel appreciated."
More expert insights are on their way
Liked what you've read so far? Keep coming back for more!
In Advice from a VP of Engineering Part 2: Becoming a Leader, Jamie talks about the philosophy behind servant leadership, and how long it really takes to become an exceptional leader.
In Advice from a VP of Engineering Part 3: Building a Dev Team, startup founders will get step-by-step advice on how to build a kick-ass team of developers from day one and on.
Subscribe for full access
Don't miss out! The re:purpose blog is quickly becoming Michigan's go-to resource for:
News from the local startup community

Expert advice from seasoned professionals

Tips on driving creativity and innovation

Proven methods for landing your dream job

And more!
Subscribe to the purpose.jobs blog
About Jamie Hamilton
Jamie Hamilton is an experienced IT Senior Executive with a
passion for people development, leadership development, and technology. He is a Servant Leader who specializes in planning, developing, and building cutting-edge solutions to address client opportunities and business-partner needs.
Jamie is also an award-winning Software Engineer, having received an eCommerce implementation award from Microsoft. He is currently VP of Engineering at United Shore Mortgage. Before United Shore Mortgage, he was VP of Technology at North American Bancard (NAB). Prior to NAB, Jamie was VP of Information Technology at Quicken Loans. He was responsible for all internal applications and internal business partner technology solutions. He also held the VP of Software Engineering role while at Quicken Loans, where he was responsible for all application, mobile, and website development for
Quicken Loans' internal and external clients. In this role, he also led the QA Team.