Figuring out how to get the pilot light to turn on—and how to continue to fuel it—has been a long term goal for "Rust Belt economist" Nigel Griswold.
Of course, he's not talking about gas stoves or furnaces.
He's talking about communities—how to invest in them, keep them economically competitive, and help create equity and value for the people that live there.
But how can local governments do that well?
"Having good software and data makes it easier to position your community for growth. You need to have good software, evidence, and some source of truth that everyone rallies around," Nigel said.
That source of truth? Data. And that's exactly what drives Ann Arbor software company Dynamo Metrics to help communities make better choices and investments.


Image courtesy of Dynamo Metrics


Built in the Midwest for the entire nation
It all started at the Land Policy Institute at Michigan State University, where Nigel was studying the economic impact of blight and blight elimination in Flint, Mich. While Nigel was working on his thesis, he met Ben Calnin, a data scientist with a background in environmental studies. He was building the data systems that economists like Nigel would use to run their models. The two of them worked well together, were both passionate about their research, and eager to make real impacts on the communities they were studying.
When the housing market crashed in 2008, the U.S. Treasury enlisted the help of Nigel and Ben. They created the data system that would help the department measure the effect of the crash, protect property values, and slow the rate of foreclosure. Their research helped make sure that Michigan received over $761 million from the U.S. Treasury via the Hardest Hit Fund, which would be used to help eliminate blight. They continued doing research in Detroit, which was used by the U.S. Treasury to release over $2 billion in federal funds from the Troubled Asset Relief Program.
They also worked closely with Congressman Dan Kildee on this project. Congressman Kildee, who used to be the treasurer of Genesee County, also founded the Genesee County Land Bank, Michigan's first land bank, which is responsible for tens of millions of dollars in redevelopment in Flint.
"We were a key part in making those federal funds available through our research," Nigel said.
They started consulting, doing work for Jackson, Mich., and Cuyahoga County in Ohio. But Nigel and Ben wanted to make sure many communities could easily access this kind of data, analyses and modeling. So they built a software. And other Michigan cities, like Kalamazoo and Battle Creek, were hit hard by the Great Recession and experienced population loss, so they also jumped on the opportunity to use Dynamo Metrics' software.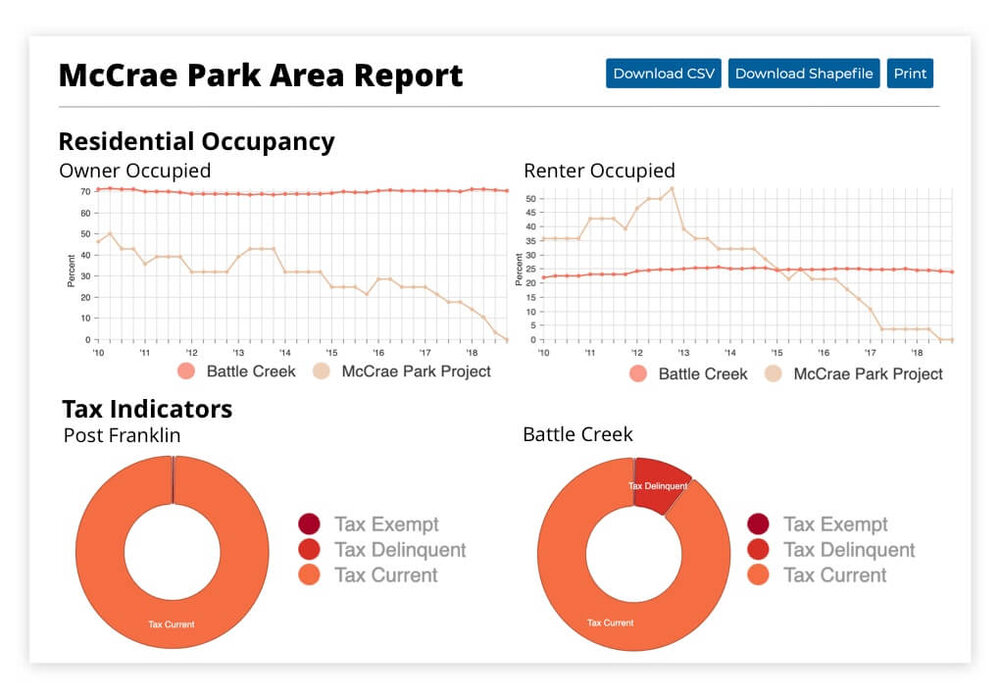 Image courtesy of Dynamo Metrics
"It was built out of the Midwest because there was a high necessity to reinvent our economies. And an underlying goal we have is to reposition the Midwest down to the property level to be more competitive in the global economy," Nigel said. "But this tool is something that's valuable to everyone."
Every unit of government in the country has the data they need, but accessing the data, and turning it into analyses and economic models isn't easy for local governments. Sometimes consultants can take over nine months to gather the data and the insight that communities need to help them move forward and grow.
"Research shouldn't sit in an ivory tower, or only be available in an academic journal with complex equations," Ben said. "We wanted to provide a tool that puts all this data in your hands on day one."
So in August 2019, they raised almost $1 million to launch Dynamo Metrics as a software company. And with the help of Ann Arbor SPARK, they set up shop in Ann Arbor. The software they're building is something local governments can easily use—and afford—to make better informed decisions about their communities and how to move them forward.
"What we've built is relevant everywhere. Real-time updated property level metrics that are fed out of native, local government data. Everybody needs that," Nigel said.
And he's right. Communities that aren't struggling with widespread blight can still benefit from this kind of technology. Dynamo Metrics helps communities identify places where there's an opportunity for mobility and growth and can model the economic impact of an investment in those areas.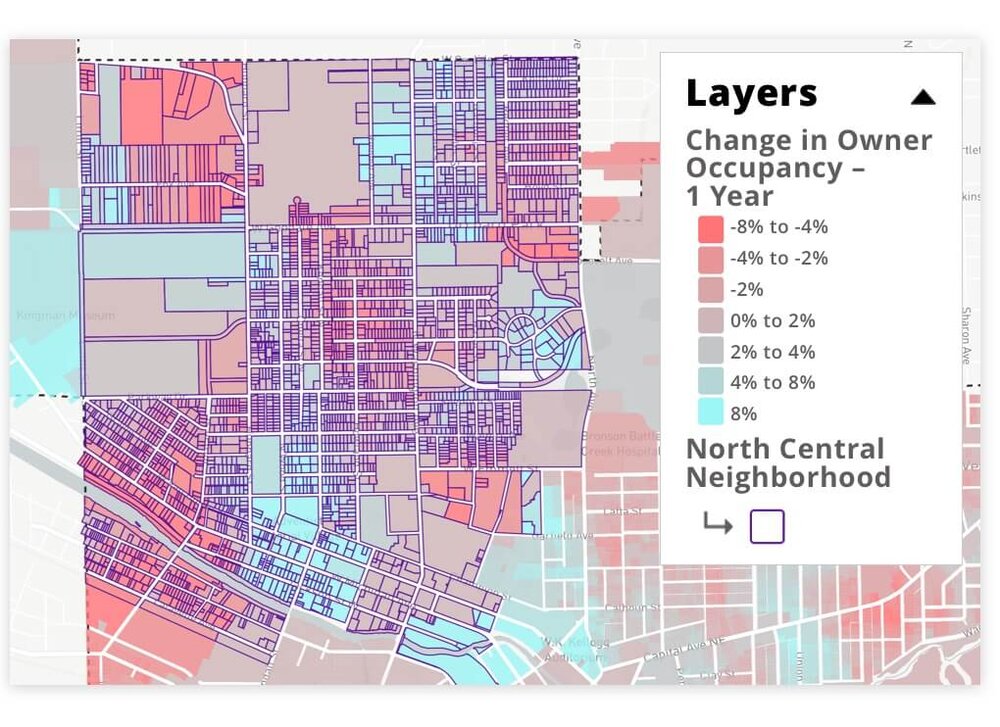 Image courtesy of Dynamo Metrics
"The tools we're making are being used by the people in charge of making sure that our cities are doing well," Ben said. "We're helping provide the tools that help local officials make those decisions as great as they can be."
And, according to Nigel, "That's where local government is relevant—targeting those places where resources are needed most."


Set up for Growth
Others are also taking note of Nigel and Ben's mission—and their success.
Last month, Dynamo Metrics took home the prize in the IT category at this year's Invest360 event, which was part of the a2Tech360 conference. Nigel's pitch won the company $50,000, and they also won the People's Choice Award, bringing home an additional $50,000.
On top of that, Dynamo Metrics just closed an extension of their seed round funding with an additional $460,000. This investment was led by M25 out of Chicago, along with Invest Detroit and Red Cedar Ventures.
The company only has ten people right now, and Nigel said $460,000 was a strategic investment.
"It positions us to do a bunch of strategic growth as a company and expand our footprint to the rest of the country. It's an exciting thing," Nigel said.
And much of that growth has to do with hiring. Nigel and Ben said they plan to hire 15 people over the next year, including people to join their engineering, sales, and marketing teams. But, as any small company knows, building the right team is crucial.
"Because we're a small company, we're very thoughtful about hiring," Nigel said.


So what are they thinking about when it comes to hiring?
Well, like any self-proclaimed nerds, they're thinking about a lot.
Of course they care about experience and skills—they're looking for some of the best in their fields. But Nigel and Ben know that who a person is and the kind of culture contribution they bring to the table is just as important.
"We're building a culture and a team that cares about local government and local success," Nigel said. "Our team cares about people and that they're getting what they need in their relationship with local governments to mobilize and prosper. That's what it's all about."

Image courtesy of Dynamo Metrics
Being engaged in and understanding how local government works is an important trait to have when working at Dynamo Metrics, Ben said.
The company strives to help government officials see things in a new light through the data, and that openness to learning is also valued internally. Nigel and Ben have created a team that is excited about taking on new challenges, open to learning new things, and isn't afraid to wear a few hats. They help empower their employees to take initiative in solving problems, and the team is highly motivated by the people and the communities that their product directly impacts.
"It feels wonderful to wake up every day, knowing that we're trying to solve really hard problems that directly impact people," Ben said.


Why a Sandwich is More than a Sandwich
As they build software that's focused on helping people and communities, Nigel and Ben are also focused on the people they work with, building meaningful human connections and relationships.
The team has always had regular staff events, and has been able to continue those after moving to a work-from-home model with remote game nights or socially distant bonfires.
"We really enjoy working with each other," Ben said. "We've created an environment where integrity, service, candor and continuous improvement are all highly valued. We want to know when things aren't working, where we can do better. There are no egos."
Being remote has also opened their talent pool to candidates outside of Ann Arbor.
"The Ann Arbor talent pool is really great," Nigel said. "But diversity matters, and it's something that's really important to us. Being more remote, and more flexible about how we work, definitely opens those doors to diverse talent."
Of course being fully remote comes with some downsides, especially for a company that is so committed to putting people first.
"You don't get to eat sandwiches together," Nigel said with a laugh. And, as anyone who has recently made the switch to remote work, you know very well it's not just a sandwich. "Eating together, taking those moments, it's value building, trust building, and there's a lot to that."
Because at the end of the day, people are at the core of Dynamo Metrics.
"We want all walks of life to feel that there is a safe landing spot in doing this mission if they come work with us," Nigel said. "Plus, there's a lot of fun to be had while we're doing this."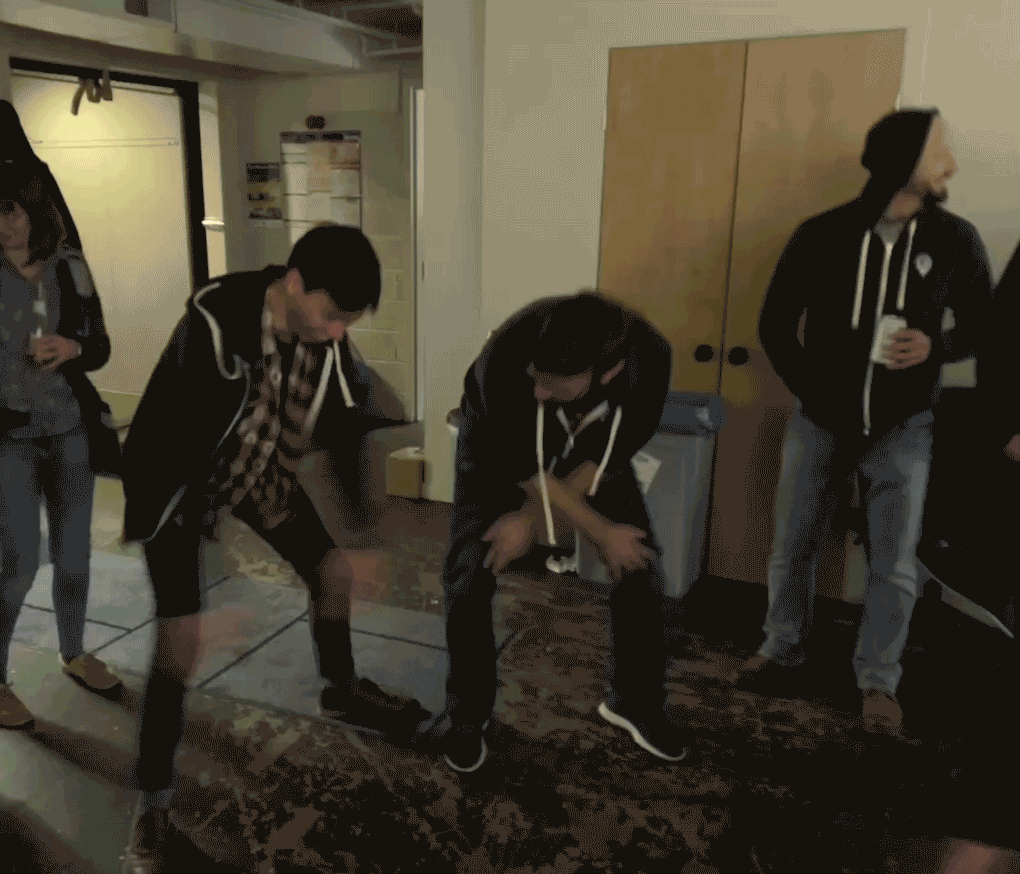 Gif courtesy of Dynamo Metrics
It's no wonder Dynamo Metrics has a really high retention rate—the original software engineer who built their product is still on the team.
Whether it's for their employees or for the communities directly impacted by the decisions of local officials, Dynamo Metrics truly cares about growth, prosperity and an equitable distribution of opportunity.
And this mission is what drives Nigel and Ben to keep innovating, to keep fueling that pilot light, and to keep people and communities at the heart of what they do.
"Life is short. Enjoy the people you're with," Ben said. "Do well while doing good, and do impactful things. I feel incredibly fortunate to be able to do work that's hard, that is fun in how difficult it is, and also I can feel really good about the work I do. I can actually see how this is changing communities."


Excited to apply for a role at Dynamo Metrics? Join our talent community to get started.
Want to know more about the work Dynamo Metrics is doing? Check out their podcast, Ahead of the Curve, or subscribe to their blog for resources, articles, and all sorts of helpful community content.