We've seen the models, we know the data… the climate crisis is the biggest and most dire challenge society faces right now.
As climate tech companies continue to raise more venture capital (in 2021, investments in climate tech hit nearly $31 billion, according to PitchBook), there's one Ann Arbor startup leading the charge in co-creating the future of renewable energy.
SkySpecs' mission is to simplify renewable energy asset management so that fewer resources can do more for the planet. They are simplifying asset management through the use of drone technology and purpose-built software specific to the renewable energy sector.
One application of this includes turbine inspections: instead of sending a human to inspect a gigantic turbine, SkySpecs can send a drone to do the job in just 15 minutes, saving time, energy and reducing safety risks. SkySpecs also develops software that collects and analyzes data to help asset owners and operators understand the health of their wind farms.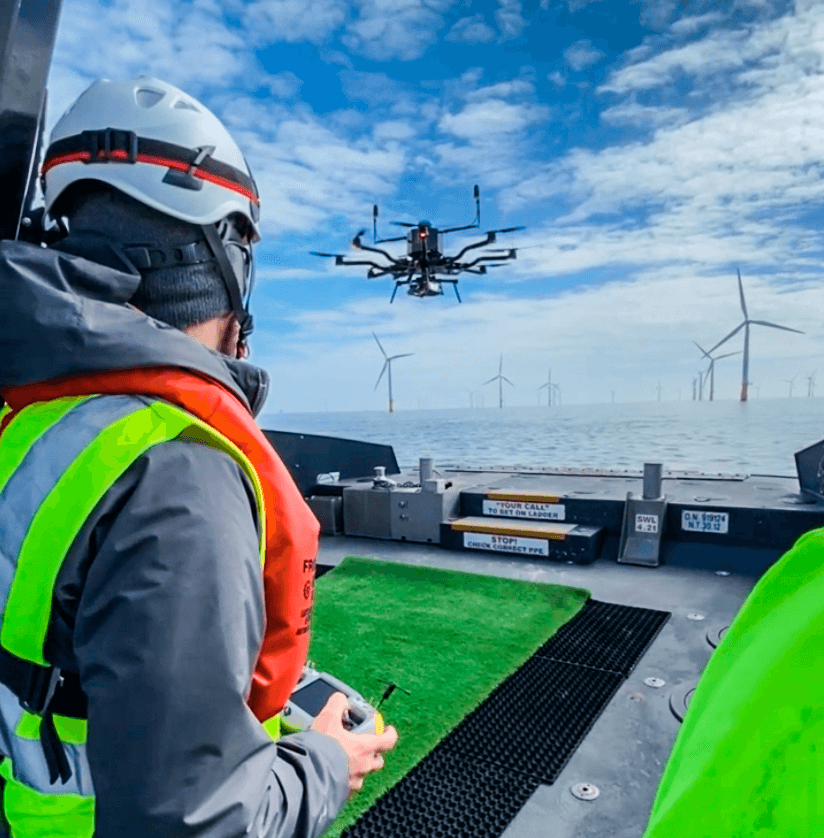 If you recall the early conversations around wind turbines, they weren't very well received. But as continued widespread use of fossil fuels will further damage the environment, turbines and other sources of renewable energy are becoming a more and more necessary solution to a pressing global problem. SkySpecs is here to speed the transition to the renewable energy future by making wind energy the most efficient source of clean power on the planet..
"We really are changing the way people look at renewable energy," said Sang Lam, VP of People and Culture at SkySpecs.
And investors have taken notice. Earlier this month, Ann Arbor SkySpecs raised $80 million in a financing round led by Goldman Sachs Asset Management. This new funding will help accelerate their software offering.
"People sometimes think we're probably just flying drones all day," Sang said. "And yes, we do that. But there's so much more."
The Place to Be in Tech
It's this very reason Sang joined SkySpecs. After his former startup Llamasoft got acquired by Coupa, Sang moved over to Vroom and helped the company go public. After that, he made the jump to SkySpecs. He knew its Chief Product Officer, but when he learned more about the mission and the opportunity to scale the company, Sang was totally on board.
"Everything you touch at SkySpecs is impactful," Sang said. "It's impactful to the business and the market."
Sang said that the renewable energy business has been around for hundreds of years, but there's never been such a strong market for it. Until now.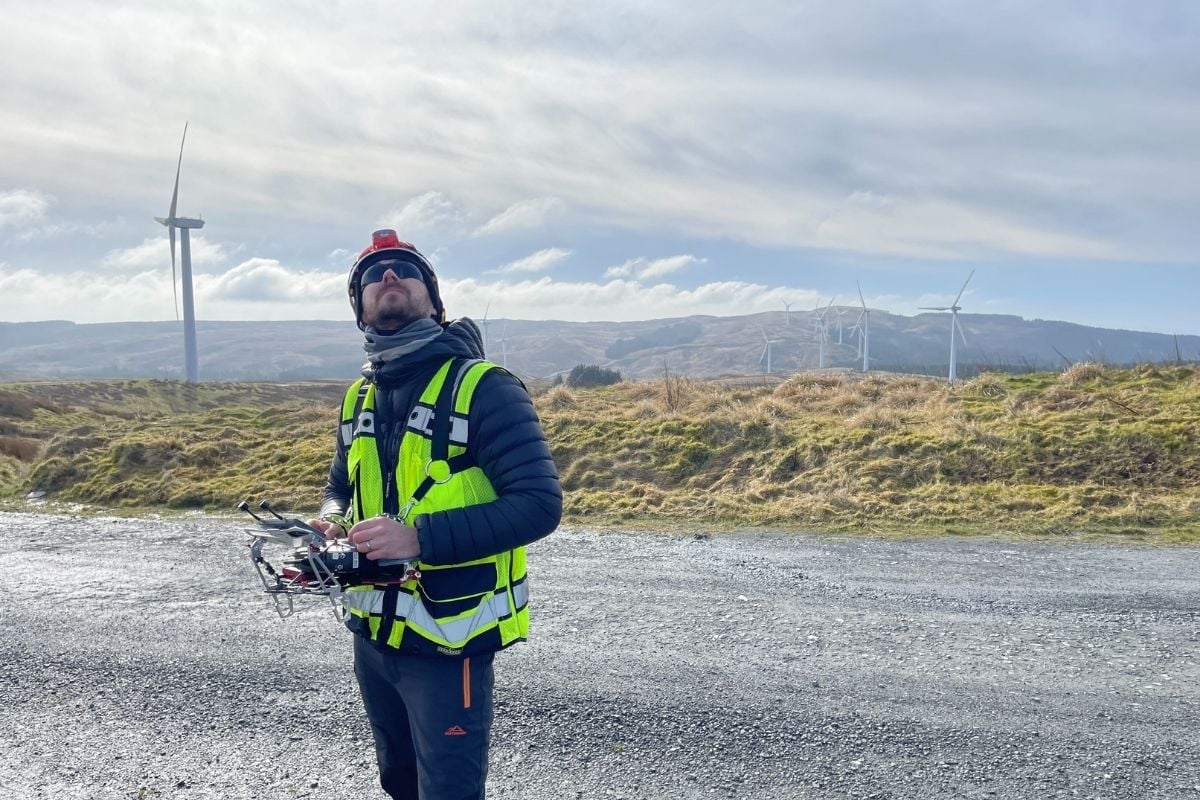 More and more companies are announcing commitments to renewable energy. General Motors is on track to source 100 percent renewable energy by 2025, and has pledged to be completely carbon neutral by 2040. Illinois is on a mission to use 100% carbon-free energy by 2045.
Of course there are other global leaders who have made more advances and aggressive commitments to renewable energy. The U.S. is playing catchup, which just means that now is the time to get involved.
"We are now in that hyper-growth stage. To use a common analogy, we're the spaceship launching to the moon, and it's time to get on before it's too late," Sang said. "We see that vision, and what we're doing here is so intriguing and exciting."
Where really cool people work on really cool products
So what is it like to work at SkySpecs? It's definitely a people-centric place. Everything starts and ends with their people, Sang said. And no, being the VP of People and Culture doesn't make Sang biased — it's literally his main focus at the company: making sure they take care of their people.
"When you start at a new company, you should be able to just dive right into the work. You don't want to have to worry about benefits. You just want to focus on why you're here," he said.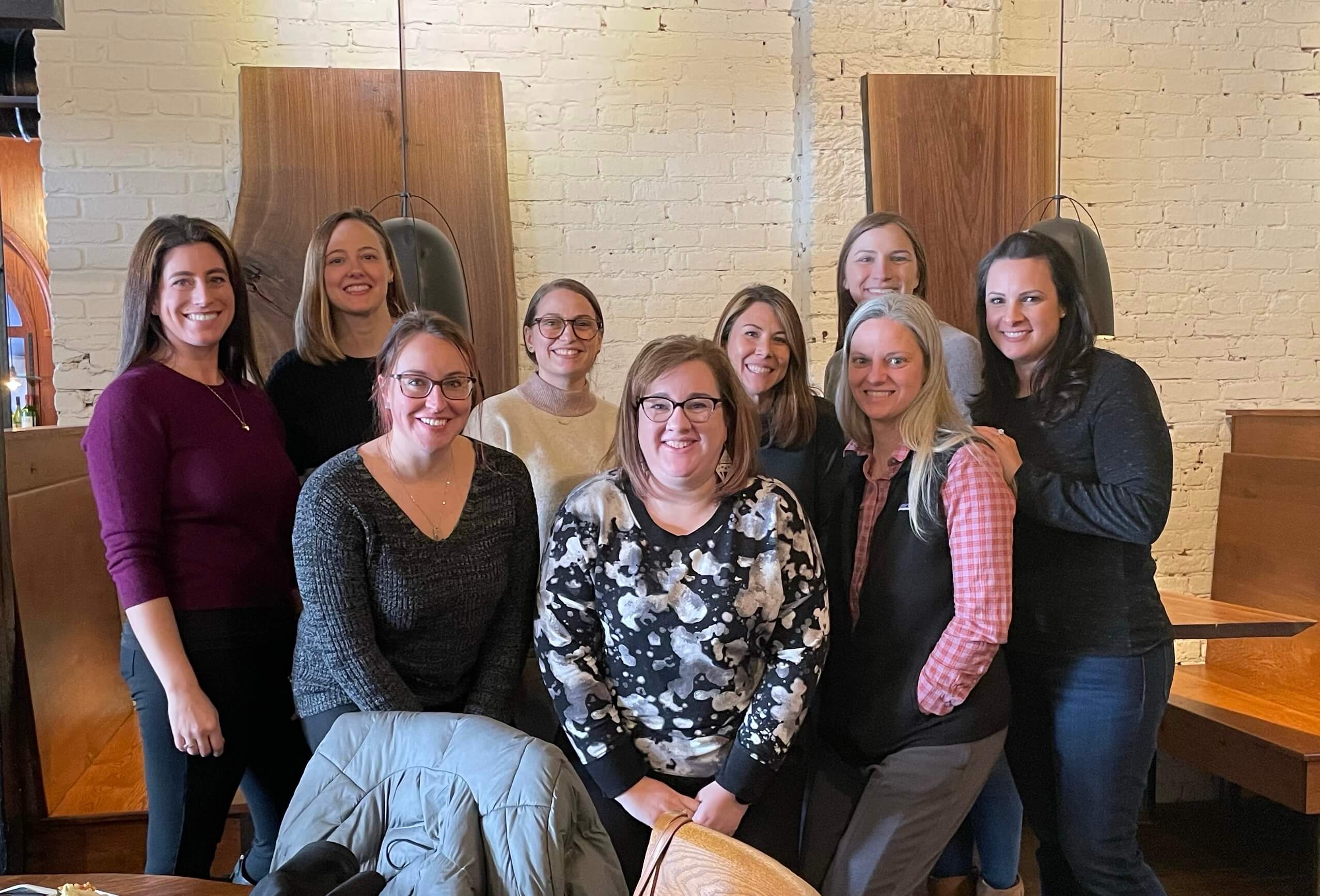 That's why SkySpecs offers some great benefits: flexible and unlimited PTO, paid parental leave, mental wellness resources, and more. Perhaps the greatest of these benefits is the very people who work at SkySpecs.

"Ninety days into my role with SkySpecs, I continue to be blown away by the people I get to work with" said Anthony Markwort, who came from another industry. "Driven, accessible, wickedly smart people in every part of the company make me look forward to starting work on Monday."
Sang and the people team are also working on perfecting the remote/hybrid environment and making sure culture translates into a virtual world. SkySpecs is a global company with offices in the United States (Ann Arbor), Denmark, Ireland, India, and the Netherlands, but now they are even more virtual than ever. No company is perfect at being completely remote or hybrid, but for Sang it's all about what the team is doing to get a little better every single day.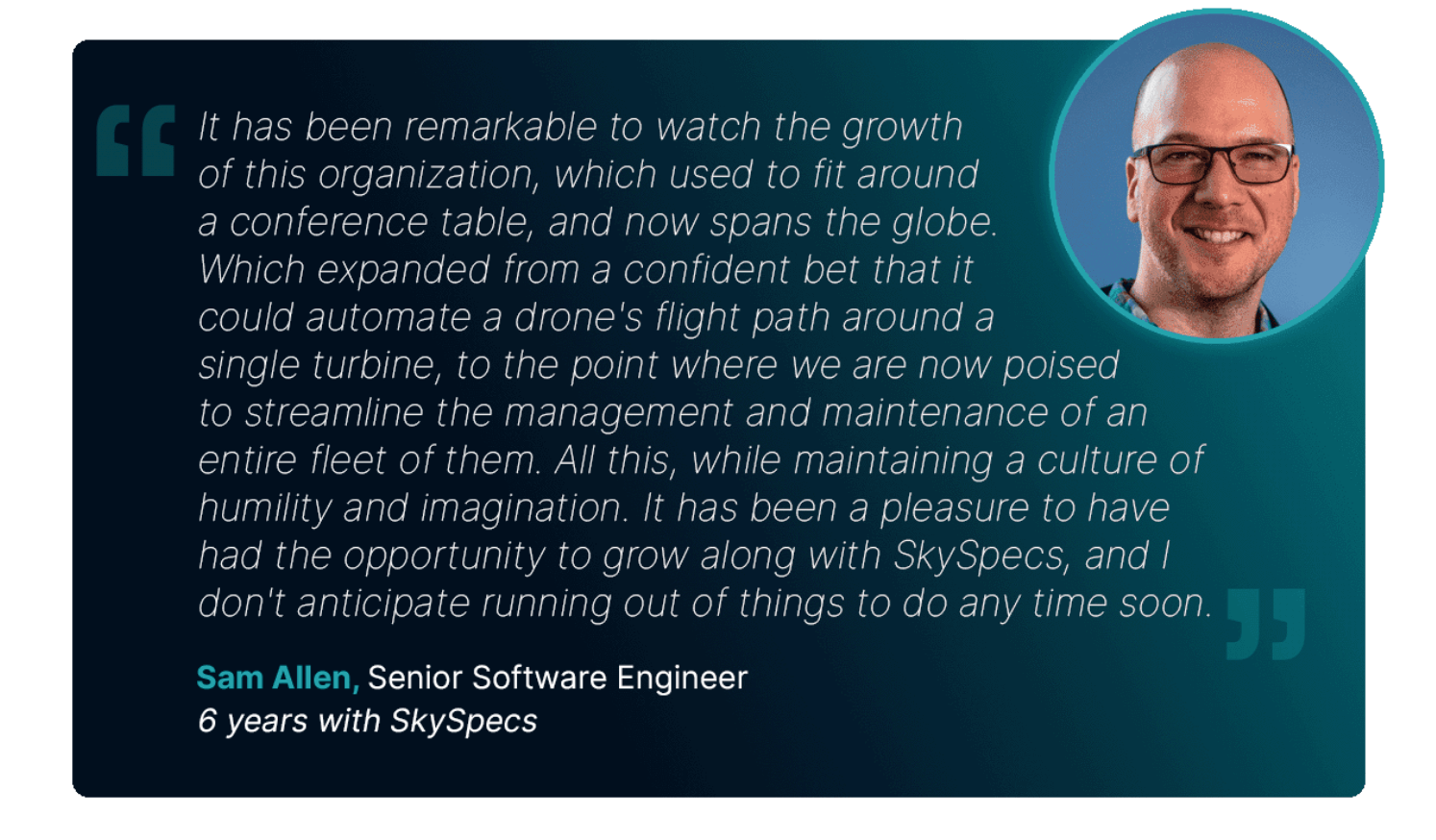 That's why they prioritize open communication — really listening and not just talking. It's about understanding the needs and frustrations of people, and taking action to change.
In order to stay connected, the team also hosts in-person events, executive team open office hours where people can reach out, virtual bagel chats with new hires, and more. It really is a place where people are accessible — yes, you can walk up to the CTO, ask him a question and start whiteboarding it together!
"It's important for us to not lose the things that made our culture great when we were totally in-person," Sang said. "It's about creating and maintaining an environment that keeps people passionate, driven and inspired."
And those three words are a great way to describe someone who would thrive at SkySpecs. In addition, if you have an entrepreneurial mindset and are excited about working on these issues, you would do well at the company.
It's an opportunity to work on more modern technology (frontend is React, backend is Node.js) and the team is building its technology from scratch. Everything you build is the first of its kind, Sang said.
"The people and the products are really cool," Sang said. "The day you walk into SkySpecs, you're part of changing the world."