Many startup companies launch with the intent of creating the perfect mix of culture and financial autonomy. Although inspiration and pure grit are necessary tools for startup success, they can't be the sole basis for a solid business plan.
So, what does it take for a startup to go from an idea to one of the fastest growing software-as-a-service (SaaS) companies in the country?
We spoke with Ashley Vartyak, who has been a member of Duo Security since its startup roots. As the 20th employee hired at Duo, Ashley was quick to get her hands dirty as the Director of People & Culture. Working directly with CEO Dug Song, Ashley was a key asset in leading the company's early people operations and recruiting efforts. As the brand grew, so did Ashley's responsibilities. Now, as Duo's Director of Employer Brand, Ashley has had an inspiring journey with one of the most successful startups in the country.
Since founding in 2010, Duo Security has positioned itself as one of the strongest resources to protect companies from data security breaches. Ashley has witnessed Duo grow from its humble beginnings in Michigan, to evolve into a company with over 400 employees in four offices across the United States and the UK.
Ashley shared with us some tips that helped Duo Security not only raise $50+ million in investments from the likes of Benchmark, Google Ventures, True Ventures, Radar Partners, etc. but did so without sacrificing its purpose and culture.
btw, this is Ashley and her Duo family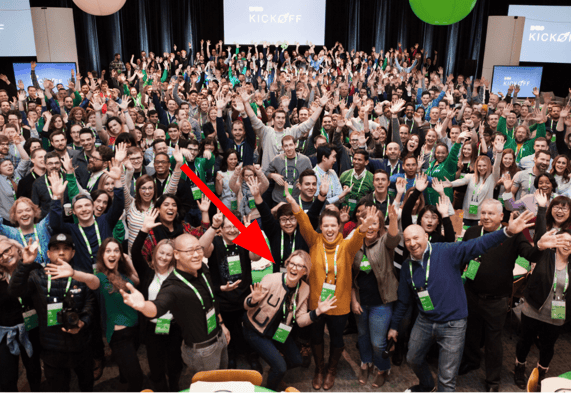 Q+A
Ryan: Before we jump into Duo Security and its story - where are you from and how did you land at a security startup?
Ashley: I'm from Northern MI, a little beach town called Manistee. I studied behavioral psychology and completed a master's in Organizational Psychology. I returned to MI, making a home for myself in Ann Arbor leading an agency recruiting team focused on tech and creative hires. From there I was heavily recruited and it made me start to evaluate other opportunities.
I had a huge itch to build and scale something myself, and do it the right way, thinking of people first. As I was being recruited, I thought, "if there is ever a time to really assess what I want and go find it, it's now." I started looking at the Ann Arbor startup scene and found Duo. There was an opening to build Recruiting & HR. It was the only job I applied to, and it's the only one I wanted. I took a pay cut at the time (we were a startup - it's the norm in the beginning), and I jumped in eyes wide open ready to build!
Ryan: I've been told that your initial interview experience was a little unorthodox…
Ashley: Duo's online application process asked a handful of interesting questions - what's your favorite mobile app, share a picture of a badass Owl and what makes you unique. It really showed me the playful side of Duo and that the company was trying to get to know me as an individual and see where my passions lie.
I also had asked them to interview early, and by early I mean 8 a.m. That was a big mistake. Two of my four interviewers looked like they had just rolled out of bed. I normally held an all-hands stand up at 7:45 a.m., so I was used to being up early… I didn't know that in the startup world you don't schedule anything before 10 a.m.!
Moving to Michigan or looking for that perfect startup job? Check out our curated marketplace to find the best startup jobs in Michigan.
Ryan: What about Duo inspired you from the interview process?
Ashley: They showcased Duo's personality and culture in the application process itself, and made applying for a job fun. Rather than blankly sending a resume, I was able to showcase my personality. Once onsite, I was inspired by the opportunity to be employee 20 and build the People team as well as scale Duo. The interview process showed me a lot of opportunity and potential - even in their interview experience.
Pro Tip: Figure out what makes you unique as a company and build it into your candidate experience. Everyone says they have a "great culture," make sure to build self-awareness around the why early on and make sure it aligns to your customer/product story.
Ryan: When Duo started, how was it able to position itself and compete against well-established security giants?
Ashley: Most small and midsized organizations couldn't afford to implement basic security; they fell below the security poverty line. Duo was created to make security accessible for everyone, not just Fortune 500s with the money and large teams to run complicated security programs and products. We succeeded in a densely populated product space by doing what no other companies were - making security easy and effective! Even our logo symbolizes the removal of barriers, such as being "green" for go versus red like so many of our competitors, who sell products using a militarized marketing theme and by making security so complex that you need teams of people and millions of dollars to run them. By making security easy and effective, we earned the title "most loved company in security" from our customers and users.
Pro Tip: When you're interviewing at a company, be sure to ask them how they differentiate themselves from their competition. Who do they lose deals too, and why? Go in eyes wide open so you know the challenge ahead if you take the role.
Ryan: Can you share any of Duo's numbers? Revenue? Funding? Team members? Plans to IPO?
Ashley: Duo has experienced rapid growth over the last four years, averaging more than 100% growth in Annual Recurring Revenue (ARR) year-over-year, with $73M at the end of 2016. We've raised $49M (Google Ventures, Benchmark, True Ventures, and Redpoint) to scale to 400 team members and support more than 8000 customers. We have four office locations: Ann Arbor, Austin, London and San Mateo, as well as many remote team members. Our growth and success has put us in the ranks of the most successfully scaling SaaS companies across industries, and our focus remains on growing our business!
Ashley leading an all-hands meeting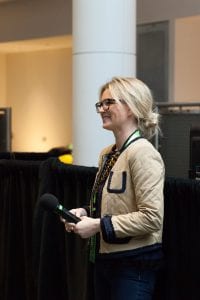 Ryan: How does Duo manage its culture with such extreme growth?
Ashley: We don't try to "keep the culture" which is a common phrase that gets asked. A culture grows, it scales as we scale, and our goal is to continue to be thoughtful about it and hire people that will contribute to the culture we want to grow.
We continue to focus and make investments in our recruiting practices, for example, right now we're in the process of hiring for a Diversity & Inclusion Leader. This is a hire that isn't often done until you hit a headcount of around 1000 or until you have a problem. For Duo, diversity is our strength, and we want to be incredibly thoughtful about how we grow and how we ensure that Duo feels like a home for everyone to do their best work and grow.
We also started doing culture surveys very early on (under 50 employees still) and have scaled this to still be one data point of many in how we're doing with rapid growth. It provides a high-level view of where we're succeeding and where we need to make investments. We then get our team involved in driving change.
Pro Tip: There is no magic bullet during rapid growth, but from my experience, these have been key to us scaling rapidly without breaking:
Know who you are and what you value as a company and tell that story over and over. Double check over time that your employee benefits, processes, customers and employee experiences tell the same stories about your values.

Be transparent and create many channels for feedback: anonymous, open forum, direct to CEO, employee relations, regular manager 1:1s, and skip level 1:1s.

Invest in hiring for and training your leaders.
Join a purpose-driven startup like Duo Security - signup on our platform today. We'd love to help!
Ryan: Let's talk about Duo leadership. What are their 2-3 best qualities?
Ashley: Heart is always in the right place, focus on both gratitude in our culture from the top down, and empowering employees.
Pro Tip: Culture isn't beer kegs, ping pong tables, modern offices and employee perks, it's about the behaviors the team reinforces on a daily basis. Start with the leadership and ask how they build and maintain a positive culture, next speak to an independent contributor and ask about the last decision they made and how the organization recognizes good work. Empowerment and a positive work environment are two key elements of employee engagement.
Ryan: If you had to thank Dug Song for one thing since you've been at Duo - what would it be?
Ashley: I'd thank him for focusing on our people. Every company's culture starts with the CEO, and Dug takes such an interest in getting to know everyone as an individual. When our new hires and candidates spend time with him they walk away completely in awe. He cares so deeply to get to know them, their interests, aspirations, and families.
His prioritization of our people and desire to be a platform opportunity for their career growth, allowed me to invest in programs, policies, and benefits that have been surprising to most for our stage, size and funding. He never even flinched when I suggested that at under 50 employees we pay for employee family and medical leave (FMLA) and offer them job security - as neither are required by law at that size. Dug even challenged me to put in place more generous parental leave policies - he kindly reminded me that at that time, I wasn't a parent, so it was hard to have perspective, but to trust him that it took a village and Duo would be that village for our team members.
Over my four years of scaling Duo, I've been proud to partner with Dug building a positive work environment that has rituals of gratitude, a focus on learning together, and takes care of our people. I'm now lucky to be in a role where I continue to help us invest in employee and candidate experience, and share the story of a startup forged in the Midwest that's earned the title of "Most Loved Company in Security."
Get access to the best startup companies in Detroit and Ann Arbor.