Part of the rapidly growing Ann Arbor tech hub, DocNetwork is a SaaS startup offering electronic health records for camps, schools, and member organizations through the CampDoc and SchoolDoc platforms. Not just your average software company, DocNetwork is on a mission to leverage the latest technology to help increase health and safety for kids while away from home.
Dr. Michael Ambrose, CEO and founder of DocNetwork and a board certified pediatrician (yes, he really is both!), founded DocNetwork in 2009 while completing his medical residency at the University of Michigan. As a longtime summer camp participant and camp staff member, Michael knew first hand the risks and challenges camps faced when it came to pen-and-paper health records and tracking camper needs. With this in mind, Michael taught himself to code and set out to build a solution.
Now, over a decade later, DocNetwork has expanded its product, headcount, and presence in the Ann Arbor tech community to become the leading industry solution for electronic health records in camps, schools, and youth organizations in the US and abroad and counts over 1,250 organizations as current clients.
And they're still continuing to grow! The team is actively hiring Full-Stack Software Developers, a Product Manager, Learning Designer and a Salesforce & Operations Manager to join their team.
But what is it like to work at DocNetwork? We went behind the scenes with the company's Cultural Ambassadors to find out.
Meet the DocNetwork Cultural Ambassadors, Jesse and Elise
The current Cultural Ambassadors at DocNetwork are Jesse Wells (Client Success Manager) and Elise Brantley (Marketing Strategist).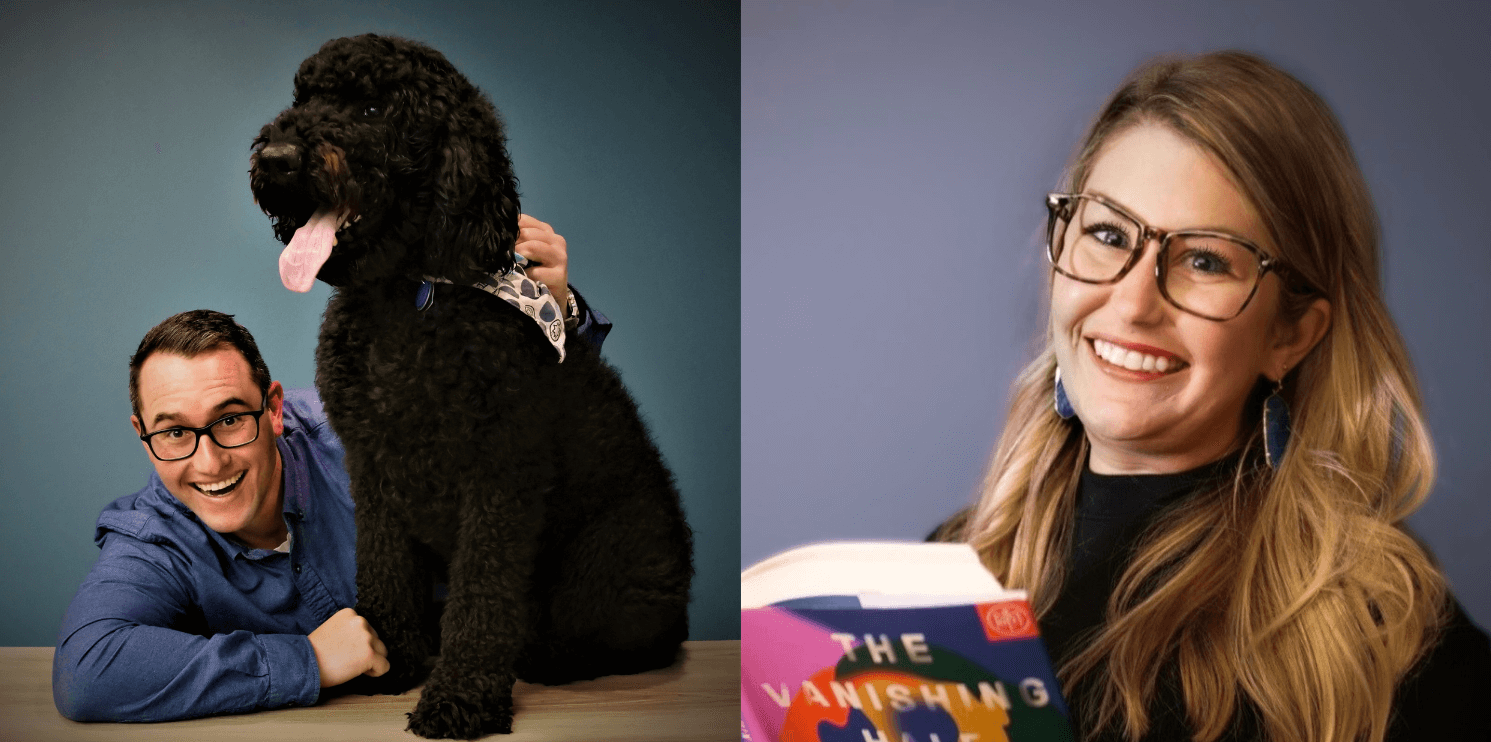 Jesse and Elise exemplify the DocNetwork company culture and have been appointed to the year-long position.
"A third of your life is spent at work, so why wouldn't you want to be in an enjoyable and positive environment?" Elise said. "It's not just a place to put your time slip in. Sure, it is work, but it can also be fun and fulfilling. And it should be a place where you experience growth."
While some party planning is involved, being a Cultural Ambassador goes beyond picking up donuts for the team. The role is pivotal in creating a strong, inclusive workplace and in helping employees feel a sense of belonging and purpose.
It's about making new hires feel welcomed. It's about encouraging people to start their own cultural initiatives. It's about receiving feedback on sensitive issues and making sure it's addressed. It's about creating a space for people to get to know each other on a human-level, and helping facilitate a happy, successful, close-knit team where everyone can succeed.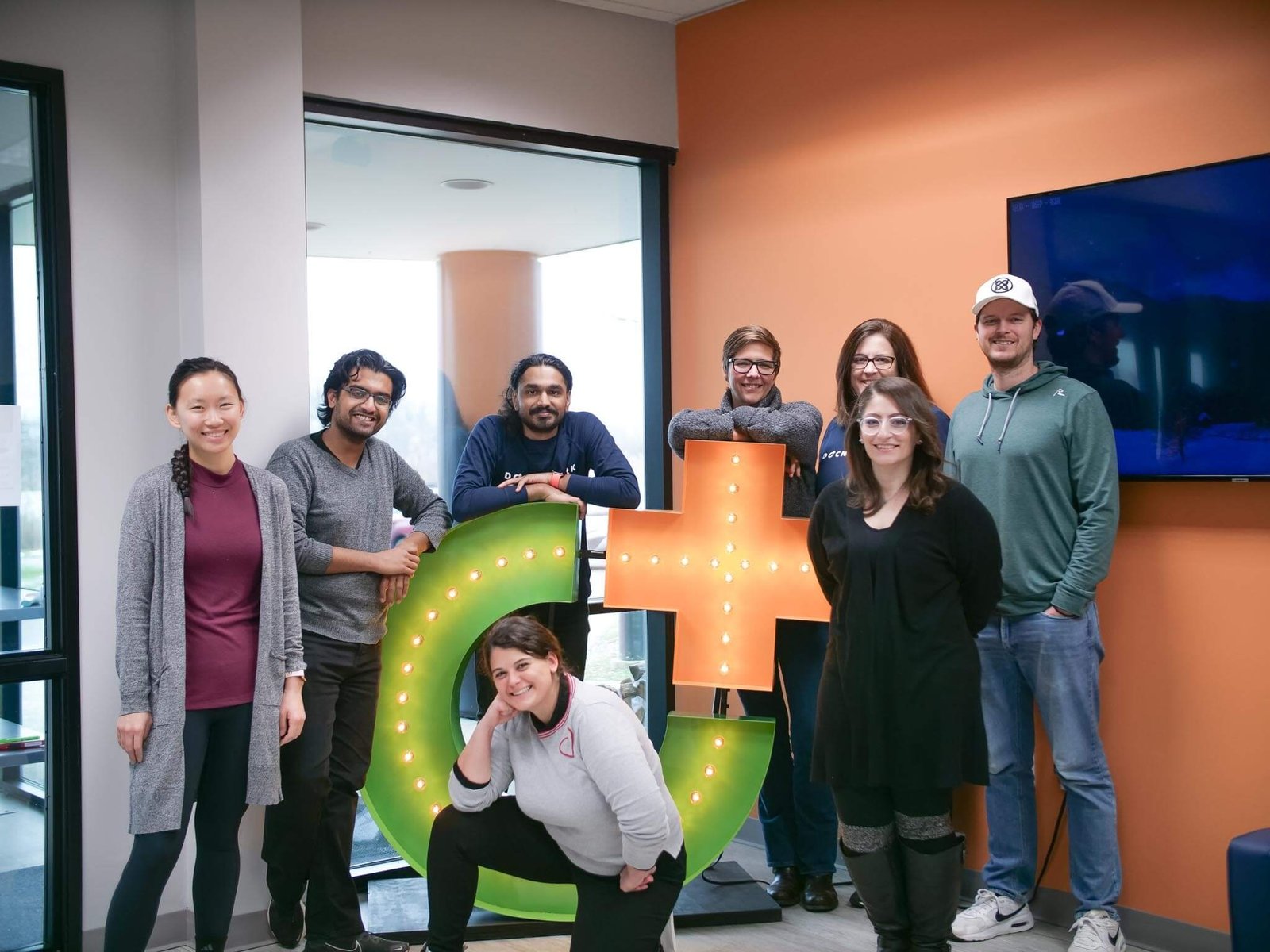 The Campground
Okay, so that's my term for it, but if you think about summer camp, a lot applies to the DocNetwork office.
Tucked in a hub of innovation (alongside May Mobility, Tetra Tech and others) on the southside of Ann Arbor, the DocNetwork office is housed in a spacious building that overlooks a picturesque pond. Cranes, deer and geese (so many geese!) are often spotted through the windows. Lunchtime nature walks are popular among the team. And Jesse, who is a camp industry veteran, said he even likes to go fishing in the ponds surrounding the building.
And the fun doesn't stop when you walk through the doors. You'll notice people's bunks — I mean desktops — are decorated and showcase their personalities. Meeting rooms are outfitted with white boards for impromptu brainstorming or sketches. And yes, the rec room boasts a shiny Peloton, a MIRROR home gym, and a rack of weights to encourage daily movement. But perhaps more popular are the giant bean bags and pillows for lounging. The mess hall is filled with games and company-provided snacks, and, if you're lucky, baked goods from a generous team member's kitchen.

In the main hallway, the company's core values are displayed across the wall, bigger than any DocNetwork logo, to guide team members' work and interactions on a day-to-day basis.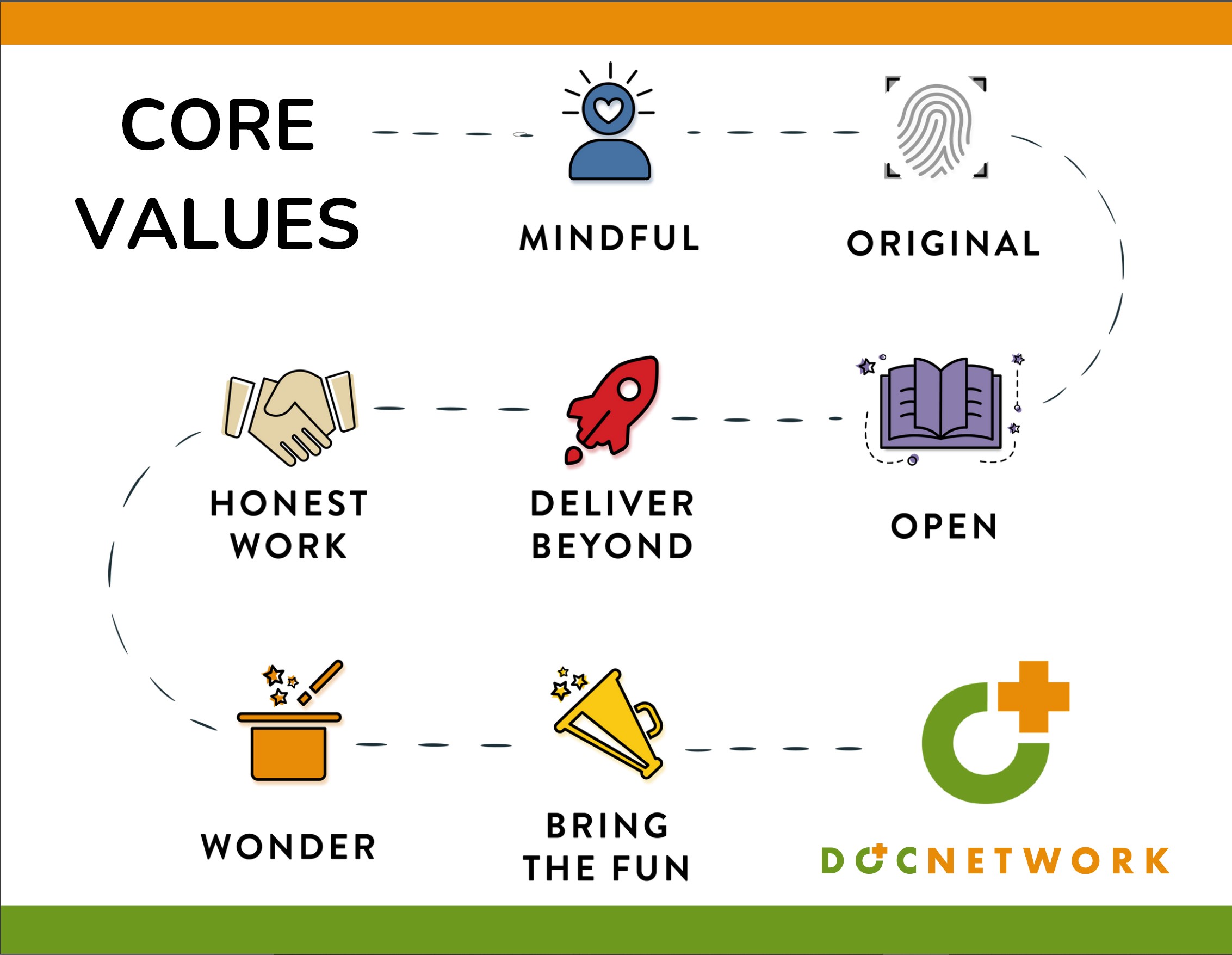 But what's the best part about camp? The people. And that applies at DocNetwork, too.
"I love how DocNetwork has brought camp to the office. As a camp director or counselor, you try to develop and maintain a culture to help kids grow. Being involved in the culture is something I enjoy, and I love being able to help teammates access opportunities to grow and learn," Jesse said.
Elise said there's a contagious energy in the office. An energy for joining things, experimenting, trying something new.
"That's a big reason why I'm happy to return to the office," Elise said. "The energy is contagious and inspires me to do my best work."
DocNetwork has implemented a hybrid schedule which allows employees to work from home two days per week and come into the office for the other three (you choose your days). And riding the tails (pun intended) of DocNetwork's pet policy, the office frequently welcomes team members with perked ears and friendly licks from their canine companions.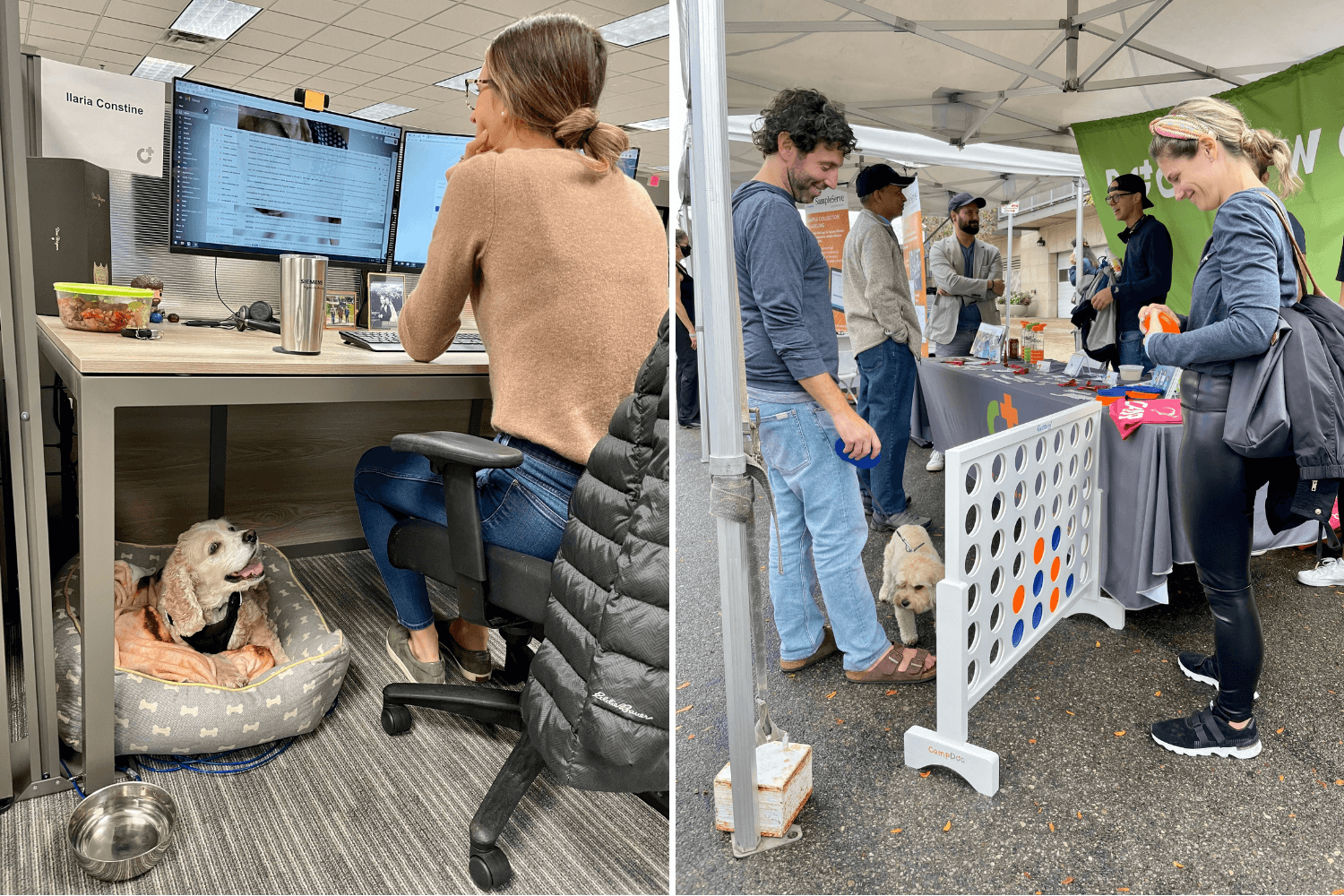 Pets aside, people genuinely enjoy being around each other and having fun and have been happy to return to the office in Ann Arbor, which is a great city to be located in.
"Ann Arbor really is the best of both worlds. You're close to Detroit if you want a big city and close to the country if you want to be outdoors. The food scene is amazing, the schools are great, and the college town comes with a lot of amenities," Elise said.
Elise and her family — which includes her husband, two kids, dogs and chickens — live in the country about 30 minutes from Ann Arbor. "I work at an exciting tech startup, my husband works at a leading university, and unlike many of our friends in the Bay Area or on the East Coast, we live in a city where we can afford to buy a nice home and raise our family."
"We're also in a great bubble for tech companies," Jesse said. For example, DocNetwork is a frequent participant in Ann Arbor SPARK's TechTrek, a tech event open to the public to showcase local businesses and products to highlight the growing tech presence and influence in the Ann Arbor community. Sixty tech companies participated in 2021 through a variety of in-person and online events.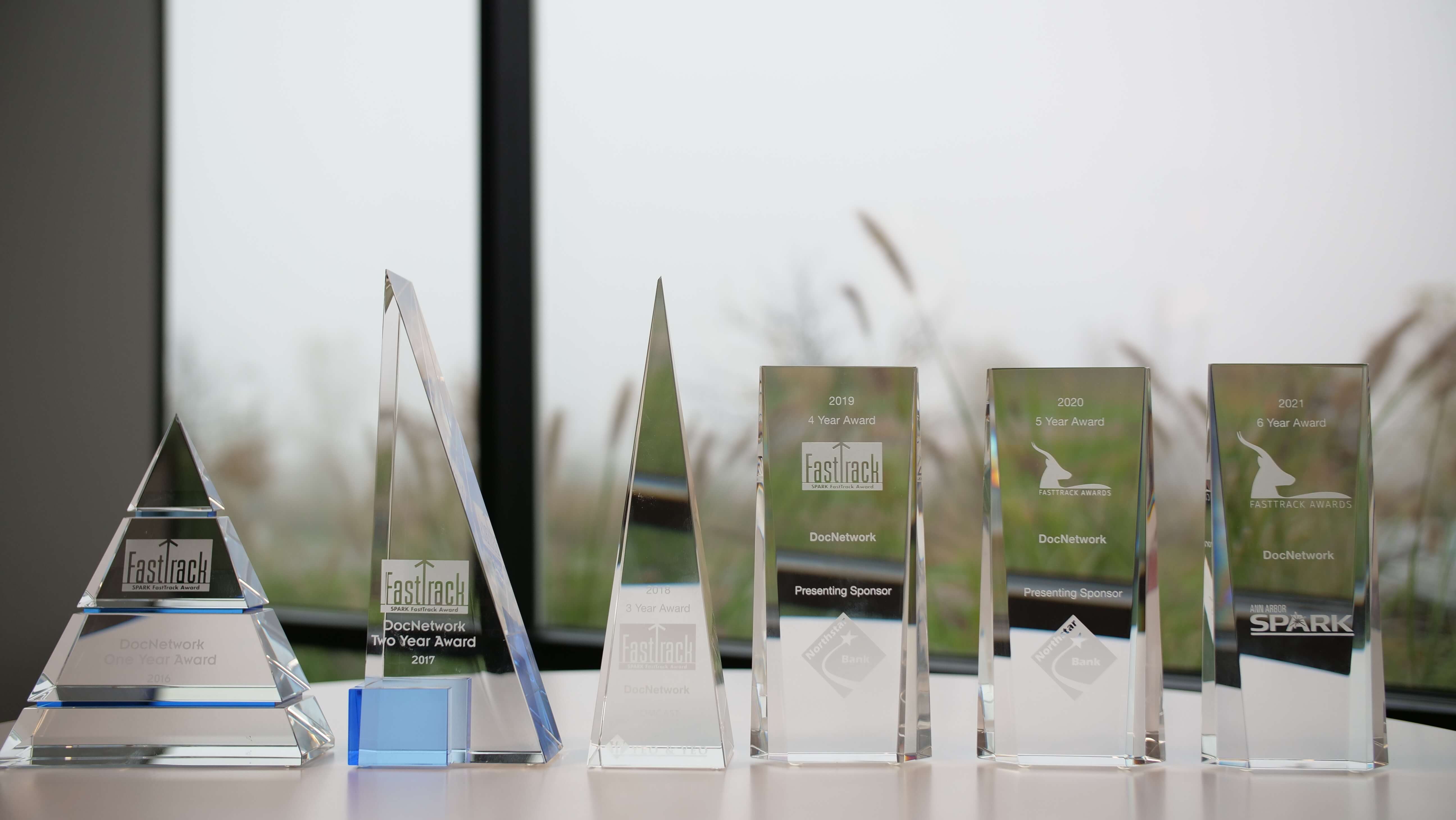 DocNetwork is a 6-time winner of Ann Arbor SPARK's FastTrack Award


"There's so much talent and potential in this city. We're in a really exciting space," Jesse said.
On top of having flexible schedules and a hybrid office environment, DocNetwork also offers wellness bonuses, top-notch insurance, and generous parental leave, which has been prioritized as the team has grown and their needs have evolved. DocNetwork's benefits and perks also include more unique offerings, including Pet Insurance, two days of paid Volunteer Time Off, and an annual budget for professional development.
Intentional Hiring & Intentional Teammates
As Cultural Ambassadors, Elise and Jesse know how important it is to consider culture when growing the team.
"I can't stress enough how intentional DocNetwork is about hiring the right people. We strive to put the right people in the right place and look for people who will bring something new to the team," Elise said.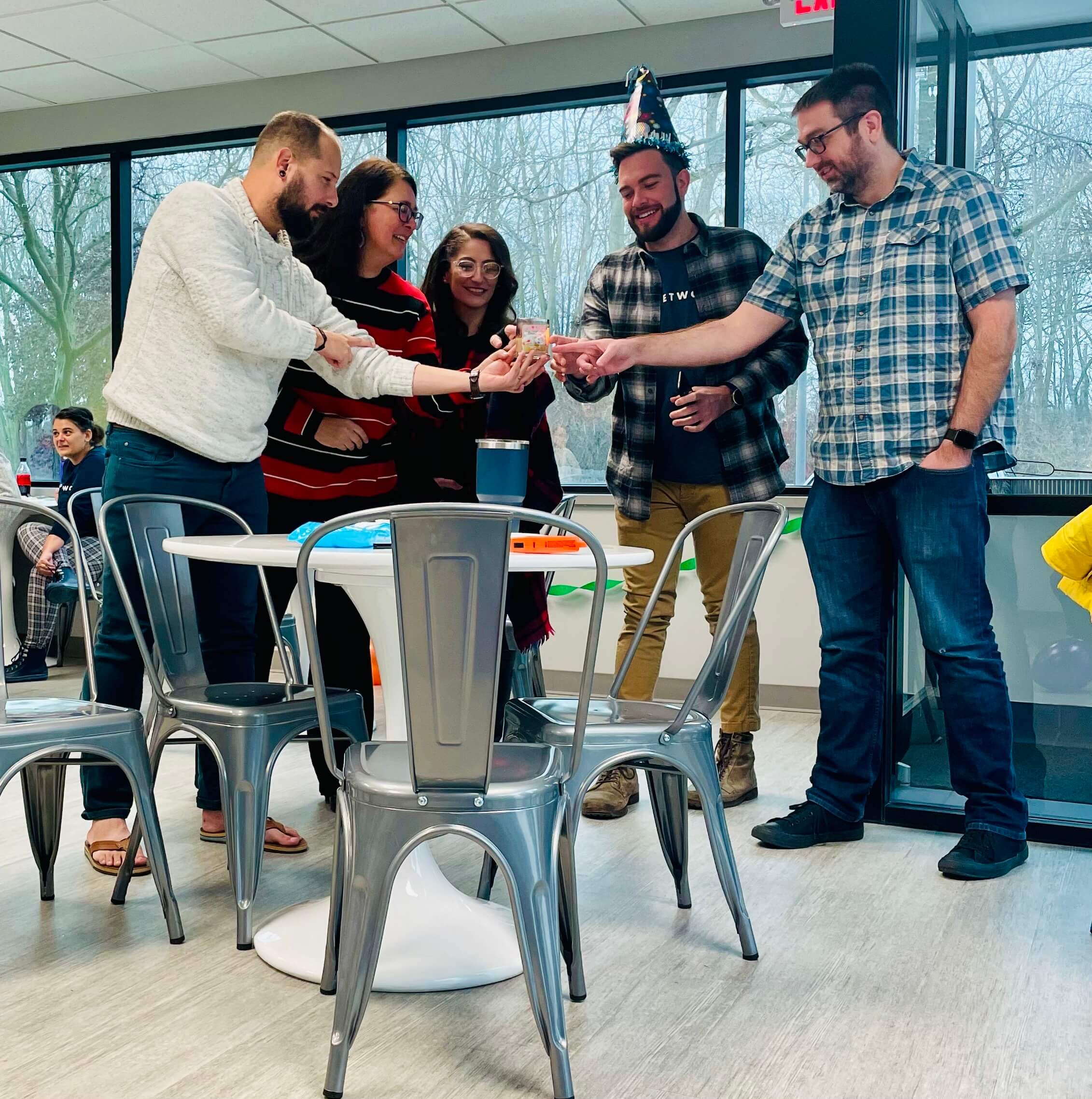 And being able to bring something new to the table is huge for DocNetwork. The team has diversity in many different ways: background, experience, and gender. Age diversity has greatly grown over the years as the company and the team continue to grow.
Racial diversity has steadily improved and the team continues to prioritize increasing diversity by implementing fair and equitable hiring practices. Inclusion is just as important at DocNetwork. To check the pulse on inclusion, quarterly anonymous feedback is collected to assess how team members experience inclusion in their day-to-day. An important feature of the Cultural Ambassador role includes being a resource for anyone who wants to discuss areas to improve or suggest new initiatives.

DocNetwork's People Operations Manager hosts monthly Diversity & Inclusion Affinity Group meetings to host guest speakers, participate in diversity/ inclusion training, and discuss company initiatives. A recent DocNetwork demographic survey, with 90% participation, showed that DocNetwork employees would highly recommend the company as a great place to work for any friend or family member, including those in underrepresented groups.
Culture Must-Haves
So what else is the DocNetwork team looking for as they evaluate candidates? Hiring managers look for:
Demonstrated openness to teamwork and the ability to be collaborative.

Great communication and problem solving capabilities.

Passion! Passion fuels creativity, dedication, and resilience. Ideal candidates connect the dots between their passion projects and their desired job with the DocNetwork team.


"You don't have to be family or best friends, but it's important to build close relationships and have fun with each other," Elise said. "You have to be comfortable to reach out to people and ask questions; you have to feel supported before you can be comfortable to take risks and really grow. When you're close with your coworkers on a human level, communication and collaboration come easily."
Does this sound like you? DocNetwork is currently hiring a Salesforce & Operations Manager, Learning Designer, Full-Stack Developer, and a Product Manager. Stay tuned for more jobs from DocNetwork in 2022!
Learn more about working at DocNetwork and get connected with the team today.