Many companies are emerging from the COVID-19 pandemic with a hybrid work model, meaning some employees will return to the office at least part-time, but others will collaborate remotely. Navigating what this working plan actually looks like can be tricky. When — and where — can your team get together?
Coworking spaces support hybrid work models in a variety of ways. Some, such as Cahoots in Ann Arbor, offer seemingly endless options for individuals all the way up to fairly large teams, including conference rooms and call spaces to multiple desk options.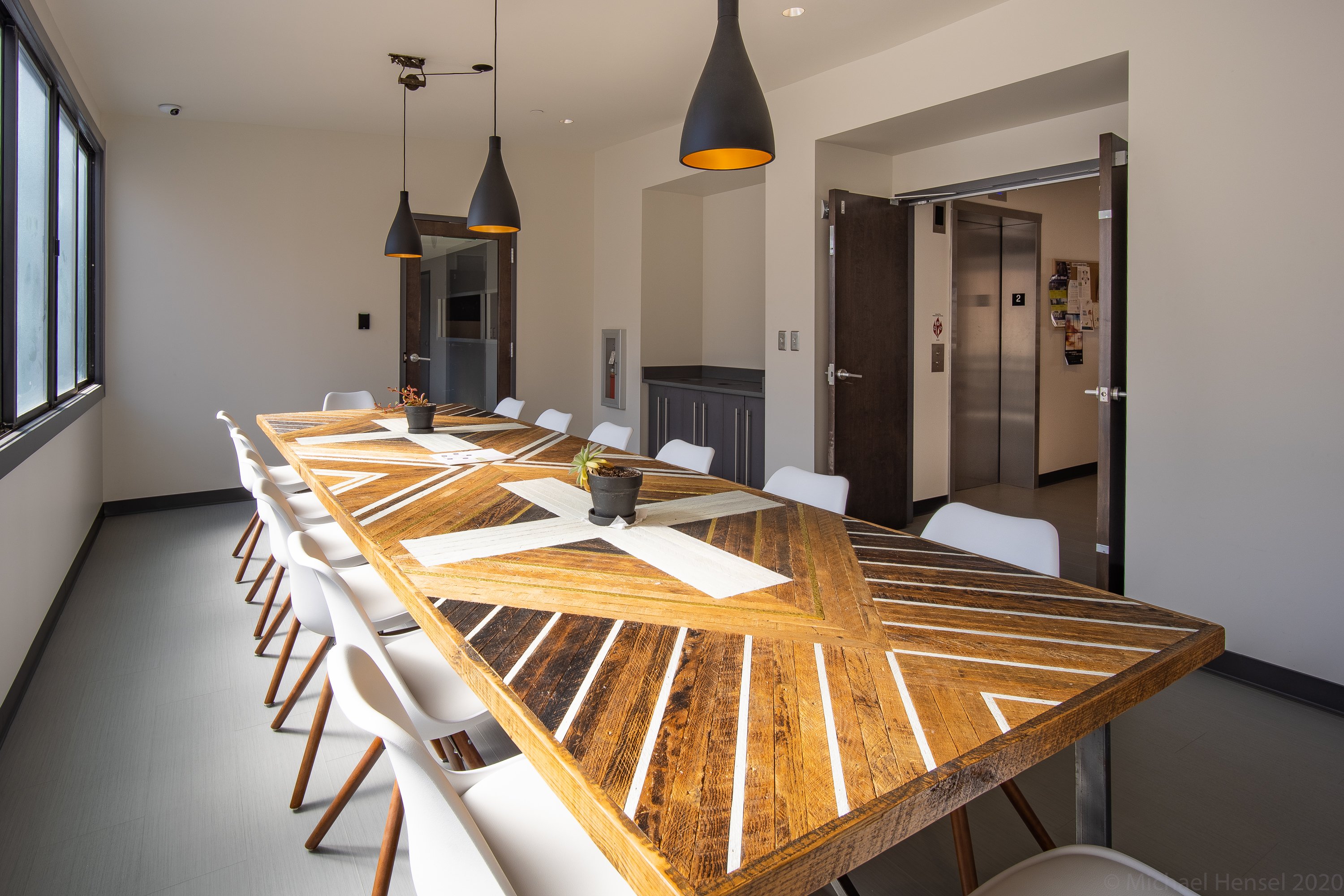 Image courtesy of Cahoots
You'll also often hear companies that started in coworking spaces praise the networking benefits of being in a shared space — team collaboration, events, and close contact with people in other companies helps startups connect and grow.
Amanda Lewan, founder and CEO of coworking space Bamboo Detroit, says, "Our industry predicts there will be less longterm leasing for big headquarters, and a need for more flexible or distributed office space options. Teams looking to transition to hybrid work should poll their employees and design a strategy that best suits them. Consider coworking if there's interest in flexible options outside the home, or a need for greater collaboration."
Despite a challenging year for coworking spaces, even new coworking space Bea's Detroit co-founder Beatrice Wolnerman believes in the hybrid work model. "I am a believer that coworking spaces will actually be more valuable with hybrid work models," Wolnerman says. "It can be challenging to always work from home, whether you're sharing an environment with other family members or simply need to get out of the house for a change of scenery. Coworking spaces are the perfect solution, a home away from home where you can count on a quiet, productive environment to really focus and get to work."
Are you considering a coworking space as you emerge from remote work? We've collected for you some of the best co-working spaces in Detroit and Ann Arbor to consider as your team finds a new normal.
Best Coworking Spaces in Detroit and Ann Arbor
Bamboo Detroit & Royal Oak
Bamboo Detroit and Bamboo Royal Oak have put extra cleaning measures in place during the pandemic and published a reopening guide so teams know what to expect. CEO and founder Amanda Lewan says the co-working space opened a new location in Royal Oak in February 2021, and says it's big news for the company: "This location offers 20,000 square feet of modern offices, coworking, and meeting spaces in a very central location."
Lewan says that many members of Bamboo Detroit report a need to get out of the house, a need to have a space in which to focus, or a need for collaboration as reasons to return to a coworking space. "Coworking is the best model for hybrid work, because it's so flexible and memberships can be available weekly, monthly, or longer. We're designed for hybrid work with complementary sound-proof spaces for taking calls and meeting rooms with hybrid meeting technology.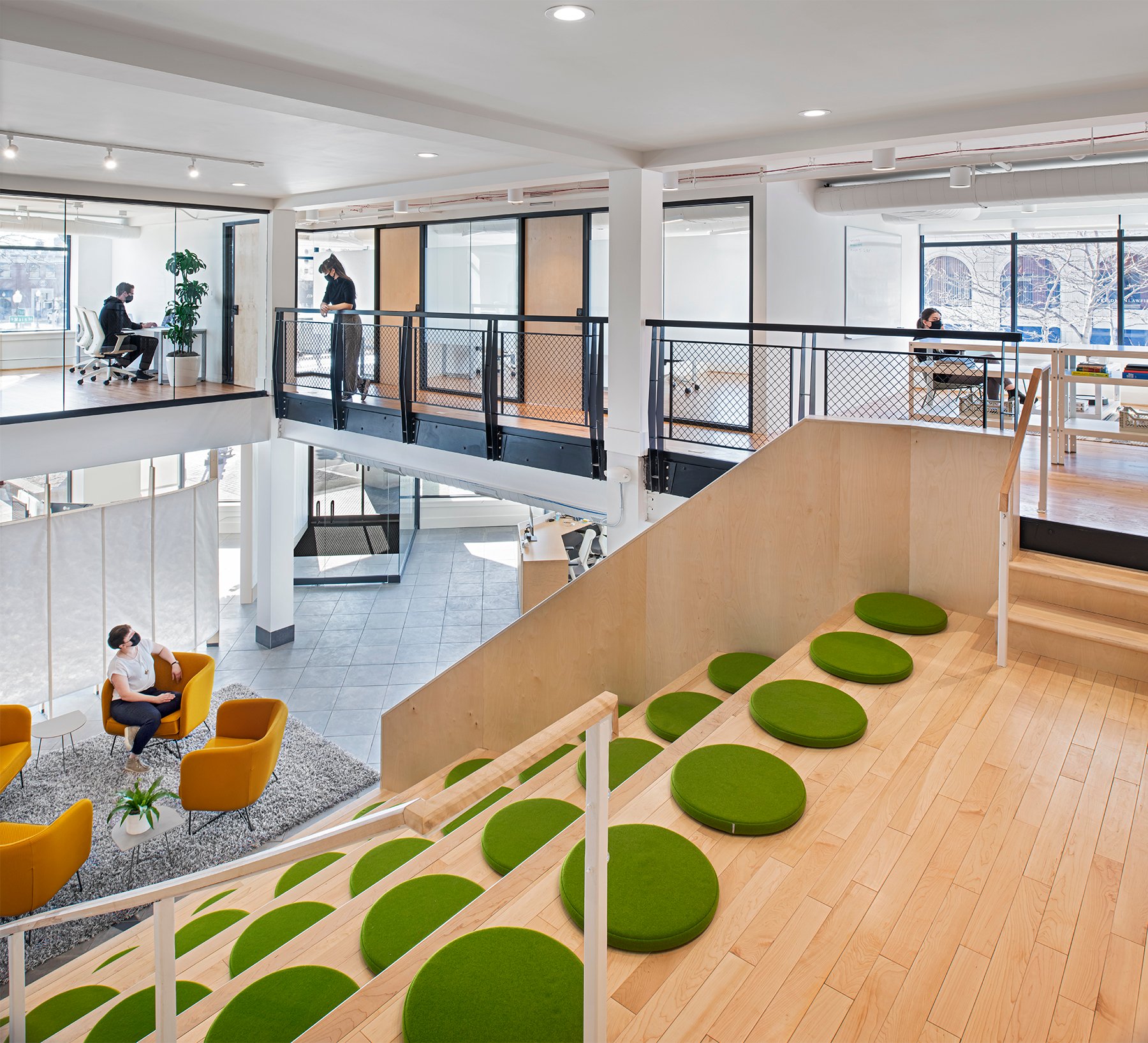 Image courtesy of Bamboo
Bamboo is focused on creating community among members and used to host many events with local business leaders, politicians, and entrepreneurs. "[This] often leads to business development for our members," Lewan says.
"Members frequently collaborate, hire one another, or refer work through our community. Additionally, we offer supportive and inspiring programming and events to keep members inspired and connected. It's not just a space. It's an entrepreneurial and energizing community you're joining at Bamboo. We know that many people felt lonely, isolated, or found it harder to conduct business development virtually during Covid. Community helps remind you that you're not alone in your journey."


Bea's Detroit
Bea's Detroit is a newer coworking space located in the heart of Eastern Market in Detroit. Owner Beatrice Wolnerman says their reopening was more of an opening. The owners purchased an old meatpacking building in Eastern Market in 2018, only to discover that the structure needed to be rebuilt from the ground up. After two years of new construction, they opened in March 2020, and had to shut down two weeks after opening for the pandemic. They opened again in June and pivoted the business model to include events to keep the business going through a year that was hard on coworking spaces.
"We don't have much to compare what our coworking would have been like in a pre-pandemic world," co-founder Beatrice Wolnerman says, "but we do know that we had quite a few people sign on to our space during those two weeks that are no longer in business or interested in renting a third-party office."
This reflects the rougher side of the pandemic some coworking spaces endured as people were forced to work from home and dropped either their office rental or their entire business in 2020.

Image courtesy of Bea's Detroit
"In some ways, it was a blessing," Wolnerman says, "because nobody knew us as one specific entity. We were able to pivot and adapt, launching a tiny wedding program on our rooftop and turning our coworking space into an event space by night. We've recently been named the #1 event venue in Detroit by Hour Detroit! Another blessing is that because we didn't have a long roster of members, we didn't have to worry about overcrowding in our space. Everyone was able to properly distance, and we were able to keep our space clean and safe for everyone."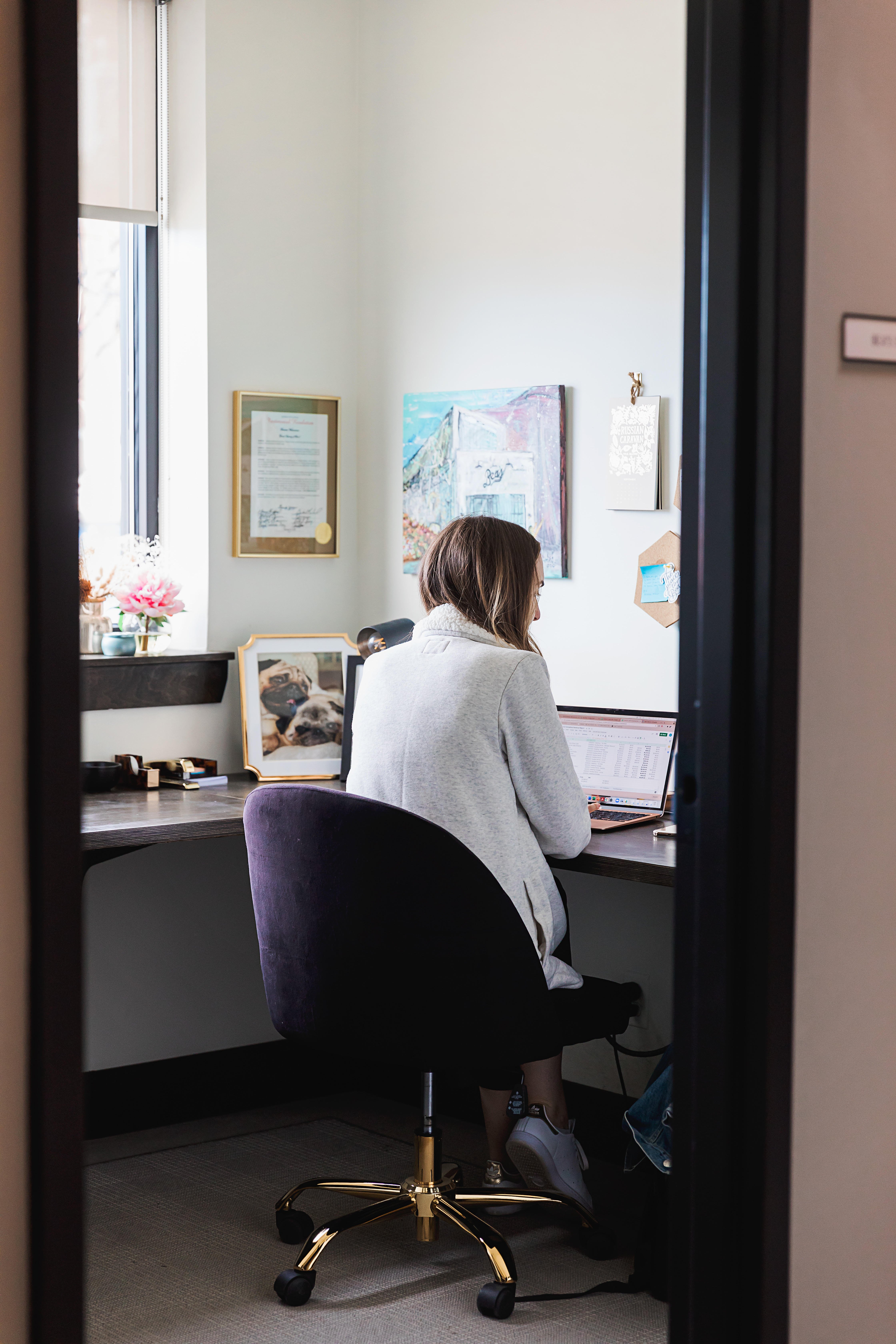 Image courtesy of Bea's Detroit
What has changed about coworking during the pandemic? Sometimes, it seems like everything has.
"Coworking spaces have changed a lot," Wolnerman tells us, "as have pretty much all businesses: new safety measures, better preparation and planning for guests, and restructuring business plans to accommodate changing desires and needs. In order to host larger groups, coworking spaces need to plan further ahead, offering options that make both their new guests and current members feel safe. We're booking out our events through 2022, making sure we have everything scheduled well in advance!"


Green Garage Detroit
We include Green Garage Detroit in this piece because the coworking space in Detroit is focused on hosting sustainable businesses and being sustainable itself. Green Garage is run at about 10% of the waste, energy, and water of a traditional office space. If you're considering a hybrid model for your company post-pandemic, you can also think about what type of coworking space you'd like to be in. Green Garage says that "community care and connectedness are a part of everything we do." Coworking spaces offer nearly as much networking as tech startup incubators and accelerators, so if your business is forward thinking and sustainability oriented, Green Garage Detroit might be the perfect landing place for hybrid work and coworking. Green Garage is located in the heart of Detroit on Second Ave.


SpaceLab Detroit
SpaceLab Detroit is another coworking space in Detroit that focuses in a particular area. They build community and run programming around tech, innovation, disruption, and creativity. This coworking space also has advanced cleaning measures in place for safety including temperature checks, masks, frequent cleaning and sanitizing, and something really useful that you should ask about if you join a coworking space: virtual mail handling. You do have to rent time in conference rooms at SpaceLab, so budget that expense in. SpaceLab used to have two locations, one on Shelby in downtown Detroit and one at 7 Mile, but the 7 Mile location is now closed. One nice option with SpaceLab is the flexibility of event space you can reserve, from smaller rooms up to event space with seating for 75 people. As you plan a hybrid work model, consider space usage as well as the number of desks you might want. Some businesses would do very well with remote collaboration plus occasional event hosting in a space like SpaceLab.


Cahoots Ann Arbor
Cahoots Ann Arbor launched just a couple of years ago, aiming to be the front door to the growing Ann Arbor tech scene. The coworking space is focused on tech startups and has already been home to a number of hot tech companies that moved on to larger spaces. That isn't to say Cahoots is small. It sprawls across two historic downtown Ann Arbor buildings and includes a small on-site gym, coffee shop open to the public, and multiple event spaces. Cahoots is located in a spot where many employees bike downtown or use ride sharing, because parking remains a perennial problem. The coworking space even shares a Tesla and has used e-bikes in the past to make the commute easier. Cahoots also offers a Diversity Scholarship for companies led by people who don't fit the "standard" tech profile.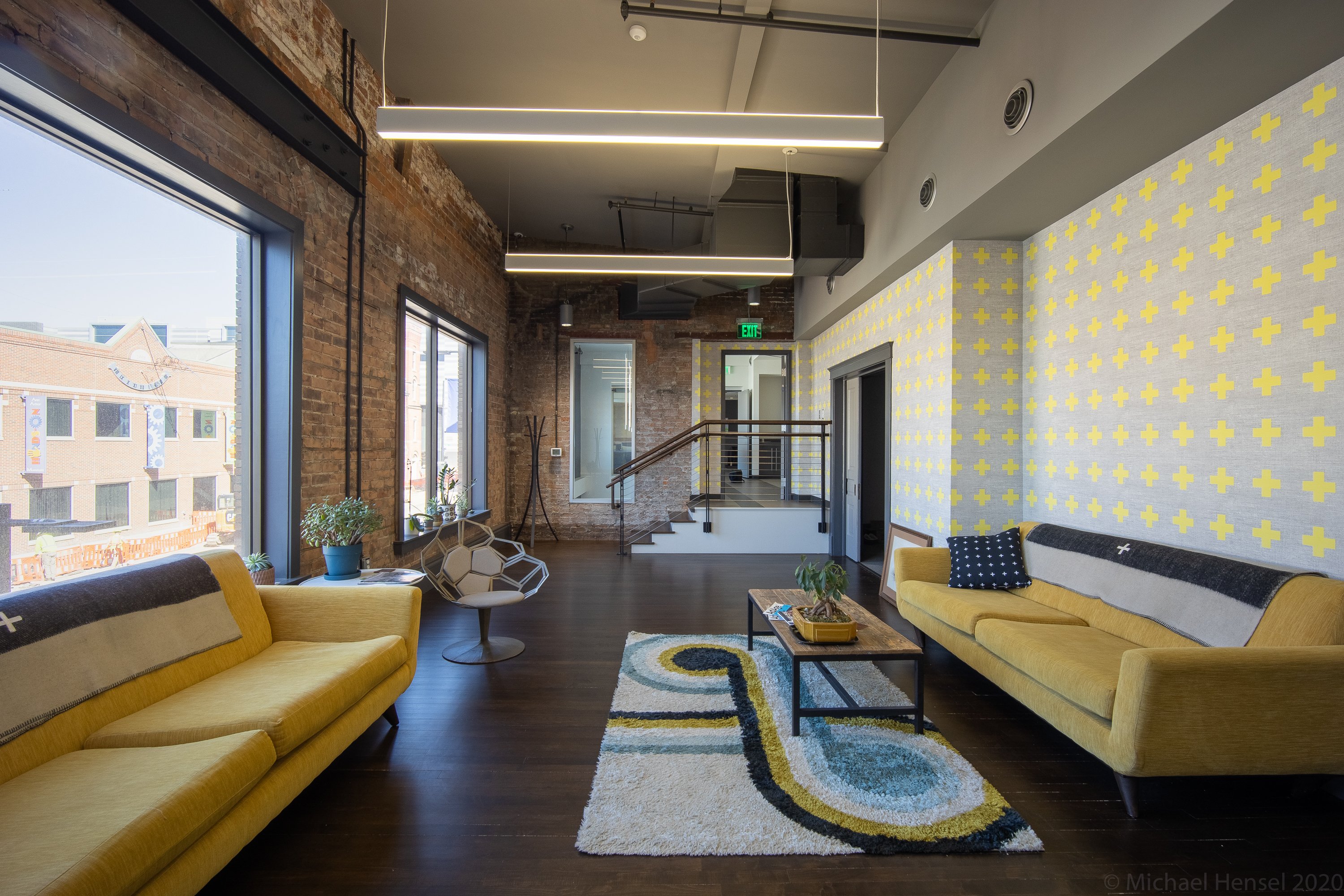 Image courtesy of Cahoots
Office Evolution Ann Arbor
Office Evolution Ann Arbor is a different type of coworking space because it offers all closed offices for teams that need more privacy. Tenants tend to include legal teams or tech startups that deal with private information, including cybersecurity consultancies. Founder David Whitinger tells us that the business was able to stay open during the pandemic because they are considered essential due to handling mail and shipping, and because the closed offices allowed tenants to work privately with more safe distancing. Parking is convenient in a parking lot outside the high-rise where Office Evolution is located on Ann Arbor's southside business district. While distancing measures are still in place, Office Evolution has hosted a number of events outside next to the office fountain. Whitinger says, "During COVID we implemented a new level of cleaning protocol. These cleaning protocols are now part of our everyday operation. So what used to be special measures are now everyday cleaning protocols."
In response to hybrid work models on the rise, Office Evolution has begun offering a new program called "Ultimate Flexible Plans." The coworking space added private office plans geared toward evening meetings or conference room space, and offered flex plan options for teams that needed part-time office space.


Interestingly, Office Evolution has thought past simple desk sharing when accommodating new business models: "We are accommodating new businesses that are arising as this new demand develops, like IT security which may require their very own VPN networks. We have also taken this opportunity to update our IT systems to support the needs of the new hybrid remote workforce."


Tech Brewery Ann Arbor
The Tech Brewery is located in an old brick brewery building on the quiet north side of Ann Arbor, near downtown and the University of Michigan North Campus, which is dedicated to engineering, music and architecture, and robotics research. Unicorn startup Duo Security's founder Dug Song co-founded The Tech Brewery in 2009 with building owner Doug Smith to be a coworking space for growing tech startups. It has been home to dozens of Ann Arbor's growing tech companies, and offers a variety of options for open-office, single desk rentals, or partial privacy for growing teams. During the pandemic, The Tech Brewery has special rules for safety, including wearing masks, not sharing desk spaces, and limiting the conference room to three people at a time. The extra cleaning measures are the responsibility of members. You can read more about the co-working space's COVID-19 policies to make sure this space is right for your team.