Coworking spaces are no longer reserved for freelancers and twenty-somethings looking to "find themselves" in the nurturing vibes of natural light and fruit-infused water
Many tech jobs in Columbus continue to be remote, and the flexibility to work from anywhere has made flexible workspaces in high demand for pretty much anybody in the tech and startup community.
Sure, you can work from home or a coffee shop, but coworking has its advantages. You can get out of the house. You can have reliable WiFi, drinks and snacks, printers and scanners, and people to socialize with.
That's why we're highlighting some of the best co-working spaces throughout Central Ohio. Did we miss any of the best coworking spaces in Columbus? Let us know.


Great Columbus Coworking Spaces to Know
1. Brick House Blue
6605 Longshore St., Suite 240 (Dublin)
From Brick House Blue: While there might be comfy seating, freshly brewed coffee, and Insta-worthy backdrops in our space, it really comes down to the people. We're a community of doers and dreamers. Or, simply put – we're a community at work.
2. Club Level Coworking
35 E. Gay St. (Downtown)
From Club Level: Let us worry about the other stuff. Enjoy Wifi, Bluetooth music speakers, a fully stocked kitchen, conference rooms, telephones, brainstorming plus much more!



3. COhatch
9 locations in Central Ohio
From COhatch: More than coworking, COhatch is a place to Work, Meet, and Live. Get to work. Host an event. Do your thing.
4. Cova Cowork
470 W. Broad St. (Franklinton)
From Cova Cowork: Belong to a vibrant community that energizes and inspires! Cova provides all the resources you need to manage your work and personal lives.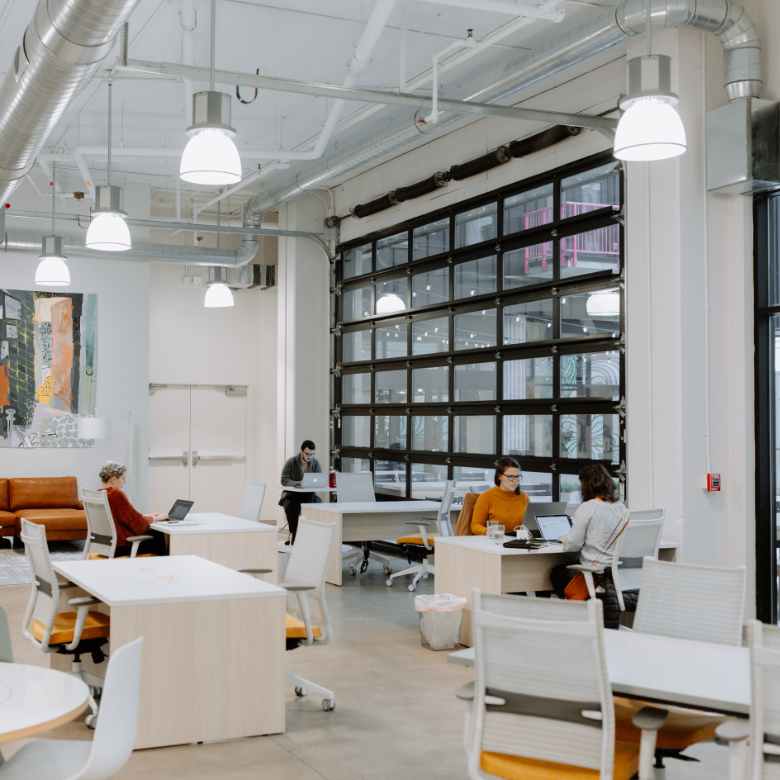 Image source: Cova Cowork
5. Elevate
670 Meridian Way (Westerville)
From Elevate: Elevate Office Suites create a hub of business opportunity for cities and towns like Westerville. The 21st century office space offers one- and two-person suites and attracts local businesses and entrepreneurs such as tech start-ups, law offices, salons, and consulting and professional services. To help further a healthy, entrepreneurial ecosystem, Elevate Office Suites offers flexible leasing, wired infrastructure for advanced technology, opportunities for coworking, and a supportive community—all in one building.
6. Haven Collective
2025 Riverside Drive (Upper Arlington)
From Haven Collective: Coworking and offices designed for focus, creativity, and connection between passionate freelancers and entrepreneurs.
7. Hopewell Labs
130 E. Chestnut St. (Downtown)
From Hopewell Labs: A private working club. Flex work + meeting spaces. Fast tech. Luxe furnishings. Exceptional service. Hopewell laboratory locations allow us to continuously study what space, amenities, and technology make up great work experiences. Laboratory locations also serve as campus extensions for partner companies and their teams and living showrooms for our work environment design partners, like Continental Office in Columbus, OH and ID+A in Louisville, KY.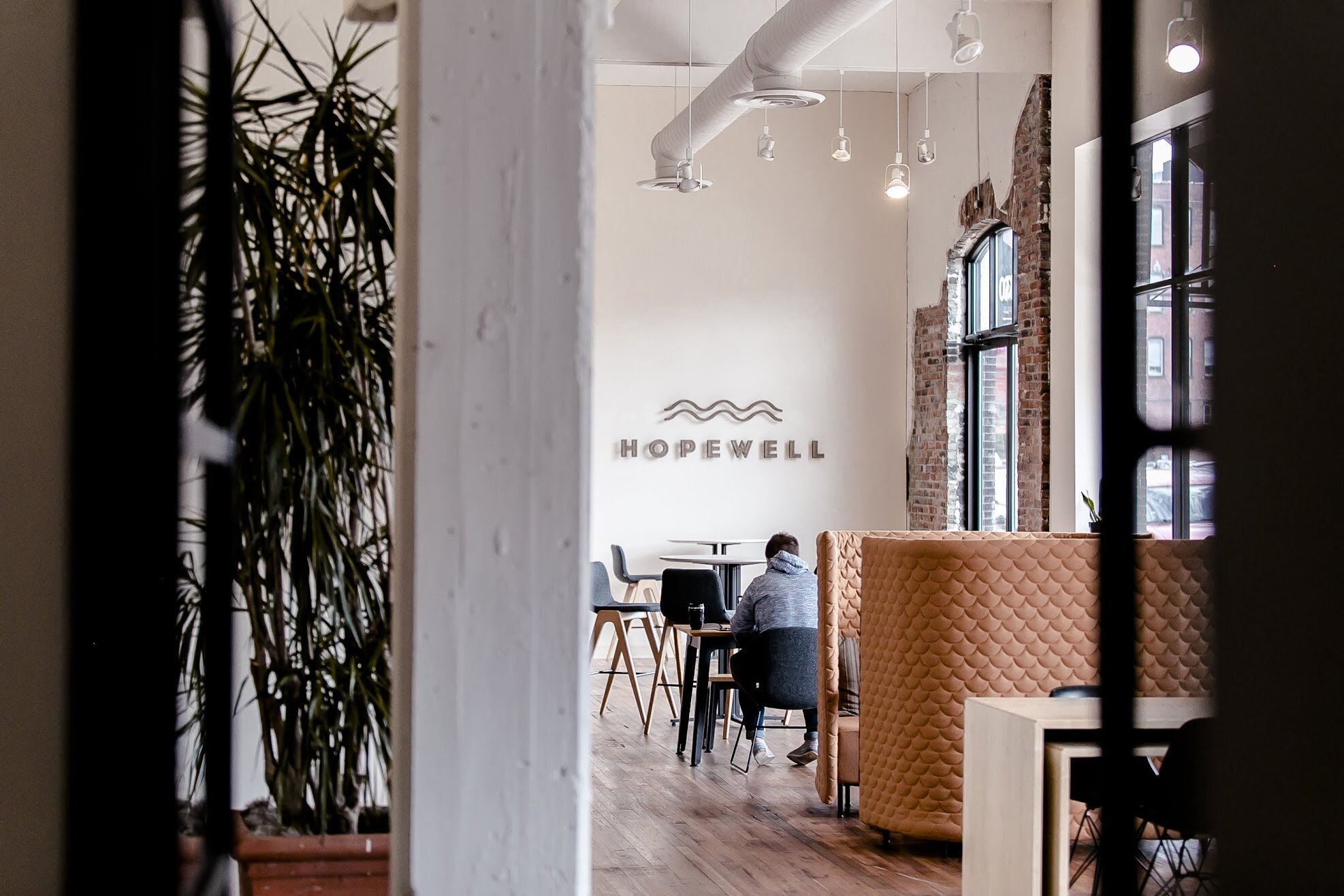 Image source: Hopewell
8. The Hub on Kenny
4510 Kenny Rd. (Northwest Side)
From The Hub on Kenny: The Hub on Kenny is a modern workplace ideal for small businesses and individuals located in the Columbus area. The Hub is ideal for small businesses and individuals looking for a comfortable, flexible work environment. The Hub offers all the benefits of coworking without the hassles of traditional workplace infrastructure.
9. The Idea Foundry
421 W. State St. (Franklinton)
From The Idea Foundry: With 24/7 facility access, you can work whenever it works for you. Our shared spaces are designed to give you work & socialization options: from conventional work tables with handy outlets, to soft spots that encourage conversations, to sun drenched nooks with city skyline views, you can work wherever inspiration calls. Host your private meetings in our reservable, audio-visual-equipped classrooms & conference rooms.
10. Industrious Joseph
629 N. High St., fourth floor (Downtown)
From Industrious Joseph: This premium workspace in the trendy urban arts district of Short North is just steps from the best art, retail, and nightlife in Columbus. Offering 10,000 square-feet of space that overlooks the Columbus skyline, our offices are designed with your productivity in mind.
11. Kollektiv
741 S. 3rd St. (German Village)
From Kollektiv: We are a unique Coworking space designed for work & life - with a welcoming vibe, premium amenities, inspiring workspaces & a community focus.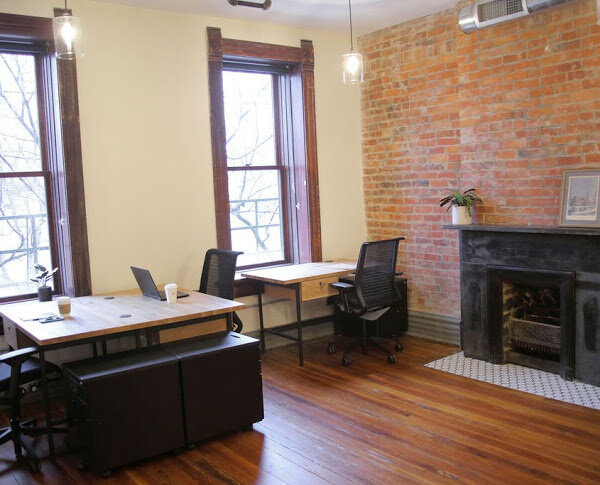 Image Source: Kollektiv
12. The Nest
1245 South Sunbury Road, Suite 102 (Westerville)
From The Nest: We know how amazing and also challenging it can be to have your own hustle but your space shouldn't be a hassle. That is exactly why we created and opened The Nest Coworking. Come for a day, host an event, move in full time, join a mastermind-whatever speaks to you we would love to have you here at The Nest!
13. Office Evolution
Locations: Dublin, Easton, Worthington
From Office Evolution: From desks to offices and entire headquarters, we create environments for productivity, innovation, and connection. With an all-inclusive, private office at Office Evolution, many of the extra expenses that you incur are already included in our space rental. Each private office comes with 24/7 access and blazing-fast fiber-optic internet.
14. Qwirk
341 S. Third St. #100 (Downtown)
From Qwirk: Qwirk is a casual coworking space for serious professionals. When working at home is no longer an option, come work with us! Whether you're a freelancer, startup business, entrepreneur, or even a small company, Qwirk is the answer to your office space rental needs. We are conveniently located in downtown Columbus, just steps away from the courthouse, statehouse, nationwide and other businesses. We also offer office rentals for the traveling business person.
15. Regus
Locations: Downtown, Easton, Crosswoods, Westerville
From Regus: Our global network of workspaces enable you to work wherever you need to be, in a productive, professional environment. Create a workplace that's right for your business today – and tomorrow – and thrive among a global business community.
16. Versa
1201 Dublin Rd. (Grandview)
From Versa: Make every workday more inspiring at Versa Grandview. The space is brought to life by thoughtfully designed and well-appointed amenities and a dedicated team of on-site staff. Situated at 1201 Dublin Road in Grandview Heights, Versa's iconic four-story tower building boasts 37,000 square feet of flexible workspace featuring modern private executive office space, comfortable and collaborative community workspace and lounges, designated private areas for team meetings and phone calls, and fully-equipped event, conference, and corporate meeting spaces.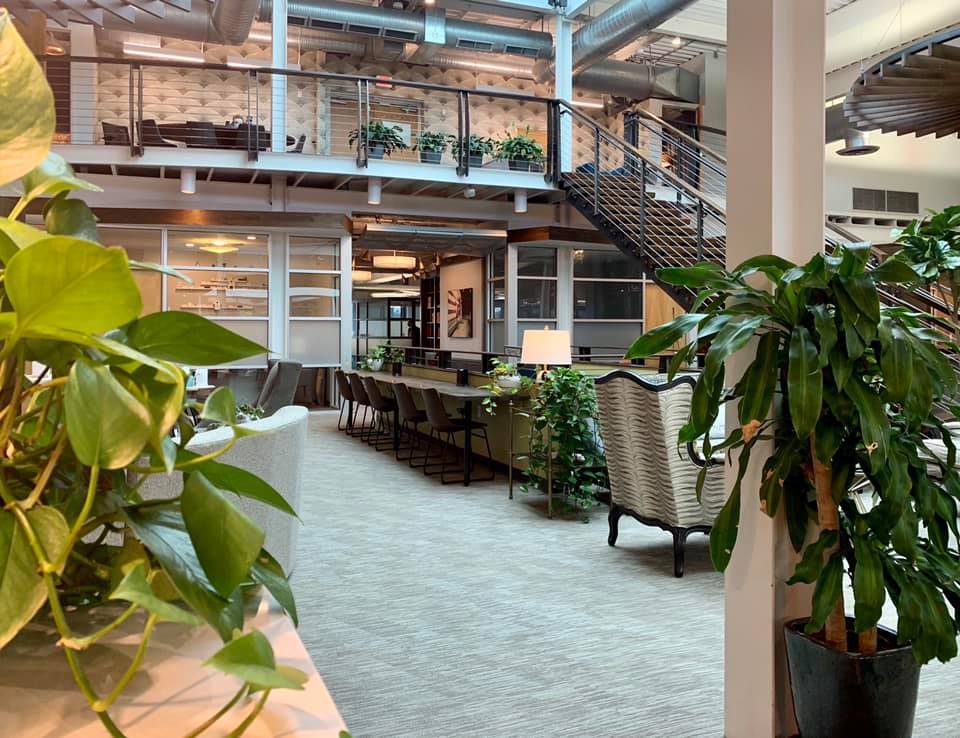 Image Source: Versa Facebook page
17. WeWork
800 N. High St. (Short North)
From WeWork: Ideally situated on North High Street—an anchor of culture and commerce in Columbus—our vibrant arts district office is a lively environment for your team to thrive. Three floors in this striking 10-story building are dedicated to WeWork, featuring collaborative lounges, well-connected conference rooms, and sleek private offices.



The Columbus startup community is booming — rapidly hiring startups, great coworking spaces, plus it's all affordable! If you're looking to join the Columbus startup community, explore local and remote tech jobs in Columbus.