Working at home is convenient but can sometimes feel lonely or distracting. Plus, it can negatively impact the work-life balance it's supposed to help promote. One second you're focused, the next you're staring at the unwashed dishes and a pile of laundry as a sense of overwhelming doom sets in.
Coworking spaces are a great option to get away from the distractions of your home, enhance your productivity, and network with like-minded people. You also gain access to reliable WiFi, drinks and snacks, and printers and scanners. Most spots are even pet-friendly!
There are a lot to choose from in Columbus, and the coworking scene has changed a bit over the last few years. But post-pandemic life has shown us that hybrid and virtual work are here to stay, making non-traditional offices as prevalent as ever.
If you live in Columbus and work remotely, or are looking for top remote tech jobs, check out our latest picks for the best Columbus coworking spaces in 2023.
13 Top Coworking Spaces in Columbus in 2023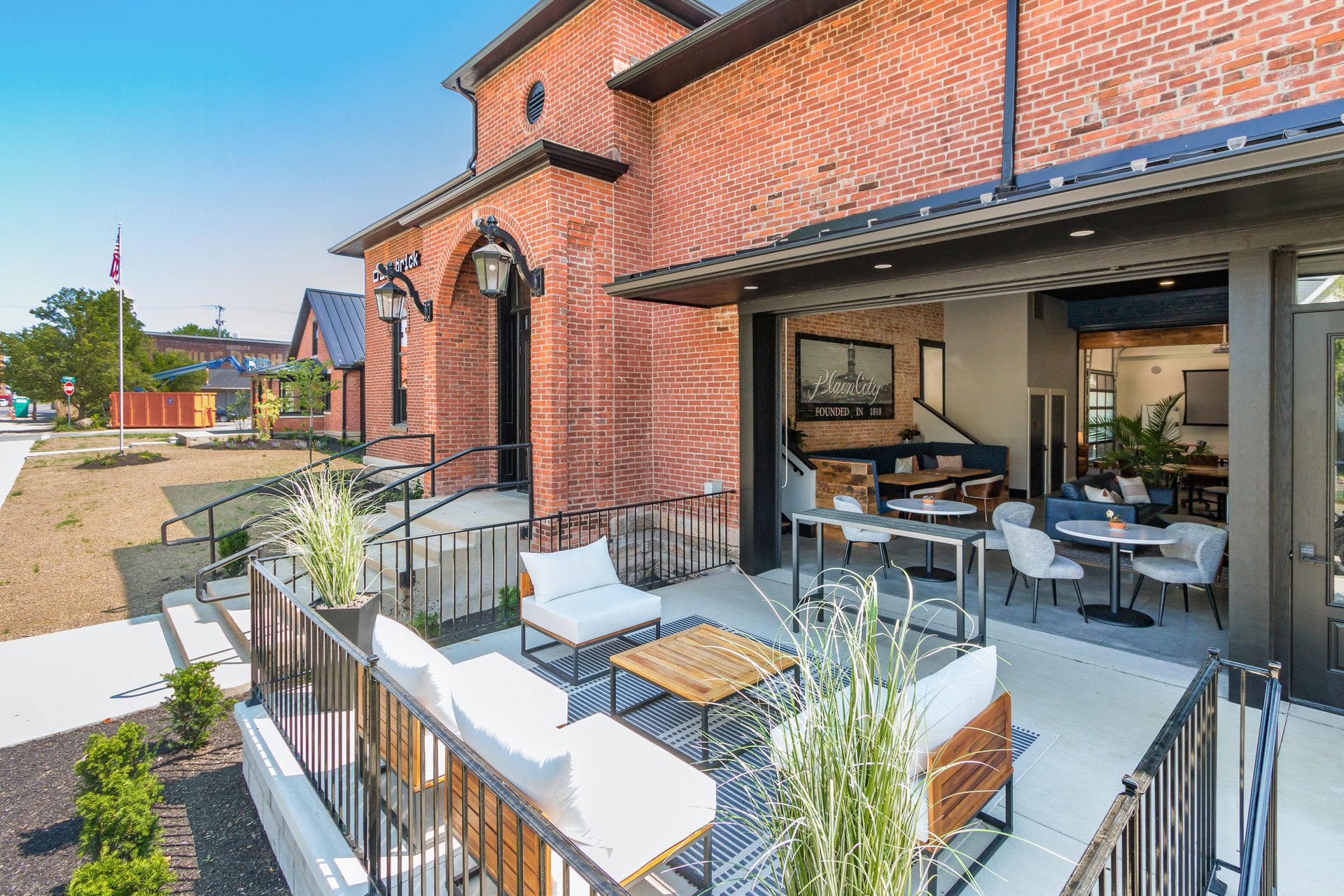 Image source: Brick House Blue
Brick House Blue
6605 Longshore St., Suite 240 (Dublin)
213 S Chillicothe St (Plain City)
From Brick House Blue: Surround yourself among a vibrant community of doers and dreamers, startups and entrepreneurs, who provide dynamic energy craved by today's working professionals. Brick House Blue is more than a workspace with unlimited Crimson Cup coffee. Our community is built on the people we connect with and the opportunities that are created.
Versa
1201 Dublin Road (Grandview Heights)
From Versa: In Versa's 37,000 square feet of flexible workspace, you'll find cutting-edge offices, comfortable community lounges, quiet private areas for team meetings and phone calls, and fully-equipped event, conference, and corporate meeting spaces.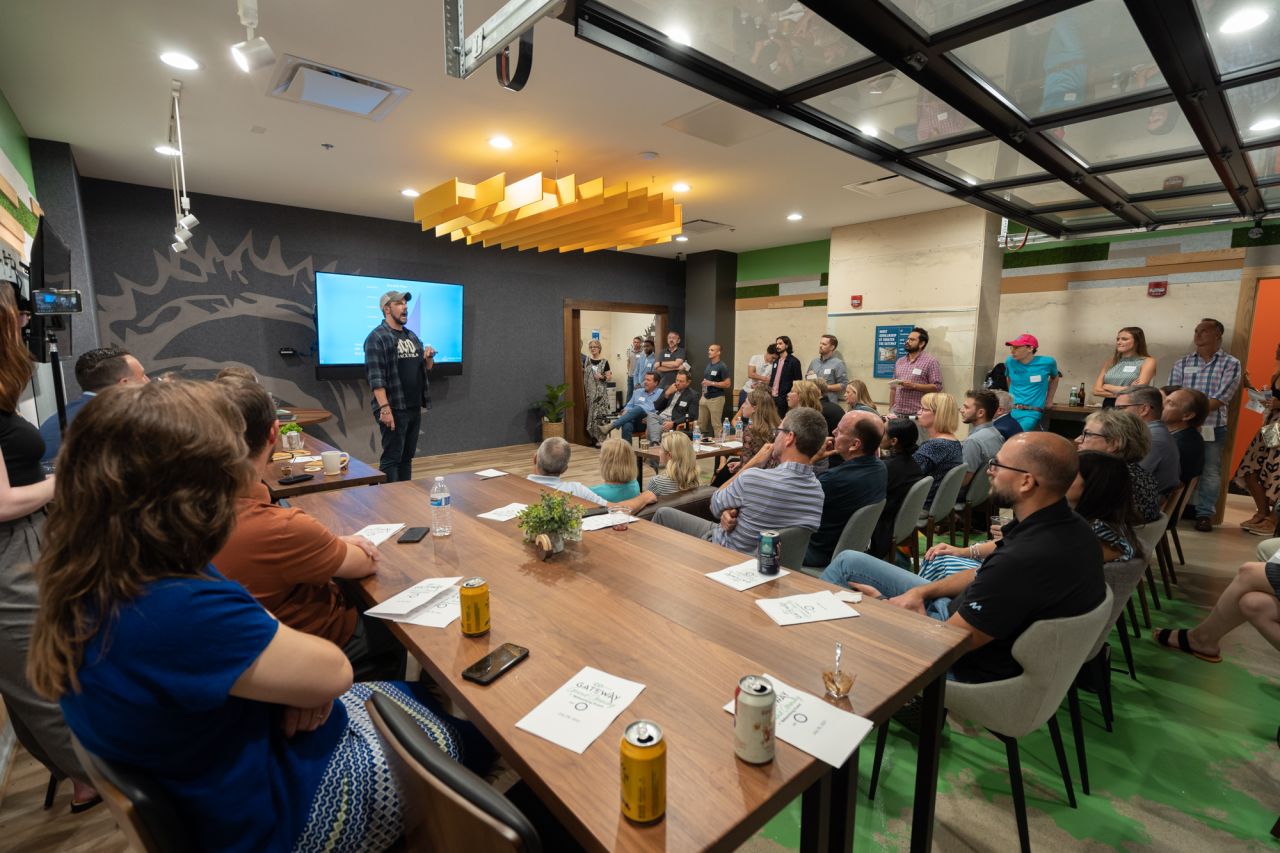 Image source: COhatch The Gateway
COhatch
9 locations in Central Ohio
From COhatch: More than coworking, COhatch is a place to Work, Meet, and Live. Get to work. Host an event. Do your thing.
Thrive (Formerly known as Cova)
470 W. Broad St. #718 (Franklinton)
From Thrive: Creative people, amazing companies + beautifully designed spaces in the heart of Columbus. It's all here, you should be too.
Elevate
670 Meridian Way (Westerville)
From Elevate: Elevate Office Suites create a hub of business opportunity for cities and towns like Westerville. The 21st century office space offers one- and two-person suites and attracts local businesses and entrepreneurs such as tech start-ups, law offices, salons, and consulting and professional services. To help further a healthy, entrepreneurial ecosystem, Elevate Office Suites offers flexible leasing, wired infrastructure for advanced technology, opportunities for coworking, and a supportive community—all in one building.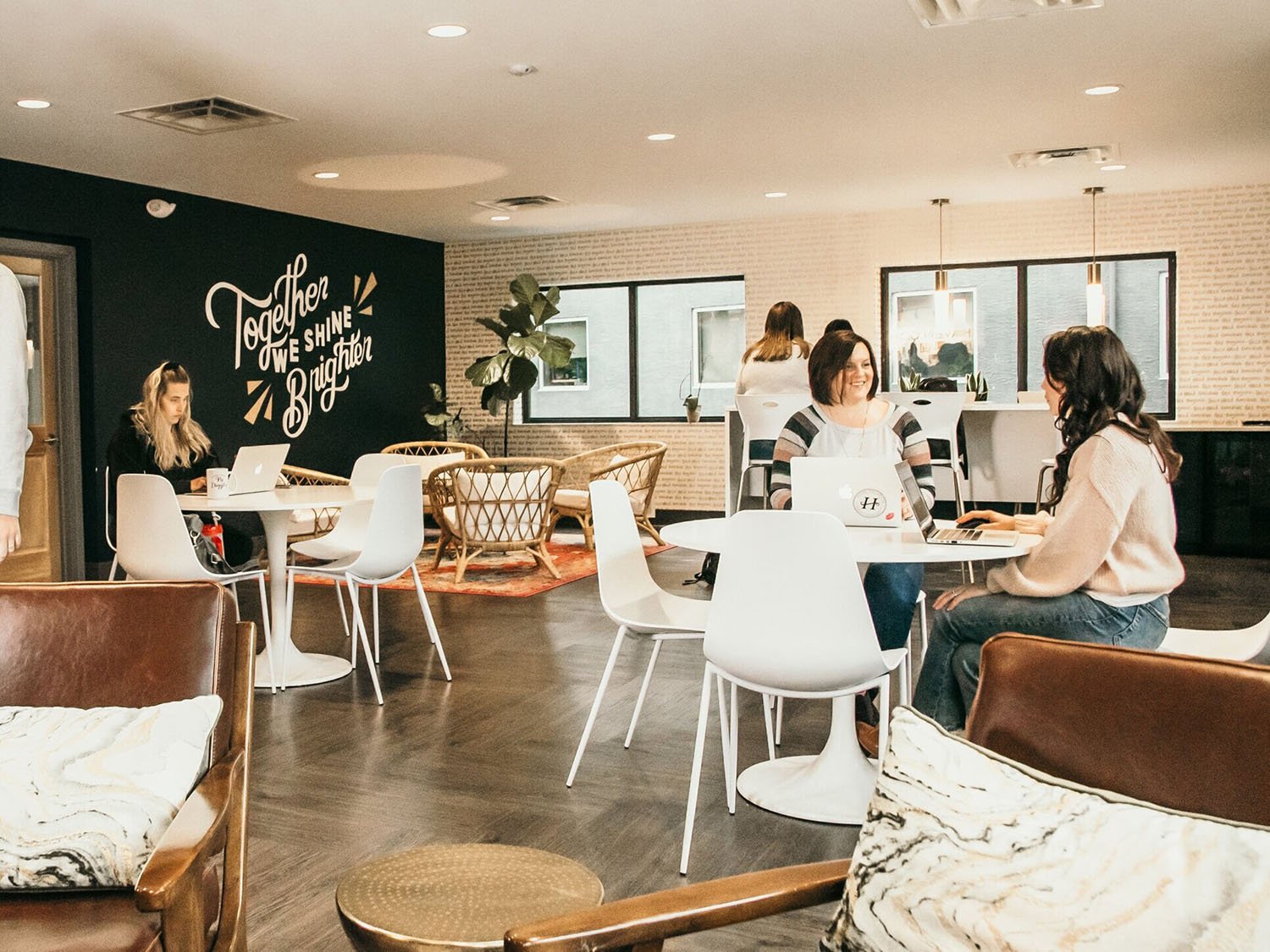 Image source: Haven Collective
Haven Collective
2025 Riverside Drive (Upper Arlington)
From Haven Collective: Working from home isn't for everyone. Entrepreneurship can feel lonely. And freelancing is a slog sometimes. We've been where you are and it's why we created Haven Collective. Surround yourself with like-minded people who truly get it in a way that friends and family often can't.
The Idea Foundry
421 W. State St. (Franklinton)
620 E Broad St (Franklinton)
From The Idea Foundry: Here we share spaces, we share tools, we share technology, and most importantly, we share knowledge. Here you can launch a business, and connect with peers that become collaborators. You can learn something new, or rekindle an old passion. Here you'll leave with an experience, and maybe some inspiration.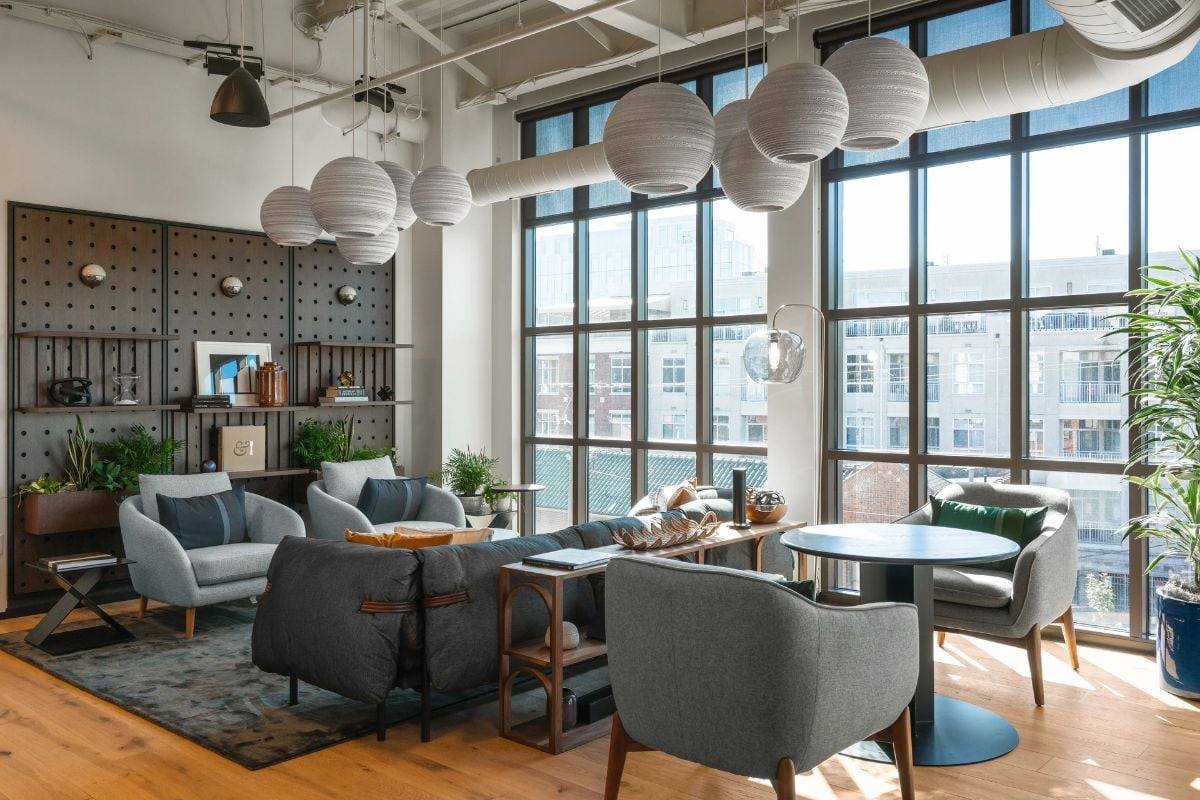 Image source: Industrious
Industrious at The Sutton
875 N High St Ste 300 (Short North)
From Industrious: Experience your best work day at Industrious at The Sutton, a stunning, flexible coworking space in the center of downtown Columbus. Spanning the top two floors of the building, this location offers flexible solutions for coworking, private offices, and meeting spaces, making it an ideal fit whether you're a solopreneur, midsize team, or part of a large enterprise.
Office Evolution
Locations: Dublin, Easton, Worthington
From Office Evolution: From desks to offices and entire headquarters, we create environments for productivity, innovation, and connection. With an all-inclusive, private office at Office Evolution, many of the extra expenses that you incur are already included in our space rental. Each private office comes with 24/7 access and blazing-fast fiber-optic internet.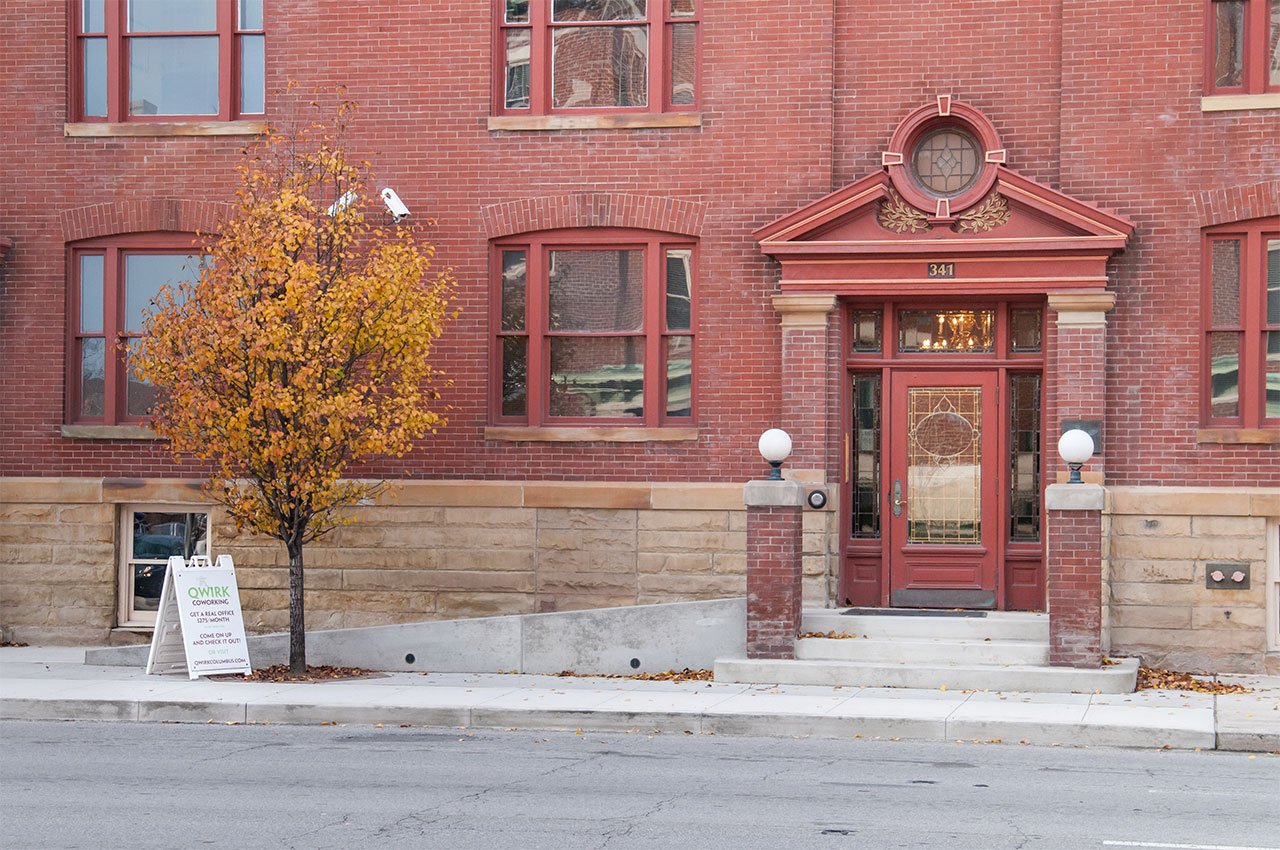 Image source: Qwirk
Qwirk
341 S. Third St. #100 (Downtown)
From Qwirk: Qwirk is a casual coworking space for serious professionals. When working at home is no longer an option, come work with us! Whether you're a freelancer, startup business, entrepreneur, or even a small company, Qwirk is the answer to your office space rental needs. We are conveniently located in downtown Columbus, just steps away from the courthouse, statehouse, nationwide and other businesses. We also offer office rentals for the traveling business person.
Regus - Columbus
Seven locations across Columbus
From Regus: Our global network of workspaces enable you to work wherever you need to be, in a productive, professional environment. Create a workplace that's right for your business today – and tomorrow – and thrive among a global business community.
WeWork
800 N. High St. (Short North)
From WeWork: Ideally situated on North High Street—an anchor of culture and commerce in Columbus—our vibrant arts district office is a lively environment for your team to thrive. Three floors in this striking 10-story building are dedicated to WeWork, featuring collaborative lounges, well-connected conference rooms, and sleek private offices.


Image source: Zora's house
Zora's House
1311 Summit St (Weinland Park)
From Zora's House: A non-profit coworking and community space built by and for women and gender expansive people of color, Zora's House is a place to gather. To connect. To make progress. To feel safe. And most of all, to thrive.
The Columbus startup community is booming and there's no shortage of great coworking spaces where you can work alongside others.
And if you're looking to join the Columbus startup community, or switch roles, be sure to explore local and remote tech jobs in Columbus!
Note: This article was originally published on October 21st by Evan Weese and has been updated to reflect changes to the current coworking scene in Columbus.