Over 110 years ago, Ford Motor Company changed the way people moved with the Model T. Once again, Ford is revolutionizing the way people get around.
Ford is deploying commercial autonomous vehicle (AV) services for ride-hailing and goods delivery. The services will start initially in Miami, Austin and Washington D.C. with plans to further scale.
Ford is bringing together all the complex pieces involved to deploy trusted, scalable and successful commercial autonomous vehicle services: 1) the self-driving system developed with their technology partner Argo AI, integrated into the Ford Escape Hybrid vehicle platform, 2) a thoughtful customer experience across all touchpoints, 3) physical infrastructure in the cities where they operate, and 4) ride-hailing and goods delivery demand partners.
Back in 2017, Ford invested in Argo AI, an artificial intelligence startup, to partner and build the self-driving technology for Ford's AVs. Since then, Ford and Argo have made huge advancements in developing a robust self-driving system. Recently, Ford and Argo launched their fourth-generation self-driving test vehicle, which was built on the Escape Hybrid platform and features the latest advancements in sensing and computing technology.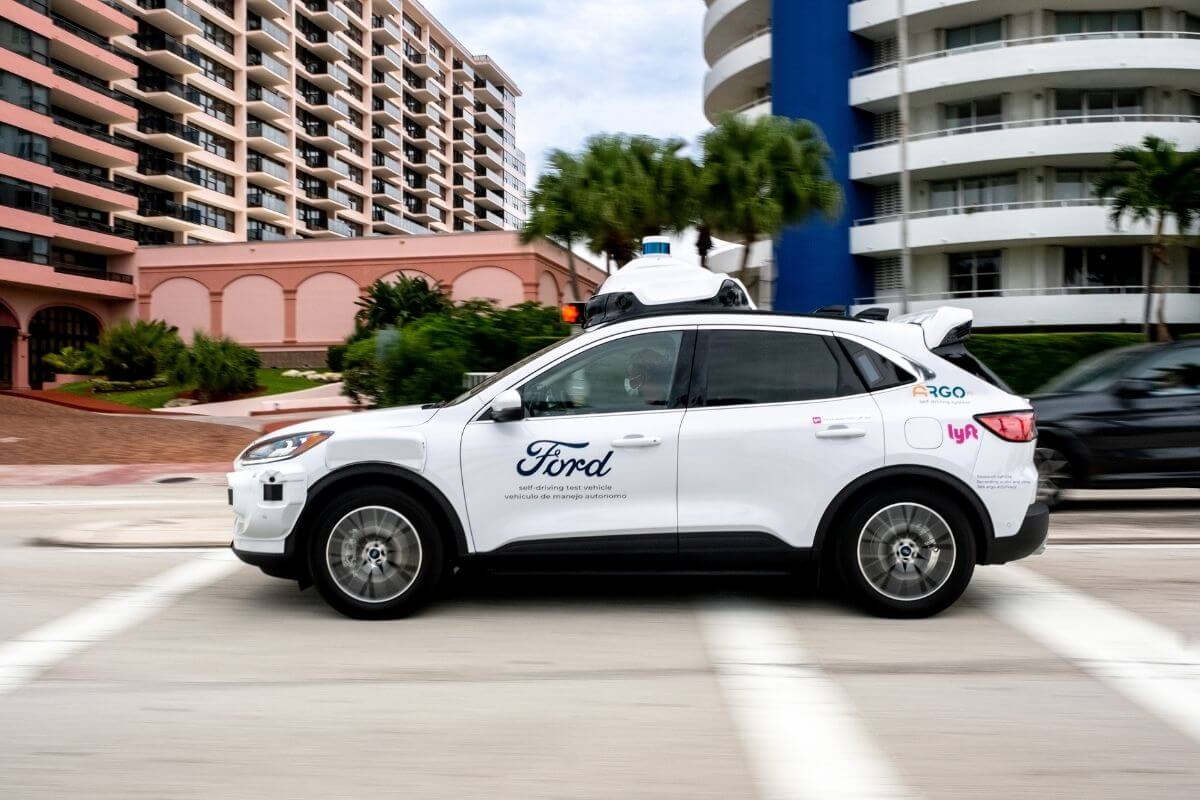 The self-driving system integrated into the vehicle is exposed to a variety of environments and behaviors by supporting testing in development in Ford's initial commercial markets – Miami, Austin, and Washington DC, as well as Ford's testing and development markets – Detroit, Palo Alto and Pittsburgh.
The Ford AV team has been building its business in Miami, Austin, and Washington DC. This includes establishing a real estate footprint, building local teams, collaborating with local communities, and operating AV pilots with ride-hail and goods delivery demand partners.
For example, last summer Ford announced its intent to launch a commercial AV service with a ride hail partner. The service will start in Miami, and then expand to Austin with plans to scale to multiple cites over the next five years. This means that ride-hail users within a designated service area could have the option to select a Ford self-driving vehicle for their trip.
"Ford and our partners are rapidly expanding our AV technology and deployments as we work toward full commercial operations," said Shashwat Patel, Director of Autonomous Ridehail at Ford Motor Company. "We're working together to build and deliver trusted, high-quality experiences for riders in a multi-city large scale operation over time, and it's just the beginning."
With this initial deployment, Ford is laying the groundwork for scaling autonomous vehicles as a service, which is a part of the company's vision to improve safety and access to mobility in cities across the country.
Mobility on a Mission
This kind of innovative mobility development is all a part of Ford's new vision for the company as a whole: Ford+. They're on a mission to build a better world where every person is free to pursue their dreams. The AV team is executing that mission by revolutionizing transportation and creating a new kind of customer relationship.
They're going beyond the one-time make/sell model and delivering always-on products, solutions and experiences that help make people's lives better — whether that's getting to where they need to go or having goods delivered to their door.


Midwest roots with a global vision
The Ford AV team is growing and looking for people to join them in their mission to redefine mobility.
While Ford is based in Detroit, Michigan, the company has a distributed team that works across the U.S., including the initial AV deployment cities of Austin, Miami, and D.C.
If you're looking to make an impact and grow on a team that's developing cutting-edge technology and creating a new era of mobility, check out Ford AV's open roles.