Rick Wallace, KLA president and chief executive officer, said, "Michigan has proven to offer impressive and diverse talent, rich cultural life, scenic surroundings and proximity to university and automotive partners. Our Ann Arbor headquarters will not only play a critical role in serving the growing demands of our global customer base, but also in driving our mission to advance humanity. At KLA Ann Arbor, the future is ours to create."
A Next Generation HQ
The new headquarters is home to KLA's AI Center of Excellence where machine learning applications help advance semiconductor manufacturing.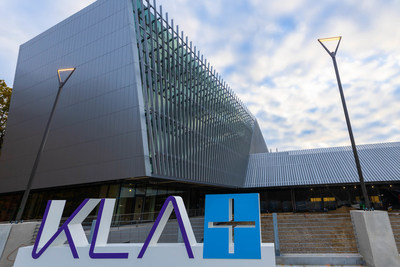 But that's not the only advanced technology in this new facility.
This headquarters has a 51,000-square foot clean room—one of the largest in Michigan—to support the R&D of KLA's semiconductor manufacturing tools used around the world.
The six-story, 230,000-square foot building was designed as a sustainable campus and features EV charging stations for employees.
And you can't forget the location. Situated in a forest, the facility features a state-of-the-art green roof and a monumental atrium. Employees can also enjoy a woodland trail.
Other amenities include an onsite cafeteria, coffee shop, and fitness center. Corporate functions including supply chain, procurement, IT, finance, legal and HR will also be operated out of the campus, led by a diverse executive team based in Ann Arbor.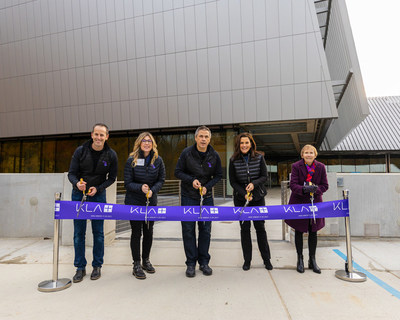 John Mclaughlin (KLA), Jeneanne Hanley (KLA Board), Rick Wallace (KLA), Michigan Governor Gretchen Whitmer, Diane O'connell (Ann Arbor Township) perform the ribbon cutting.

"With the opening of its new facility, KLA is helping us build Michigan's future," said Michigan Governor Gretchen Whitmer at the ribbon cutting ceremony. "The next generation of technology and innovation are happening right here in Ann Arbor."
Life at KLA in Ann Arbor
So what is it like to work at this new KLA office in Ann Arbor? Well, we'll find out soon as they begin to welcome employees to the new campus.
But state-of-the-art office or not, KLA is a place that's all about growth.
Take Vijay Ramachandran for example. Based in Ann Arbor, Vijay is KLA's Director of AI, and has been working at KLA since 2000.
Vijay's first job at KLA involved mechanical control of robot arms. Over time, he had the opportunity to work with world-class optical engineers from KLA and its vendors, which Vijay said was a fantastic learning experience and fostered a deep interest in optics and imaging.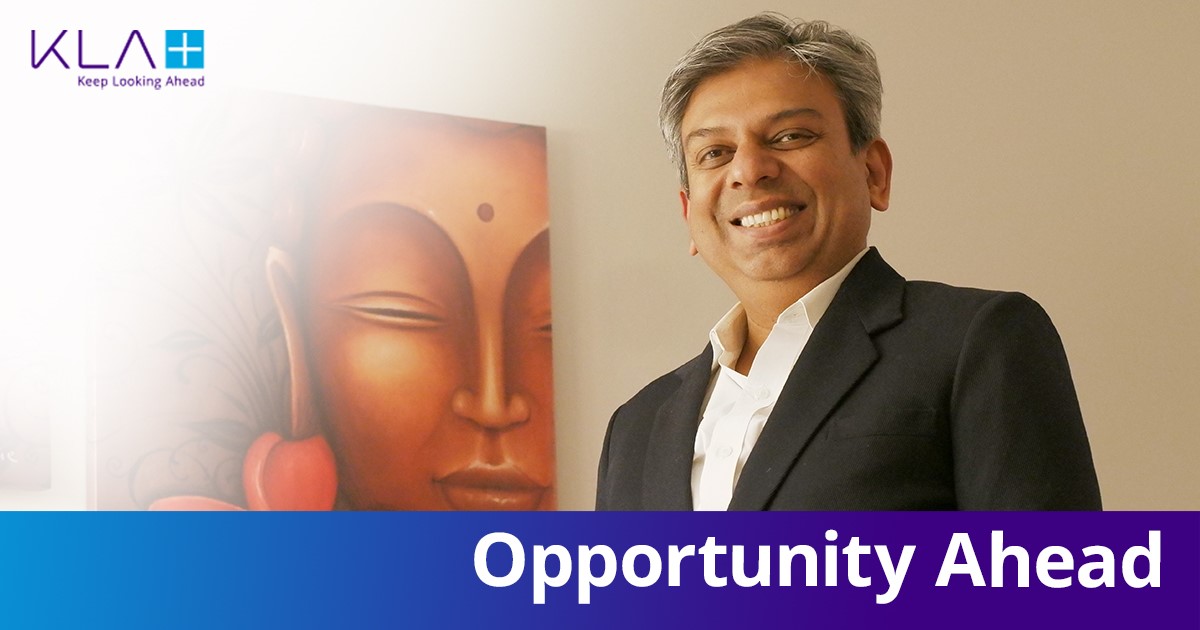 As the years at KLA went on, Vijay's interests became more specialized, and the company enabled him to pursue those interests through providing academic learning opportunities. He completed a graduate certification in Systems Engineering from Stanford University thanks to this support. Whether it's through tuition reimbursement, virtual learning through KLA's corporate learning center, family leave benefits, DEI support, or the many other top company benefits, KLA is there to support you every step of the way.
"My current position requires skills and knowledge that is so different from what I learned at university. My role involves physics, AI, and software, all of which I learned during my [21] years at KLA," Vijay said.
Kris Hearn, KLA's Vice President of US Operations, has a similar story of growth at KLA. From Electrical Design Engineer all the way to VP of US Operations, KLA has supported Kris's career growth every step of the way.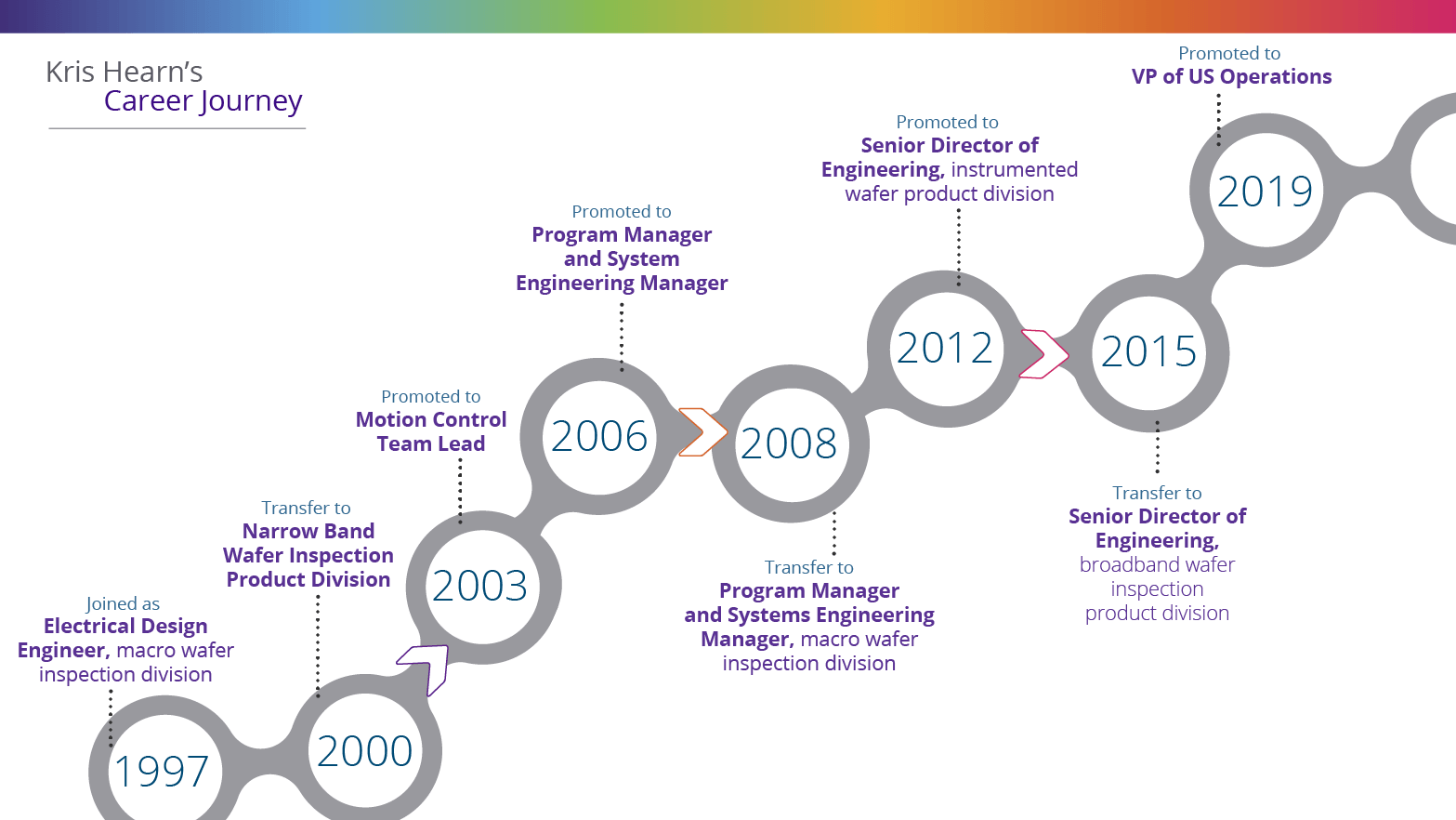 What else has kept Kris at KLA since graduating with his bachelor's? Well, simply put, it's the technology.
"That's the exciting part. KLA is involved in nearly every aspect of technology, from optics to artificial intelligence and algorithms, to advanced mechanics and materials. You name it, we do it," said Kris.
Advancing Humanity
Of course KLA's technology is advanced — and advancing every day to enable new technological breakthroughs. But for the people at KLA, it's all about advancing humanity.
If you think about what technology has enabled us to do — communicate better, research faster, see new places, or even save lives — KLA is at the forefront of it all.
"Innovation is in KLA's DNA. The company has played a role in the most significant technological breakthroughs in our lifetime. We continue this evolution and innovation in the age of data across key industries including automotive, mobile and data centers," Vijay said. "It brings me a lot of joy to know that KLA's innovation improves the quality of life of nearly everyone."
Be a part of the team that's advancing technology — and humanity. Apply for open jobs at KLA in Ann Arbor.