Tucked in the woods just east of Ann Arbor, Michigan, is a $200 million, state-of-the-art office that feels, well, out of this world.
"You don't find many offices like this," says Kurt Hicks, Talent Acquisition Manager at KLA. "And you don't usually find tech offices surrounded by woods."


KLA opened this six-story, 230,000-square foot building for its second headquarters back in November 2021. The building is home to KLA's AI and Modeling Center of Excellence where machine learning applications help advance semiconductor manufacturing.


As more and more people emerge from their work-from-home setups and return to the office, KLA employees have no problem coming in. Kurt and Sarah Nelson, Senior Talent Acquisition Partner, gave me a tour of the office to see first-hand just how amazing the space really is.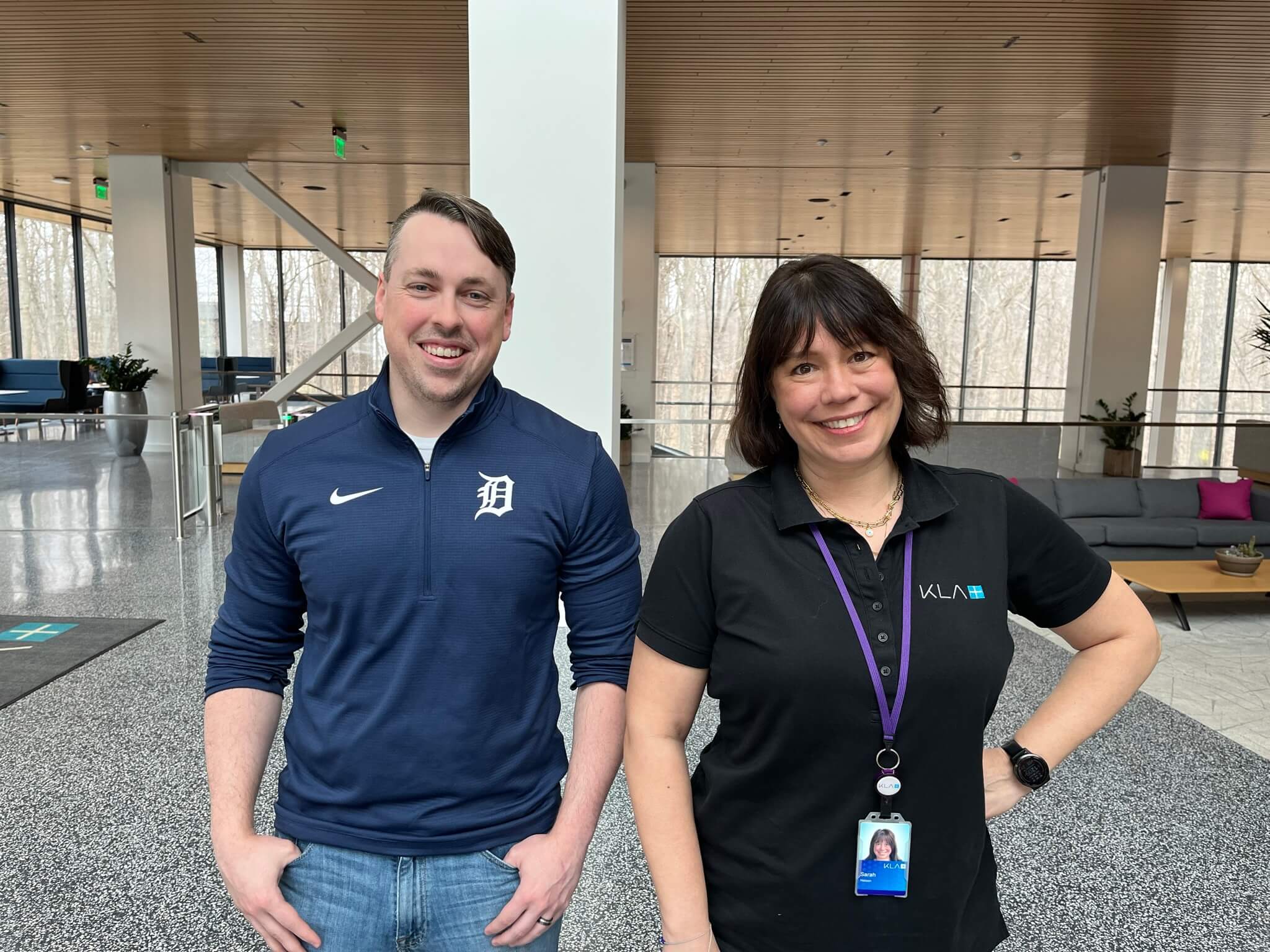 Kurt and Sarah in the KLA atrium


And I really was blown away by it all.
1. All the natural light
The first thing you notice when you walk into the building (besides being impressed by the sheer size of it) is how light and airy the office feels. It was a typical March day when I visited (40 degrees and overcast) and all the natural light pouring through the glass walls and ceilings made me feel cheery.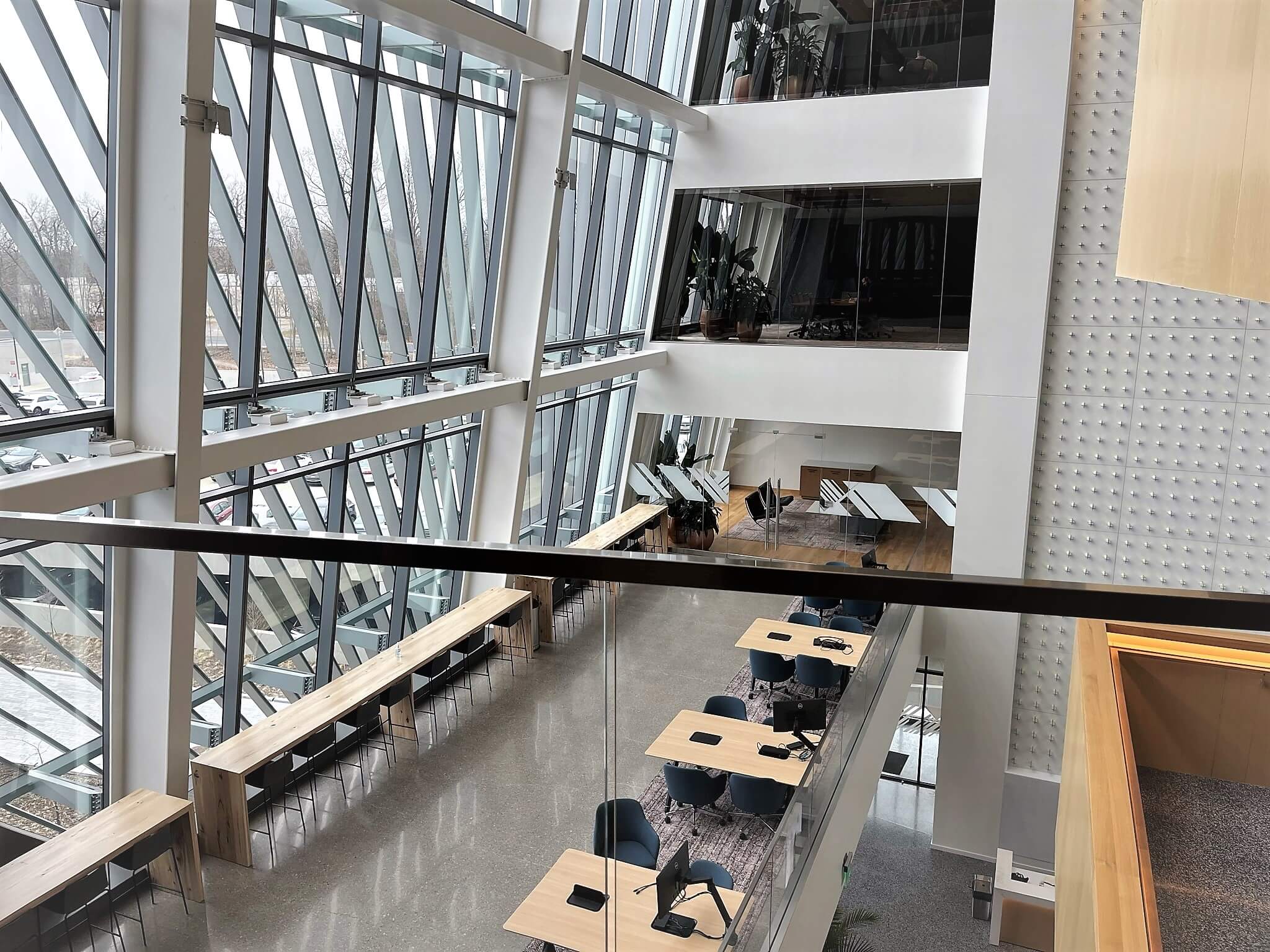 "You just feel happy when you walk into the building," Sarah says. "The natural sunlight just makes you feel good."
2. The nature
Unlike downtown offices surrounded by skyscrapers or corporate parks surrounded by parking lots or commercial buildings, KLA's campus is surrounded by woods. In the spring and summer, trees are blooming all around. But even in the cold winter months — it's especially pretty in the snow — all the trees outside the windows are gorgeous. You feel like you're in a tree house.
"No matter where you're working, there's the outside," Sarah says. She told me a story about a friend who worked in an office with no windows and how depressed it made her feel. A space with no natural light would actually be pretty hard to find at KLA.
The KLA office also has a half-mile walking trail through the woods, and employees love taking a break and walking the path. A patio off the cafeteria also lets employees enjoy the fresh air during lunch, a break, or even while working.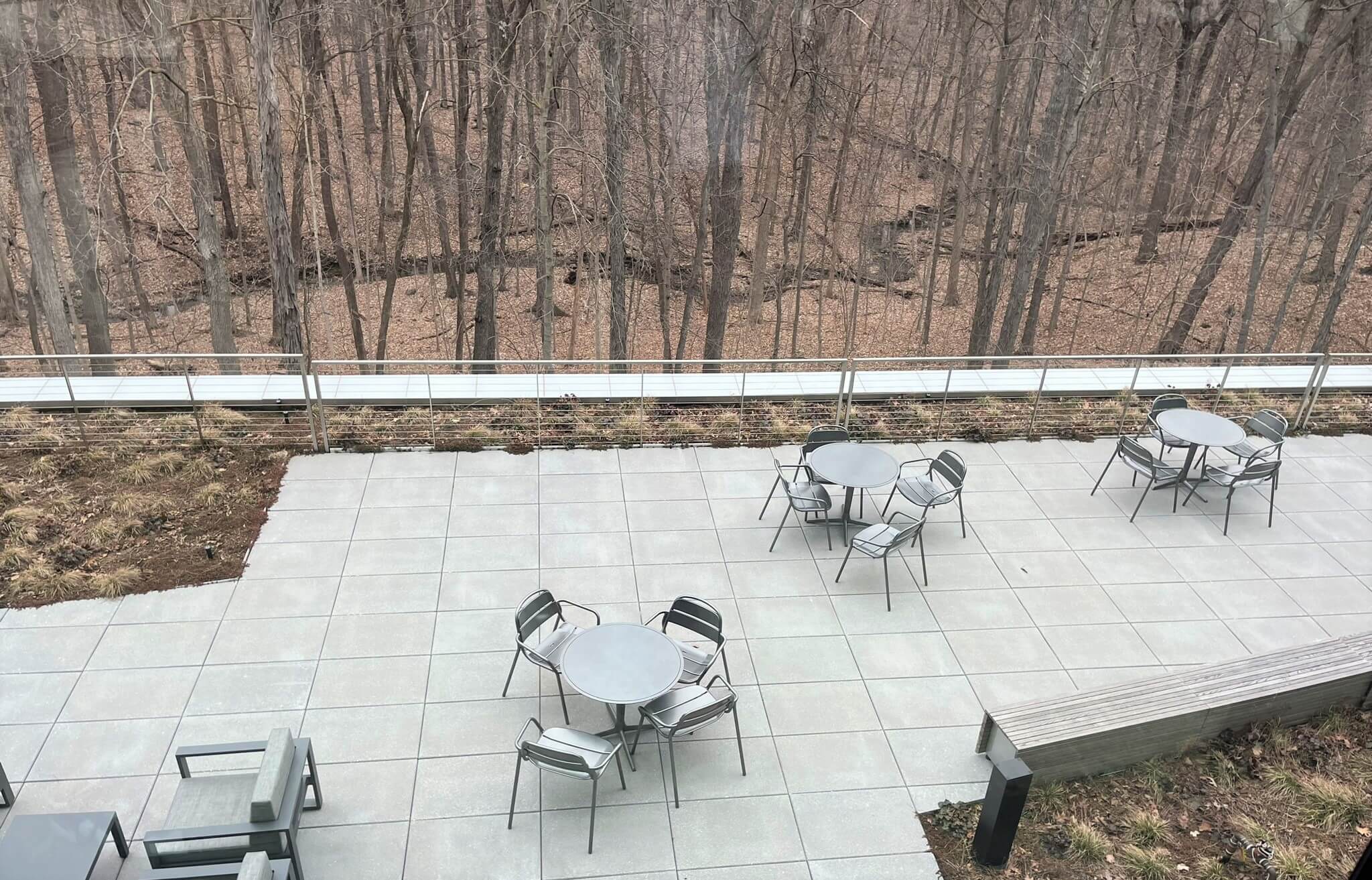 Even on the top of the building KLA is surrounded by greenery: a state-of-the art green roof is not only fun to look at, but it's also functional and reduces the office's carbon footprint.
3. Different kinds of work spaces
If you're dreading going back to an office because you think it won't have the kind of workspace you need, that's never an issue at KLA. While it can't give you dark and damp basement home office vibes, it can give you a variety of options.
There are plenty of desks that have a more traditional setup with monitors, but without the corporate cubicle vibe. These desks have low walls that foster collaboration and communication. And the natural wood grain makes it modern yet warm.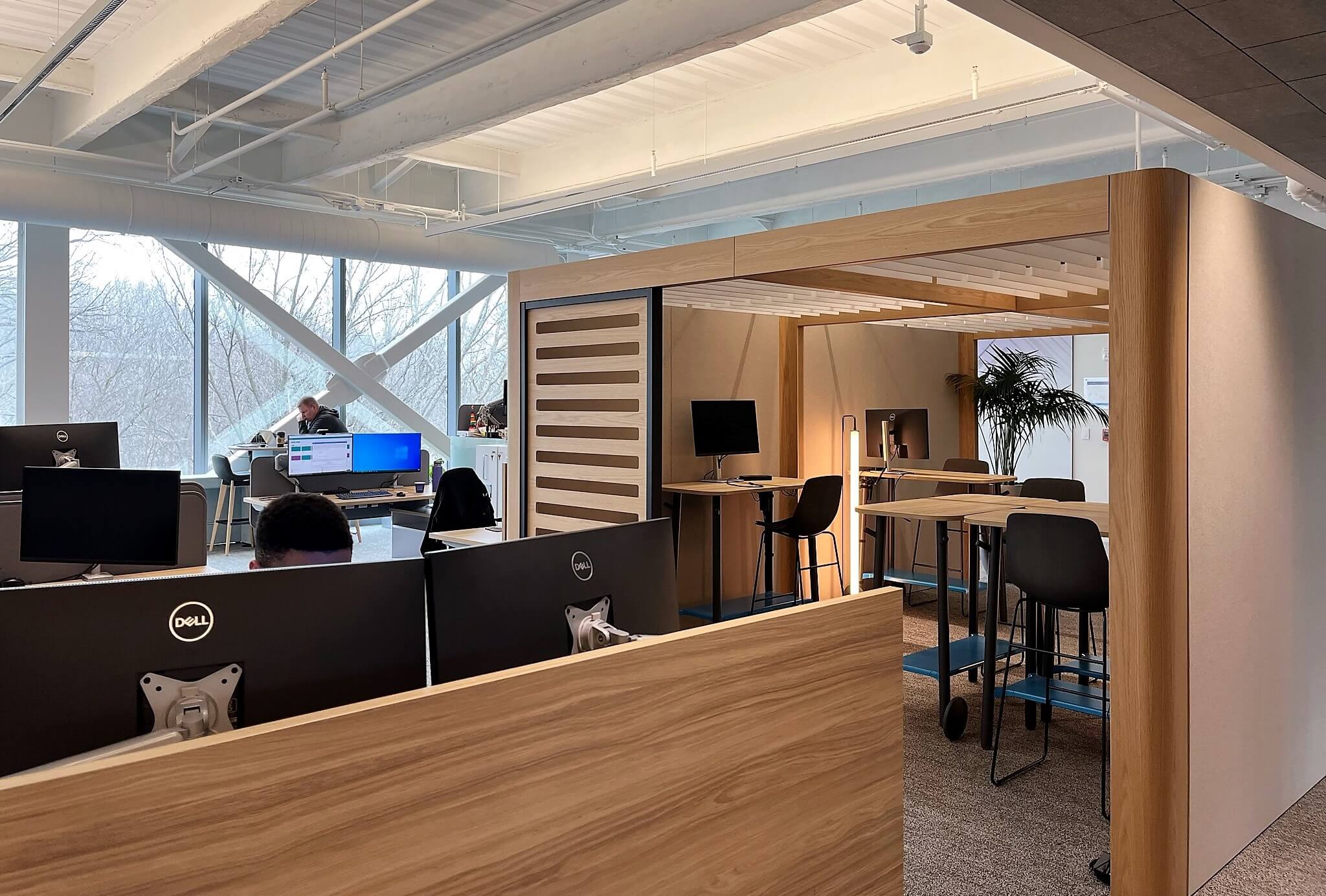 If you prefer a collaborative, coworking kind of style, you can camp out at one of the tables by yourself or with a teammate.
"I love how the office is designed with all these collaborative spaces. There's a real opportunity to talk and get to know each other," Sarah says.
Is the couch more your vibe? No shame. KLA has those too. You can do work in a comfortable setting, or have meetings on couches, gathered around the coffee table.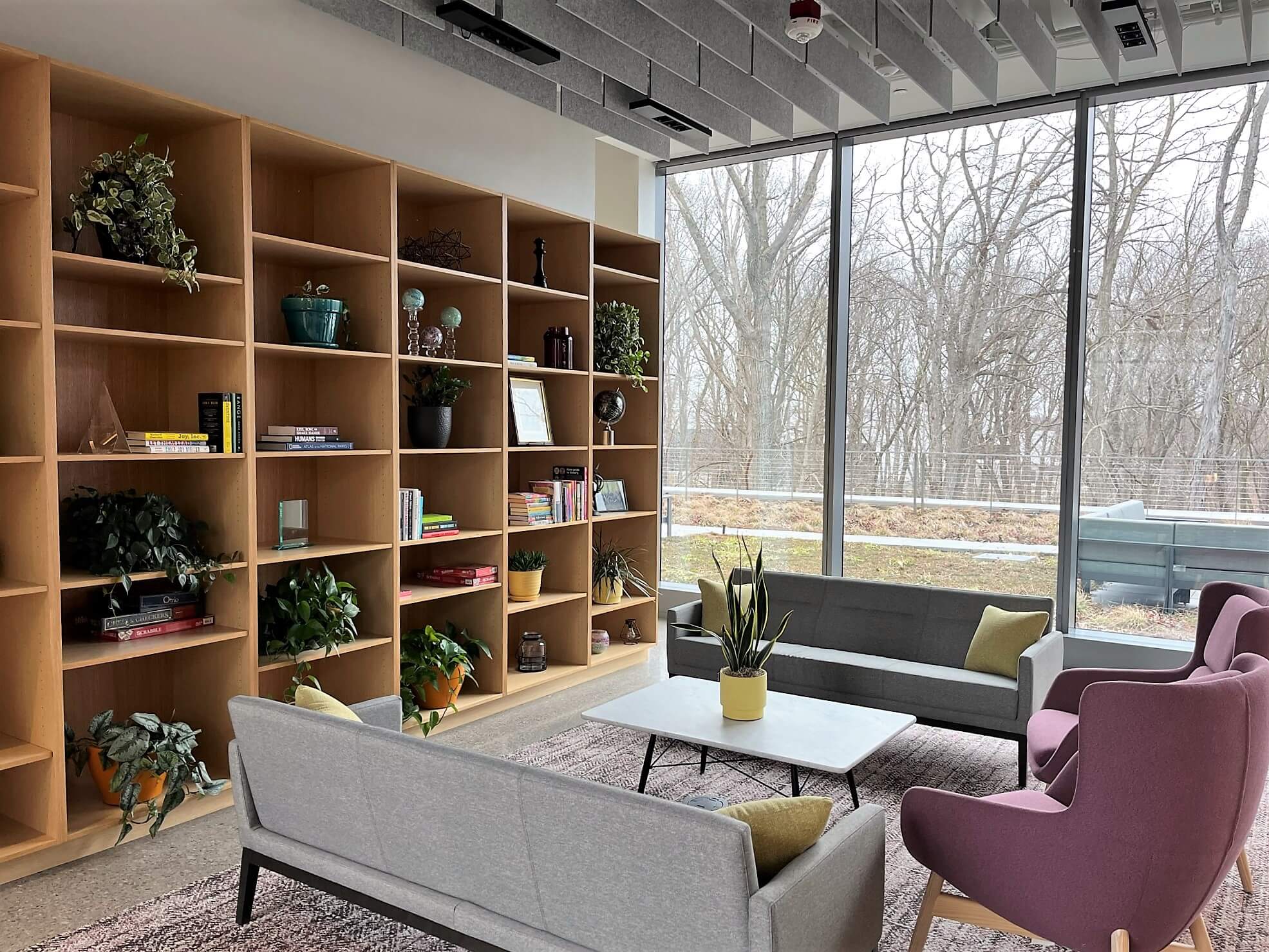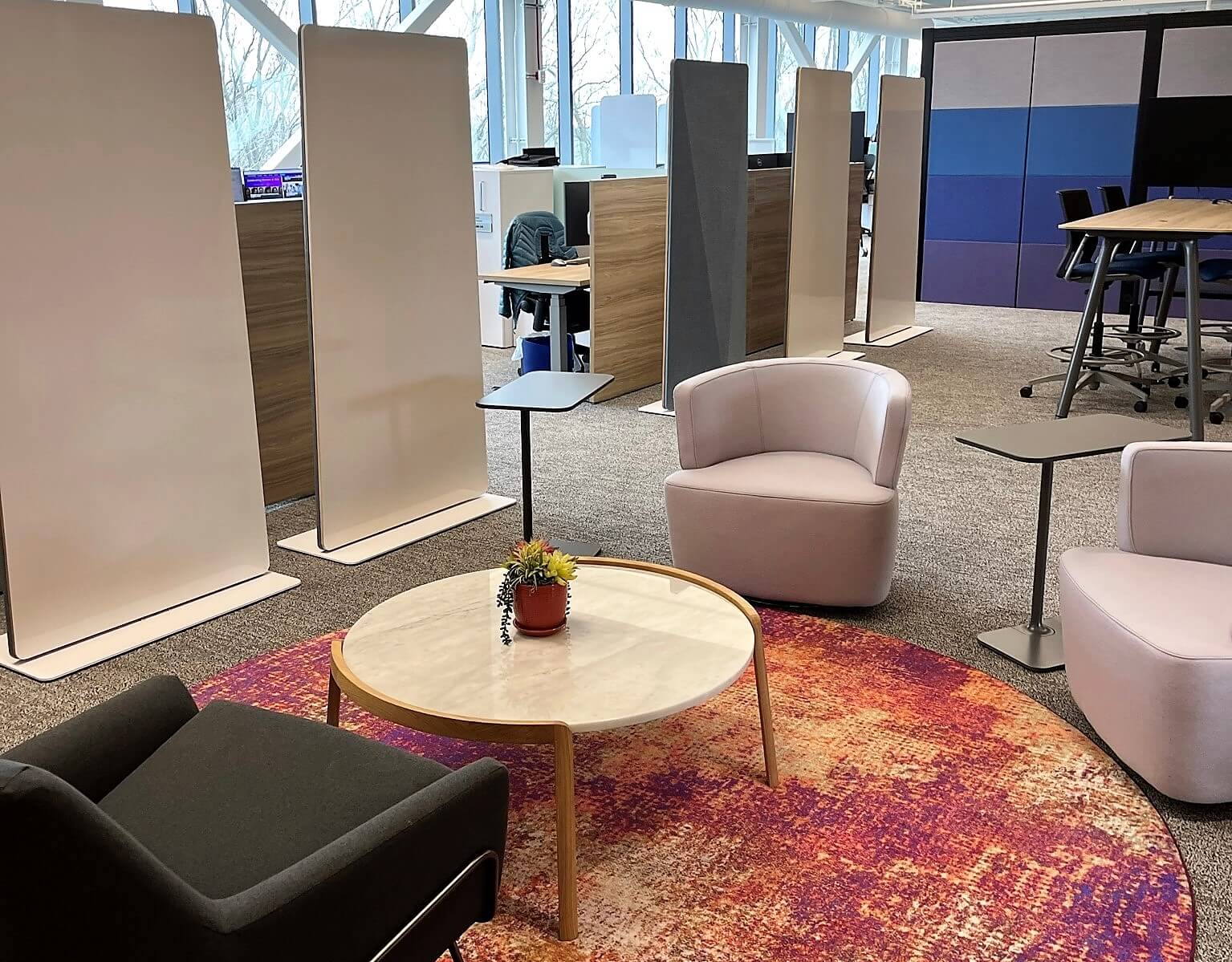 Want to be really out in the open? There are so many spaces where KLA employees can congregate, do solo work in a more busy setting, or just get a change of scenery. No one makes you sit at your desk all day long.
"There are so many options here," Kurt says. "I love that I'm not trapped in a cubicle all day."
But hey, if that's where you thrive, KLA has a desk for you!
4. The flexibility
That kind of work space flexibility isn't the only way KLA meets employees where they are. They also have very flexible working policies.
At KLA, it depends on your team how much you come into the office, but on average it could be 1-3 times a week.
On top of that, KLA team managers are very flexible about working hours. Many employees like to gauge the traffic and come in earlier or later to have better commutes (by the way, the office is very close to the expressway, making it super easy to get there from other parts of southeast Michigan).
"We're not an 8 to 5 culture. It's never been that way," Kurt says. Living in Livonia, about a half hour away from the office, Kurt usually leaves around 3pm to avoid rush hour.
"We trust people to get their jobs done and work in a way that's best for them."
5. The gym
At KLA, employee wellness (both physical and mental) are highly valued. That's why there's a beautiful gym right at the office. And it's not just a small fitness room with a few weights and a yoga mat. The gym has exercise machines, lockers, showers, and a room for fitness classes.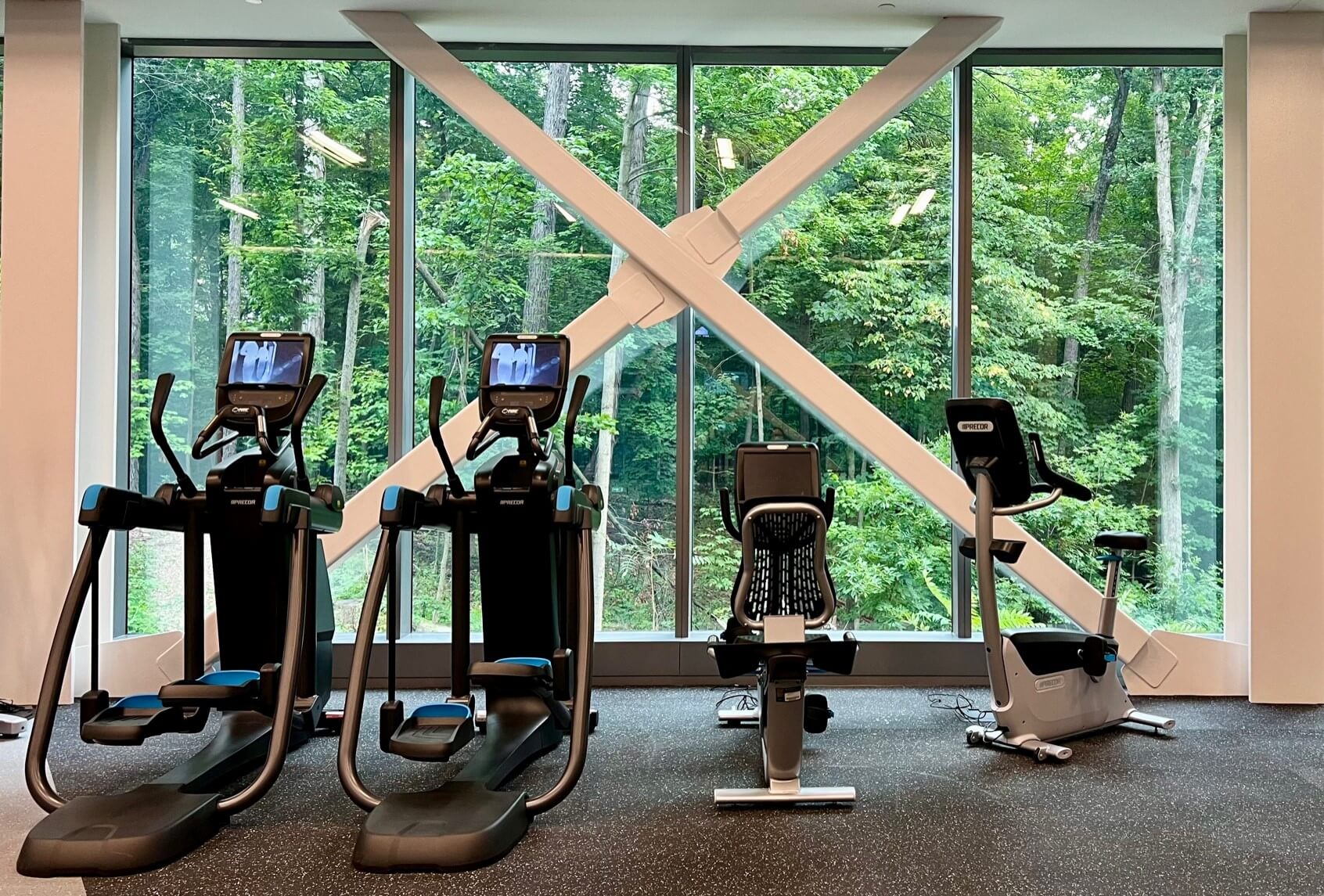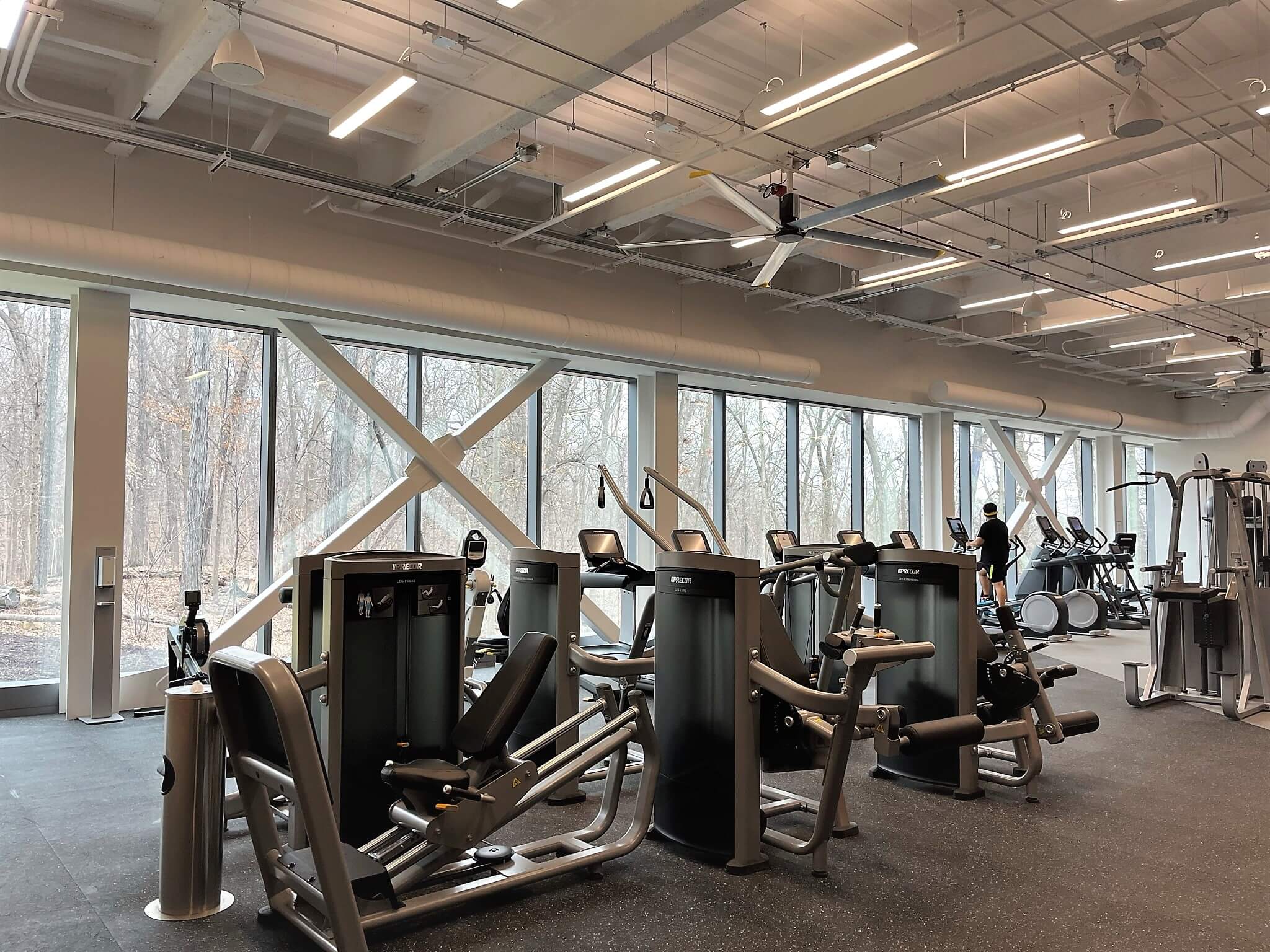 Employees can access the gym for just $15 a month, which is significantly cheaper than any gym membership you'd find around town. And that includes the classes.
"The gym is my favorite office perk," Sarah says. She comes in early to workout before starting her work day.
6. The food
Hungry? KLA has you covered. The cafeteria offers delicious and nutritious food at a discounted rate for KLA employees. It's open 24/7 so if you ever need a snack, you have a place to go.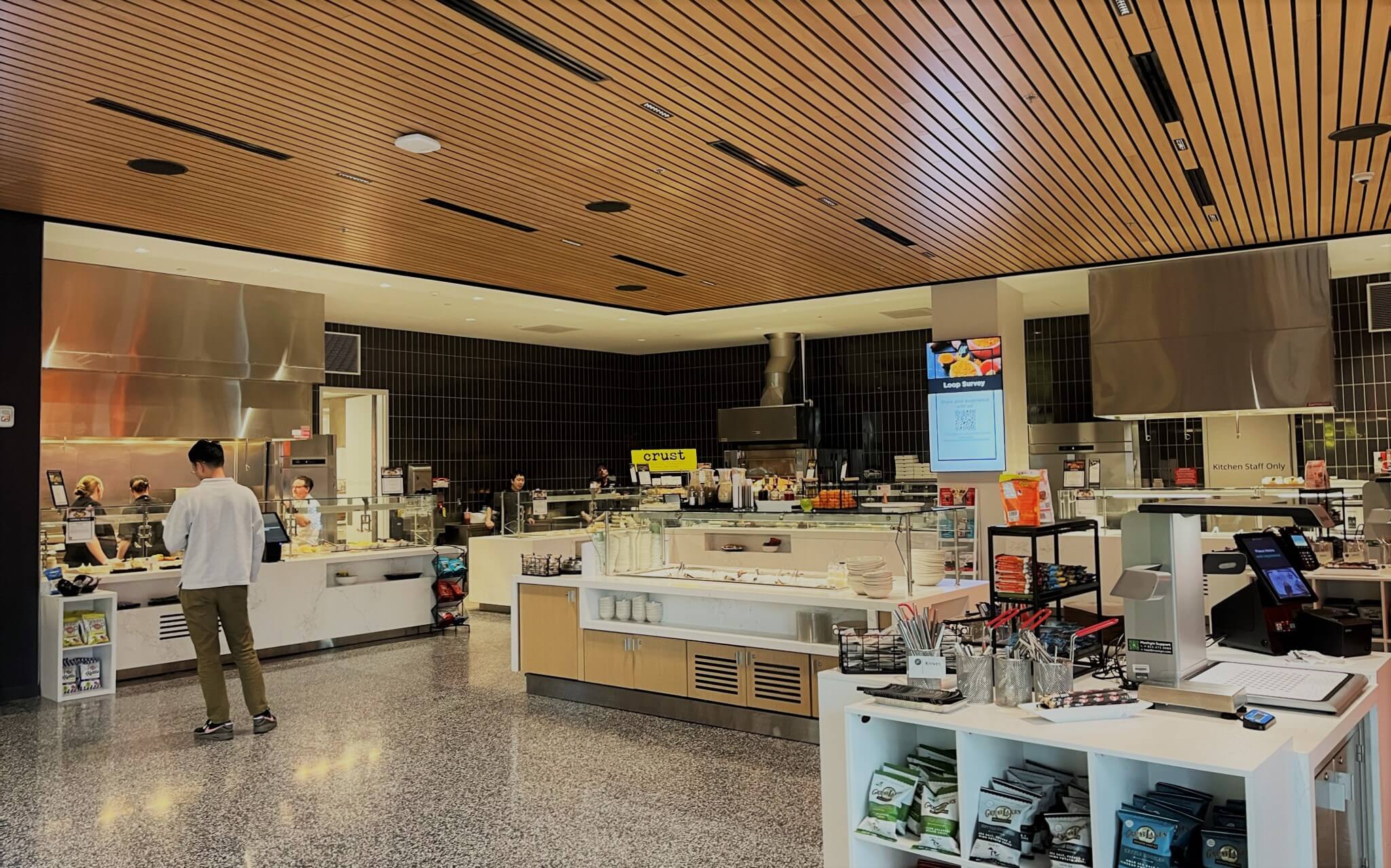 What's probably the best part about lunchtime though, is the people.
"When you go to lunch, you'll see everyone sitting together," Sarah says. "We all make sure we take a lunch break and eat together. It literally feels like college."
7. The community
You can find this sense of community not just at the lunch table, but all throughout the office.
"When you come into the office, you're really a part of the whole community," Sarah says.
When designing the building, KLA really had community and collaboration top of mind. There are so many areas for people to congregate, take breaks, or enjoy a cup of coffee together.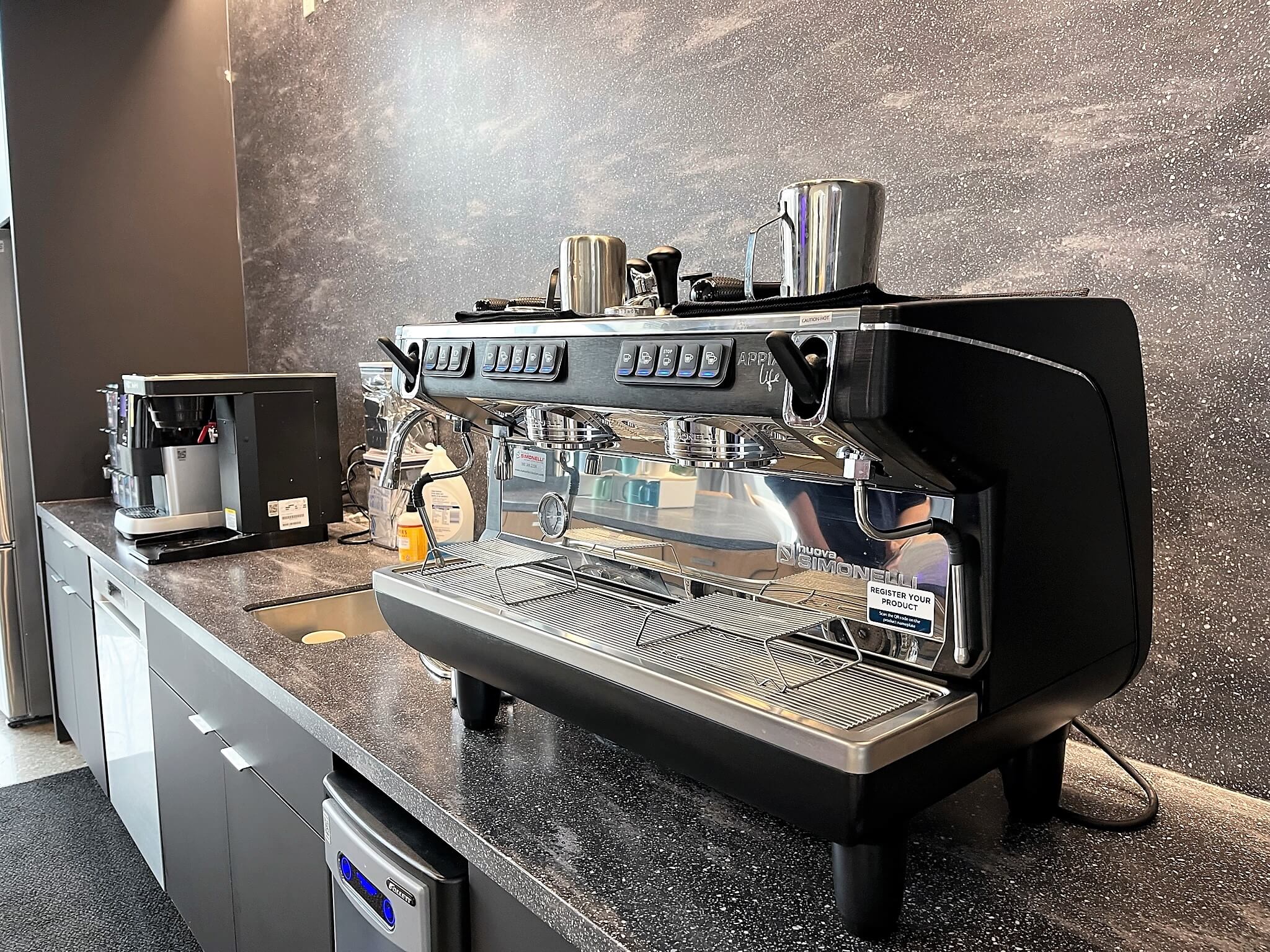 "It's so organic here, the impromptu meetings, the collaboration," Sarah says. "It happens so naturally, and we like being together."
This has also led to everyone actually knowing each other. There are six different divisions at this KLA office, but people know each other and are genuinely kind toward one another.
8. Openness — in space & culture
One of the ways people have gotten to know each other so well is, of course, by the open layout of the building that creates so much space for collaboration. But it's also the open culture that is an integral part of KLA.
As a global tech company, KLA has a very diverse community both around the world and in the Ann Arbor office. And this diversity is something that employees really embrace, Kurt says.
"People are really open to learning about and celebrating each other's cultures," says Sarah.
Just recently, the company hosted events for Lunar New Year, Black History Month, and Nowruz (Iranian New Year).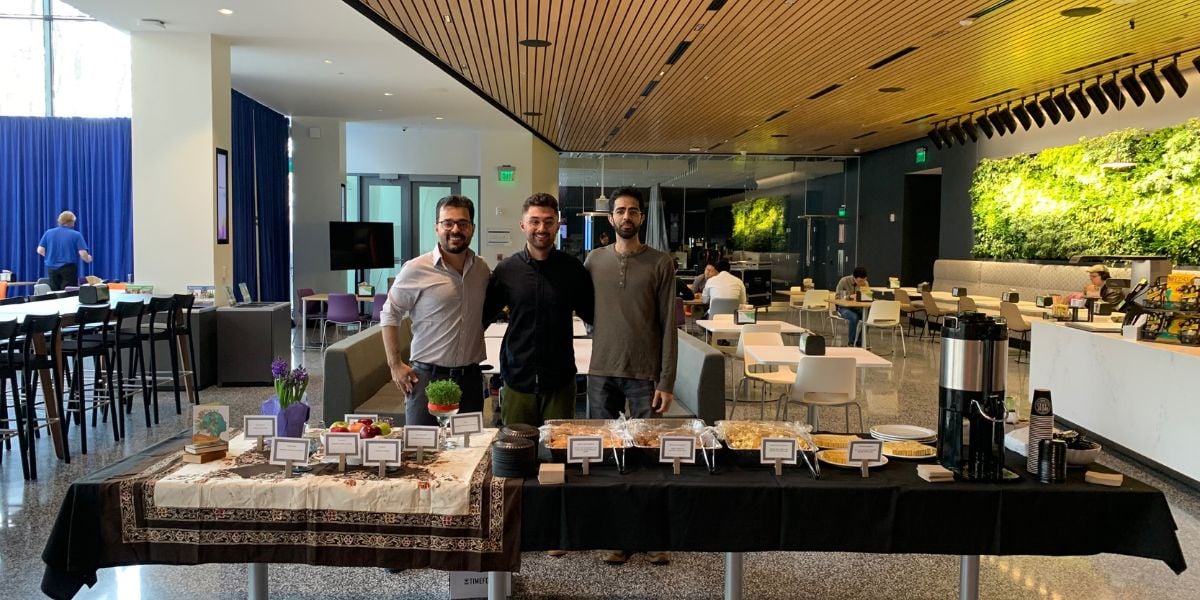 Setting up for the Nowruz lunch


"We have an open environment, so if someone sees something that we're not celebrating or talking about, there's space for them to bring it up and make something happen," Kurt says.
This openness to see something and do it is also a key part of KLA's culture. Kurt shared an example of Sarah doing just that. As a recruiter, Sarah saw an opportunity to create a pipeline program for community college students.
"We have a lot of autonomy to bring ideas to the table and really drive it," Sarah says. "Employees are so encouraged and empowered here. It's all about the drive to be better."
Looking to work at a word-class office with a world-class team? KLA is hiring for many positions. Check out open roles and apply now.