By now, we're all familiar with today's supply chain woes. If you've tried to buy a car this year (or just driven past a dealership with an empty lot), you know how bad the car shortage is because there aren't enough chips to put in vehicles. This is a supply chain issue. And if you need a car, it's really frustrating.
But a car can sit on a lot for a while. What about something with a short shelf life, like a necessary medication? Those temperature sensitive or perishable goods are affected even more by supply chain issues because they don't just get delayed. They get ruined. In fact, approximately 20% of healthcare shipments experience losses due to avoidable in-transit issues, resulting in billions of dollars in annual losses.
But there's a startup out there tackling it head on.
Founded in 2018, PAXAFE is an Indianapolis-based startup with a global presence that leverages intelligent hardware, highly accurate prediction models and algorithms and data. PAXAFE unlocks valuable supply chain data trends and allows customers to operationalize and execute on their supply chain data. Its supply chain technology and parcel IoT solutions help customers make sure goods arrive on time, in full, and in the condition they expected.
"Supply chain visibility is at the center of attention right now. We've seen this move from being a topic for cost centers to a topic for innovation centers in executive board rooms. So it's an exciting time to be working on this technology," said Ben Taylor, Director of Customer Success at PAXAFE.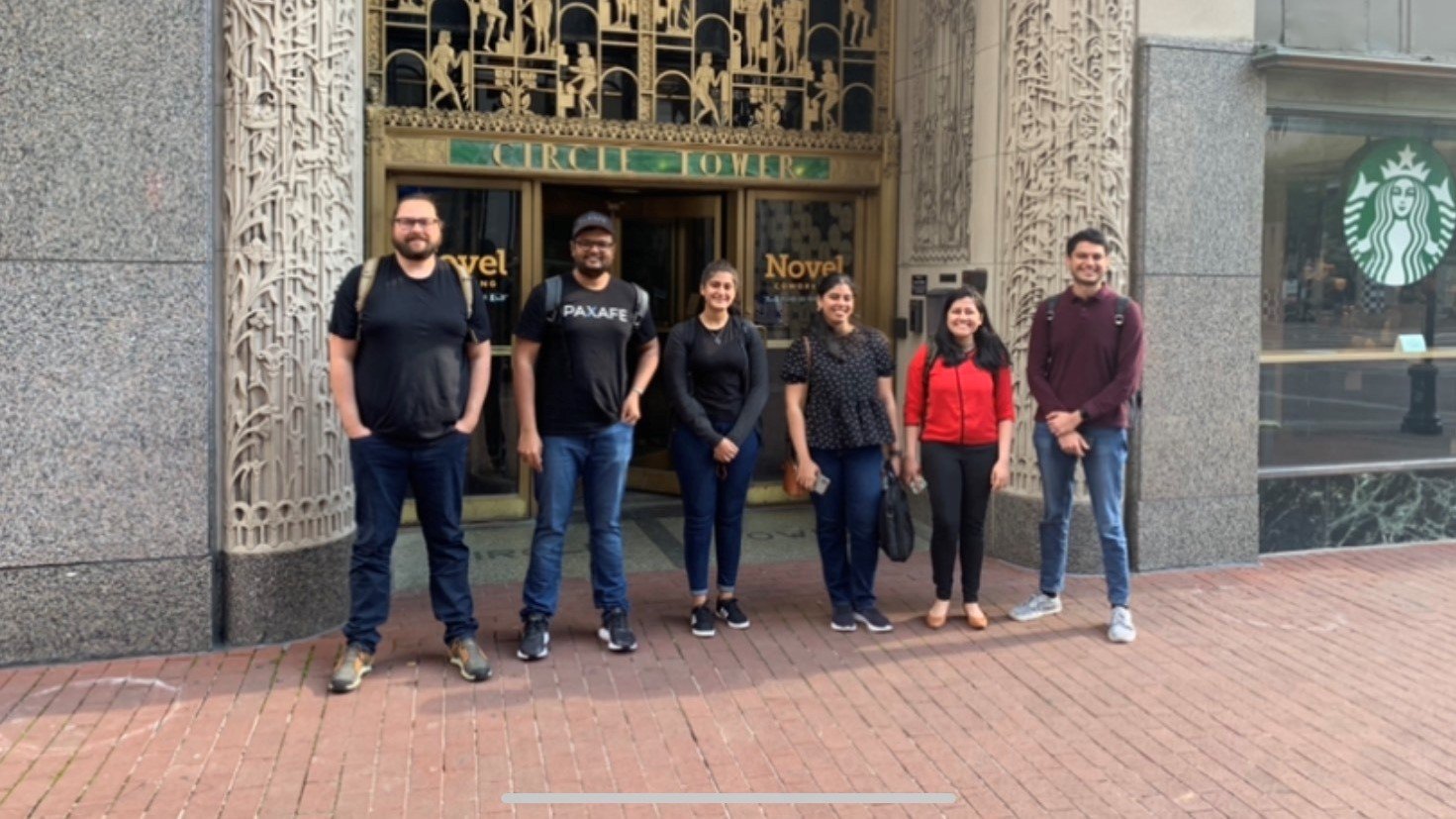 PAXAFE team
It wasn't that long ago that Amazon really changed the way shipping is done for B2C companies. With fast delivery, tracking, and a two-hour window for arrival, Amazon's delivery guarantees were game changing when they were introduced. But there hasn't been huge innovation on the B2B side.
PAXAFE is taking it even further with predictive data.
While COVID-19 has impacted supply chains, it's also impacted companies as they try to find net margins. Companies used to be able to get by with minor supply chain inefficiencies. Now it's really something organizations want to optimize.
"Millennials are changing the game when it comes to logistics," said Ivan Castro, Head of Growth at PAXAFE. "They want quick shipping within an hour of a metro area, and just the right amount of packaging — not too much, not too little. Companies are learning to unlock these insights to make packing and shipping changes to meet these demands."
And that's exactly what PAXAFE is helping customers do with their cutting-edge technology.
A Day in the Life at PAXAFE
The company was founded by Ashok Seetharam and Ilya Preston in Milwaukee, Wisconsin. After going through the gener8tor accelerator program and growing a bit, they moved the headquarters to Indianapolis, but have a team based around the country, working remotely.
So what is it like to work at a rising, remote startup solving one of today's most-pressing issues? Just ask Ivan, Ben, and Shivika Bisen, a data scientist who's been with the company for over a year.




Ivan, Shivika and Ben
From experiencing the problem to solving it
Before coming to PAXAFE, Ivan worked at Johnson & Johnson, leading an entrepreneurial transportation technology group for the massive pharmaceutical company. Ivan loved being in data science and logistics and saw firsthand the kind of challenges companies face. The company struggled with tension between having to choose data science for logistics or for medicine. As a healthcare company, they chose medicine. But Ivan continued to be interested in improving logistics.
"When I discovered PAXAFE, it seemed like the perfect opportunity to work on this technology and innovation that companies like Johnson & Johnson could use," Ivan said. "I wanted to build things."
Now, as Head of Growth, Ivan leads the team's outbound sales, nurturing pipeline customers, market research, and product positioning.
"Certainly it's been a major difference, but it's been great," Ivan said.
As the first customer success employee, Ben has also been influential in building solutions to problems. He's spent a lot of time building out the processes and workflows for the CS team, and as the team and company grows, it's all about making it better.
"We have core addressable markets, but they're all so unique," Ben said. "One day we're working with food shipments across the Mexican border and another day we're dealing with ports in the Middle East . . . some want a dot on the map and some want API, or predictive models. A lot of my work has been in understanding and scoping those needs, and providing the best customer experience."
Innovation & insights
On the data side, Shivika works with large amounts of data, building predictive models and gathering insights.
Shivika said about 70% of her day is spent working on the data models and analysis.
"If you have a data science background, it's a treat to be in this role because you can work end-to-end in this space. You deploy your models and see them working in real time."
In addition to heads-down work, there is also time throughout the week for daily standup meetings and collaboration between cross-functional teams. Data can impact business decisions, and other teams communicate to the data team what's important to customers and business development.
It's this kind of individual expertise and collaboration that have created such a fertile ground for innovation at PAXAFE.
"The ability to innovate rapidly with respectful challengers is what makes this the right environment to do the next big thing," Ben said. "We've all seen the way in which innovation can be stifled, and everyone at PAXAFE is excited to throw out those habits that stifle innovation. We work quickly, we accept that mistakes may happen, and we're always ready to learn from them."
Shivika added that problem-solving is a huge part of the culture.
"You really have to come up with innovative ideas," Shivika said. "I feel like I'm valued as an employee because I have so much responsibility and ownership in the projects."
DEI in the most genuine, authentic way
Fostering innovation is a huge part of PAXAFE's culture, and there's another key ingredient that makes it so special: diversity and inclusion.
PAXAFE is immigrant-owned and -operated, and the founders have been very intentional about hiring diverse people and recognizing the value that everyone's unique background brings to the table.
"As a white man, I'm actually in the minority at PAXAFE," Ben said. "It's been a fantastic opportunity to learn from so many people who aren't like me. All the different perspectives have really helped me learn and grow."
Shivika, Ben and Ivan all recognized how influential the founders are in fostering an inclusive environment. Ashok and Ilya have taken the time to think about what they've learned from people over the year in order to give very meaningful recognition and gifts for people's work anniversaries.
"Those small things are a part of what builds our culture," Ben said. "We know what people work on professionally, but we also know what they enjoy doing outside of work."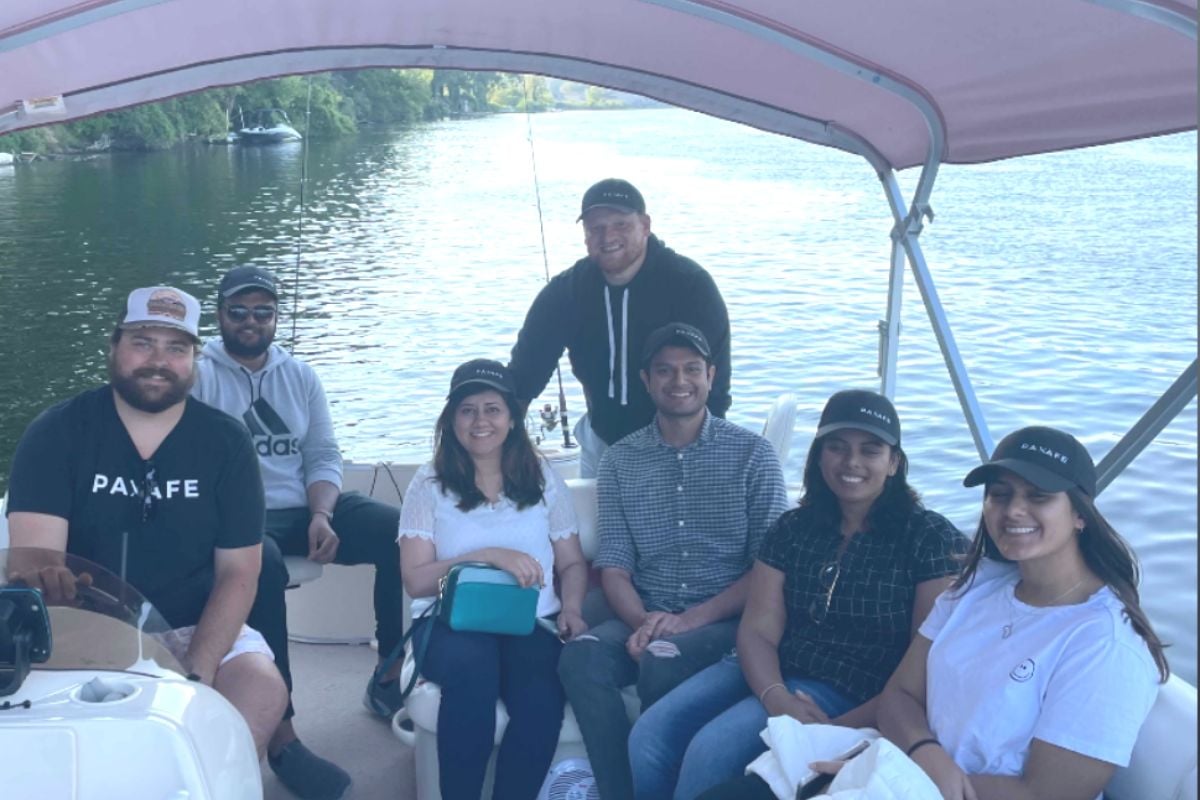 Ivan said this really helps foster connections between team members. He gave another example: many people on the team enjoy puzzles or brain teasers, so Ilya will give everyone a brain teaser during their Friday "Wins" sessions. It's a light-hearted, nice ritual that's fun for the team.
"I love how close we all feel even though we're remote and communicating via Zoom. We're still all connected and aligned," Ivan said.
This is just part of the equation that has made PAXAFE so successful over the last couple years, and it's helped the company move its mission forward every single day.
"I know we're going to change the industry and move it to the place it needs to be to really make an impact, to help people get the things they need like food and medicine," Ivan said. "And we get to build it and do it. That's super exciting."
If you want to join a team at the forefront of the supply chain revolution, learn more about PAXAFE 👇