Wow. It's only been two months since I, alongside the Purpose team, took a new and bold step to launch Purpose Community, a free Slack workspace dedicated to folks passionate about the Midwest tech and startup community.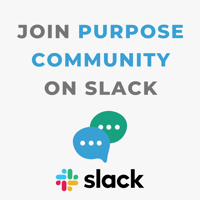 Since the launch on August 31st, the community has grown to nearly 500 members. Our most active channels have been #introductions, #open-jobs, and #events. Thousands of networking DMs have been exchanged. People have been able to meet people. Open jobs have received applicants. Folks have stayed on top of Midwest news and events. Young professionals have been able to find mentors.
I'll be the first to say I've never done anything like this. It's been a learning experience and a project that requires daily attention. But it's all been worth it, without a doubt. Looking forward, I think the next step we can take to strengthen the community is to increase membership. More folks to connect with. More folks to share events, resources, and news. And more folks to offer support to the community.
That's what I'm setting out to do, but first, let's take a look at the community as it exists now. 👇


What our members say ❤️
What our members have to say can be really powerful. So much happens behind the closed doors of DMs, so I love when I receive messages or testimonials like these.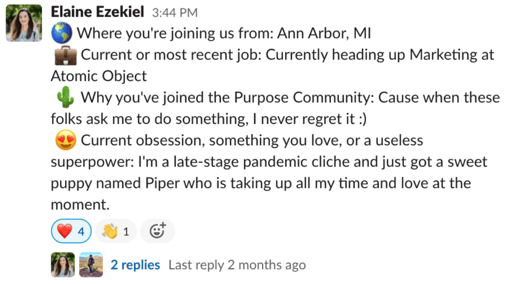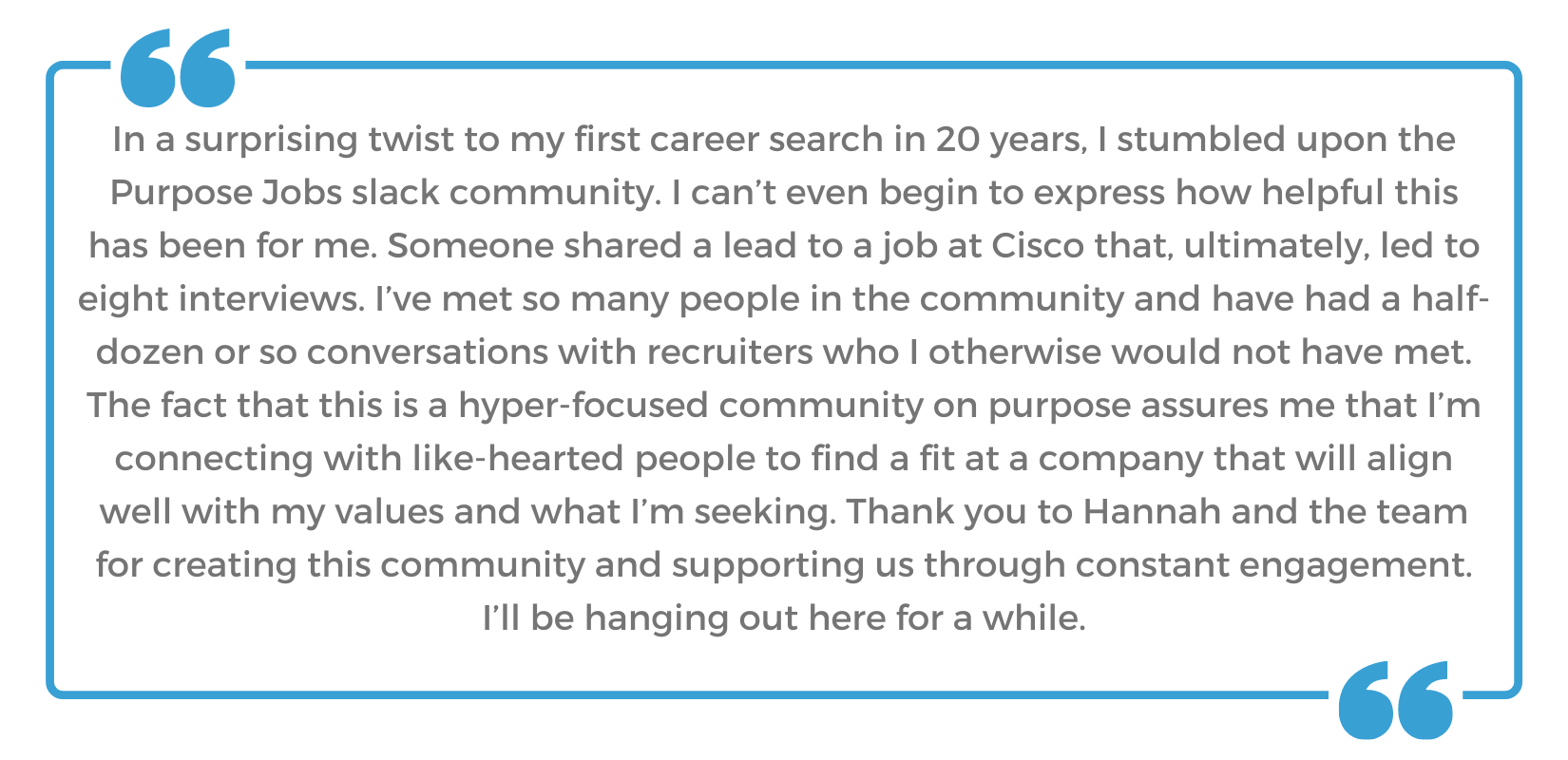 How our members engage with one another
Main channels
Some of our main channels include #introductions, #midwest-news, #events, #advice, #open-jobs, and #open-to-work. 💬
The #introductions channel provides community members with a great opportunity to learn more about one another. These posts allow folks to connect on commonalities and many will send a DM if they'd like to connect.
#midwest-news is where we share just that, exciting Midwest news! From funding rounds to acquisitions to top-notch co-working spaces, it's honestly hard to keep up with.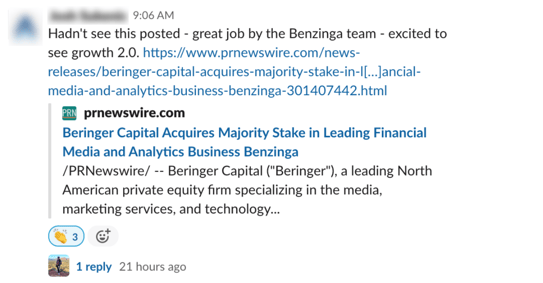 Looking to learn something new, refine some skills, be engaged in a certain topic, or just network with other people? Look no further than our #events channel. One of our most active channels, you'll have a wide-array of events to tune into. 📅
The most powerful part of the Purpose Slack Community is the willingness of our members to help one another. Our #advice channel serves as a location for folks to ask their questions, whether it's tech- or career-related, and our community steps up to help one another out by sharing advice.
Finally, our #open-jobs and #open-to-work channels allow recruiters or team members to promote open positions and individuals to promote themselves. 💼 These channels are worth monitoring because as a member of this trusted community, you have the opportunity to contact the poster directly to learn more. Oftentimes, an email address is even shared.


Topic-specific channels
Members have the ability to create public channels in the Purpose Slack Community. Right now, many of these opt-in channels are city or state-specific, but we also have a #founders channel and a #dev channel. These channels tend to be member-driven and provide the community with smaller groups to engage with.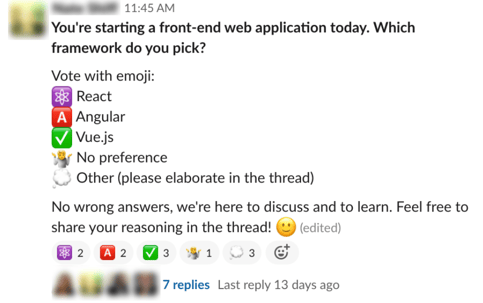 #virtual-networking 🤝
Looking for another avenue to connect one-on-one with other folks? Join #virtual-networking and be paired with another community member every other week. Coordinate a time to chat and network away!


How to join
It's pretty simple and completely free. Be sure to read over the Code of Conduct first, and then you can create an account via this link. Upload a profile photo and post an introduction. Your introduction is the most effective way to start building connections with others!
I hope to see you there! 🎉
Want to learn more about our Slack community? Check out the story here.