There's no doubt that the way we work and live has changed over the last year. The pandemic launched the country into a widespread remote-work experiment, and many people—and companies—are choosing to embrace that model indefinitely.
People are also gravitating to more sustainable lifestyles. With rising housing and living costs in coastal cities like San Francisco, the pandemic accelerated the movement of people away from the coastal tech hubs. A Pew Research report found that 52 percent of people ages 18 to 29 moved back home with their parents because of the pandemic—many are moving back now, but many are choosing to stay.
In addition to changing location, people are also thinking of changing jobs. According to Prudential's latest Pulse of the American Worker Survey, 1 in 4 workers (26%) plans to look for a job at a different company once the pandemic has subsided.
As Steve Case, Co-founder of AOL and CEO and Chairman of DC-based investment firm Revolution, says, it's a real "shake the snow globe moment" as people rethink where they live and what they're doing with their lives. At the same time, startups have continued to grow and VC investments continue to flow. According to a new Crunchbase report, Michigan is the fastest-growing state for VC investments, and other middle-country states like Ohio and Minnesota are rapidly growing, too.
Emerging startup ecosystems in the US are increasingly being viewed as huge opportunities for growth and, as people continue to work remotely, more attractive places to put down roots. Steve Case and Revolution have been betting on startups outside the coastal tech hubs for years. In 2014, the firm launched Rise of the Rest, a nationwide platform, and in 2017 and 2019, they launched two $150M seed funds to invest in early stage companies across the US.
Revolution's Rise of the Rest believes that some of the most compelling investment opportunities will likely emerge from startups outside of Silicon Valley, Boston, and New York City. Some of their portfolio companies include Detroit-based StockX, St. Louis-based Summersalt, Kansas City-based Backlot Cars and more. To date, the Rise of the Rest Seed Funds have invested in 180 companies.
Rise of the Rest investors see a huge opportunity in the middle of the country as ecosystems continue to grow and benefit from a potential continued influx of talent. That's why this month, Rise of the Rest is launching its first-ever virtual Tech Talent Tour from June 22-24.



The first two days will feature conversations on Clubhouse with startup leaders from 16 cities, including Detroit, Chicago, Indianapolis, and the Twin Cities. These city spotlight conversations will include a diverse range of startup, political, and cultural leaders from within each city to discuss what it's like to live, work and play in their community.
On June 24th, the career fair will kick off with a keynote address from Steve Case and Brian Chesky, the co-founder and CEO of Airbnb, about the future of living, working and traveling. At the virtual career fair, job seekers can browse over 1,000 open job opportunities at over 100 startups across the country from Revolution's Rise of the Rest Seed Fund portfolio. The event will also feature sessions with select hiring managers and founders from startups across the country who are hiring for a range of roles. Attendees will have the option to submit resumes, ask questions, and discuss qualifications.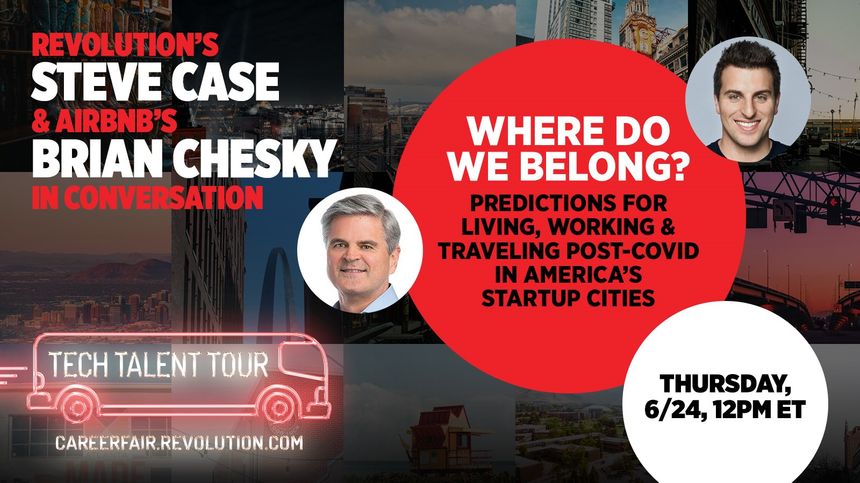 To help engage job seekers, we've partnered with Rise of the Rest along with 2U, Inc. (Nasdaq: TWOU), AnitaB.org, InHerSight, Powderkeg, and Valence.

"Rise of the Rest is committed to accelerating and encouraging more diverse startup communities," said Anna Mason, Managing Partner at Revolution's Rise of the Rest Seed Fund. "These tour partners will allow us to bring together a pool of job seekers that is reflective of our country to help support the growth of inclusive startup communities."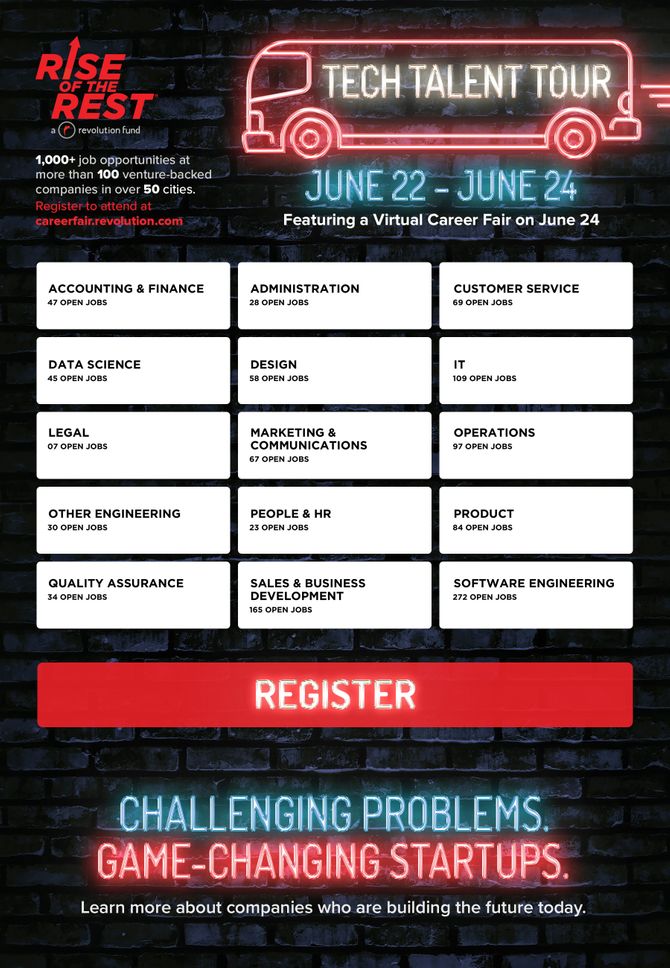 "As a founder, building the right team is paramount to success," said Steve Case. "Yet we often hear from entrepreneurs and startup ecosystem builders, in cities outside the coastal tech hubs, about the challenges of recruiting and retaining talent. The pandemic, however, has the potential to redefine how and where people work. We see the Tech Talent Tour as bringing together those interested in life and employment outside of Silicon Valley with startup opportunity."
To join the virtual Tech Talent Tour, mark your calendars for June 22-24 and register for free.
Tech Talent Tour Agenda
June 22nd – City Spotlights (Revolution's Startups Across America Club on the Clubhouse App)
12:00pm – 1:00pm ET: Chicago, Northwest Arkansas, Minneapolis-St. Paul, Indianapolis

3:00pm – 4:00pm ET: St. Louis, Detroit, Baltimore, Denver




June 23rd – City Spotlights (Revolution's Startups Across America Club on the Clubhouse App)
12:00pm – 1:00pm ET: Austin, Phoenix, Lincoln-Omaha, Madison

3:00pm – 4:00pm ET: Dallas, Miami, Salt Lake City-Provo, Atlanta
June 24th – Virtual Career Fair with Intro from Steve Case & Guests (link available upon registration)
12:00pm – 12:30pm ET: Virtual Career Fair Main Stage with Steve Case and Brian Chesky

12:30pm – 2:00pm ET: Career Fair Session, companies to be announced