You never know when your next big idea will strike. For Victor Darolfi, it was at a tire shop.
He had been waiting three hours for his wife's tires to be changed, and hated every minute of it. He had also just sold his first company that built battery packs for EVs and was wondering what was next. With over 14 years of experience in robotics engineering, he had suddenly found his next venture: RoboTire.
"The industry was ripe for disruption," says Victor, founder and CEO of RoboTire. "There is a huge need for automation in auto repair shops, and no matter what kind of vehicles we drive, auto repair shops will always be around."
RoboTire's first-generation automated tire-changing system is filling a huge gap in the industry by helping repair shops do the heavy lifting — literally. Tires can weigh up to 25 pounds, and because the process takes so long, technicians are spending precious time on services that could be automated.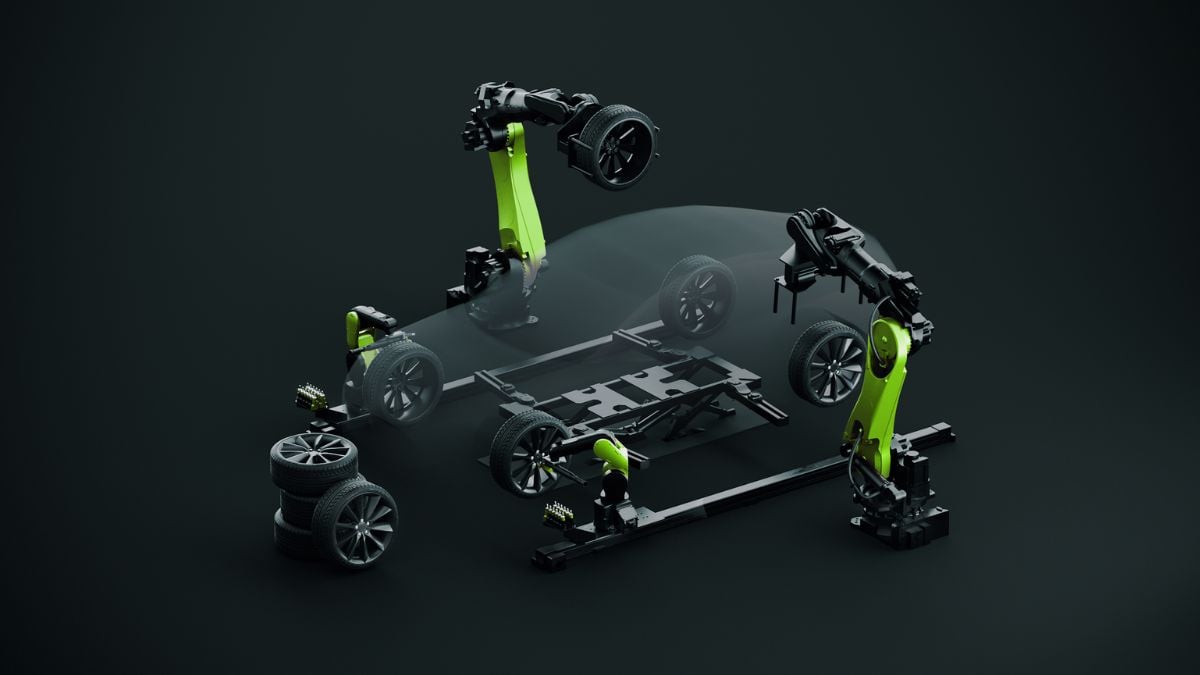 Image courtesy of RoboTire


Plus, the auto repair industry is facing a huge labor shortage right now.
"There aren't enough people doing these jobs anymore," Victor says. "All have 'help wanted' signs. Shop classes aren't widely offered in high school anymore, and many tire techs are kids doing it for a summer and then transitioning out."
In fact, 37% of tire technicians stay for less than a year, and 34% stay less than one to two years.
Now, RoboTire is helping auto repair shops fill a major gap, supply fast service, and help technicians work on other services that require more skill and bring in more revenue. After 30 minutes of training on RoboTire's easy, intuitive system, people are moving from "tire technician" to "robot technician."
And RoboTire is just getting started. With four years under its belt, the company is ramping up production here in Plymouth, Michigan. RoboTire participated in the Y Combinator W2020 program, and in 2021 raised $7.5 million in a Series A round led by Discount Tire. 2021 also saw the launch of RoboTire's first functional prototype, and in 2022 the company launched its first operational production cell at a Discount Tire in Arizona.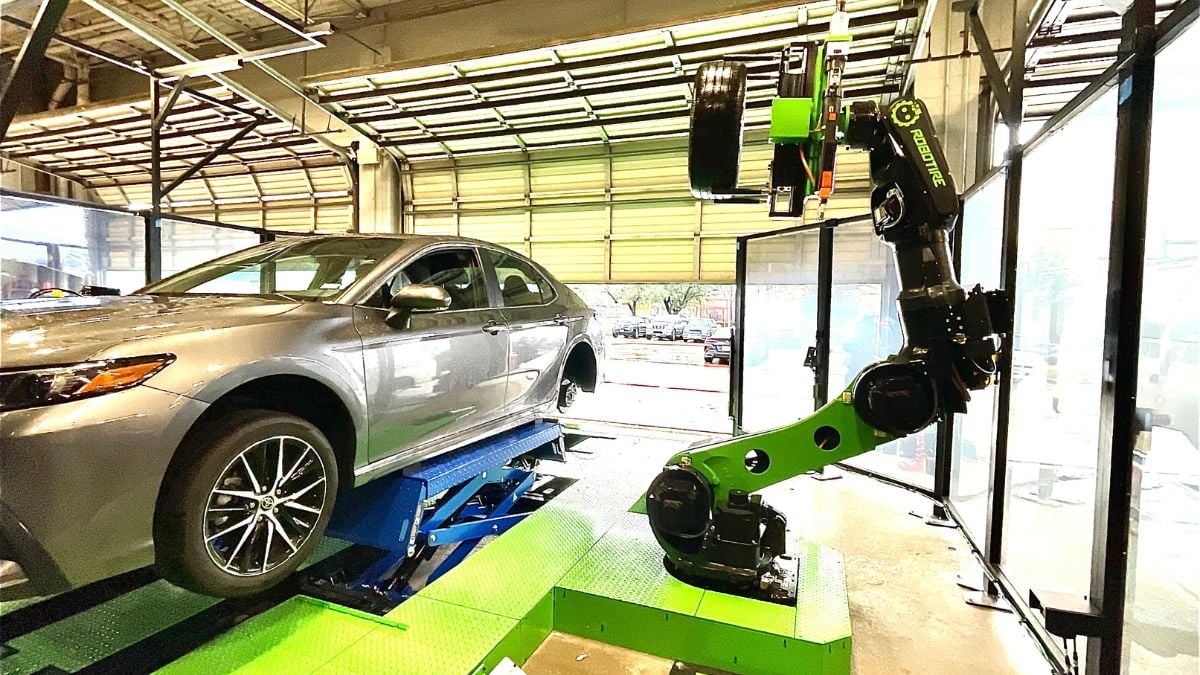 Image courtesy of RoboTire

Now in 2023, having moved back to Michigan from Silicon Valley, Victor is ramping up development, operations and production with a goal of 20 systems installed by the end of the year. They're also gearing up for more hiring and looking for people to join their team.
Getting the juices flowing
So what is it like working at a robotics and automation company in Michigan? If Victor had to boil it down, he says it's "fast-paced, exciting and dynamic."
"We're a startup, so things change. And that's a good thing," Victor says. For example, the team's schedule might get disrupted if a new customer comes in with a big order. That's a good problem to have.
This is what makes working at RoboTire so "dynamic" as Victor puts it. Team members have a lot of variety in their work, and aren't just doing the same thing every day.
"It's fun because it's changing," Victor says.
The team goes through phases of sprinting, and then has time to relax. It's usually about three weeks of hard development work, and then a week that's a little lighter.
That's where Demo Days and Innovation Days come in.
Demo Days are a time when people on the team can show others what they're working on. While the team is very collaborative, people aren't always collaborating on the same projects. Demo Days allow the team to present their work so everyone can understand what's going on.
"It really helps create more collaboration and collective thinking, a way for people to see the bigger picture," Victor says. "Plus, it's a way for people to show off their work, take pride and value in what they do here."
Innovation Days are times when people can work on anything they'd like to, as long as it has some value to RoboTire. Victor says it helps people get out of their day-to-day tasks. It also provides a space for people with big ideas but never the time to pursue them. Now they have that time.
"These days help us reset, recharge, and really get the juices flowing again," Victor says.
This also creates a nice balance between individual and collaborative work, which Victor says takes up about 90% of the work. They'll have huddles around robots, certain parts of the dev cycle that require collaboration, and times when people need to be onsite and working with the team.
Other times in the development cycle, team members have the chance to work from home, work heads-down on their code, and focus on their individual work. Innovation Days also support that individual development and growth.
Cool toys, even cooler opportunities
If Innovation Days sound exciting to you, that's exactly what RoboTire is looking for.
Victor says the perfect candidate comes down to three things:
Desire to learn and push innovation

Comfortable taking the reins and self-managing

Playing with cool toys
Because the team works together so closely, Victor says it's also important that they build a team that's comfortable with each other and feels open about communicating and collaborating.
"We are a super small, flat team, so there's a ton of opportunity here," Victor says. "We promote quickly and often, and everyone here is impacting the product and innovation."
Not only that, but working at RoboTire has some other great benefits (in addition to great PTO, healthcare, and more). For example, RoboTire is joining the crew at Newlab Detroit in the remodeled and re-envisioned Michigan Central Train Station. The company will have a small secondary office at Newlab, for anyone who would like to work in Detroit at this innovative space.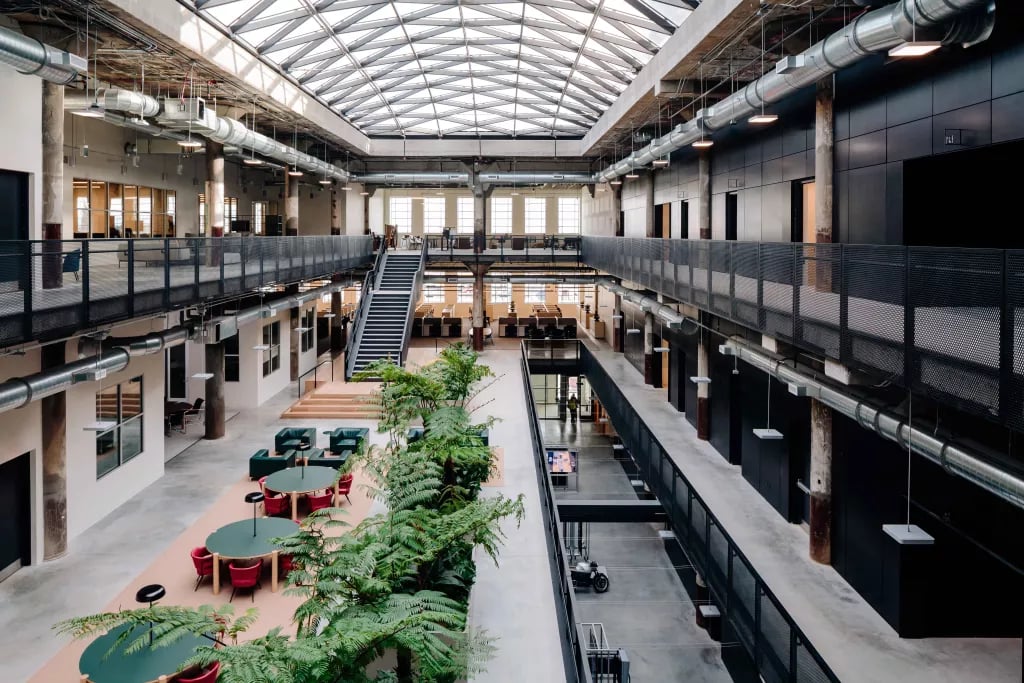 Newlab Detroit's Book Depository building. Image source: Newlab, Brian Ferry


"We attended the grand opening and people on the team got to meet Bill Ford [the Executive Chairman of Ford Motor Company]," Victor says. "That was a really cool experience for so many of us."
Plus, as RoboTire continues to rapidly grow, tires will just be the beginning. As RoboTire builds out its platform for automated auto maintenance, the team will work on new technology for automated brake inspection and other services that benefit the end customers.
"In an ideal world, one day your automated vehicle will drive itself to the service station, have automated service done and the systems will talk to each other. Then your car will drive itself home. That's the holy grail," Victor says.
For now, RoboTire is ramping up production and working on getting more RoboTire technology around Michigan and the U.S.
"It's a really fun time to be in this space," says Victor.
If you're looking for an opportunity to work on cutting edge robotics, AI technology, and "really cool toys" as Victor puts it, RoboTire is hiring. Check out their open roles and apply now.