The list is out for 2022 — check out the Top Ann Arbor Tech Companies & Startups to Watch in 2022
Ann Arbor is perfectly positioned to be one of the best cities for tech jobs. Not just in the Midwest, but in the country.
It's home to a world-class university, developing cutting edge research as well as top tech talent. It's an affordable place to live, unlike coastal cities like San Francisco and New York. And now, as tech companies flock to Texas, people suspect the cost of living will dramatically increase there. In Ann Arbor and the Midwest, people can enjoy affordable lifestyles as well as high salaries.
Ann Arbor has also seen a lot of tech success. In 2018, Duo Security was acquired by Cisco for $2.35 billion. Since then, Ann Arbor has become an epicenter for cybersecurity tech companies as these top companies continue to attract top talent and prove themselves to be some of the best places to work.
Not only that, but Ann Arbor is home to great people. Friendly, smart, innovative, and ready to lend a helping hand. Community organizations like Shine & Rise provide support and mentorship to women who work at tech companies, and coworking spaces like Cahoots offer dedicated tech entrepreneurial spaces for the community.
So it's no wonder why Ann Arbor tech companies and startups are thriving. Some veterans are still crushing the game, and some newcomers are on the scene with exciting new products and technology.
Check out the top companies to watch in Ann Arbor—and yes, they're hiring!
Want to start applying for Ann Arbor tech jobs? Join the purpose.jobs talent community, create one free profile, and apply for top jobs.
The 2021 Best Ann Arbor Tech Companies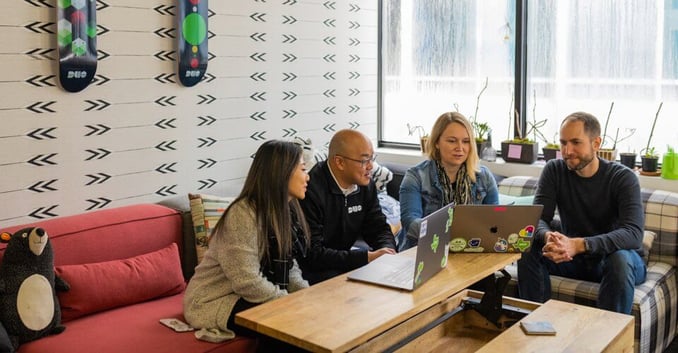 1. Duo Security
Founded in 2009, Duo Security has grown into one of the top tech companies in the Midwest—and the country. It made a name for itself in the cybersecurity scene with its two-factor authentication technology. They've been a pioneer in cybersecurity services, and Duo Security jobs remain some of the most sought-after tech jobs. Duo has also created a great place to work. Duo has a culture centered around inclusion and belonging. At the Diversity and Inclusion Panel Discussion in June 2020, Kendra Mitchell, Duo's Chief of Staff said, "It's about bringing everyone to the table in a way that respects their beliefs and values."
Interested in Duo Security jobs? Create a free profile to start applying for top tech jobs.
2. Llamasoft
In November 2020, Llamasoft was acquired by Coupa Software for $1.5 billion. This was big news for the Ann Arbor tech community, and a huge move for Llamasoft. This Ann Arbor tech company makes AI and automation software for supply chain management. The need for their product grew in high demand after the pandemic turned supply chains into a nightmare. By joining forces with Coupa, Llamasoft will have a wider market reach and more powerful digital transformation solutions. We're excited to see what this partnership brings in 2021!


3. Workit Health
Founded by two of the top female founders in the Midwest, Workit Health is a health startup that's providing digital tools for people recovering from addiction. Lisa McLaughlin & Robin McIntosh saw that many people with addiction didn't have access to the time, medicine, or support they needed for recovery. So they created Workit Health. The Ann Arbor startup has seen a large increase in its app use as the pandemic has led to an increase in substance abuse and addiction. The company raised $12 million in Q4 of 2020, and they were also named an Ann Arbor SPARK FastTrack company for their notable growth over the past year.


4. Censys
As part of the Ann Arbor cybersecurity hub, Censys had a strong year in 2020. They raised $15.5 million, their largest funding round yet. Censys is also consistently one of the best places to work in Ann Arbor. Over the summer, the CEO of Censys went on a five-state road trip to safely visit all of his employees face-to-face because, well, we're all getting a little tired of Zoom and nothing beats checking in on your team in person.


5. ArborMetrix
At ArborMetrix, they believe it's data science that makes a difference when it comes to healthcare. They're creating software that tracks, measures, and analyzes the performance of healthcare outcomes. They're a mission-driven startup that's using technology to help save lives. Just last month they raised $11.8 million.


6. Amesite
2020 threw online education into the spotlight, but this Ann Arbor tech company has known the value of it since it was founded in 2017. Amesite, founded by top Midwest female founder Ann Marie Sastry, uses AI to improve the online education experience. In 2020, they raised $5.5 million in January, and in September the company filed for IPO with a valuation of over $100 million.


7. Blumira
Blumira is another cybersecurity startup in Ann Arbor that's a part of this vibrant security ecosystem. Founded in 2018, this year Blumira brought in their first round of seed funding of $2.6 million. Because they're quickly growing, working at Blumira offers the opportunity for high growth and a fast-paced work environment.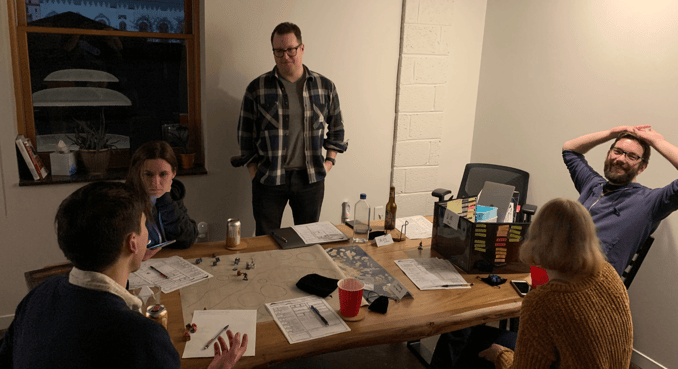 8. Dynamo Metrics
Dynamo Metrics is a company that truly cares about what they do—and the people they work with. This tech startup makes software that is critical for communities when developing new programs or trying to solve problems, as it helps community leaders make better decisions. Because they're a mission-driven company, their people are passionate about what they do, and they're excited about solving complex problems. In 2020, Dynamo Metrics took home the top $50,000 prize in the IT category at this year's Invest360 event. They also won the People's Choice Award, bringing home an additional $50,000. On top of that, Dynamo Metrics closed an extension of their seed round funding with an additional $460,000. They plan to use these investments to help grow their team and scale their product. Learn more about working at Dynamo Metrics.


Want to work with a purpose-driven company like Dynamo Metrics? Apply for Dynamo Metrics jobs with one free talent profile.
9. Atomic Object
Headquartered in Grand Rapids with a vibrant office in Ann Arbor, Atomic Object is consistently one of the top tech companies in Michigan. Their software provides agile product development, software design, and development services. The company operates with a co-CEO model, which might be unconventional but has been working very well for the company. In fact, co-CEOs Mike Marsiglia and Shawn Crowley were named the Top Midwest CEOs in the 2020 Purpose Awards. They play an important role in helping Atomic Object live out its values and foster a great company culture. They are constantly focused on improving diversity and cultivating an inclusive environment, not only internally but also in how they design their technology.


10. Nutshell
Headquartered in Ann Arbor and part of the Cahoots community, Nutshell is a CRM sales platform that helps teams manage leads and grow revenue. Their team is very active in the Ann Arbor tech community. They host the SE Michigan JavaScript meetup right in their own office, and many "Nutshellers" have been featured presenters at other conferences, like CodeMash, Detroit Dev Day, Girl Develop It, and more. Nutshell is also known for being active members of the community and trying to make it more equitable. Not only do they support local organizations like Hack the Gap and Black Girls Code–Detroit, but Nutshell's Ashanté Clemons was also instrumental in establishing the Cahoots Diversity Scholarship.


11. May Mobility
Headquartered in Ann Arbor, May Mobility is creating autonomous shuttles in Ann Arbor, Detroit, Grand Rapids—and around the world. In December 2020, the company announced that they are the autonomous shuttle provider for Autono-MaaS, which is a transportation project in Hiroshima, Japan. May Mobility will begin operating a public route on Hiroshima University's Higashi-Hiroshima campus starting in March 2021.


12. KLA
Headquartered in California with offices in Ann Arbor, KLA is a global tech company that makes process-control and process-enabling solutions that help manufacture tech devices like our computers, smartphones, smart watches, autonomous vehicles, LCD screens and more. They are building an 18-acre state of the art campus in Ann Arbor that will be completed next fall. As the company grows so are their teams, and they're hiring for many KLA careers.
Interested in a KLA career?
13. Connect space
Though there was a lot of value in virtual events before the pandemic hit, what Connect Space offers is all the more important now. Headquartered in Ann Arbor, Connect Space is a tech company that's building an online event and community platform. More than just event management, though that tool is great, Connect Space helps attendees, well, connect, with virtual matchmaking. Despite recent breakthroughs with the COVID-19 vaccine, virtual events will not be going anywhere in 2021. In fact, they'll only be growing stronger.


14. Gambyt
Gambyt, an Ann Arbor software company that develops digital solutions for the regulated gaming industry, has had some big wins. Gambyt is a debt-free and fully profitable company that's been sustainably growing since its founding in 2016. The company is hiring and onboarding remotely, and they're hiring for many open positions.


15. Voxel51
Voxel51 uses computer vision to create insights from video. The company made some major headlines (think WSJ) back in April with their new social distancing tool. Using computer vision of live, real-time places that are normally packed with people (like Times Square in NYC), Voxel51's tool was able to assign a "physical distancing index," or PDI score, to that location, to let people know if it was safe to be there. In August, the company launched FiftyOne, an open-source tool that helps data scientists and machine learning engineers rapidly evaluate their datasets and models. This is the first tool of its kind in the computer vision industry, and we're excited to see what's in store for Voxel51 in 2021.


16. Circadian Risk
Circadian Risk is a software startup that helps organizations use data to assess and mitigate risks—anything from internal threats, active shooters, cyber attacks, and failing security cameras. They use visual-based assessments that can place the problems on a map. The company raised $1.9 million in June of 2020. Circadian Risk is also one of the best places to work in Ann Arbor. The founder, Daniel Young, is working hard to cultivate a culture of inclusion and openness. Check out more about the inclusivity and being allies at Circadian Risk.



17. DaySmart
DaySmart is a software company that's accelerating small business growth with digital tools. Their software primarily supports salons, spas, pet stores, and tattoo parlors, and during a difficult year for so many small businesses, their software has been a huge help. The company has been steadily growing over the last three years, and it was even recognized as a 2020 FastTrack Award winner by Ann Arbor SPARK for it.
Read more: How to Volunteer with Meaning: DaySmart Combines Community and Industry
Looking for Ann Arbor tech jobs? Join the purpose.jobs talent community to apply for jobs with just one free application.
18. Refraction AI
2020 was the year of delivery and Refraction AI delivered—in a small autonomous robot. Refraction AI has partnered with local restaurants to deliver food via the REV-1 autonomous robot. The company saw an increase in users in 2020 due to the pandemic, and in June the company announced they were now partnering with local grocery stores for contactless grocery delivery. In October, the company named Luke Schneider the new chief executive office. Schneider has over 25 years of experience in the mobility and transportation sectors, and we're excited to see what he does with the company in 2021.


19. BrandXR
Founded by "Moody" Mattan, BrandXR is a no-code platform that lets people build immersive XR experiences (augmented reality, virtual reality, etc.). Companies use BrandXR to help sell products, educate learners (like Wayne State med students during the pandemic), or entertain. Just recently, BrandXR received funding deals in the Entrepreneur Elevator Pitch competition.


20. Groundspeed
Founded in 2016, Groundspeed Analytics is disrupting the $300 billion insurance industry. They use data science and AI to help the power, automate, and improve the industry. The company has consistently been named one of the best—and fastest growing—in FinTech/InsurTech.


21. Honesti
Formerly known as Kare, Honesti is a wellness app for college students. According to their site, since 2014 there's been a 35% increase in the number of students receiving mental health treatment, and 40% of college students do not seek help from current campus resources. As mental health continues to worsen (especially since the pandemic), Honesti is a much-needed resource for students. Their mission was recognized at the a2Tech360 event, where they won the Social Impact Pitch Competition. This prize granted Honesti $20,000 in funding, 12 months of free coworking space for three people at A2 Startup Garage, 12 months of mentorship from the University of Michigan Social Venture Fund, and more. We're excited to see what Honesti does in 2021.


22. Ripple Science
Ripple Science is building software solutions that help accelerate clinical trials and research. They coordinate all aspects of participant management from recruitment to results. Work like this became especially important during an extreme emergency to create and test a COVID-19 vaccine. Ripple Science is helping clinical trial teams continue their research while the virus keeps people working remotely. In September 2020, Ripple Science raised an undisclosed amount in seed funding from Grand Angels.


23. Clinc
Headquartered in downtown Ann Arbor, Clinc is a tech startup that's taking conversational AI to the next level for banking enterprises. Clinc helps companies create superior customer satisfaction with an advanced AI that understands and follows complex conversations. Late in 2020, the company hired a new CEO, tech veteran Jon Newhard, who is excited to lead and scale the company, and attract and hire new talent. Yep, that means they're hiring!


24. Wisely
Wisely is restaurant CRM that puts people first—while growing profits. The company uses tech solutions and insights to help businesses deliver great experiences and grow. The restaurant industry has had its challenges, but tech tools like the ones Wisely offer, help them keep moving forward.


25. SkySpecs
Renewable energy requires better management solutions, and that's exactly what SkySpecs provides. This Ann Arbor tech company helps their customers collect and access high-quality data, make better decisions from insights and analyses, automate campaigns, and more. And we know renewable energy is the future, so we're looking forward to seeing what SkySpecs does in 2021.


26. Koddi
Founded in 2013, Koddi was built to innovate in the adtech space. Their SaaS platform is award winning and helps brands connect with consumers to drive revenue. Their specialty is the travel and hospitality industries. As the pandemic has changed much of the ways we travel and stay, it also presents new opportunities for creativity, growth and innovation. And Koddi is at the forefront of that.


27. AdAdapted
AdAdapted is a digital engagement and insights platform for consumer packaged goods. They were cited in the news a bit in 2020, after the pandemic caused a demand for more grocery shopping insight. Plus, in April of 2020, they raised $3.9 million, bringing their total up to $5.4 million.


28. FreightVerify
FreightVerify provides a real-time view of complex supply chains. Their tech solutions help reduce costs for expedited freight, logistics, inventory and more. As the pandemic revealed, supply chains are complex and fragile systems, making insight and tech solutions like these all the more valuable.