Almost all of the world's data passes through companies, and the software tools we rely on in our daily lives have become the biggest target for crime we've ever known. In fact, cybercrime is predicted to cost the world $10.5 trillion annually by 2025. Now it's more important than ever before that companies ensure they build safe, secure, and compliant software.
So how can companies be sure that their data, and their clients' data, is protected by the software they use to build and power their companies?
Many companies today rely on DIY Privacy and Security pages on their websites to demonstrate trust with customers, but these pages can be hard to maintain and usually still require a customer to engage with your team to find the information they really need.
Enter Trustpage, a rising startup on a mission to change the way the world looks at trust in software.
Founded in Detroit in early 2020 by Chase Lee, Trustpage set out to help companies launch dynamic Trust Centers. By launching a Trust Center, companies can turn security from a hurdle into a competitive advantage by giving their prospects and customers a place to get their questions answered, securely request and share docs, and collaborate on full AI-assisted security reviews.
As the world suddenly shifted to remote work, our reliance on software and tools to power our jobs only grew, as did the need for data privacy.
"A lot of buyers didn't know how to properly assess the security of SaaS companies and cloud software. They were still in an on-premise data center mentality," Chase told The Org. "It made it more urgent to address these issues with more people now working remotely."
Investors have taken notice, too. After a strong year of growth in 2021, Trustpage announced a $5 million seed fundraise, led by Bonfire Ventures, Ludlow Ventures, and Detroit Venture Partners, with key investments from Entrée Capital, Basement Fund, and GTMfund.
As Brett Queener, General Partner at Bonfire Ventures, noted on LinkedIn, security requirements are now the most important aspect of whether or not a company can work with you. As such, companies have to start changing the way they look at security in their sales cycles. It no longer can be ignored, but rather should be addressed early and often — especially for companies that want to drive product adoption through product-led growth.
"To succeed at being more product-led, you must also be trust-led. If you lead with product, you must also lead with trust. Because today's buyers can't really bother to consider products anymore unless they can trust them upfront," Brett said.
Trust is no longer a nice-to-have. It's table stakes when it comes to doing business with software companies. Trustpage is leading the revolution.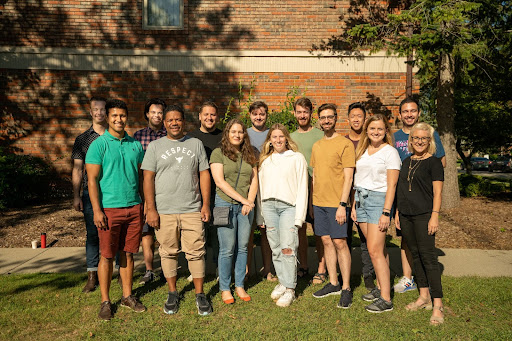 Trustpage is no slouch
Posture is critical when it comes to the health of our bodies and the security of companies. A company with strong security measures or trust posture is well equipped to defend against cyber attacks and shows your customers you take their data requirements seriously. Trustpage is leading the revolution by helping companies easily demonstrate their security policies and postures throughout the customer journey.
Here's what their end-to-end solution can do:
Help customers get the information they need faster by publishing a trust center

Securely share sensitive documents with customers, and manage visibility and access

Initiative and manage reviews in one seamless interface

Inform stakeholders on your priorities with a shared roadmap

Maintain a source of truth for internal and external stakeholders
By publishing a trust center, Trustpage helps prospects and customers easily understand if a company meets their data requirements, understand where the gaps are, and empower key stakeholders to build confidence faster.
Today, nearly 200 companies use Trustpage's Trust Center product to collaborate on and communicate their security posture with customers and prospects. And they're just getting started.
"We're only in the beginning phases of Trustpage's journey and there's a lot to do!" Chase said. "Our seed funding will be used to grow our team, invest in innovative new data science and AI, and expand our product offering to better meet the needs of software buyers and sellers."
Trustpage is growing their team and looking for folks who are passionate about cybersecurity and privacy to join them in revolutionizing trust in software. If you're interested in solving one of technology's biggest challenges today — and working with a fantastic team doing it — check out Trustpage's open roles across the company.