Hiring is one of the biggest challenges companies face, no matter the climate. With new challenges stemming from the COVID-19 pandemic and the shifting labor market, hiring quality candidates is harder than ever.
Recruiters have little time to read resumes that don't share the whole story. Candidates ghost recruiters in interviews. And the competition is tighter than ever.
Companies need a better way to hire. Wedge is on a mission to do that.
Founded by Matt Baxter, Rob Kish, and Patrick McCarren in 2015, Wedge is a Grand Rapids–based video software startup helping companies better use video screenings for recruiting. In addition, Wedge is also building out a candidate flow solution and talent attraction.
As the need to bring people in-person for interviews has pretty much vanished for many companies, Wedge's platform has seen an even greater uptick in use. And investors have taken notice.
Back in March 2022, Wedge secured an additional $2 million in funding. This brings Wedge's total funding up to $5 million, and the round included participation from Michigan Capital Network, Michigan Rise and Northgate Holdings amongst others. In addition, Dale Grogan, Managing Partner at Michigan Capital Network, and Rocki Howard, Chief People and Equity Officer for The Mom Project, join Wedge's Advisory Board.
"The hiring space continues to evolve, and evolve quickly. Employers are looking for efficient ways to connect with candidates without bias, knowing that every hire impacts the success of their teams and, ultimately, their organizations," said Rocki Howard in a press release. "To create more equitable workplaces, we need to allow job seekers to tell their stories, and Wedge does just that. It's exciting to be on this journey with them."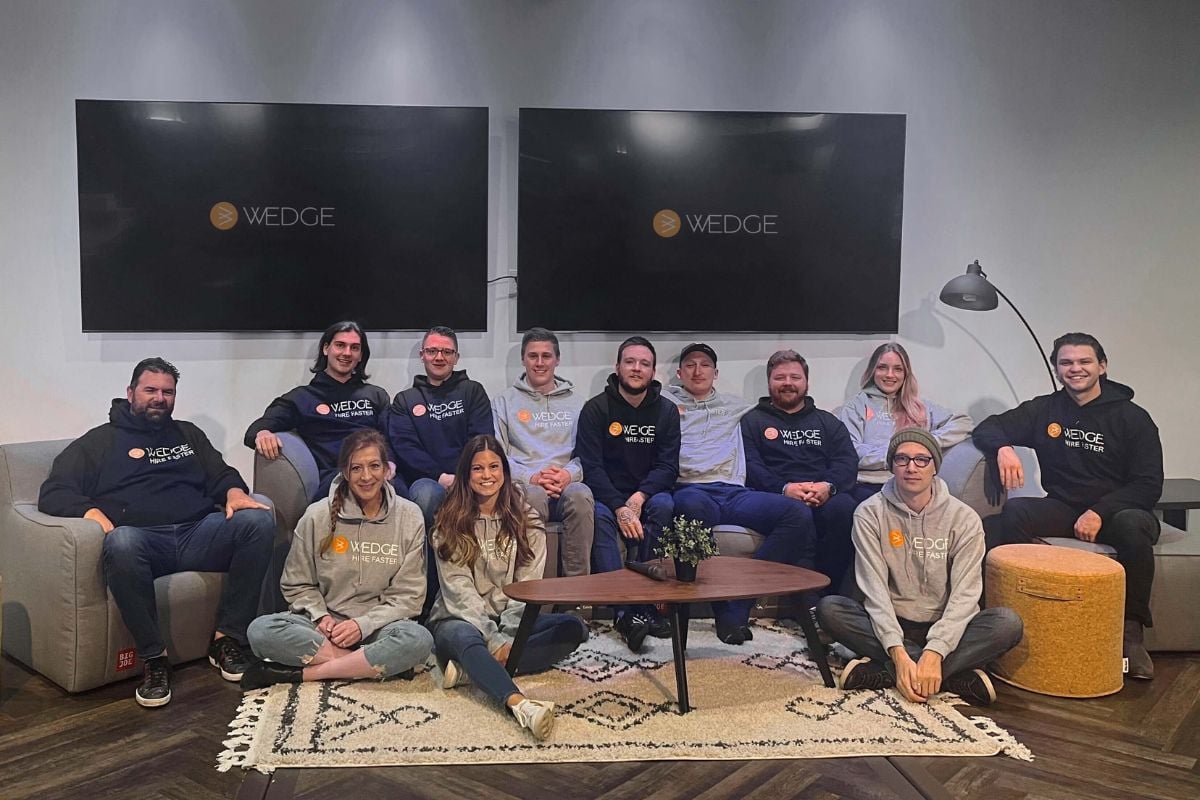 Wedge team, courtesy of Wedge
Moving Beyond the Resume
So how does Wedge help candidates tell their story? Wedge allows recruiters and candidates to asynchronously share videos that allow recruiters to better understand a candidate's story.
"It's always been Wedge's take that no candidate is just their resume, and we see more companies starting to realize that," said Wedge CEO Matt Baxter.
Resumes can only go so far in showing who a candidate is. People are more than a collection of job experiences and skills. A person's mission and values don't often shine through.
"It's so important to hire for culture alignment and empathy. But it can be difficult to make the hiring process empathetic when all you're looking at is a resume," Matt said.
The asynchronous video platform also helps candidates vet the companies. People hire companies just as much as companies hire people, Matt said, so it's an opportunity for companies to share their own story in an authentic way.
Candidates can then self-select for a better culture/vision alignment, saving everyone time and and energy.
Supporting Burnt Out Recruiters
Creating a more efficient recruiting process and saving time and energy is another key advantage for recruiters on the Wedge platform.
With hundreds of resumes to review, schedules packed with phone calls, talent sourcing strategies to plan and execute, and limited resources (especially as organizations undergo layoffs and restructures that often affect recruiters), hiring managers and recruiters are experiencing high rates of burnout and mental health issues.
"Recruiters and people teams are so overwhelmed right now as they navigate new normal of work and hiring, on top of the daily resume reviews and phone calls they're on," said Matt.
Wedge's asynchronous platform helps recruiters save a lot of time and energy.
Think about all the planning that goes into setting up a Zoom call: planning, aligning on times, everyone being available at the same time… only to find that the other person doesn't show up. Forty percent of candidates don't show up to the interview after they accept it.
With Wedge, recruiters — and job seekers — can create and review videos on their own time. It's more efficient for everyone involved, something recruiters definitely need these days.
A Platform for the Future of Work
This new funding will help Wedge continue growing its video screening tools, talent attraction platform and expanding partnerships with applicant tracking systems. In the last year, the team has already grown from 5 to 15 people, and they're looking to bring on more folks who are looking to make a mark on a tired industry.
"Your actions here have a real impact on the business," Matt said. "Things are changing and quickly growing, and you can try and learn at a fast-paced level. It's really fun."
Best of all? Matt said it's helping people get jobs.
"At the end of the day we're helping people find jobs that put dinner on the table, pay the mortgage, bring people satisfaction… It's really rewarding," Matt said.
Want to be a part of the team? Learn more about Wedge and their open jobs.