Women have been making ground-breaking technological innovations for centuries. Since the dawn of the computer, women have been blazing trails, making history. But their stories aren't often the ones we know.
For Women's History Month, we're celebrating 20 women in technology who have made historical contributions to the tech industry. From Ada Lovelace to Gladys West, Hedy Lamarr to Margaret Hamilton, these are some of the extraordinary women leaders in tech you should know.


Make an impact at a top tech company. Join the community and find your purpose.
Women in Tech: 20 Pioneers in Technology to Know
1. Ada Lovelace (1815 - 1852)
The daughter of the poet Lord Byron and Annabell Milbanke, Ada Lovelace is often credited as the world's first computer programmer. She met Charles Babbage in 1833 and was fascinated in his demonstration of a working engine. She translated and published an article by Luigi Menabrea and added extensive notes of her own. These notes were the first published description of a stepwise sequence of operations for solving mathematical problems. She was also a visionary in what the computer could do—she predicted a future where a machine could manipulate symbols in accordance with rules and that a number could represent entities other than quantities. This was computation, and it has earned her a title in history as a "prophet of the computer age."
2. Grace Hopper (1906 - 1992)
Grace Hopper was a pioneer in computer programming—and a naval officer. She made significant trailblazing contributions to the development of computer languages. In 1943 she joined the U.S. Naval Reserve (Women's Reserve) and was assigned to the Bureau of Ships Computation Project at Harvard University. There she worked for Howard Aiken, another computer pioneer, which set her on the path to computer programming. In 1952, Hopper's programming team developed A-0, the first computer language "compiler." Compilers translated mathematical code into machine-readable binary code, which would eventually make it possible to write programs for multiple computers. She also developed Flow-Matic, which used commands in English (as opposed to the mathematical symbols used in FORTRAN). In 1959, "common business-oriented language" (COBOL) became the first standardized language for computers. Many people contributed to its invention, but Hopper was instrumental in its adoption by both the military and the private sector. By the 1970s, it became the most widely used computer language in the world. She has received many honors, including (but certainly not limited to) the National Medal of Technology and the Presidential Medal of Freedom (posthumously).



3. Sister Mary Kenneth Keller (1913 - 1985)
Born in 1913 in Cleveland, Ohio, Sister Mary Kenneth Keller was a pioneering woman in technology. In 1965, this Midwestern nun became the first person—not just woman, but person—to earn a PhD in computer science. Her degree was from the University of Wisconsin-Madison. She went on to work tirelessly in higher education to expand the reach of computer science, recognizing the computer as a powerful tool for educating. She also founded the computer science department at Clarke University in Iowa where she taught and directed for 18 years.


4. Hedy Lamarr (1914 - 2000)
Known to the world as one of the most beautiful actresses, Hedy Lamarr was a pioneer in technology whose work would lay the foundation for Wi-Fi, GPS, and Bluetooth communication systems. Born in Vienna, Austria, Lamarr (née Hedwig Eva Kiesler), spent a lot of time talking with her father about the inner workings of machines. She began acting in films at the age of 16, and was recognized only for her beauty. In 1937, she fled to London and eventually made her way to Hollywood. She never gave up on technology and had an inventing table set up in her house. She and her friend George Antheil wanted to build technology that would help defeat the axis powers, so the two of them came up with a new communication system that used frequency hopping" among radio waves. This prevented their interception and helped torpedoes find their intended targets. The two were awarded a patent for their technology, but the Navy decided to not implement this new system. This technology would lead to the creation of Wi-Fi and other wireless communications. The patent expired before Lamarr ever saw a penny from it, and she was recognized for her achievements posthumously.
This is a great documentary about her if you want to learn more about her story 👇


5. Katherine Johnson (1918 - 2020)
The accomplishments of Katherine Johnson as a NASA "human computer" were highlighted in the film Hidden Figures, but for those who don't know, she was a pioneering Black woman in tech. She entered college when she was just 15, and at the time of graduation, her only employment options were teaching or nursing. So she worked as a teacher before she applied for a job at the Langley Research Center (which would later become part of NASA). In 1953, Johnson began working as a "human computer" and calculated the flight path for the first NASA mission to space. Her calculations were essential to the success of many early missions, like Project Mercury and Apollo 11. She also helped confirm the accuracy when machine computers were brought in. In 2015, she was awarded the Presidential Medal of Freedom by President Obama.


6. Evelyn Boyd Granville (b. 1924)
In 1949, Evelyn Boyd Granville became the second African-American woman ever to earn a Ph.D. in mathematics (hers was from Yale). After working in D.C. using math to help develop missile fuses, Granville took on a role at IBM in 1956. This launched her career at NASA, since IBM was a contractor to NASA at the time. She was an instrumental part of the Project Mercury missions, designing computer software that helped analyze satellite orbits. She also worked on the Apollo program in 1962 before returning to IBM as a senior mathematician. She has had a passion for education, teaching in higher ed, elementary schools, and advocating for STEM education.
7. Dr. Erna Schneider Hoover (b. 1926)
One of the first women hired at Bell Labs, Dr. Erna Schneider Hoover is a pioneering woman in technology, known for revolutionizing telephone communications. At Bell Labs, Dr. Hoover led the team that computerized the telephone switchboard (No. 1 Electronic Switching System, it was called). She was one of the first people in the world to hold a software patent. In 1978, she was appointed head of the technical department. For the next ten years she worked on developing software applications with a particular focus on Artificial Intelligence and IMS-IBM/Unix based systems communications. She is also a champion of affordable, quality public education
8. Jean E. Sammet (1928 - 2017)
Best-known for her work on FORMAC, Jean Sammet is a distinguished woman leader in tech. In 1961 she began working at IBM to advance development work in programming. She created the concept and drove the development of FORMAC, one of the earliest formula manipulation languages. It was the first general language and system widely used for manipulating nonnumeric algebraic expressions. Throughout her career she continued to innovate in computer languages, including COBOL, and published a book in 1969: Programming Languages: History and Fundamentals, which has been described as an "instant computer classic." She has received many honors and awards, including the IBM Outstanding Contribution Award.
9. Melba Roy Mouton (1929 - 1990)
Like Katherine Johnson, Melba Roy Mouton was another great Black leader in tech for her important work as a "human computer" at NASA. She eventually made her way to being Head of Computer Programming at NASA, and then took on a role as Program Production Section Chief at Goddard Space Flight Center. Her work helped produce the orbital element timetables which allowed millions to see the satellite from Earth as it passed overhead. She received an Apollo Achievement Award and an Exceptional Performance Award while at NASA.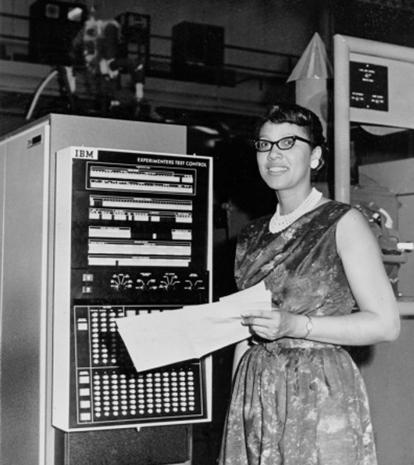 10. Gladys West (b. 1930)
Only the second Black woman ever hired at the Naval Proving Ground in Virginia, Gladys West is a mathematician whose work has made GPS possible. She worked as a computer programmer, specializing in large-scale computer systems and data-processing of the information obtained from satellites. She created altimeter models of Earth's shape with extreme precision and worked as the project manager for Seasat, the first satellite to remotely sense the Earth's oceans. Her work helped cut in half the processing time for these remote sensing applications. Later, she programmed the computer that calculated Earth's geoid. She had enough precision—which was no small feat—to enable the existence of GPS. In 2018, she was inducted into the Air Force Space and Missile Pioneers Hall of Fame.
11. Annie J Easley (1933 - 2011)
Annie J Easley was another Black NASA scientist and important woman leader in tech. When she began her career, she was only one of four Black employees (out of 2,500) at the National Advisory Committee for Aeronautics (NACA), which was the precursor to NASA. She started as a human computer, but when the real machine computers came out, she dove into learning assembly language and FORTRAN. She became a computer programmer, working on a variety of projects. But her most famous work was on the Centaur rocket, a first-of-its-kind rocket that used a unique fuel system. Its legacy still endures today. She had a long career with NASA, working on extremely advanced technology while overcoming Jim Crow laws and discrimination.


12. Margaret Hamilton (b. 1936)
You might have seen that photo circulate the web of a young woman in glasses next to a stack of books (code) as tall as her. That's Margaret Hamilton, and she led the software team that put astronauts on the moon. In the 1960, she worked as a programmer at MIT, and when the Apollo space program came along, she stayed in the lab to lead the engineering—all while taking care of her family. As a working mother, she developed pioneering software engineering (she popularized the term, by the way) for the Apollo project. Software was how the U.S. would win the space race—and in the process the engineers, led by Hamilton, were building what would become a $400 billion industry. Hamilton got Buzz and Neil to the moon, and eventually she moved on from NASA to found her own software companies.


13. Mary Allen Wilkes (b. 1937)
A real pioneer of the day, Mary Allen Wilkes was a computer programmer in the 1960s at MIT. She contributed to the development of the Laboratory Instrument Computer (LINC). She also wrote its system software, including its operating system, which was one of the earliest systems of its kind for PCs. In 1965, she designed and used a computer in her home, which, depending on the definition, is usually considered to be the first "home computer."
14. Lynn Conway (b. 1938)
Lynn Conway is a pioneering leader in technology. She's a professor emerita of electrical engineering and computer science at the University of Michigan in Ann Arbor, and she's known for her development of microelectronic chip design. Her work at the Xerox Palo Alto Research Center (PARC) in the 1970s laid the foundations for high-tech computing methods and chip design worldwide. Before that, she worked at IBM in the 1960s, making foundational contributions to computer architecture. IBM fired Conway in 1968 after she underwent gender transition. Despite this, Conway went on to innovate in the computer science field (including an internet-based e-commerce infrastructure), making invaluable contributions. She is an advocate for women and transgender workers in technology and consults major tech firms on equal opportunity hiring and employment protections.
15. Valerie Thomas (1943 - Present)
Valerie Thomas had a strong interest in technology early on but didn't receive support for it until she attended Morgan State University. She was one of only two women in her class to major in physics. She excelled at school and landed a job as a mathematical/data analyst for NASA. She worked at NASA from 1964 to 1995, conducting large-scale experiments, developing computer data systems, and most notably, spearheading the development of the first satellite to send images from space, "Landsat." The technology she developed is still used by NASA today


16. Adele Goldberg (b. 1945)
A Midwesterner from the start, Adele was born in Cleveland and received her bachelor's in mathematics from the University of Michigan. She went on to earn her master's and PhD in information science at the University of Chicago. She is known for developing the programming language Smalltalk-80 and various concepts related to object oriented programming while she worked as a researcher at the Xerox Palo Alto Research Center in the 1970s. She and Alan Kay also developed design templates—their work became the foundation for graphically based user interfaces. She served as president of the Association for Computing Machinery (ACM) from 1984 to 1986, and received the ACM Software Systems Award in 1987.
17. Brenda Laurel (b. 1950)
Born in Columbus, Ohio, Brenda Laurel is a pioneer in the way people use computers. After getting her Ph.D. in theater with a focus on interactive narrative, Laurel moved to Silicon Valley to work as a software designer and researcher for Atari and Activision. In 1994 she became a founding member of Interval Research, the legendary think tank working on the connection between technology and everyday life. Through her work with Interval, Laurel led the spinoff of Purple Moon, a high-profile software company dedicated to including girls in the gaming industry.



18. Radia Perlman (b. 1951)
Attending MIT in the late '60s, Radia Perlman was just one of about 50 women in a class of 1,000. That didn't stop her, though. She became a woman leader in technology and developed the algorithm behind the Spanning Tree Protocol. This technology, STP, was an innovation that's made the Internet of today possible. Her many contributions to the computer science industry has had a profound impact on how networks self-organize and move data. But don't call her the "Mother of the Internet." She recognizes that a lot of great engineers have worked on its invention and innovation.
19. Carol Shaw (b. 1955)
Growing up in the mid '50s, Carol Shaw had little interest in dolls and preferred to tinker with her brothers' model trains. She excelled in math and computer science and landed a job with Atari in 1978, programming games for the company's new VCS console. She was the first female professional video game developer. While working at Activision, Shaw created River Raid, which has been hailed as a masterpiece in game design for the Atari 2600 console.


20. Kimberly Bryant (1967 - Present)
Kimberly Bryant is an electrical engineer and activist whose career has had a wide-ranging impact. She's spent over 20 years in the pharmaceutical and biotech industries, and she's also a champion for diversity and inclusion in tech. She's the Founder and Executive Director of Black Girls CODE, a program dedicated to introducing girls of color to the tech industry by teaching computer programming to school-age girls. Their goal is to teach one million black girls to code by 2040. She is one of the most influential engineers in her career and her advocacy, and she was recognized as a White House Champion of Change for Tech Inclusion in 2013.