There are highways. And then there are drone highways. Thanks to the Airspace Link team.
Founded in Detroit, Airspace Link is a venture-backed, high-growth startup providing digital infrastructure for all types of drone operations. This startup is the market leader in state and local government drone planning and management software, data exchange, and mapping — they offer the most powerful geospatial cloud solutions available. They're driven by their vision of a world where the safe integration of drones fuels human progress, advancing social equity, the environment, and the economy.
This year, the company raised $10 million in Series A funding, led by Altos Ventures, Thales, and others. Now, they're looking to expand their team and operations.
So we chatted with the Airspace Link dev team to get the scoop on what it's like to work on a team that's at the forefront of cutting edge technology.

6 Things to Know about the Airspace Link Dev Team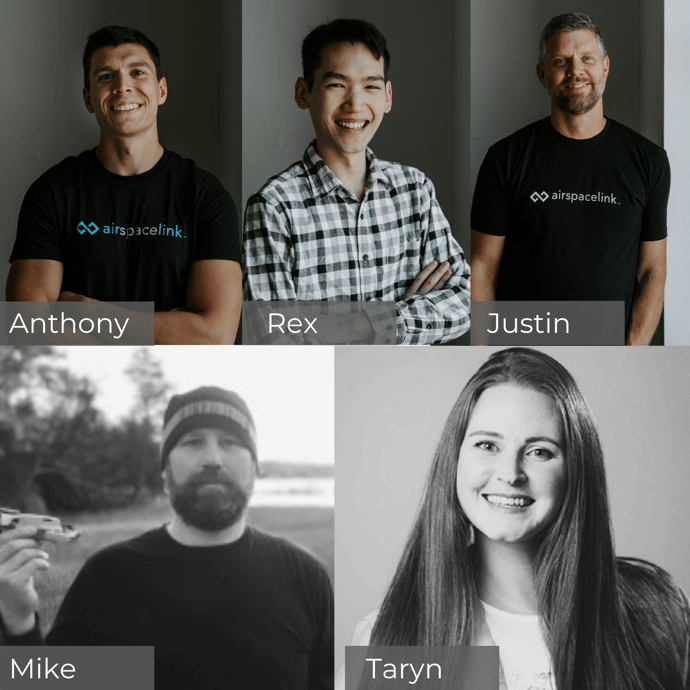 It's a hybrid team
Based in Detroit, Airspace Link is a hybrid company with about half of its workforce fully remote across different states. Many on the dev team live in the Metro Detroit area, while some are in Virginia and Texas.
Despite being a hybrid-remote team, the engineering crew still stays connected and works collaboratively. Using tools like Trello to keep track of tasks and Microsoft Teams to chat, plus two team huddles a week, the team can easily collaborate and move forward with projects.
"At the team huddle, we can discuss any challenges or get input from the rest of the team, share ideas and get feedback. Everyone is good about providing feedback and direction," said Mike, Front-End Web Developer. Mike is one of the newer members on the team. He came from GE's digital division and had worked with the founders in a previous role. The opportunity to work with them again in a creative, autonomous way was exciting for Mike.


They're working on cutting edge technology
The dev team is working on technology in, well, uncharted territory. With that can come challenges, but also some unique opportunities.
"We're building a platform and products that don't exist in this space yet. We're building them as close to right in this space as we can, moving quickly without creating technical debt," said Justin, Cloud DevOps Engineer.
Mike said it's all about finding that balance between moving quickly and not breaking too many things.
"That's a challenge I like having. I prefer being able to move quickly than going through so many layers to get anything done," Mike said.
It's also one of the things that makes working on the Airspace Link dev team so rewarding:
"I enjoy seeing the hard problems the industry has and then set out to solve them without barriers. This attitude of 'go and build it' — that's super fulfilling. And because we love collaboration, we have support throughout the whole process," said Anthony, Full Stack Engineer.

Product Designer Taryn, who just joined the team back in July, comes from a military background and saw the work at Airspace Link as a great opportunity to combine her passions and skills.
"I love this job. This is the first job I've been super passionate about," Taryn said. "I can demonstrate everything I've learned in my life and experience. I like dealing with risk mitigation and working to make the public safe. Plus, it feels like there's a community around this area and industry."


Collaboration is key
Sometimes it can feel difficult to collaborate virtually, but a culture of teamwork and helpfulness is at the heart of the Airspace Link dev team.
"None of us is afraid or shy about asking questions," Justin said. "There are no egos on the team. We're direct and we hold each other accountable. No one takes it personally. It's all about making the products the best they can be."
And it's this collaborative nature — working with this group of people, working together to build these products — that makes working at Airspace Link so rewarding, Justin added.
Mike said that it's important for new hires to be open to diving in and just going for it.
"Be okay with asking questions. Don't feel like you're pestering people," Mike said.


Freedom to Work, Learn & Grow
While collaboration is important for the team, leadership makes sure that the engineers have time to work heads down and be productive with their code.
This was the kind leadership style that was also enticing for Anthony. "It's not a top-level-down structure," Anthony said.
Mike said this kind of freedom can be rare.
"There are some days when I come in and don't interact with people on the team," Mike said. "For me, that's a good thing. I can stay heads down and focused. It's really nice as a programmer to get into a groove where I can complete a chunk of code and focus on it for 5 hours. It's rare to find a company where you can get into that headspace."
And having that freedom is great for learning, too. The team won't feed you to the wolves, but they also won't sit you down in front of a boring tutorial for two weeks. They'll encourage you to try what you haven't done before with the understanding that you'll learn and get better.
Rex, a Full-Stack Developer, has been learning a lot since he started at Airspace Link about a year ago, right out of college.
"I'm learning so much as I go," Rex said. "The team is so accessible and willing to help each other other out."
The team will also support your growth into new roles within the company. For example, Anthony has been moving closer to the data team because it's something that interests him.
"We have the opportunity to move and explore new directions," Anthony said.
Leadership genuinely cares about everyone individually and as a team
One of the things that makes the Airspace Link dev team — and the entire company — so strong is its leadership team. Co-founders Danny (CTO), Michael (President & CEO) and Ana (VP of Customer Success) are building a top-tier tech team with a balanced, human-first culture.
"The founders and leadership team are very driven, Mike said. "They care about this industry and making an impact, but they also don't take themselves too seriously. Our team is always joking, throwing around memes."
Justin noted that 60% of the leadership team is women, which is rare in tech.
"Leadership and the founders all care about everyone individually and as a team, and building this team together in a collaborative manner," Justin said. "There's also a healthy focus on work/life balance. We do stress that and the importance of taking time for both."


You Really Do Have A Say — And Can Make An Impact
It can be frustrating for engineers who start new jobs and have a lot of ideas, only to find there are too many layers to the approval process or the team is engrained in doing things one certain way.
At Airspace Link, everyone's voice matters and can make a difference.
Anthony experienced that first hand. Within the first couple months of working at Airspace Link, Anthony spoke up about an issue. "I was able to say, 'I don't think this is right,' and the leadership team listened. From interns to senior developers, everyone can have a say," Anthony said.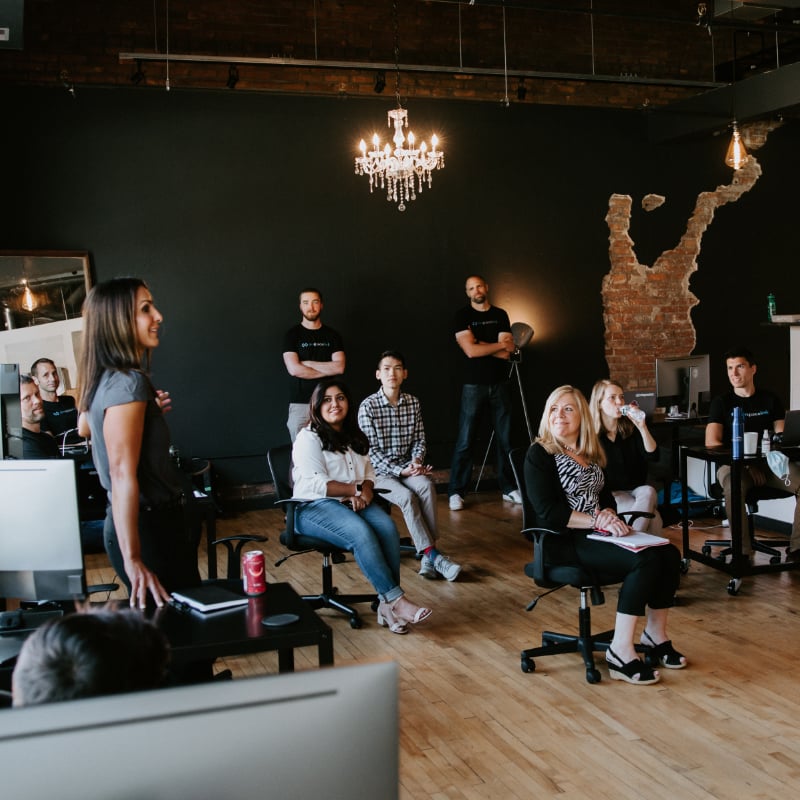 Justin was the first hire on the dev team, and even before he started the job, leadership asked for his input about the next hire. Taryn also felt listened to before she started on the team. When given a design challenge during the interview, Taryn took a risk and told Danny she didn't want to give the company her designs without being hired. Danny told her that was fair and gave her a new challenge.
"I felt really listened to. The leadership here is really open to listening to employees. What you say here goes somewhere and goes into effect," Taryn said.
Mike shared another story about a time when the team was split in which direction to pursue. Danny was advocating for one thing and someone else another. Mike felt caught in the middle and said, "At the end of the day, Danny, you're the CTO." Deferring to leadership and seniority is a common response, but Danny said, "No, that's now how I do it."
That anecdote is so indicative of the team culture, Justin said. As CTO, Danny has final say, but approval is collaborative as a team.
And it goes beyond just having a say on the team — for Mike, it's about having an impact.
"I like knowing that the work I do on a daily basis results in a product that thousands of people will use," Mike said. "And one day it'll be so many more than that."


Interested in joining the Airspace Link team? They're hiring for remote open engineering roles and for a product manager position. Learn more about the company and the open jobs and easily apply. They can't wait to meet you.