Detroit may be known as the Motor City, but anyone who lives here knows that the city has some of the best murals in the world. From Diego Rivera's Detroit Industry Murals at the DIA to the vibrant street art of Eastern Market, the city is bursting with art. And one Ann Arbor startup is helping Detroit's murals come to life this summer.
Founded by Mahmoud "Moody" Mattan, BrandXR is an augmented reality startup that has been working on AR projects since 2017. Their technology has been applied in all different kinds of sectors: brand marketing, virtual shopping experiences, research, healthcare, and yes, even art.
Moody and his brothers, Malik and Zach, co-founded Electrifly, a "brother" company to BrandXR that applies its AR technology to art and merchandise, creating immersive and interactive experiences. While their augmented reality mural concept exists in many cities around the country, the team realized Detroit was the perfect city for this. Even more, it deserved its own festival.
Throughout the summer, June 1st to September 4th, 2021, the Electrifly Detroit Augmented Reality Mural Festival will be celebrating the city's murals and bringing it to life in an interactive, 3D experience. Viewers will be able to see the art from different angles with different animations and experiences.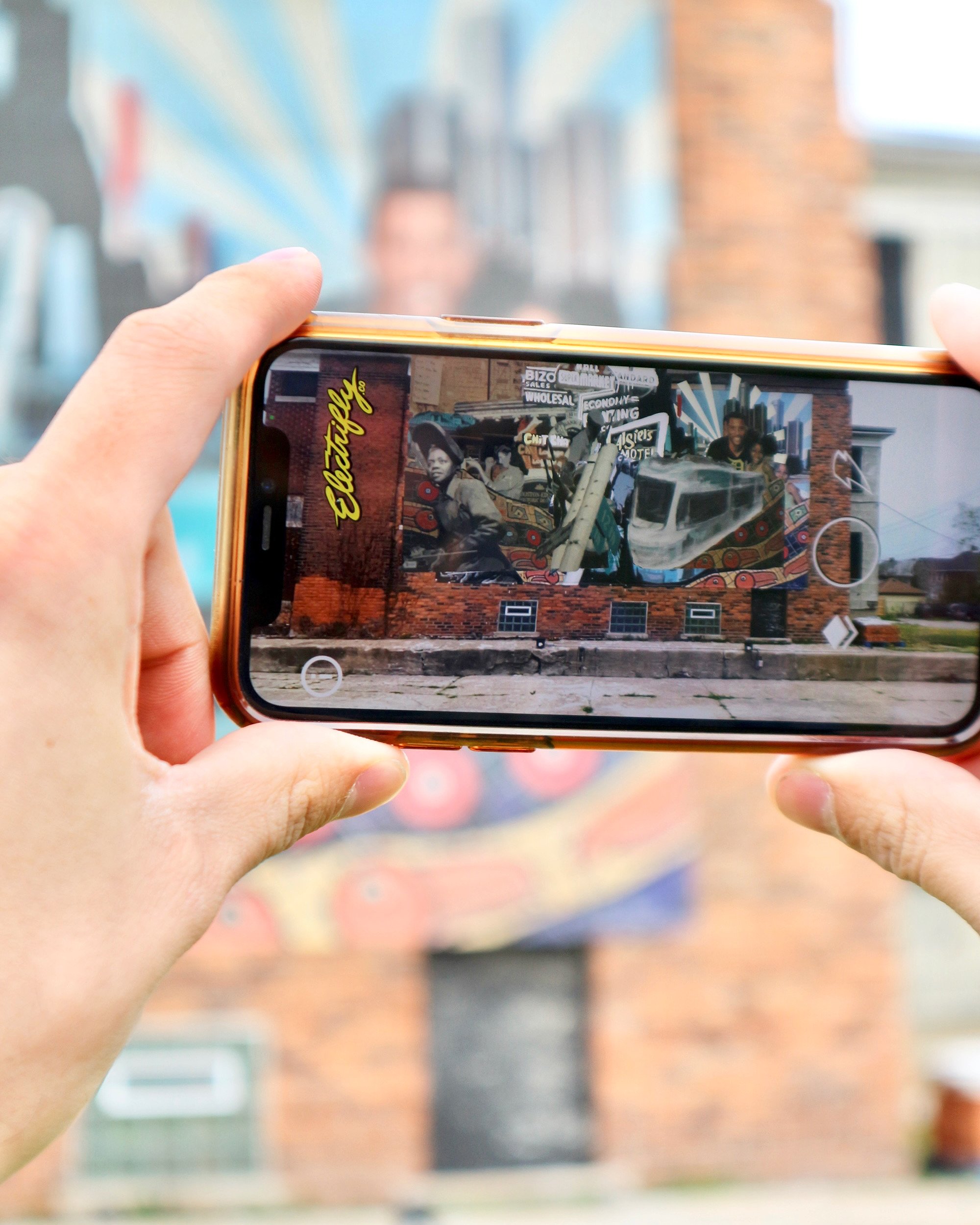 It's not like a traditional festival that might last 2 or 3 days, Moody said. But it's a summer long event that you can do at your own time and pace. All you have to do is download the app, visit the locations and use your smartphone to make the art come alive.
Electrifly Detroit has partnered with both the artists and business owners to create the AR murals. While some murals already existed, some were commissioned specifically for the festival. PHYBR's "Octophant" which is at the Elephant Room in Greektown, and Chris Dyer's "Art Car" in New Center at the Tangent Gallery are two example of commissioned pieces.
"What's cool is that the murals are in different neighborhoods of Detroit," Moody said. "We want to bring awareness to these businesses that the murals are on, and get people exploring new neighborhoods. These are cool neighborhoods that aren't necessarily the most visited."
Moody said the owner of Tangent Gallery is an ironworker, who spent the covid shutdown getting creative and building an outdoor venue with scrap metal pieces.
"It's crazy what the owner, Joe, has built," Moody said. "It's pretty badass."
Another notable mural is Hubert Massey's "Rising Strong" located in Boston-Edison at the Karasi Education Center. Hubert Massey is one the most well-known living Detroit artist's today. Having studied the centuries-old fresco technique from Diego Rivera's assistants, Massey is known around Detroit as one of the greatest. You can find his work in Mexicantown, Greektown, the Cultural Center, Charles H. Wright Museum of African American History, Detroit Athletic Club or any number of other city landmarks. He is also the artist of Detroit's "Power to the People" mural painted on Woodward Avenue.
Massey's "Rising Strong" at the Karasi Education Center in Boston-Edison commemorates the events of the 1967 Uprising.


"That one is really cool because it tells the story of what happened in '67," Moody said. "It highlights different areas of the city and they come to life in the mural and tell this story. It's like a past-present-future story of Detroit."
Other murals that are a part of this festival are located in the Woodbridge, Greektown, Eastern Market, New Center and 8 Mile neighborhoods. Throughout the summer, Electrifly Detroit will be hosting different activation parties, some at the venues themselves or in a block party style outside of the business.
"There are really cool things that people are doing in the city, and we hope this festival will help bring more awareness to that," Moody said.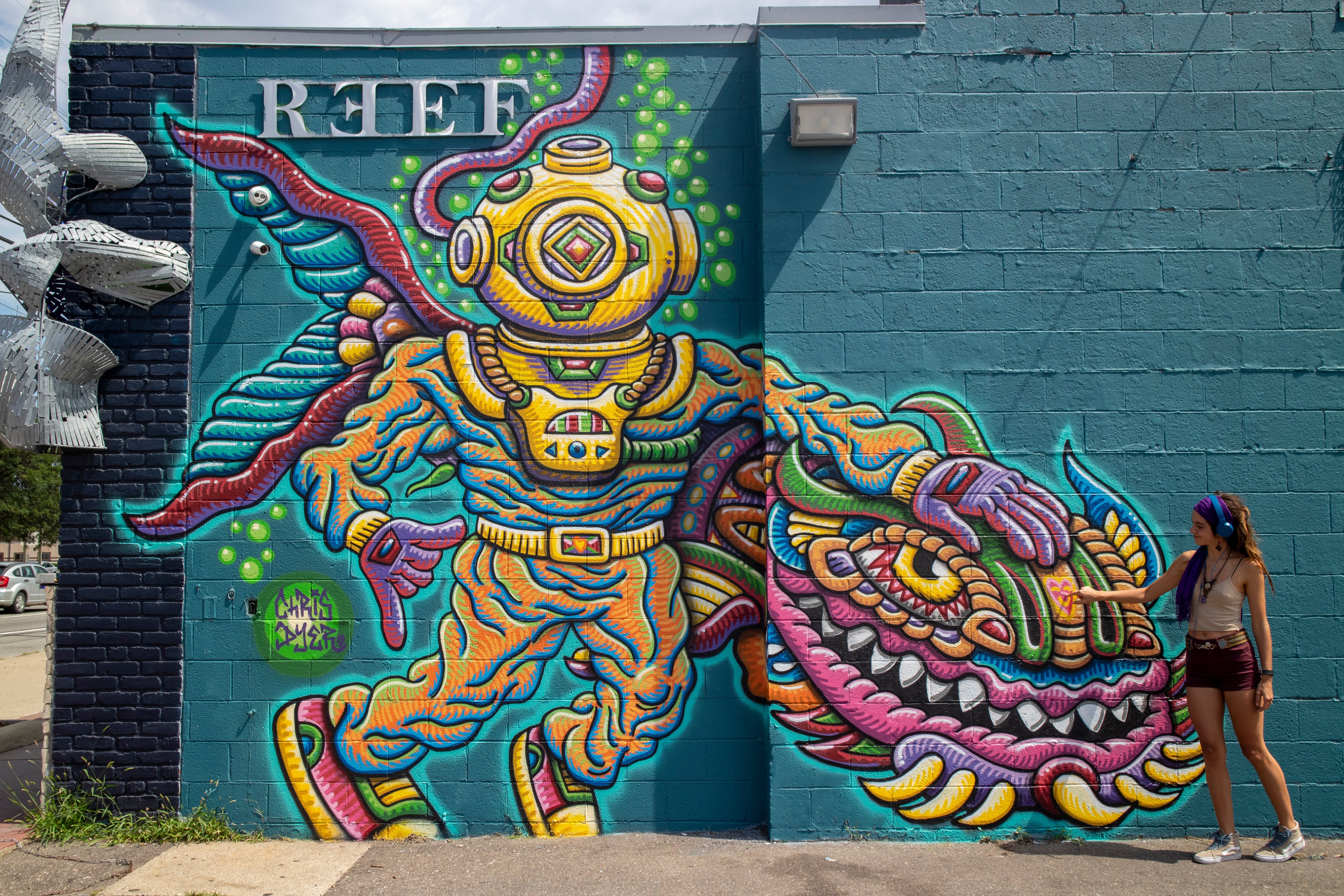 "Reef Diver" by Chris Dyer on 8 Mile Rd.
But the festival is also a celebration of innovation and technology, and a way to make it more accessible to people. The festival and the app are both completely free for users. BrandXR is always focused on making tech more accessible—their no code platform makes AR easy.
"We want people to get more familiar with using augmented reality. It's already becoming more and more a part of our lives, but we believe that in the very near future, we'll all be using AR technology on a daily basis," Moody said.
In a city where about 40% of residents lack any kind of home internet access, making technology accessible to the greater Detroit community is all the more important.
"We want to bring this festival into Detroit neighborhoods where they might not have access to the greatest technology. This whole festival is just on a smartphone," Moody said. "If you have a smartphone, you'll be able to rock and roll. That's what we want—people to use this technology, see the possibilities, to get people's wheels spinning about what they can do with this technology."
To learn more about the festival and to find the murals, check out the map here or download the app.
If you want to be the first to know about activation party announcements (and see some cool art), follow Electrifly Detroit on Instagram.