The weather is getting nicer, but too bad we're all stuck inside, right?
Wrong. The governor's stay-at-home order still allows for outdoor activity, including visiting Michigan's metroparks. While things like canoe rentals, bathrooms, and playgrounds might be closed, there's nothing wrong with taking a nice stroll, brisk walk or run through a lovely hiking trail.
We thought Curbed Detroit's list of the best hiking trails in Metro Detroit was spot on, so we wanted to share it with you. Hope you feel inspired to get out there and get moving.
Just stay six feet away from everyone.
Want more articles like this to help you stay entertained during quarantine? Subscribe to our newsletter and get Detroit inspiration sent straight to your inbox.


The 12 Best Hiking Trails in Metro Detroit
1. Paint Creek Trail
In northern Oakland County, Paint Creek trail runs nearly nine miles from Rochester to Lake Orion. It was the state's first non-motorized rail-to-trail. Jog, bike, hike, and enjoy the views. There are many places to park and access the trail, and you can find a full map of the trail here.


2. Stony Creek Metropark
Stony Creek Metropark has 27 miles of hiking trails in both Oakland and Macomb Counties. Some of the trails are flat and paved, others are more hilly and woodsy. Grab a bike or your walking shoes and head up to Shelby Township for a really nice afternoon. A park map of trails can be found here.


3. Clinton River Trail
Extending sixteen miles through central Oakland County and five towns, the Clinton River Trail runs from Rochester to Sylvan Lake. If you keep going west, you'll end up on the West Bloomfield Trail. To the east is the Macomb Orchard Trail. The trail runs through both suburban and rural areas, but most of it is unpaved. Here's a map for hitting the trails.


4. Kensington Metropark
Kensington Metropark in Milford is one of those parks that has it all. Nature center, farm center, swimming, boating, hiking, horseback riding. All year round there are great things to do, but for now, you'll just have to get by with the 8.5 mile paved hiking/biking trail around Kent Lake, and the seven mile nature trail just for hiking. And the gorgeous views. Check out the map here.


5. Carpenter Lake Nature Preserve
The Carpenter Lake Nature Preserve in Southfield features 42 acres of woodlands, forested wetlands and native meadows overlooking Carpenter Lake. While the trail here is much shorter, only one mile, the views and are worth it. Everyone could use a peaceful moment to appreciate a beautiful moment in nature. Plan your visit here.


6. Maybury State Park
Not during a pandemic, Maybury State Park in Northville has many options for recreation—hiking, horse riding, and a working farming. Right now, you can enjoy six miles of hiking trail (check out the map here). They also have accessible features like a track chair that can help visitors explore areas of the park where traditional wheelchairs might not.


7. Rouge Park
Rouge Park is Detroit's biggest park—its 1,000 acres make it even bigger than Belle Isle and New York's Central Park. It's known for many things, including its olympic-size pool, but we'll enjoy that later. There are many trails in the park great for walking. There's also the the Prairie Pathway and butterfly garden, and in the heart of the park is the Stone Bridge Nature Trail.


8. Dequindre Cut
The Dequindre Cut runs from Mack Avenue in Eastern Market all the way down to Atwater and to the Riverwalk. The two-mile urban greenway was once a Grand Trunk Railroad line, so it sits below street level and is home to some amazing murals. The paved route is perfect for walking, jogging, biking, and if you're feeling the throwback, rollerblading.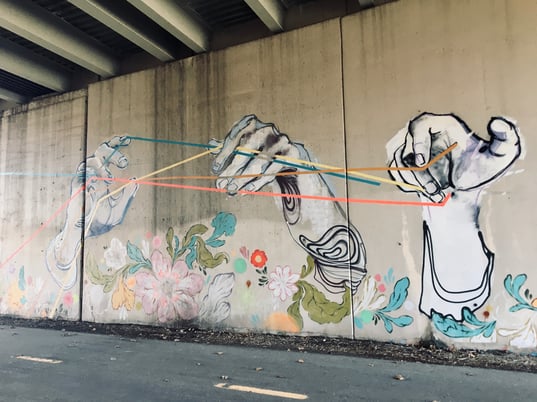 Photo by Mackenzie Griffin
9. Belle Isle
Of course there is so much to do on Detroit's island park. Even though the conservatory and aquarium and other public spaces are closed, the park still has miles of trails to explore. You can walk around the Belle Isle loop (conditions of the sidewalks vary depending where you are), and there are non-paved trails that also cut through the middle of the island. Check out a map with landmarks and trails here.


10. Rouge River Gateway Trail
The Rouge River Gateway Trail connects with the Hines Park trail and can lead you to miles of trails for hiking, biking, or jogging. The Rouge River Gateway Trail is a 2-mile-long scenic bike path that crosses two bridges over the Rouge River and runs through densely forested woodland and the campus of U-M Dearborn, before arriving at the trailhead on Michigan Avenue. Check out the map here.


11. Cherry Hill Nature Preserve
Northeast of Ann Arbor, Cherry Hill Nature Preserve has With 160 acres of trails, forests, meadows, and wetlands, Cherry Hill Nature Preserve is a great place to explore. It's northeast of Ann Arbor, and it has some good hills that get the blood flowing—and offer some spectacular views. Check it out here.


12. Lower Huron Metropark
Fifteen miles of hiking and biking trails run through the Lower Huron, Willow, and Oakwoods Metropark system, from Flat Rock up to Belleville. Once we can do things with people again, we recommend canoeing or kayaking down the river here. But for now, check out the trail map here.


Prefer to stay inside? Subscribe to our newsletter to stay up to date on all things Midwest startup—and to have more fun reading material. We could all use some of that.