Back for its second year, the Electrifly Detroit Augmented Reality Mural Festival is in full swing with new artists and cities.
The festival, which is running through October, was created by BrandXR, the no-code Augmented Reality platform and award-winning XR studio, alongside Electrifly Co., an augmented reality art & goods company. The two companies are based in Southeast Michigan and were founded by three Arab-American brothers: Moody, Zach and Malik Mattan.
Using the technology from BrandXR and Electrifly's expertise in immersive art, the free, outdoor festival brings murals to life throughout Detroit. New this year are additional murals in Detroit, Ann Arbor, Sterling Heights, and Battle Creek.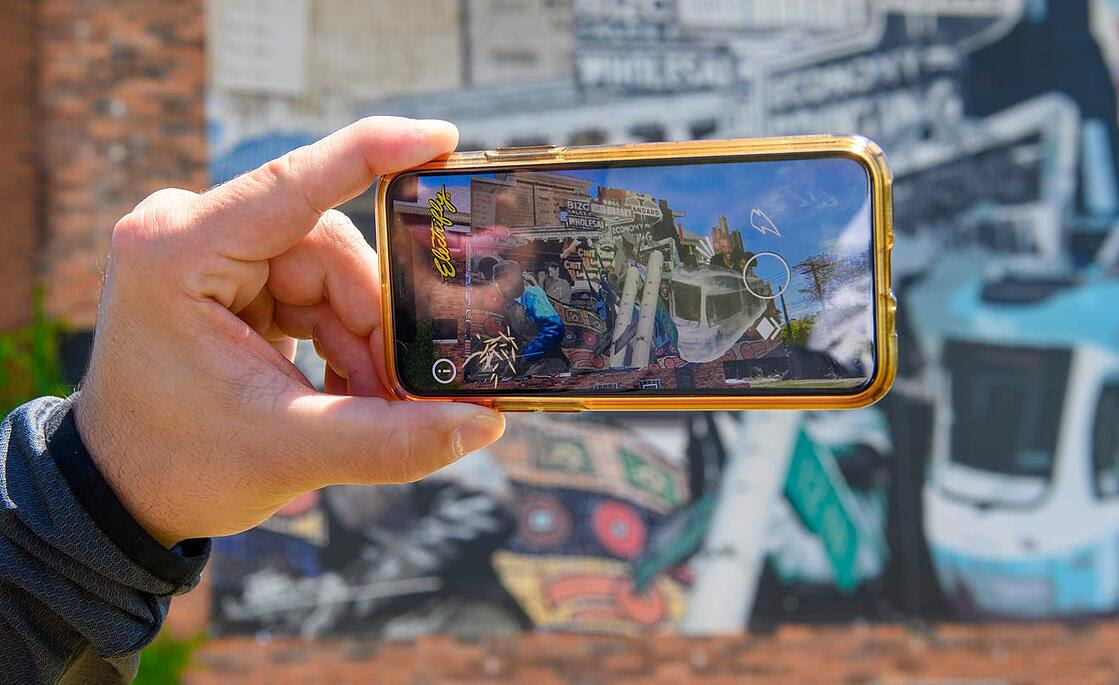 In addition to last year's artist — which included Hubert Massey (the former assistant of legendary artist Diego Rivera), Chris Dyer, Ghostbeard & Patch Whisky, Phybr, and Armageddon Beachparty — this year's festival features new award-winning artists including Olivia Guterson, El Cappy, Chris Turner, Wendy Popko, Mike Han, and Ouizi.
To view the interactive art, all you have to do is download the free Electrifly app, approach the mural with the app, and experience it come to life.
"Electrifly Detroit allows people to experience and interact with art in a new 3D perspective. You'll never have the same experience twice, and with the camera built into the app it's super easy to share photos and videos with friends," said Malik, co-founder of Electrifly.
Moody, CEO of Ann Arbor-based BrandXR, said the festival is designed to make art and technology more accessible to people.
While augmented reality art experiences become more popular (such as the immersive Van Gogh experience that swept the nation), those can come at a steep price (over $50) and last about thirty minutes. Instead, this festival is spread across a region, is free, and can be whatever you make it. If you want to take a trip to visit all of them in one day, you can do that. If you want to spread it out and visit one or two a week, you can do that too.
"Mixing art with augmented reality is an approachable way for people to experience this new technology," said Moody. "The app is free. All you need is a smartphone, and you can choose your adventure."
Making augmented reality technology more accessible is exactly BrandXR's mission. As an end-to-end, no-code platform, BrandXR allows brands to create, publish and measure AR experiences that are 100x cheaper and 19x faster, all without writing a single line of code.
The company has worked with the NBA, NASA, Henry Ford Health, and UC Davis to create unique experiences for their brands and initiatives — like their recent collaboration with UC Davis that brought awareness to the impact of climate change at Lake Tahoe.
While there are many ways to apply BrandXR's technology to everyday life, the augmented reality mural festival is a fun and engaging way to get the whole community involved.


"We want to make it a showpiece, not only for BrandXR but for Michigan," Moody said.
Many of the murals are on or next to local businesses, and when foot traffic to these areas increases, businesses benefit.
"We want to attract crowds and build our own Art Basel here in Detroit and drive economic impact. I'm really excited about making Detroit a hub of art and technology," Moody said.
It may come as a surprise to someone who hasn't been to the city, but Detroit is full of art. September is the Detroit Month of Design, and the intersection of art and technology is on full display. Some of the murals featured in the AR festival have been recognized with a Telly Award for their excellence in immersed and mixed reality.
"Some cities would kill to have one augmented reality mural," Moody said. "We have almost 20, and not just any AR murals, but some of the best in the world. It's a part of Detroit's DNA."
"Seeing how people react to the murals coming alive and jumping off of the wall is so rewarding for us, and people are almost always inspired and start thinking of how they can use this technology. It's a huge motivator to keep pushing these interactive public art experiences," said Zach Mattan, co-founder of Electrifly.
While the festival is running through October in Detroit, Ann Arbor, Sterling Heights and Battle Creek this year, Moody, Zach, and Malik hope the festival will only continue to grow.
Now that the company has completed the Morgan Stanley Multicultural Innovation Lab and is working on its next funding round, BrandXR and the Mattan brothers are poised to become the kings of augmented reality murals.
Want to find out more about Electrifly Detroit? Find AR mural locations, artist info & more at electriflydetroit.com
Want to learn more about BrandXR? They're looking for folks to join their team!