The Sierra snow pack is rapidly declining to the point where there could be low to no snow within in the next 80 years. Purpose Jobs member BrandXR is bringing awareness to this one example of climate change using augmented reality.
Founded in Ann Arbor, BrandXR is a no-code augmented reality platform. They're teaming up with scientists at the University of California, Davis to launch an AR campaign on Instagram that highlights how climate change is affecting the snowpack at Lake Tahoe.
BrandXR's new "Save Our Snow" Instagram filter — made alongside U.C. Davis' Tahoe Environmental Research Center (TERC), the Palisades Tahoe ski resort and Protect Our Winters — shows how much snow has melted over the decades and if we continue at this rate, how much will be left by the end of the century (just 20 inches).
But it also shows how that projection changes if we reduce carbon emissions.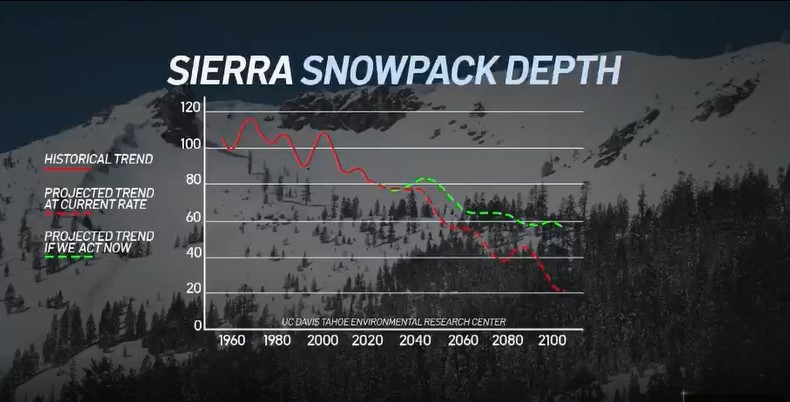 UC Davis TERC researchers utilized Global Climate Models (GCMs) to develop projections of expected snowpack in the future. The model results were downscaled to adapt them to Lake Tahoe and applied to the Tahoe Watershed Model. TERC has been at the forefront of scientific research and ecosystem health monitoring in the greater Lake Tahoe region for the last 60 years, with focus on water quality, ecology, physical processes, and meteorology.

"Climate change is evident in the long-term meteorological measurements at Lake Tahoe, with rising air temperatures and rain replacing snow," said TERC director Geoffrey Schladow. "Warmer temperatures, more rain, and less snow also limit the amount of seasonal snowpack. Climate models forecast dramatic reductions in the snowpack in the coming decades."
In a way that's indicative of the BrandXR mission and style, the filter combines technology, entertainment and education to make research and data accessible to people (similar to what they did with the AR art festival last summer). Augmented reality has the unique ability to place the user in alternate environments, from the fluffy, deep snow of past winters to an increasingly grim future for those who appreciate and understand the importance of snow. Because those who love the outdoors and recreate at ski resorts are especially passionate about snow, the intention is to encourage them to use their social influence to start a conversation about the easy ways individuals can combat climate change.
The filter takes you through decades of ski fashion while showing what climate change has done to our snowy mountains. Then it models what the snow will look like in the future if we don't take action to reduce our carbon emissions. We tried the filter out for ourselves, here's how it went.
"We are proud to support UC Davis on such a critically important campaign," said Moody Mattan, CEO of BrandXR. "We hope this augmented reality filter will help raise awareness about Lake Tahoe's diminishing snowpack and make users aware of how climate change is impacting their skiing and snowboarding now and into the future."
The Tahoe Environmental Research Center is also hosting a giveaway to increase awareness around the campaign. If you use the #SaveOurSnow augmented reality Instagram filter and take the pledge, you could be entered to win weekly ski tickets or a 2022-23 season pass at Palisades Tahoe. You can find instructions on how to enter here.
The goal of the campaign is to inspire action. Use the filter to start a conversation, take a pledge to reduce your carbon emissions, and make steps toward living more sustainably. The Tahoe Environmental Research Center provides some great advice on steps you can take:
Use the carbon reduction calculator to see how you can reduce emissions (driving less, using less energy, etc)

Vote for officials that care about protecting public lands and support comprehensive climate policies

Switch some of the energy in your home to renewable energy

Eat less meat

Reduce, Reuse, Repurpose, Recycle, or don't buy it
"Working in the field of environmental science and seeing climate projections can leave us with a sense of doom and gloom," said Heather Segale, TERC education and outreach director. "It is within our power to reduce the rate of climate change. We can't lose hope. If we all make more conscientious choices and take immediate action, it significantly increases the likelihood that our collective actions will create meaningful change to save our snow. Action is the only way we keep even worse things from happening."
BrandXR is always focused on making cutting-edge technology, like AR and VR, more accessible, and using the technology for education and change. Check out more about BrandXR and the innovative projects they're working on.