If you're one of the 42.8 million Americans with student loan debt, you probably understand how cumbersome it can be. But for some, paying off massive amounts of student loan debt isn't just a burden — it's debilitating.
In the United States, there's a collective $1.75 trillion in student loan debt that is owed to the federal government and private lenders.
Even with President Biden's relief plan (which is currently being challenged in the Supreme Court and only pays off up to $10,000 of federal loans or $20,000 of Pell Grants), young Americans are drowning in debt.
Three African immigrants are on a mission to help.
When Naveed Iqbal, Ashwin Acharya, and Eryck Dzotsi met in college at Florida Institute of Technology, they heard people complaining about student loans and thought, Why are you complaining? You're so lucky you can get a loan! Their families were making huge sacrifices to send them to school, and as immigrants, they weren't eligible to apply for FASFA financial aid, Pell Grants, or any kind of student loans.
After graduating and landing great, high-paying tech jobs, they were still surrounded by young people who had massive amounts of debt and couldn't see an end in sight to paying it off.
"We realized that we weren't worse off," Eryck says. "Student loan debt is an anchor that's holding people down at a vulnerable time in your career and life when you're just starting out."
They realized it wasn't a problem with ambition or a willingness to pay. The problem was that people needed cash to pay off their debilitating debt.
In 2019, Naveed, Eryck and Ashwin had the opportunity to sit down and find a solution to this $1.75 trillion problem. They spent nine months talking to people about their debt, how they budget, and what their issues were.
They eventually came up with their driving thesis: all of society has an incentive to help people pay off their loans.
This is The Village. This is Dolr.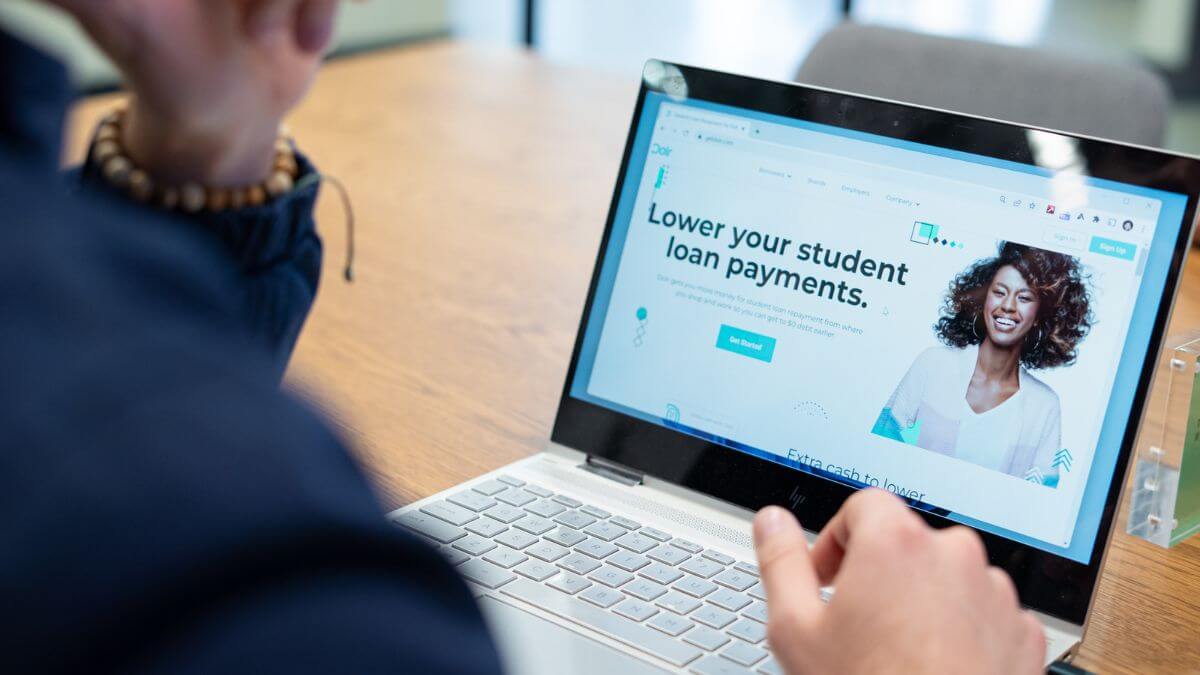 It Takes a Village
When the founders were in college, money was often tight. They relied on the sacrifices their families made to send them money, but sometimes it didn't always come.
"When we were broke, we sought help from our community," Naveed says.
At Florida Institute of Technology, about one-third of the student population is international, which created a fantastic social hub of diversity and inclusion. Eryck, Ashwin and Naveed found a strong community of African students that stuck with each other through thick and thin. It was their "village."
"We wanted to see how we could make that community possible for people with student loans," Naveed says.
In 2019 Dolr was born. The fintech platform helps accelerate people to $0 student debt. The company's most popular product is an employer-sponsored student loan repayment benefit. Dolr members can also fast-track their debt repayment by getting cash back when shopping and by automating weekly micropayments. And because they were originally inspired by their own village, the founders created an easy way for members to ask for and receive cash contributions from friends and family (it's like Venmo, but for student loans) — it's called Your Village.
Why should we have a communal attitude toward student loan payments? The answer is really simple: your education benefits all of society — so does paying off your student loans.
When people are buried with debt to the point where they can't buy a house, shop locally, take vacations, or volunteer because they are just trying to get by, that affects the local economy and community.
Education is so important, and it's proven that educated people lift the average level of society. They have a higher earning potential, which means they have a higher tax-paying potential, and a higher potential to give to causes… But the impact is diminished when those people can't fully contribute because they are broke.
"Financially free members of society provide more community support, stimulate local economies and are productive in society. That's why everyone has an incentive to help people pay off their loans," Eryck says.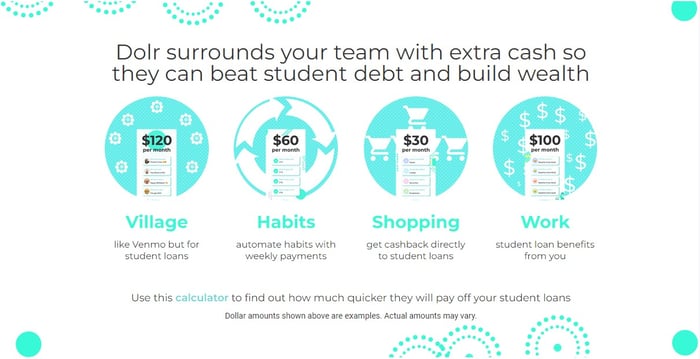 Brands have a clear incentive because the demographic of people with student loans is not only huge, but it's also a prime demographic for so many brands. Plus, a partnership with Dolr helps brands do some social good and contribute to helping people pay off their loans.
Employers also have an incentive to help their employees pay off loans. Besides medical benefits and vacation, people cite student loan repayment help as a top benefit, Naveed says. When companies have a benefit like this for their employees, it can take a huge burden off, and they can spend time thinking about work and using their paychecks to save up for what matters to them.
"Our entire society benefits when we all contribute to solving this problem," Eryck says.
The "GoFundMe" Mentality
Despite our culture of "American Individualism," the Dolr founders have discovered a generous spirit in Americans.
"The American people already have that notion of helping the least in society when the problem is expressed," Eryck says. "Think of GoFundMe. Anytime anyone has a tragedy and asks for help, people are ready to step in. Unfortunately, there's still a real sense of shame around asking for help."
That's exactly why Naveed, Eryck and Ashwin say that the student debt crisis isn't just a financial one, but it's also a mental health crisis.
"It's a really self-limiting belief that you have to pay this off all on your own. There's no shame in asking for help," Naveed says.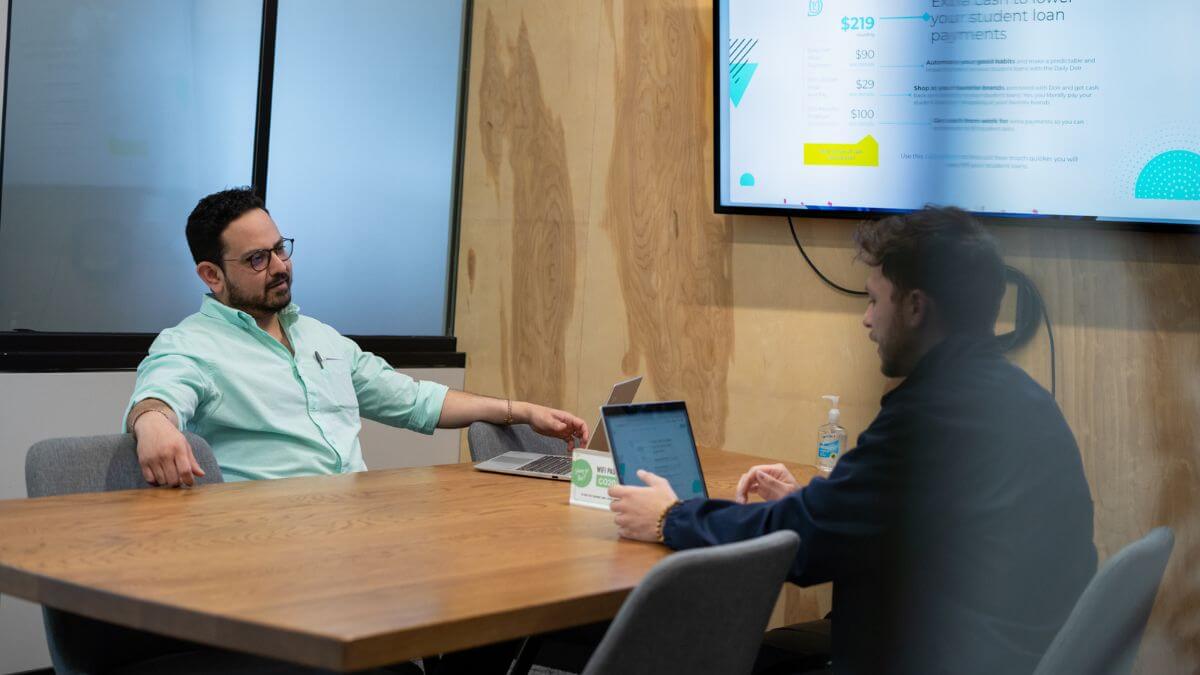 Coming from different African countries (Zambia, Togo and Tanzania), the founders see some similarities with their own cultures, where there is communal care but still individual responsibility.
"Individual responsibility can't get lost in this," Eryck says. "You should be individually responsible, because when everyone is individually responsible the whole community prospers. That aspect can get lost in America."
Pull yourself up by the bootstraps is a common expression — and value — in America.
"Yes, you can pull yourself up by the bootstraps, but boots wear off. Sometimes, someone has to help you get new boots. And just because you didn't get your own boots doesn't mean you won't be walking afterward," Eryck says.
In other words, when things get hard, there's no shame in asking for help.
Because unfortunately, the problem isn't going away.
Higher education costs continue to rise every year, and so do the number of people graduating with major student loan debt. And the amount of private loans being taken is only increasing, too. It takes people 25 to 30 years to pay it off, which are similar terms to getting a mortgage. Only, you don't have a house.
"Student loan debt is a long-term problem," Naveed says. "That's why we're building a long term solution. We never give advice that's not in people's best interest. If you have debt, we'll provide you with tools to get rid of it."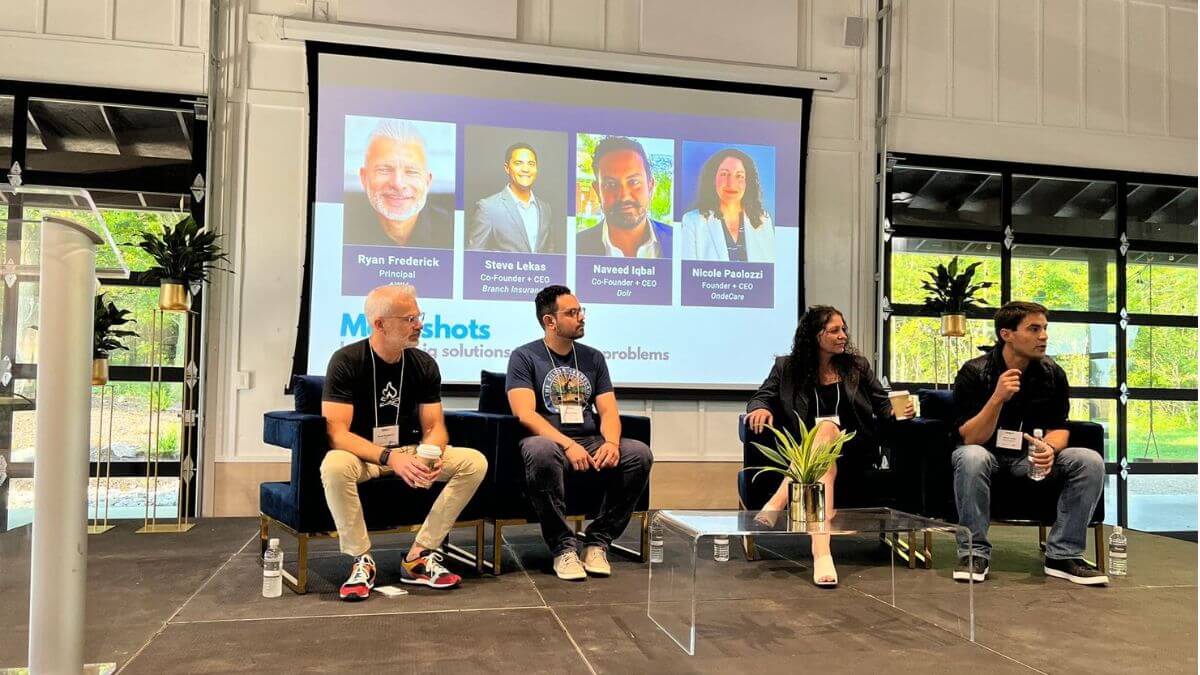 From Apathy to Dignity
Taking a different approach than government relief or non-profit support, Dolr is creating a commercial solution to this massive problem — they're also creating an emotional one.
"When people are buried in debt, the primary emotion is apathy," Naveed says. "You've tried everything but still don't see the light at the end of the tunnel. When you sign up for Dolr and start chipping away at your debt and you start to see the end in sight, your mental wellbeing drastically improves."
It goes beyond improving your mood, though. Eryck, Naveed, and Ashwin say that it's really about restoring dignity to people.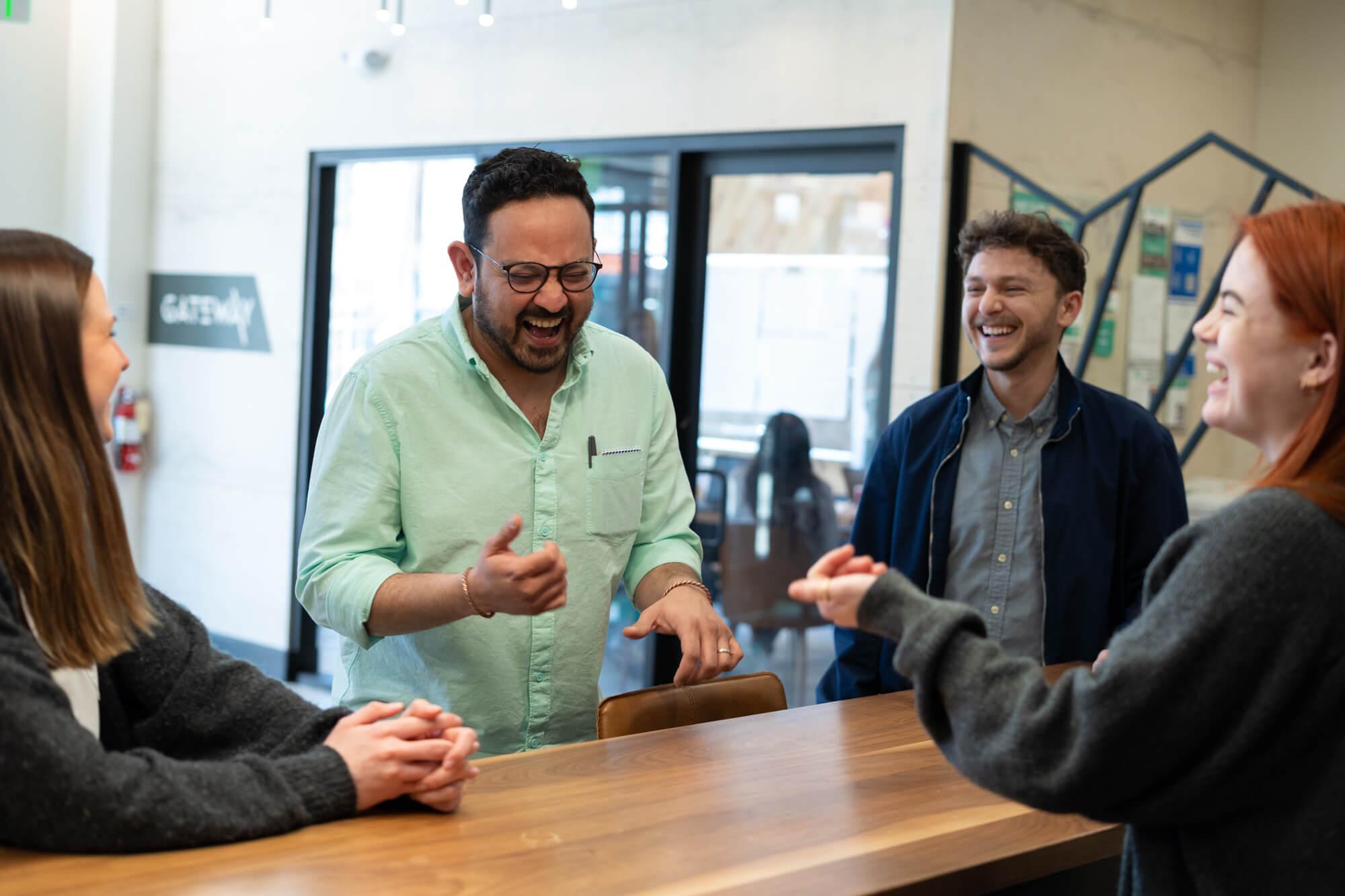 "Being a first-generation African immigrant, I understand what it's like to have this real village investing in you, supporting you. When you can't return that investment to your community, you feel as if you're not living up to their expectations as well as your own," Eryck says.
Furthermore, if you're in debt so badly that you can't afford to do the kind of career you set out to do, you're not living out your purpose or delivering that promise to yourself. That's why Dolr is on a mission to help people pay off their debt so that they can live out their purpose and be able to decide what they want to do with their lives.
"Yes, we're restoring financial freedom," says Eryck, "but we're also restoring dignity to people."
As Dolr continues to grow, Naveed, Eryck and Ashwin are always excited to meet curious and mission-driven people who want to work on something meaningful. Sound like you? Drop the founders a line.