It's no secret that one successful startup can birth many more. In Detroit, this phenomenon is starting to take off with multiple startups beginning out of a growing number of successful home-grown tech companies.
A perfect example is Ambassador Software, which created the market leading relationship marketing platform and was acquired by West Corporation in 2018. Ambassador software is used by brands like Shinola and Zillow, and has been named to the Inc 500 Fastest Growing Company list, Inc. Best Workplaces, Cool Places To Work, and more.
Now, two new startups have been founded by Ambassador alum and are growing fast. We want to take you along to see the ripple effect of entrepreneurship that is happening in Detroit and many other cities around the U.S. This is the story of Trustpage and Onboard.


Two startups take off in Detroit
Trustpage founder and CEO Chase Lee was CTO of Ambassador referral marketing software, so he knew the struggle of running the tech side of a business involving the security of vendors and partners. Trustpage Senior Marketing Manager, Nate Eldridge, says that security reviews become a big part of tech companies working together for this reason.
"I've seen this on the tech side of finding vendors," he says. "Often, teams will spend as long as a few months auditing a vendors' security practices."
To solve this problem, Trustpage was born.
Trustpage is a platform that helps companies collaborate on trust to increase customers' confidence, streamline sales, and save time. It's built around a Trust Center that puts all the relevant information in one place, such as what kind of servers you use or how you protect your company data. The ultimate goal is to help companies build trust with their customers early and often. Trustpage was built out of the experience at Ambassador that taught Chase how much collaboration could be enhanced by putting security information all in one place where all stakeholders can see it.
Jeff Epstein is another Ambassador alum (the founder and CEO of Ambassador actually), and has now founded Onboard.io, a software designed to help onboard customers. "Onboard started based on a problem we had at Ambassador," Jeff explains. "We had lots of great clients. But like any SaaS business, they have to not only use the software but renew. We had to keep churn as low as possible, like any organization."
How could they onboard customers better so they would stay? Will Stevenson, co-founder and COO of Onboard, had worked at Ambassador in operations. Jeff says they had to piece together tools that customers liked to use, and realized there should be software made for onboarding new customers.


What makes a successful startup?
What factors contributed to the success of Trustpage and Onboard? Nate at Trustpage says that since so much of the Trustpage team has already worked together, this has helped to develop trust and experience, and speed up the process of growth.
"Trustpage is about building trust," he says. "Chase has brought together an all-star team that works well together, and we really trust each other."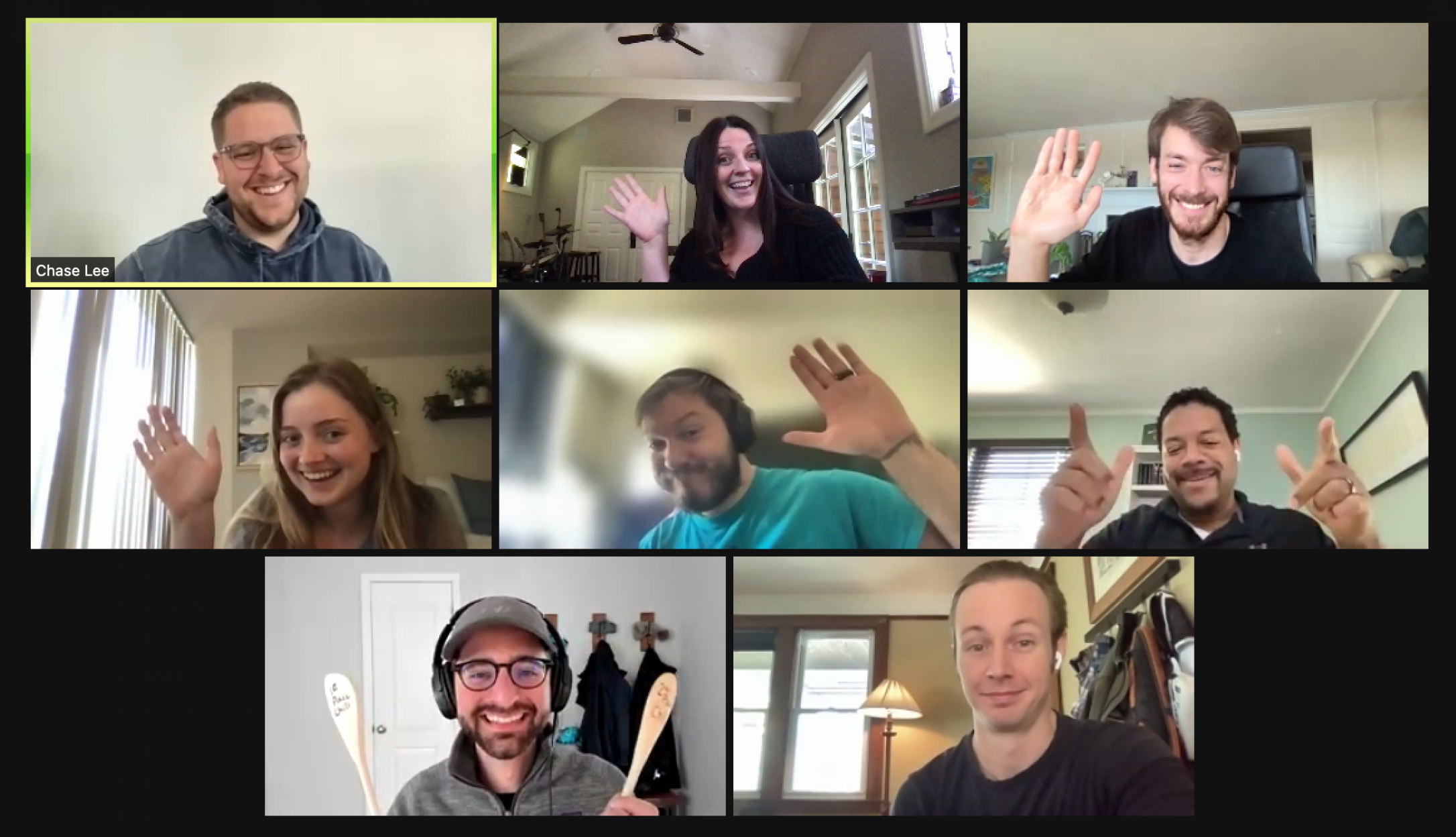 the Trustpage team
Nate also says that the team has learned from working together how to hire and grow — and the team is hiring for many open positions. And with one startup's success drawing interest for the next, drawing talent makes a difference to that next startup's future. "For a team to go through multiple startups successfully, that speaks volumes, and word spreads. People want to be a part of that."
Jeff of Onboard agrees: "Experience alone was super helpful," he says. "Ideally we're doing things faster and learning from our mistakes to get to the same level of growth faster this time."


How the startup ecosystem grows
Nate and Jeff list several elements that startups have to consider as one startup encourages the growth of others and the business ecosystem itself changes over time.
Companies are growing differently, marketing themselves differently, and have different ways of working with customers and employees. If you're building a startup in this quickly changing time, here are some lessons learned on the front lines of startups to consider.
"There will always be changes to how companies position, grow, and market themselves," Nate says.
For example, marketers have to get creative with their strategies now that cookies are on their way out. Companies need to find new ways to connect with users both in acquisition and through any engagement with the company. And to respect user privacy, "companies have to get creative now," and "not just to get customers in the door but marketing the company, its values, and career opportunities."
Both founders have also learned a lot about running a company and building a good work culture.
"You can't expect employees to work 9-5," Nate says of the new normal. "We don't have a perfect answer to how to build remote culture, but we're figuring it out. We start by asking: is it working? And we're committed to continual review…. It's important to be able to confront problems, get to know each other, and have casual virtual get-togethers."
Figuring out the remote work model and culture is top of mind for Jeff, too.
"When I was at Ambassador, I knew I wanted to build a startup on all remote work next," Jeff says. "It is hard to stay connected, but I saw that people wanted flexibility. I saw that 9-6 probably wasn't the way to do it."
Jeff emphasizes that connecting a culture is really based on authentic relationships: "The work you do, your reputation, and the relationships you build are the real ripple. Relationships are the fabric of the ecosystem. . . . It's not surprising to see that people founded new companies together again."
Jeff says that we can all learn something from each other, and hopes we can boost each other instead of competing.
"Detroit has never been better," he says. "Between Ann Arbor and Detroit we have Duo, StockX, Autobooks…. We've never had such a strong set of tech companies started in this area."


Birthing a new culture of support
Detroit and Ann Arbor are now home to a number of startups spun off from successful companies. The success of Duo Security and Barracuda Networks birthed an entire cybersecurity startup ecosystem in Ann Arbor and Detroit, now including startups such as Censys, Blumira, and AaDya.
Startups also are supporting other startups. We've seen startup founders such as AaDya Security founder Rafaele Mautone support fellow Duo alum like Yottled founders Will Guedes and Trevor Hough by using their services from their new business scheduling platform startup to help out other local founders.
One theme that emerges from the cascade of these successes is this: as startups succeed and lift each other up, more companies emerge around them that support an ecosystem of talent to supply high-tech companies — or continue on to found their own.
Want to join the Detroit startup community? Browse hundreds of tech and startup jobs at companies like Trustpage and Onboard.io with one free profile.