What happens to all the audio and event equipment in the fifty semi trucks used on Taylor Swift's Eras Tour once the tour is over? Chances are, most of it will eventually end up in a landfill.
There's a Cincinnati startup on a mission to help reduce that waste and give old audio equipment new life.
Founded in 2020, Gearsupply is an online marketplace for buyers and sellers of AV gear. But it's more than that: it's about reducing waste, helping small businesses access high-quality equipment, and giving back to the community.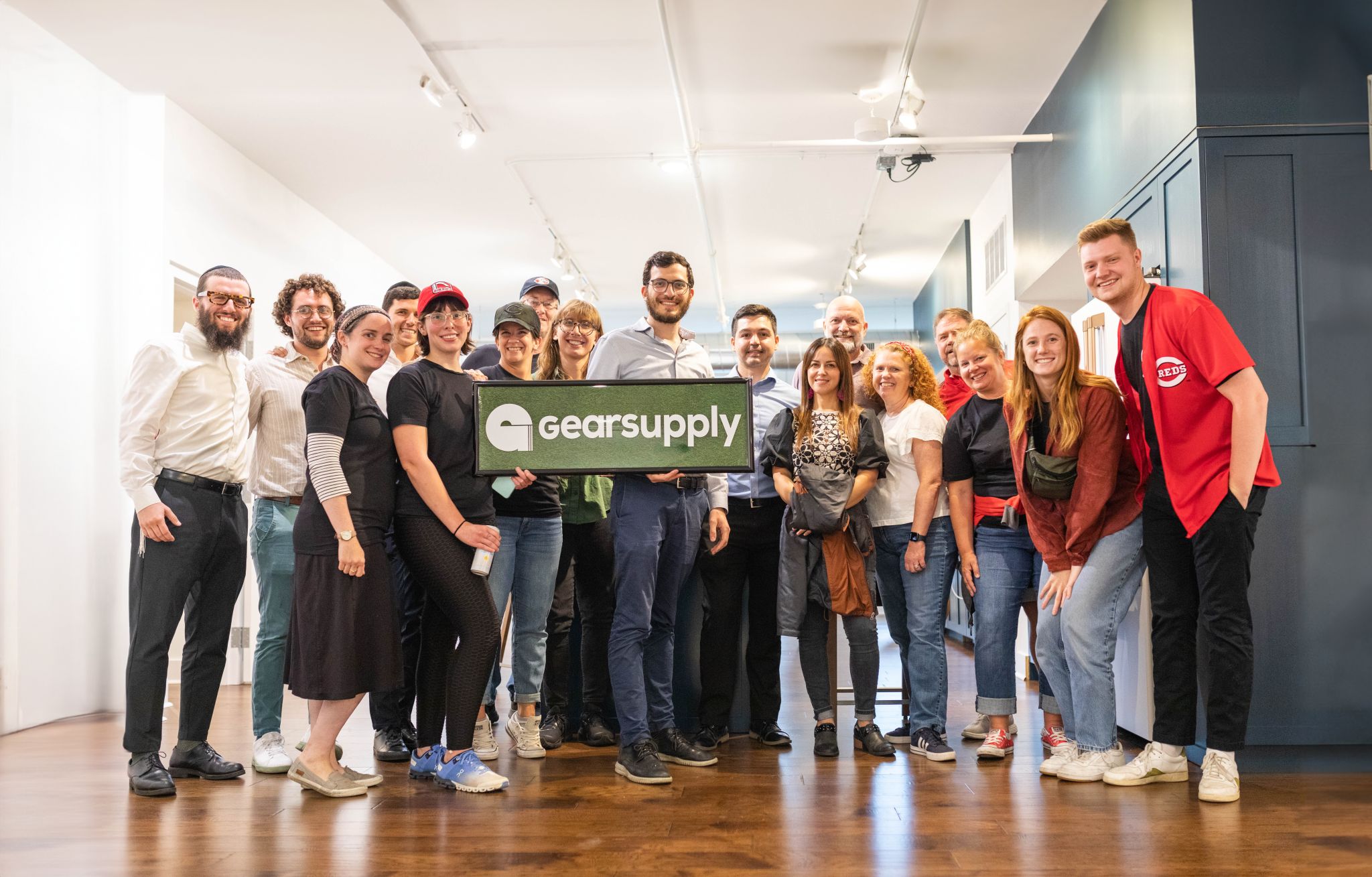 They're a growing company — they recently moved to a new office in the OTR neighborhood in Cincy — and are looking for people to join them in their mission, especially on their business development team.
"GearGurus," as the team calls them, are instrumental members of the Gearsupply team and have the opportunity to make a huge impact on the continued growth of the company.
"Without the work of our business development team, we wouldn't see the growth at Gearsupply that will take us to the next level," says LeeAnn Manning, Director of Inside Sales. "This team is highly valued in the company."
Making Gear Accessible
So what will a business development rep at Gearsupply do? You'll be helping connect buyers and sellers with used AV and event equipment through cold calling and other forms of outreach. You'll share Gearsupply's brand and mission, and perhaps help with the purchase of more equipment for Gearsupply's marketplace.
Right now, there's not an easy way for event companies to get rid of used gear. It usually stays in a warehouse until it ultimately ends up in a landfill. There's still a lot of life left in this gear, and GearGurus will be on a mission to help that used and refurbished equipment find a new home. And many times, these are smaller event companies (or even organizations like churches, synagogues, and DJs) who normally wouldn't be able to access high-quality equipment. Now they can with the help of a GearGuru.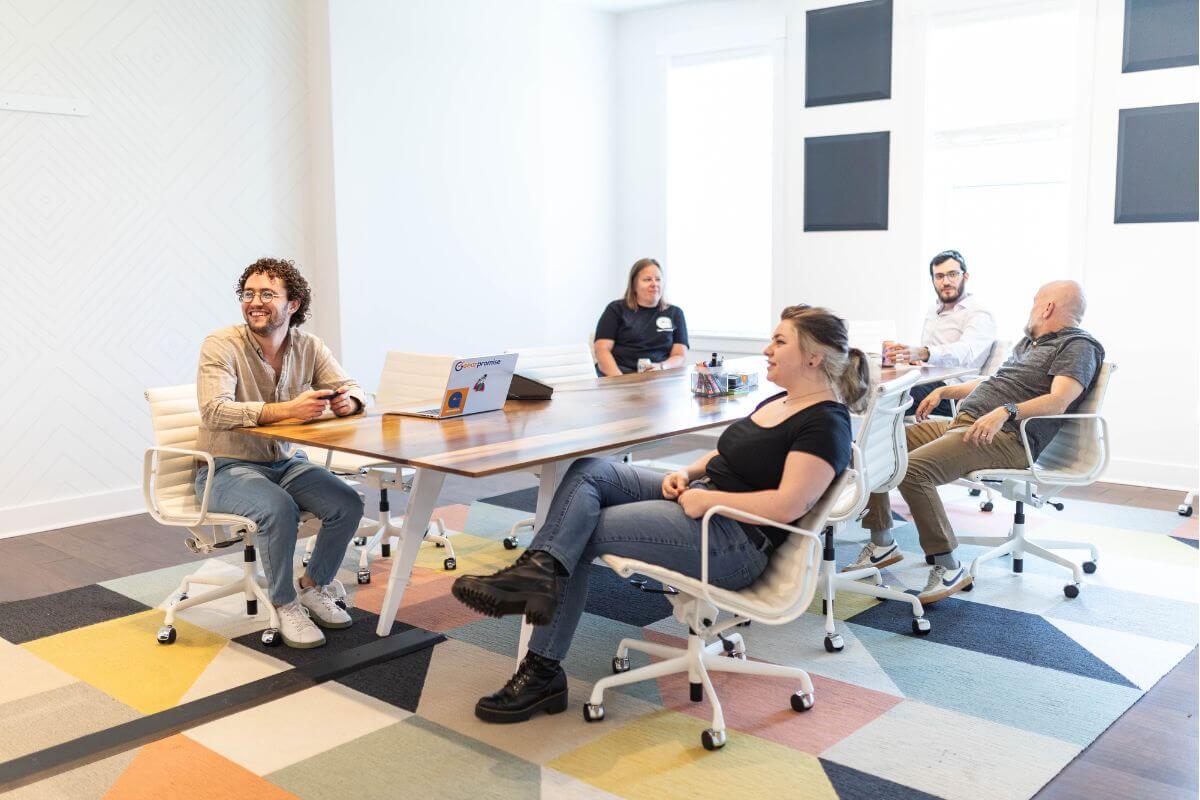 Startup Energy
To find the best people for this role, LeeAnn and the recruiting team are looking for folks who are great at communicating, are driven and competitive, and also have the confidence and professionalism to represent the company well. Like most sales roles, the salary is a mix of base plus commission, plus an opportunity to earn a bonus for reaching sales goals and other milestones (that's where that healthy sense of competition comes into play).
"Our culture at Gearsupply is ambitious and high-performing, but we also love to have a good time," says Michelle Kohring, Director of Recruiting Operations. "We're looking for people with that same kind of proactive energy to help propel the team forward."
As a small and still early-stage company, there's definitely a startup energy at Gearsupply, so adaptability is huge.
"It's a startup environment so things often change and processes are tweaked. You have to be adaptable and okay with change," says Michelle. "Coachability is also super important. This is a great opportunity to learn a lot, and we're looking for folks who are excited to learn and take on new challenges."
Getting Started
You don't know anything about audio/visual equipment or event gear? No problem. Most of the team didn't come in knowing that either.
When new members start at Gearsupply, there's an onboarding period to help people get acclimated with the products and the company. You'll meet the team and learn about different departments, but you'll also get to know people on a personal level during happy hour.
In addition to that, new GearGurus will get to learn more about the thing they're selling: the gear. New hires spend almost a whole day in the warehouse, learning about the equipment. It's also a great chance for the sales team to see the inner workings of the operations team, and better appreciate their work.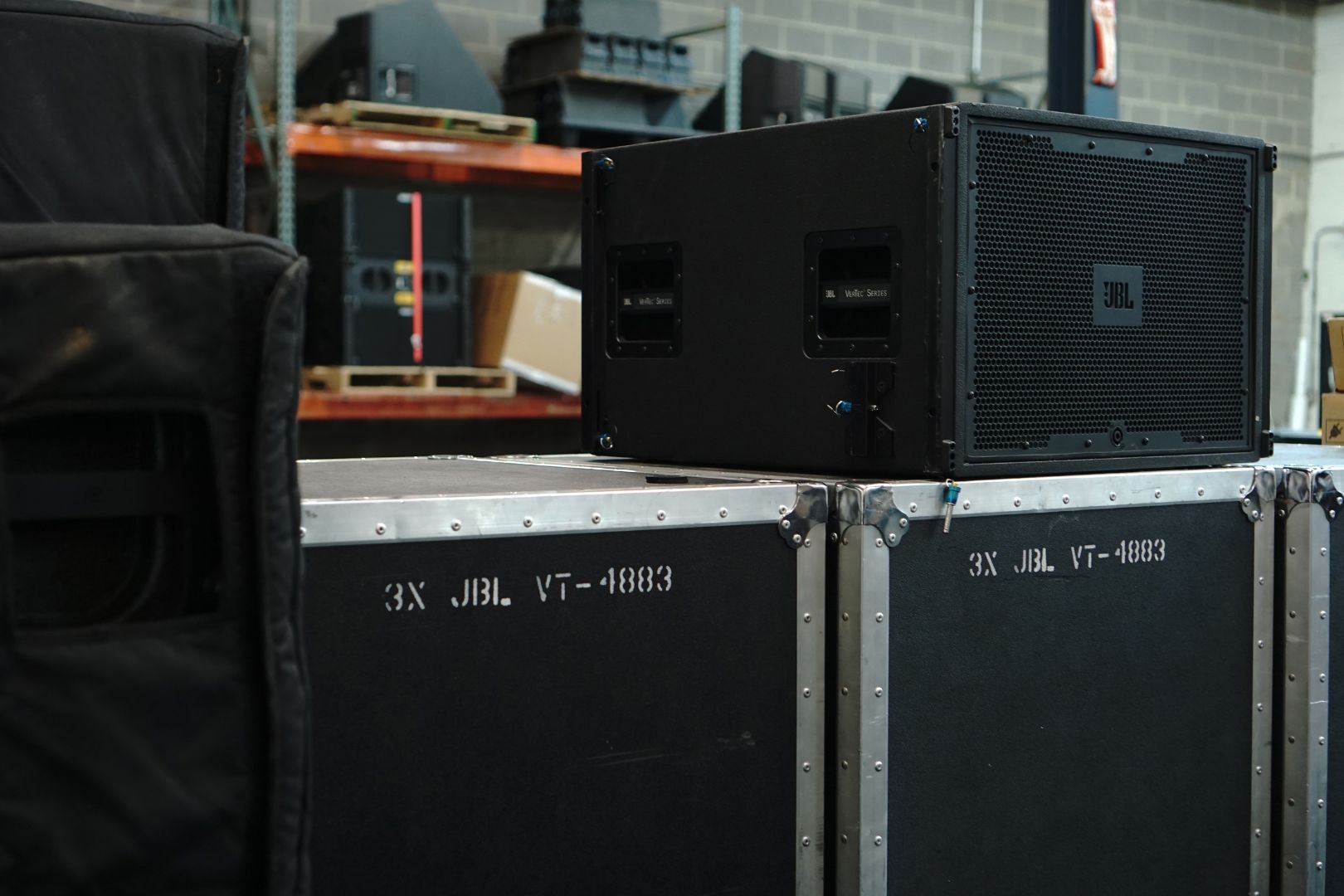 "It's not so important that the reps know this gear inside and out, but that they know how to talk to customers," says LeeAnn. Most customers know what they want, so GearGurus connect them to the equipment they need.
The Office — And Its Dogs
Gearsupply's new office is in the heart of Over-The-Rhine, right by Findlay Market, and the neighborhood's energy has been infectious for the team.
"There is very much a culture of hustle and bustle in downtown Cincinnati. We've all felt a major boost of energy and motivation from the neighborhood since our first day here," says Michelle.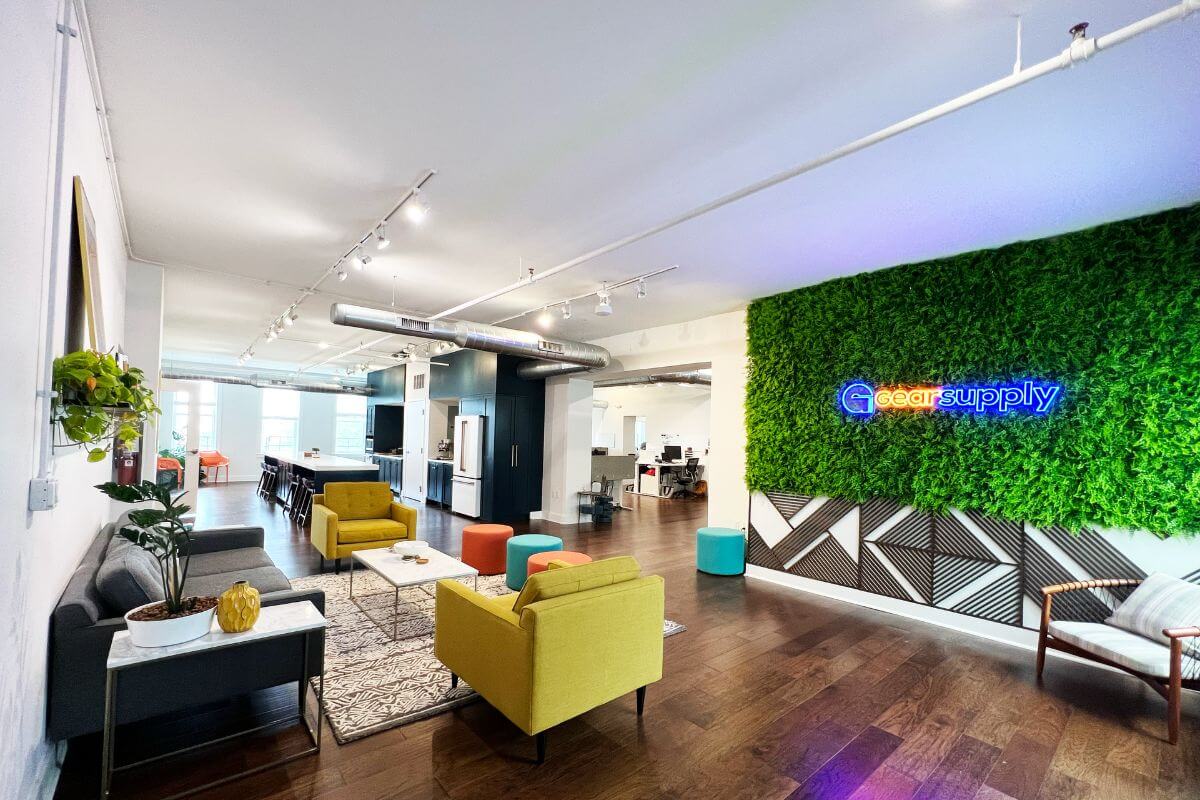 The office has lots of natural lighting, green space (which ties into the team's mission to reduce waste) and is bright and colorful. A stocked fridge and pantry keeps employees fueled, as does the coffee and the nitro cold brew on tap! If you want to take a little break, there's a lovely coffee shop downstairs, and OTR is full of great spots for coffee and lunch.
Flexibility in the office is so important, and that's why the new office has beautiful lounge areas with couches and chairs, should you need a change of workspace. The large office windows let in the sunshine and also give you a view of gorgeous city murals, Findlay Market, and the busy city streets and the streetcar.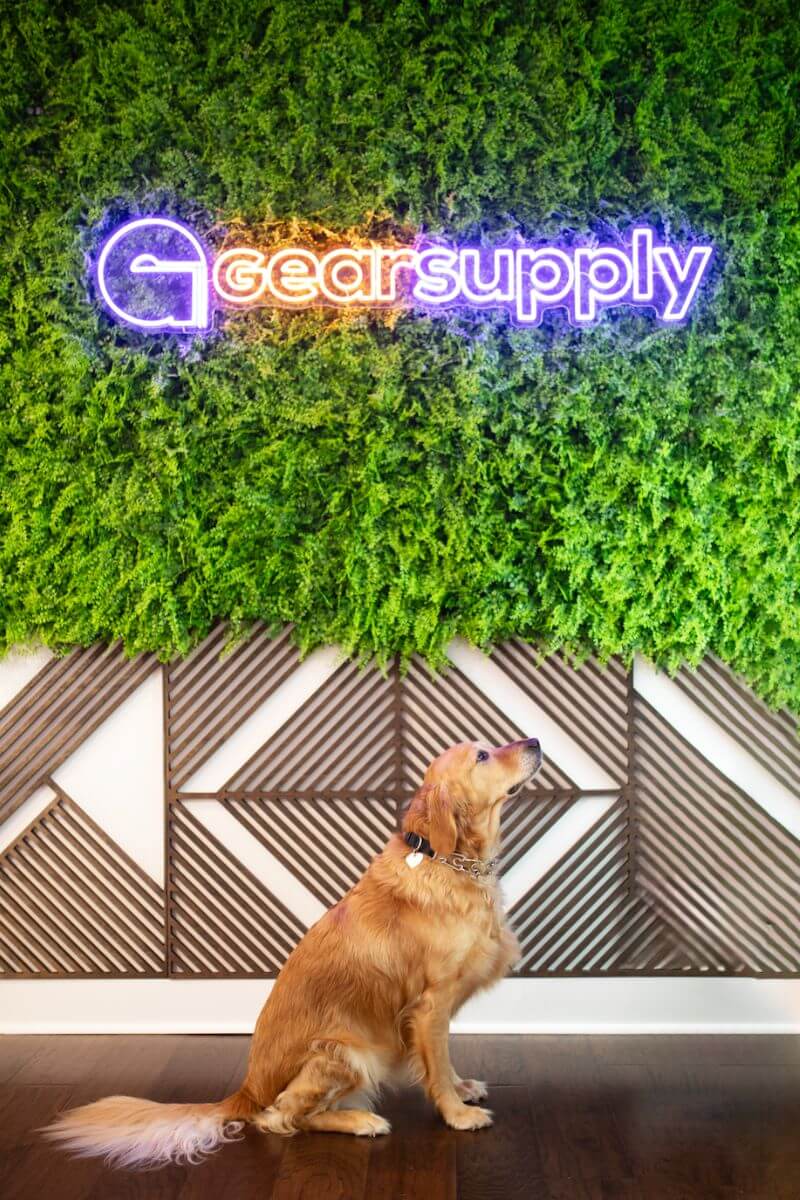 Possibly the best part? Office dogs! Currently there's Jolene, the sassy Golden Retriever who thinks it's all about her; Pixie, the Pit Bull who gets overly excited and then wipes out from the stimulation; and Walter, the Beagle who has a complex about slippery floors but is willing to overcome his fears for a few pets.
The office space is a great way for the team to come together and connect, and it's also a reflection of the company's fun-loving culture. They have quarterly outings celebrating the team's successes (such as going to Cincinnati Reds baseball games, FC Cincinnati games, axe throwing, BBQ dinners and more), and weekly happy hours that everyone looks forward to.
Want to learn more about Gearsupply's culture? Check out the founder, Mendel Rosenberg, in a recent panel on the Midwest's best companies for culture (Gearsupply was a winner, by the way)!
The Opportunity
Because the team is small and close-knit, there's no ceiling to the opportunities at Gearsupply. Not only will new business development reps grow within their team — they'll also grow within the company.
"We're a small team, so everyone has an opportunity to make an impact. You're not just a number here. You're valued, and your voice is heard," says Michelle. "You're able to be a part of the company's growth on an intimate level."
While many sales teams are driven solely by money, LeeAnn says there's so much more to it than that.
"For my team, it's all about providing value to our customers. We're driven by values and take a relationship-building approach to our strategy. It's about doing right by our customers," says LeeAnn.
This approach goes back to what's at the heart of Gearsupply: giving back to the community by reducing waste and helping small and local businesses get access to high-quality gear.
If you're looking to join a business development team and make a direct impact on an early-stage, purpose-driven company, apply now for the business development role at Gearsupply.