All work and no play makes Jack a dull boy. We agree, Jack!
Most everyone needs to work to pay the bills – but does that mean it's the only thing that you should be doing with your life? We certainly don't think so! We believe it's vital to maintain a healthy work/life balance, and luckily for us, we find that easy to do here in Michigan. In addition to our state having a very solid job market, it also offers plenty of opportunities to "be yourself" outside of work. Let's take a look.
1. Jobs, Jobs, Jobs
If you are searching for a new job, you should probably consider looking in Michigan. Whether you live here already or interested in becoming a local, the job market in Michigan is… well… hot. Companies such as Google, Accenture, Pinterest, and Snapchat have recently set up shop in Detroit, and our startup community has the highest spending-to-venture capital investment ratio in the country.
Michigan ranks ninth out of the 50 states in net tech employment, and the average tech industry wage here is $92,000. $92,000 a year goes a long way here, but we'll get to that in a minute. With over 11,000 technology businesses registered in the state, there are plenty of opportunities here (which, of course, purpose.jobs can help you with!).
2. You Can Afford to Live Here
Told you we would get to that $92,000 a year in a minute. Plainly put, you can afford to live in Michigan, and live well. According to Zillow.com, the median price of homes sold in the state is around $145,000, and the median rent is $1,180. In Detroit, the median price of homes currently listed is $42,900 and rent is $825. But it's not just housing that is more affordable than in other places. The cost of living here is lower across the board for everything except transportation costs: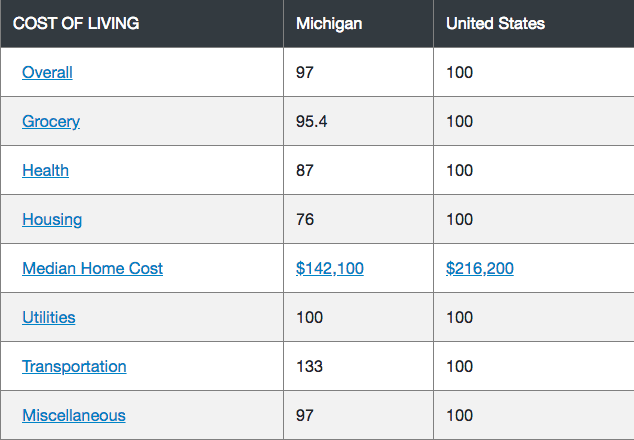 3. You'll Never Run Out of Things to Do
Like the beach? We've got you covered, with beaches (yes, beaches) in the middle of the country. The woods? Put on your hiking boots and take a walk into our 20 million acres of forest which cover more than half the state. You can catch a concert in one of our many cities, take off for a weekend getaway to Mackinac Island where the horse and carriage hasn't been replaced by cars, visit one of our over 230 craft beer breweries, climb one of our many lighthouses, check out an art gallery (or three), or head over the border to visit Canada. Living in Michigan offers a pretty much never-ending "We gotta do that!" checklist.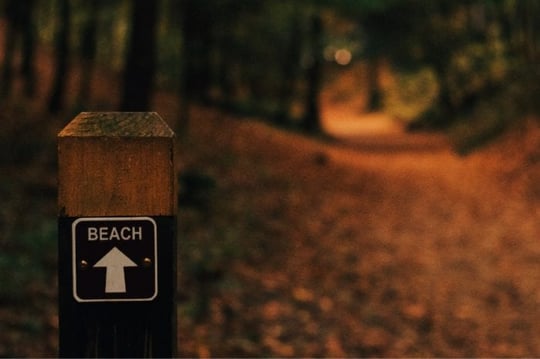 And chances are, with our affordable real estate prices, you may even be able to own a getaway cabin, to escape the city every weekend. Doesn't that sound pretty rad?
4. We've Got Sports – Lots and Lots of Sports
Say you're a sports fan and say you live in Michigan. If you're up for the challenge, you will be able to take in (or enjoy from a local brewery) a game year-round. The Detroit Red Wings, Detroit Tigers, Detroit Pistons, and Detroit Lions are our pro teams, but it doesn't have to end there. As for college teams, well, we can't list them all here, but if you're a University of Michigan or Michigan State fan, you'll find plenty of other people either rooting with you – or against you – anywhere you go.
5. Travel at a Moment's Notice
If you're the type of person who likes to travel a lot or needs to travel for work, Michigan has great accessibility to the rest of the country. Being pretty much right in the middle it's a quick flight to either coast, and you can start any overseas travel right from our international airports without having to connect three times just to leave the country.
Amtrak train service, which runs three lines through the Wolverine State, can get you anywhere on a comfortable, scenic trip. Add in our growing public transportation system and over 2,300 miles of bike lanes and pathways, and you'll be able to get around – and out of – Michigan quite easily.
6. Real Seasons Beat "Seasons"
We're going to keep this one short, but really – wouldn't you rather have actual seasons that each have their own identities rather than one season that is the same all the time (ahem, California)? In Michigan, you'll have a real Spring, Summer, Fall, and Winter to explore, enjoy, and look forward to each year. So whether it's mountain biking in the spring, boating in the summer, hiking in the fall, or skiing in the winter, you can do it all right here in Michigan.
7. Eat Your Heart Out
Foodies, rejoice! While we already mentioned our amazing craft beer scene, our restaurants and coffee houses are just as good. Eater Detroit just put out its list of the top 38 restaurants to eat at, so if you're a resident or a visitor, make sure you plan your schedule around chowing down at these restaurants.
In addition, Michigan has some best-kept food secrets that you're going to want to know about, so be sure to check out that list.
8. You'll Be Mostly Safe from the Apocalypse
Earthquakes. Mudslides. Floods. Hurricanes. Tornadoes. While these types of disasters can happen almost anywhere, guess where science says you would be less likely to have to deal with them? If you guessed Michigan, you win a taco. Take a look at this map of natural disasters across the United States and check out what it says for Michigan. Looking pretty good, right?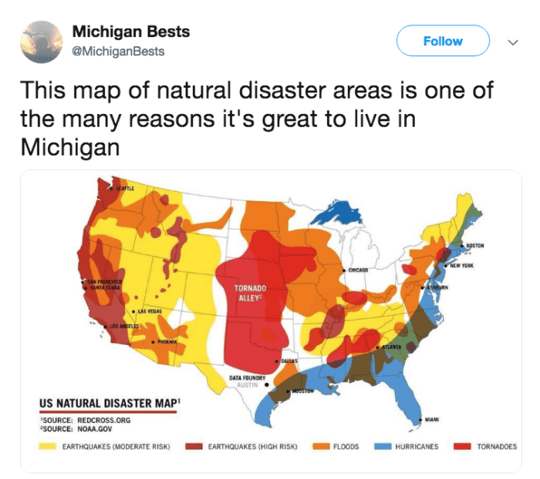 And on top of being a safe(r) place to avoid natural disasters, it turns out that everyone might be moving to our area by 2100. PopSci says that by then, based on weather patterns, temperatures, and natural disasters, it may be the best place to escape the effects of climate change. So, now may be a good time to get set up here, invest in some real estate, and stake your claim in one the safest places to live for the foreseeable future. Plus, I don't think we have zombies here, so that's always a win.
Michigan is the place to be
Now that you know why Michigan is one of the best places to live and work, what are you waiting for? Here at purpose.jobs, we want to connect purpose-driven people with innovative startups across Michigan. So whether you're already a local looking for a new opportunity, an ex-pat who wants to come home, or a talented person searching for purpose and lifestyle, check out our list of the top startups hiring in Michigan or sign up with us today to get your foot in the door with tech startups located in and around Detroit. It's 100% free for you to use.

Looking to discover what a work/life balance in Michigan would look like for you? You may want to check out this Wheel of Life Assessment Tool. We aren't affiliated with it in any way, but we certainly use it here at purpose.jobs on occasion and find it pretty helpful. Hopefully, you will too!