Anyone who works in recruiting knows the labor market can shift quickly and dramatically. In 2020, with the onset of the COVID-19 pandemic, we saw a dramatic shift take place that has altered the landscape of workplace culture — and it's largely for the better.
During a time of rapid fundraising, massive hiring pushes, and a demand for tech talent that couldn't be met fast enough, the competition for talent put the power in the hands of job seekers who were demanding more out of their workplace.
The rise of remote work during the pandemic proved that companies could be successful with remote employees, that employees were happier with flexibility, and that work-life balance was more important than free office snacks. Gone were the days of riding out toxic work cultures for meaningless work and in came a new era of company benefits that hinged on purpose and culture.
Fast forward to 2022, and the market shifted again. As economic insecurity dried up VC dollars and startups switched to survival mode, hundreds of thousands of tech workers across the country found themselves laid off. Some think the balance between employer and employee have shifted.
We don't believe that.
The fact remains that there are still more open tech jobs than there are tech workers, and job seekers will never go back to toxic work environments. People are looking for more in their lives.
People are searching for purpose.
In fact, nearly 2 in 5 Gen Z and Millennial workers say they have rejected a job or assignment because it did not align with their values. Meanwhile, those who are satisfied with their employers' societal/environmental impact and DEIB efforts are more likely to want to stay with their employer for more than five years. (Deloitte)
Despite the ever changing economic market and trends, people care about mission and purpose, and want to work with companies that help their employees do meaningful work — and not get burned out while doing it.
Job seekers and current employees alike are demanding a mission-driven, people-first approach from companies and company culture.
That is exactly why we're launching the Purpose Certification.


What is the Purpose Certification?
The Purpose Certification is a simple and powerful way to show prospective employees (and customers) at a glance that you care about purpose and culture. A picture is worth a thousand words, right? You could say the same of the Purpose Certification badge.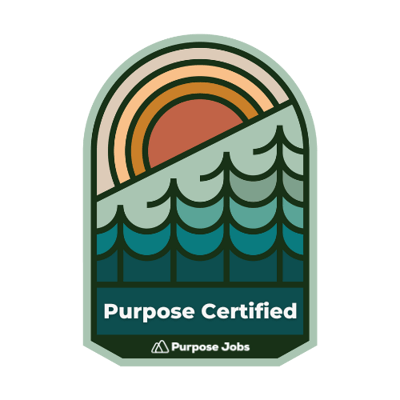 When people see that you've been Purpose Certified by us, Purpose Jobs, it immediately signals to them that you . . .
• are working on technology that's mission-driven
• help employees do meaningful work
• put employees first by providing opportunities for growth and leadership


If you're a job seeker and see this badge, you can apply assured, knowing exactly what this company values: its people and purpose.
What kind of company can get a Purpose Certification?
In order to achieve certification, a company must:
Be purpose-driven in mission and operation

Offer meaningful benefits (like wellness days/resources, flex time, employee learning opportunities) that helps employees continue to do meaningful work

Prioritize diversity, equity, inclusion and belonging

Actively be trying to build a top workplace that's purpose-driven and has a healthy, people-first culture

Genuinely be a good place to work with good people
If that sounds like your company, keep reading for more information on how to get certified.
Who is not eligible for a Purpose Certification?
🚫 Profit over people
🚫 Growth at all costs
🚫 Not mission-driven
🚫 Toxic work environment
🚫 Unrealistic expectations of people
🚫 Mean or rude people (sorry not sorry)
Life changes constantly. The economy shifts, and people pivot. What remains constant is the desire to do purposeful work with people who care. The Purpose Certification celebrates those companies who keep that top of mind all the time.
The Purpose Certification shows exactly who you are: a business powered by purpose.