Hay rides. Pumpkin picking at the pumpkin patch. Apple picking at the orchard. There are tons of fall activities to take part in that kick off the season right. And the Midwest tech community is jumping on board!
We've rounded up some of the most exciting events happening in the Midwest this fall — our community of tech companies and startups are bringing people together through creativity, innovation, and a good time.

Upcoming Tech Events Across the Midwest
Startup Detroit Happy Hours
October-December: Join Purpose Jobs, Detroit Venture Partners, and Bamboo for regular happy hours throughout the year. Meet us at The Brakeman in downtown Detroit for fun nights of conversation and drinks with the Detroit tech community! Visit our events page below for the exact dates.
Startup Columbus Happy Hour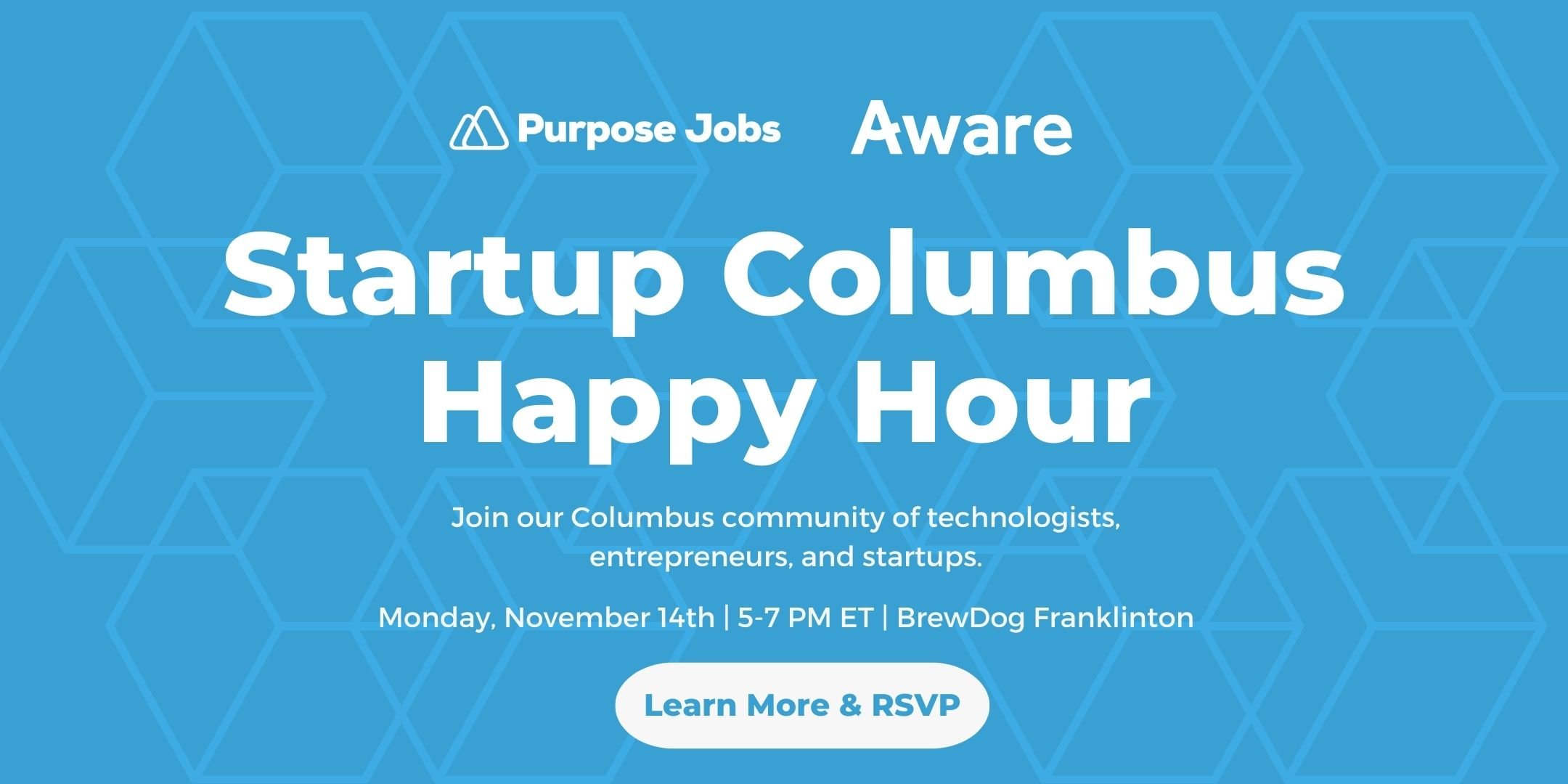 Monday, November 14th: We're back with another happy hour in Columbus, put on with love by Purpose Jobs and Aware. Join our community of technologists, entrepreneurs, and startups on November 14th from 5 PM - 7 PM ET at BrewDog Franklinton. Come join the fun, bring someone new, and connect with others. The first 100 people to arrive get a drink on us!

VentureNext Member Summit 2022
Thursday, October 27th: Our friends at Venture Next are hosting the VentureNext 2022 Member Summit. The event will be held in Indianapolis, Indiana. Join the VentureNext community to participate in a day of educational programming, member networking and a startup pitch competition.
2022 Back to Michigan Career Fair
Tuesday, November 22nd: Are you an upcoming or recent college graduate? A young professional seeking to grow in your career or switch careers? Or a young professional considering a move to Southeast Michigan? If so, you are invited to the Back to Michigan Career Fair on Tuesday, Nov. 22, from 5-8 p.m. at Valentine Distilling Co. in Ferndale. During the event, learn more about the region's top employers and make valuable connections to help you in your career in IT, engineering, finance, health care, manufacturing, art and design, professional services, government, hospitality, and more.
Past Midwest Tech Events


Electrify Detroit: Augmented Reality Mural Festival
August 1st - October 31st: Art lovers can download the Electrifly Augmented Reality Art App for free and visit the public murals at their own leisure. Simply download the Electrifly app and scan the murals to make them come alive in 3D.
WI Tech Month
October 1st-31st: The Milky Way Tech Hub and WI Voices have come together to unite the Wisconsin tech community. The month of October will be filled with civic tech events, social gatherings, and networking opportunities.

Michigan Tech Week
October 12th-13th: This two-day event is chock-full of some of the most exciting Michigan tech and startup leaders and innovators. Each day is planned with multiple panels and events to unite the Michigan tech community, develop tech talent, and give visibility to what's next for the state in the tech space.
Midwest Coffee Chats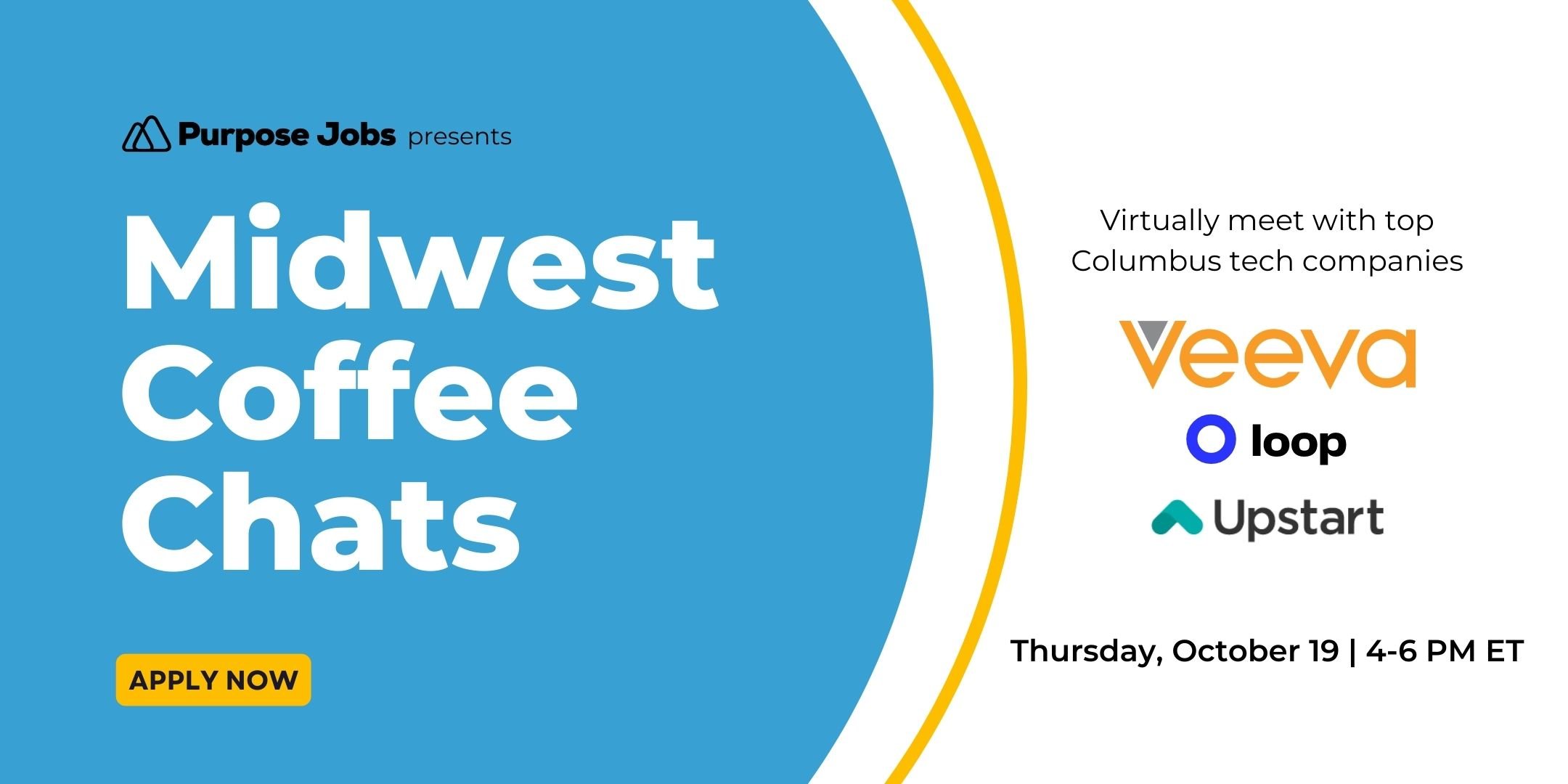 October 19th: Join us on October 19th for an afternoon of virtual, casual chats with Purpose Jobs' companies where you get to make genuine connections — coffee welcomed but not required. Participants will have the opportunity to speak with up to six employers for a 15-minute virtual call. These conversations will help you build your network, learn about new employers, and determine whether the organization is a good culture fit for you.
Connecting the Coasts to the Heartland
October 19th: An exciting full day conference to bring together early stage startups, early stage investors, and Ohio's leading voices in the technology industry. Founders and investors will have the opportunity to network and learn best practices for building high growth companies, as well as learn from the local business community and civic leaders, how and why Columbus is emerging as a Midwest tech hub.
Visit our events page for upcoming events: