"What are your salary expectations?" A question we've all heard time and again and frankly should be an easy one to answer. But in reality, it's a little more complex. Especially when negotiating a startup offer where the salaries might not be glamorous, there are a few things to keep in mind.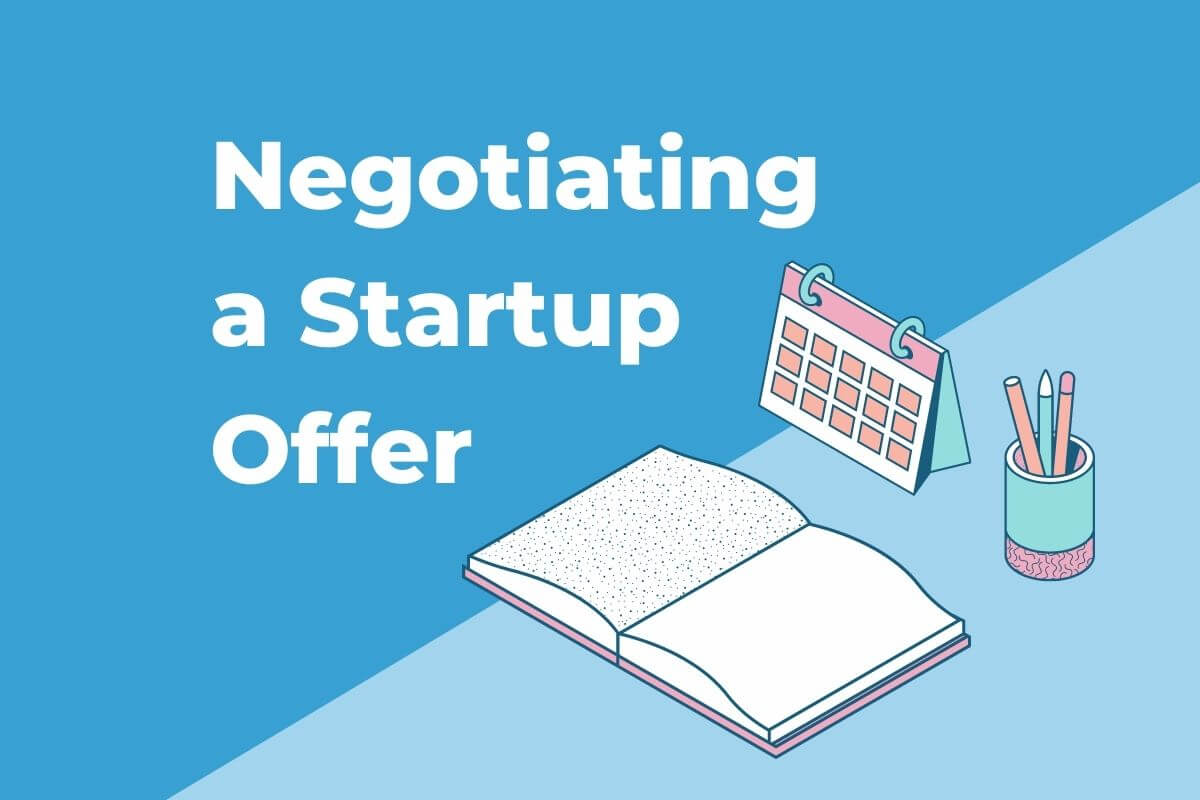 I've been in hiring roles on and off for over 10 years and have experienced first-hand how stressful these conversations can be. As a recruiter, I've always done my best to create a safe and comfortable environment for my candidates. But unless the person on the other end of the phone has done their prep work, my kind words and easy demeanor mean nothing. If you follow the tips below, you'll become a fearless negotiator in no time.
Tips for Negotiating a Startup Job Offer
1. Stay calm
Negotiations can be a somewhat stressful interaction with a stranger, especially when that stranger is the gateway to something you want (in this case, a startup job). Staying calm and keeping your emotions in check will only benefit you through the entire negotiation process. And if you follow the tips below, there will be no need to get worked up; it'll feel like second nature.


2. Know your worth
It's important to not only have a number you ask for but also a range in mind. This range should be the absolute lowest amount of money that will allow your current financial situation to stay as is and the highest amount based on your financial goals and market value.
Luckily we live in a world in which there are tools to help us understand the market. Websites like Payscale, Glassdoor, or Salary.com have calculators that determine your worth based on things like location, years of experience, skillset, and more. They take your information and compare it to other salaries in your job category to find out what the market is paying.


3. Preparation is key
Negotiating a startup job offer should not be an off-the-cuff conversation. When you drill it down, negotiating a startup offer is about influencing and the power of a strong argument is having facts to back it up. Write down a list of your accomplishments, the high-demand skill sets you possess, and the worth you've calculated above.


4. So is confidence
Once you've determined your range, you can confidently ask for a number that not only accurately represents you as a professional, but also aligns with market value. You won't have a successful negotiation conversation if you over-explain your situation, or apologize for what you're asking for. Just remember you don't want to come off as arrogant; humility is essential.

5. Gratitude is the attitude
Start your negotiation by expressing thanks for receiving the job offer. It's rare to get to this point of the interview process, especially in today's job market. Make sure the interviewer knows you appreciate their acknowledgment of your talent.




6. Know your audience
The combination of understanding whom you're speaking to and how to negotiate a startup offer will make the conversation much smoother. For instance:
If you're speaking with an HR representative, there's more room to ask in-depth questions about benefits and range.

If you're speaking to a prospective supervisor, it would be in your favor to keep it lighter and ask if there is an HR person to speak to.

If the company doesn't have an HR representative, it's then safe to ask your prospective supervisor if they have information on anything additional you are curious about.

7. Keep it simple
One of the most widely shared pieces of negotiation advice is to ask for the top of your range. That way if the employer comes back lower, you'll still be at a number you're comfortable with. With that said, you want to be respectful of the company's financial situation and avoid getting picky about a minimal difference between your expectation and their offer. Negotiate within reason.


8. Don't share what you currently make
There are multiple ways an interviewer can get you to share your current salary. If this does happen, have a line prepared to say to move away from giving an exact number. Something like,
"I'm looking for a range of X to X, but I'm also flexible based on company perks and benefits."
In most cases, you're likely not leaving your current job to make the exact amount of money at your next job. Don't get caught over-explaining or showing all of your cards.
Also, take time to understand the laws that pertain to your state. California has strict laws that protect job seekers from being asked about their current salary. Other states have laws permitting employers to ask, but only in the offer stage. And of course, some states don't have laws about this at all. In that case, you need to make yourself a priority.

9. Compensation can go beyond salary
Benefits, perks, and flexibility can all factor into the offerings you get from a startup job. Even culture can make or break your experience doing a job you love. So if you're not being offered exactly what you want, it's important to look at the whole picture. Ask if you can negotiate vacation days, remote work capabilities, and other perks that will make up for lost money.

10. Don't accept too quickly
Even if the original offer is exactly what you hoped for, don't let excitement cloud your judgment. Ask if it's possible to have a day or two to mull it over. Take this time to review some of the above information, have conversations with trusted people in your life, or even schedule a meeting with your financial advisor. If you conclude that you're still happy with the original offer, great!


11. And don't be afraid to decline
There's also a possibility that the startup cannot meet your salary and benefits expectations. Sometimes it doesn't work out and it's okay to walk away. At this point, you're better to decline the offer on good terms with the employer, rather than badgering them into meeting you where they can't.
In the end, negotiating a startup offer is an art form that takes preparation and skill. Once you've done the prep work, it becomes easier to navigate these conversations during your job hunt. It may take some trial and error, but when it clicks, it clicks.
Now that you have the tools, I hope you feel some inspiration in your job search. Check out our Midwest tech jobs and remember these tips when you finally get that startup offer!