Pittsburgh, like many other Midwest cities, has a growing tech and startup scene. There is a rising number of robotics and AI startups in Pittsburgh, and growing by the year.
Tech and startup workers who are looking for the best startup jobs with top benefits can find many great options at startups in Pittsburgh. Plus, they affordable cost of living and vibrant city life leads to a high quality of life.
Benefits are evolving like never before, and startups in Pittsburgh are on top of it. Workplace wellness plans, a healthy work environment, and flexible time off or remote startup jobs often top the list of what talent is looking for in the best employee benefits.
If you're looking for a startup job that offers benefits that go beyond the norm, we've rounded up some of the best benefits from Pittsburgh startups.
Large Pittsburgh Tech Companies with the Best Benefits
1. Duolingo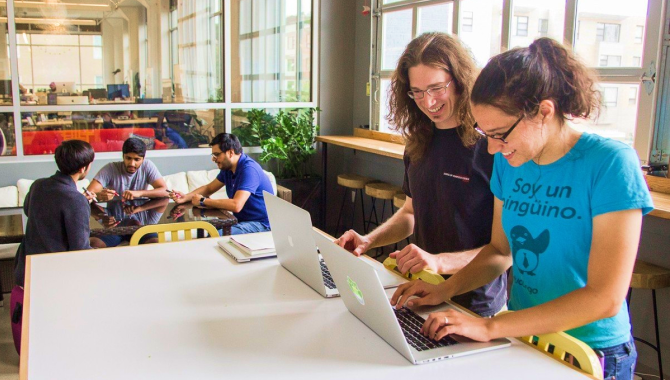 Image source: Duolingo
Duolingo, the language learning startup, is a top tech company in Pittsburgh. Their mission? Make learning a language free and accessible to all. Duolingo is now valued at $6.5 billion and is the most downloaded education app in the history of the App Store. They are also a company with great benefits.
Duolingo Benefits:
Health insurance

Mental health benefits

Fertility planning support

Paid parental and adoption leave

401k match

Care.com subscription, PTO for medical and pet leave

First-time home buyer bonus in Pittsburgh

Transportation reimbursement

In-house chef-catered daily lunch

On-site gym and massage
2. Argo AI
Argo AI is a self-driving tech startup based in Pittsburgh, Detroit, and Palo Alto, as well as Munich, Germany. Argo was founded by professionals in the robotics space. This growing startup now boasts 1,000 employees and partners with both Ford and Volkswagen for their self-driving tech programs. They're hiring for dozens of open positions in all locations.
Argo AI Benefits:
Employer-matched 401k

Health insurance

Life insurance

Paid parental leave

Paid medical leave

Unlimited PTO

Pre-tax commuter benefits

Wellness stipend

Professional development reimbursement

Legal services, identity theft protection, and pet insurance

Wellness programs
Looking for remote startup jobs? Explore top remote startup jobs and easily apply with one quick and free profile.
3. Aurora
Aurora is a self-driving car startup in Pittsburgh with an amazing set of employee benefits. Aurora was founded by professionals with previous experience in engineering, robotics, product development, and machine learning. We think the benefits list speaks for itself.
Aurora Benefits:
Emotional and physical wellness programs

Remote work friendly

Health insurance

Life insurance

Paid parental and caregiver leave

Paid medical leave

Travel medical insurance

Career development training

401k

Commuter benefits

Catered food on-site

Shopping and travel discount programs

Home office budget

Mental health benefits
Mid-sized Pittsburgh Startups with the Best Benefits
1. Gecko Robotics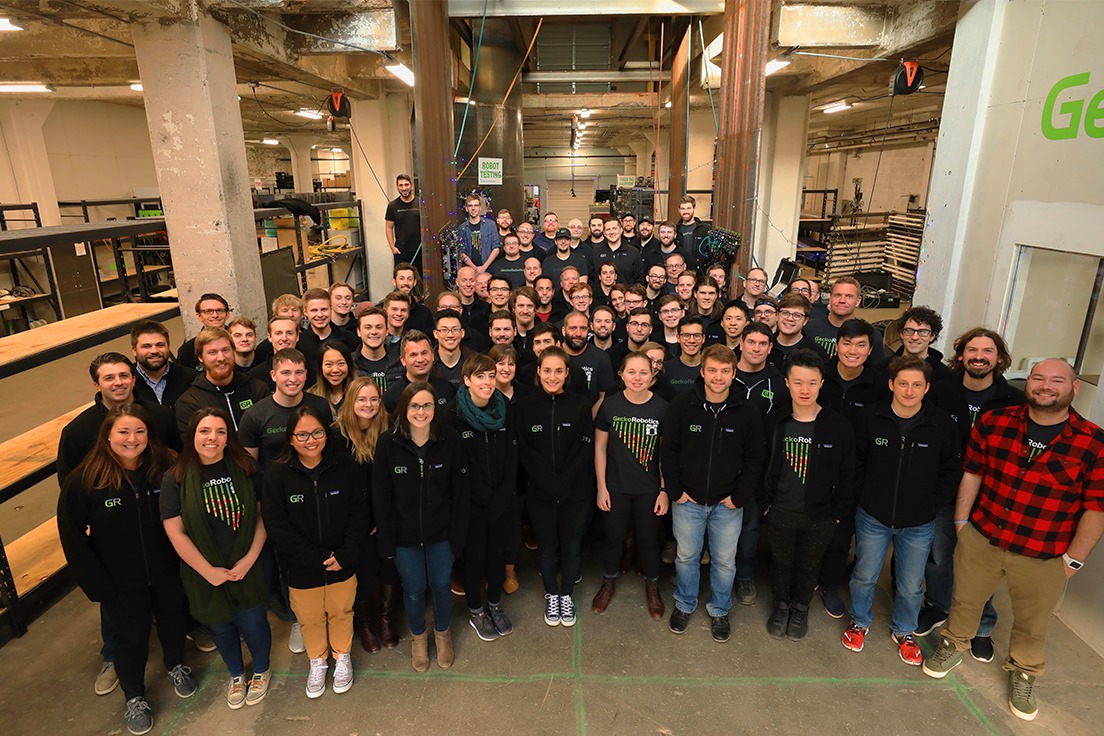 Image source: Gecko Robotics
Infrastructure integrity is nothing without data. That's the motto of Gecko Robotics out of Pittsburgh, where they are creating the next generation of infrastructure automation tools. The startup is backed by Y Combinator, Mark Cuban, and Drive Capital, among others.
Gecko Robotics Benefits:
Equity

Generous PTO

On-site cafe

401k match

Health insurance

Disability insurance

Life insurance

Professional development budget

On-site gym

Paid parental leave
2. FOREVER
FOREVER is a startup that is changing how people store photos and preserve family memories. Based in Pittsburgh, they're growing quickly. FOREVER is more than a digital archive of photos. You can even earn bonuses for referring people to their archiving and digital art programs.
Forever Benefits:
Health insurance

Bonuses

Equity

Employee stock purchase options

Disability insurance

Life insurance

IRA with 3% match

Employee referral bonuses
3. Branding Brand
Branding Brand is a mobile marketing startup in Pittsburgh that helps companies connect with customers by building digital experiences. They're behind-the-scenes players working for over 200 larger brands. You probably have interacted with their products at some time on your phone.
Branding Brand Benefits:
Unlimited PTO

Health insurance

Employee stock purchase options

Flexible work schedule

Remote work friendly

Paid parental leave

On-site gym

Dog-friendly office
4. RoadRunner Recycling
RoadRunner is a high-tech waste management startup from Pittsburgh. Their proprietary technology aims to reduce costs and increase recycling rates. They even have programs for food composting. Roadrunner values work-life balance, diversity and inclusion, and caring about each other as teammates.
RoadRunner Recycling Benefits:
Company paid Health Dental and Vision insurance for Employees

Company paid Short Term disability and Life

Pre-tax commuter benefits

401k with company match

Parental Leave

Employee Referral Bonus
Looking for more startup jobs? Discover top startup and tech jobs across the Midwest.
Small Pittsburgh Startups with the Best Benefits
1. Honeycomb Credit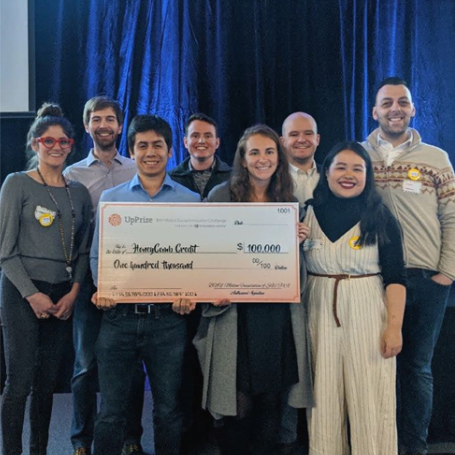 Honeycomb Credit allows businesses to crowdsource small business loans, so you can support businesses you love. By offering equity in a high-growth startup, Honeycomb offers what many other companies can't: opportunity to create your own financial freedom while still having the healthy work-life balance of unlimited PTO and a friendly Midwest lifestyle.
Honeycomb Credit Benefits:
Unlimited PTO

Health insurance

Competitive equity package

Mission-driven business and people

Remote-friendly
2. Edge Case Research
Autonomous solutions built from the ground up is what Edge Case Research offers for the automotive, mining, defense, aerospace, and insurance industries.
Edge Case Research Benefits:
Health insurance

Paid parental leave

Generous PTO

Life insurance

Employee stock purchase options

Retirement account with match

Flexible work schedule
3. Fifth Season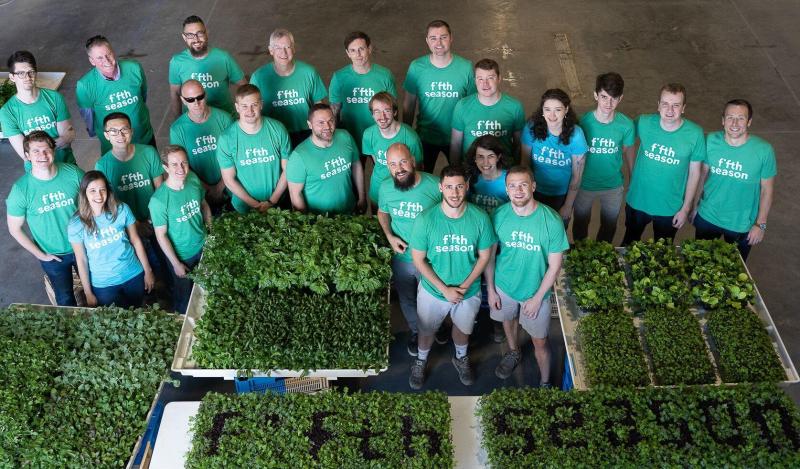 Image source: Fifth Season
Even farming is being changed by robotics and AI. Fifth Season is a Pittsburgh startup that uses technology to deliver ultra-fresh greens using an indoor, sustainable vertical farm. Plants from Fifth Season aren't just fresh all year round. They're also non-GMO and pesticide free. And because they're grown using indoor, vertical gardening methods, they use less water, less land, and less energy to produce than other growing methods.
Fifth Season Benefits:
Health insurance

Generous PTO

Maternity and paternity leave

Remote work friendly

Travel stipend and car allowance
4. Petuum
Petuum is an AI startup based both in Pittsburgh and Sunnyvale, CA. The startup has created a new platform for distributed machine learning on big data. Petuum is on a mission to make AI solutions achievable for more businesses. They work across many industries including industrial manufacturing, utilities, healthcare, financial services, retail, transportation, and logistics. Petuum includes employees in the growth of the company through stock options, and has a variety of work locations to choose from.
Petuum Benefits:
Health insurance

Employee stock purchase options

Remote work friendly

401k
5. RoadBotics
Add another startup to the list of companies in Pittsburgh who offer stock options: RoadBotics, an AI startup that allows cities to assess road conditions. Stock options may be a bigger benefit than many of us realize: the Midwest is currently in the process of multiple cities emerging as new startup hubs. Getting in on the ground floor of a successful startup is beyond good benefits: it's the opportunity of a lifetime.
RoadBotics Benefits:
Health insurance

Employee stock purchase options

Unlimited PTO

Cross-training opportunities
6. Innovu
Located in Pittsburgh's historic Strip District, healthtech startup Innovu has built a software product that gives employers, vendors, and advisors access to benefits and risk data.
Innovu Benefits:
Remote work friendly

Flexible work hours

Health insurance

Life insurance

Disability insurance

401k
7. Near Earth Autonomy
Pittsburgh startup Near Earth Autonomy technology empowers autonomous field mapping, building inspection, and driverless flight and landing. They partner with Boeing, Airbus, the U.S. Air Force, and NASA, among others. Near Earth's culture is all about open dialogue, deep insights, and team contribution.
Near Earth Benefits:
401k

Flexible work schedule

Employee stock purchase program

Bonuses

Parental leave

Health insurance
8. ForAllSecure
There's a growing deficit in cybersecurity professionals relative to the explosion of jobs. If you're in the security space, consider ForAllSecure. There are a growing number of security companies founded in the Midwest, but for now it's still a relatively small number of companies compared with other industries. If you're in Pittsburgh, this might be a really good opportunity for you to get in with a great startup.
ForAllSecure Benefits:
401k match

Health insurance

Parental leave

Referral bonus

Commuter benefits
Want to be the first to know when new Pittsburgh startup jobs drop on Purpose Jobs? Subscribe to our weekly newsletter to get the top Midwest startup news and jobs sent straight to your inbox.
Looking for more top companies with the best benefits? Check out other hiring startups with great perks from around the Midwest.
Companies with the Best Benefits: Ann Arbor
Companies with the Best Benefits: Cincinnati
Companies with the Best Benefits: Chicago
Companies with the Best Benefits: Columbus
Companies with the Best Benefits: Detroit
Companies with the Best Benefits: Indianapolis
Companies with the Best Benefits: Milwaukee
Companies with the Best Benefits: Remote