Columbus, Ohio, is a booming, cosmopolitan city attracting employers and top talent from all over the country.
Those unfamiliar with Ohio's capital city may not know all it has to offer, so we're here to provide a glimpse into daily life.
Looking for a new place to advance your career? Look no further than Columbus.
Why you should live and work in Columbus

1. Its tech industry is thriving
More and more tech is coming to the Midwest, and Columbus is no exception — the rise of the Columbus startup ecosystem is on a roll. Columbus startup success stories include Olive, the healthcare technology company now valued in the billions, and Root Insurance, which went public in 2020 and has raised over $800 million since 2015. Many other Columbus tech companies are raising big bucks, including:
$171 million for Path Robotics, an AI company focused on the manufacturing industry

$330 million for Forge Biologics, a gene therapy manufacturer, that raised $120 million in its Series B round, the largest Series B fund in Ohio to date.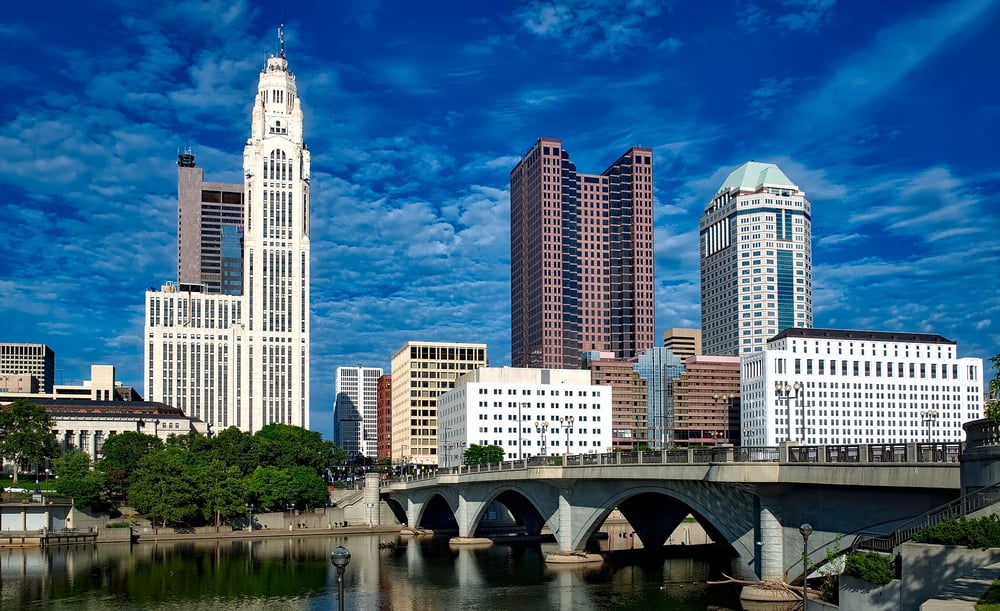 2.
It's home to corporate titans
As you may have heard from President Biden's 2022 State of the Union address, or a million other places, the Columbus region is soon to be home to one of the world's largest semiconductor manufacturing plants. Intel announced an initial $20 billion investment to build two new chip factories 30 minutes northeast of downtown Columbus, where it expects to employ at least 3,000 workers. The follow-on investment is already taking place in a major way, with suppliers and startups putting down roots nearby.
Intel isn't the only major corporation pumping big money in the area. Honda is investing $3.5 billion to support a battery plant to produce batteries used in Honda and Acura vehicles.
Plus, Columbus is home to the headquarters of some big-name Fortune 500 companies:
Bath and Body Works: Recently awarded Besa's 2022 Corporate Partner of the Year, Bath and Body Works is committed to civic engagement and responsibility. Since 2018, the company has engaged in nearly 10,000 volunteer hours and $250,000 worth in community impact. This is the place to be if you want an employer that goes above and beyond for its communities.

Big Lots: Online retail is one of the fastest-growing industries, and this Columbus company's online presence is strong. Big Lots was ranked one of the fastest-growing eCommerce companies by Digital Commerce 360.

Victoria's Secret: With the recent acquisition of Adore Me, continued growth is on the horizon for the world's largest intimates specialty retailer.

Nationwide: The company is continually recognized as a "best place to work," which is a big thumbs-up when looking for your next career opportunity. Nationwide has made Fortune's 100 Best Companies to Work For list for the past eight years.

American Electric Power: American Electric Power manages the nation's largest electricity transmission system.

Cardinal Health: Healthcare is expected to grow 19% this year, making it the second-fastest growing industry in the country. Plus, Cardinal is #15 on the Fortune 500 list.
These big players make for a stable economy, plenty of good-paying jobs, and they even collaborate closely with startups. 🤝



3. It's affordable to live here
Not only is Columbus ranked as one of the best cities to live in, but it is also pretty affordable in terms of home prices, apartment rent, and overall cost of living. As a matter of fact, Columbus is ranked in the top 10 most affordable cities in the U.S. A recent report from Porch found Columbus to have lower costs compared to the national average in the categories of:
Overall cost of living: -5.8%

Cost of housing: -14.6%

Cost of goods: -5.9%

Cost of utilities: -2.7%
4. It's got a thriving arts scene
This city has more than cornfields and college football (which we're not omitting from this list). Columbus locals love art, so there's everything from galleries and theaters to museums and an entire arts district.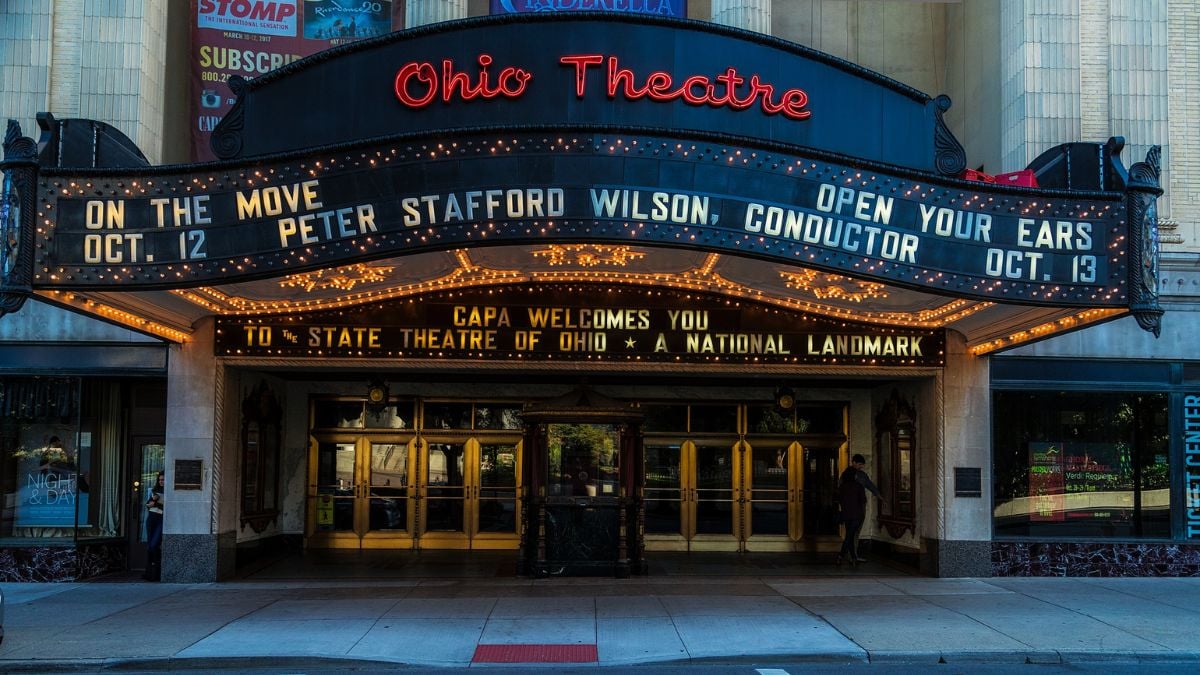 Some must-see art destinations in the city include:
Year-round performances fill the theaters of Columbus, including the Ohio Theatre, Palace Theatre, and Lincoln Theatre. Patrons and artists look forward to annual events like the Columbus Art Festival, which drew around 50,000 visitors last year and features over 200 visual artists from around the nation. Plus, you can catch the Nutcracker ballet performed by Ballet Met every holiday season.
5. It's diverse
Columbus is one of the most diverse Midwestern cities, highlighted by large Japanese, Korean, and Indian populations. Here's a fun fact: it's home to the second-largest Somali population in the U.S.
Columbus is also an LGBTQ+-friendly city home to the Pride Fund 1, which focuses on investing in LBGTQ+ founders.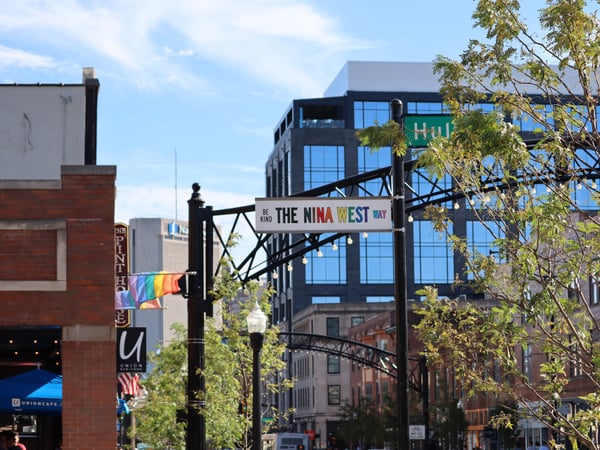 6. It has THE Ohio State University
Columbus is home to one of the country's largest universities, The Ohio State University. If football's not your thing, you can still enjoy the university's Wexner Center for the Arts or explore the Billy Ireland Cartoon Library & Museum.
Of course, of interest to our community here at Purpose Jobs, Ohio State is building out a new 270-acre Carmenton Innovation District. Carmenton and innovation districts in Cleveland and Cincinnati are expected to support 60,000 new jobs and $9 billion in economic impact over the next decade.
7. It has amazing places and spaces

OK, Columbus doesn't have white sandy beaches or picturesque snow-capped mountains. What does it have? An incredible list of parks, trails, and waterways.
The Olentangy and Scioto Rivers meander through several communities, often lined with asphalt biking trails, before convening downtown. 175 acres of parkland stretch along the river beneath Columbus' skyline. It's the perfect place for a leisurely stroll, bike ride, or kayak journey.
Green space in surrounding communities, like the Highbanks Metro Park near Worthington, are just as enticing.
Of course, there's the Columbus Zoo and Aquarium, a nationally recognized institution thanks to America's favorite zookeeper, Jack Hanna. It's also one of the largest zoos in the country spanning 622 acres with nearly 10,000 animals representing over 600 species. As if the zoo wasn't enough, the grounds also include a water park and golf course.
The Franklin Park Conservatory and Botanical Gardens, just two minutes from downtown, is a botanical oasis that is a perfect escape from the hustle and bustle of everyday life. In addition to the lush greenhouses and gardens, the conservatory offers glass blowing demonstrations, exhibitions, a cafe, a gift shop, and more. You won't want to miss their annual "Blooms and Butterflies" exhibition, where you can walk among hundreds of butterflies flying freely in the Pacific Island Water Garden Biome.
8. It's home to food galore
For starters, Columbus is the birthplace of well-known restaurants like Max and Erma's, Buffalo Wild Wings, Charley's Philly Cheesesteaks, Wendy's, and Donatos Pizza. We have additional restaurants headquartered here, including White Castle and Bob Evans. Does the name Cameron Mitchell ring a bell? He is the founder and CEO of Cameron Mitchell Restaurants, which has grown to 43 restaurants in 14 states and Washington, D.C.

Aside from nationally recognized eats, central Ohio is home to some local favorites we love to brag about, including Jeni's Ice Cream and Schmidt's Sausage Haus. Founded in 2002, Jeni's is the epitome of ice cream. They churn out one-of-a-kind flavors made with direct and fair trade ingredients and fresh milk from family dairy farms. If you aren't one for eating dessert first, we also have Schmidt's Sausage Haus, a staple in German Village. The German-inspired eatery opened in 1967, but it was first in 1914 that founder George Schmidt operated a concession stand at the Ohio State Fair.
9. There's a festival for everything
Seriously, we love a good festival, and Columbus hosts an abundance of them. We proudly host the infamous Arnold Schwarzenegger's Arnold Sports Festival at the Greater Columbus Convention Center. Equine enthusiasts gather at the largest single-breed horse show in America at the All-American Quarter Horse Congress.
We celebrate the vibrant cultures and heritages that make up our city with these annual festivals:
Ohio authors are celebrated at Ohioana Book Festival, science is explored at the Cosi Science Festival, and coffee aficionados attend the Columbus Coffee Festival. The list goes on and on! Experience Columbus, a good reference for all things Columbus, has compiled a great list.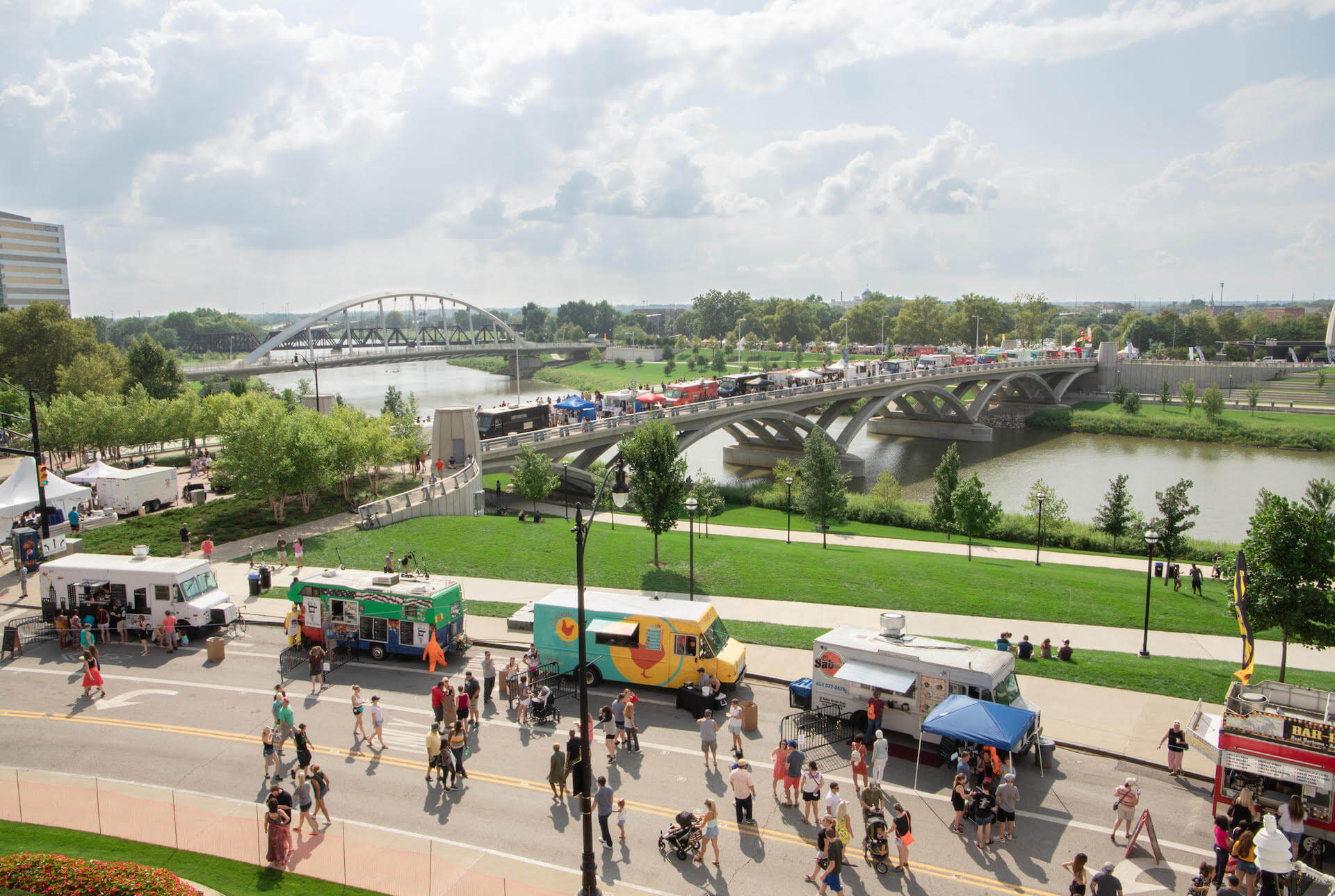 Columbus food truck festival
10. It has the most loyal sports fans
We're ridiculously proud of our sports team here, and we're not afraid to tell you all about it. Football is a pretty big deal around here, with the Ohio State Buckeyes being our pride and joy. Outside of Columbus, we've also got the Cincinnati Bengals and the Cleveland Browns… for the truly loyal NFL fans.
You name a sport, and we've got it. Ice hockey? We have the Columbus Blue Jackets. Soccer? We have the Columbus Crew. Baseball? We have the Columbus Clippers. You get our point. We love our sports around here, and there's always a game to go to.
Insider tip: If you're attending any Ohio State sporting event, when you hear someone yell "O-H," you yell back "I-O." That's how others know you're a true Buckeye fan.
If you're looking to make a move to Columbus and join the emerging tech scene? Check out the top startup jobs in Columbus at companies like Path Robotics, Branch, Aware and more.