Rev1 is launching two new programs to bridge the gap for underserved founders in the Columbus area: The Rev1 Ventures Diversity, Equity & Inclusion (DE&I) Grant Fund and the Grow to Scale Mentor Program.
The DE&I Grant Fund will deploy $600,000 in grants to promote the growth of six tech-enabled, developing businesses that are run by women or founders of color. Each founder will be granted $100,000 for salary and benefits so they can stay focused on building their high-growth companies. Both Franklin County and the City of Columbus join Rev1 in seeding the grant fund, from which initial funds will be distributed through 2023.
Grantees will also receive support in recruiting top talent for their companies through exclusive access to subsidized interns and fellows who are part of Rev1's Innovation Internship Program. This program connects diverse student talent with startups across Central Ohio.
In addition to the grant fund, recipients will be provided educational workshops to help promote and create a pipeline of tech-enabled businesses run by minority founders.
Rev1's new Grow to Scale Mentor Program brings a network of diverse and knowledgeable executives to provide one-on-one support and networking to underserved founders of tech-enabled, growing companies. Funding for this program is provided by a $1.4 million grant from the U.S. Economic Development Administration "Build to Scale" program, in addition to a matching $1.4 million provided by Rev1.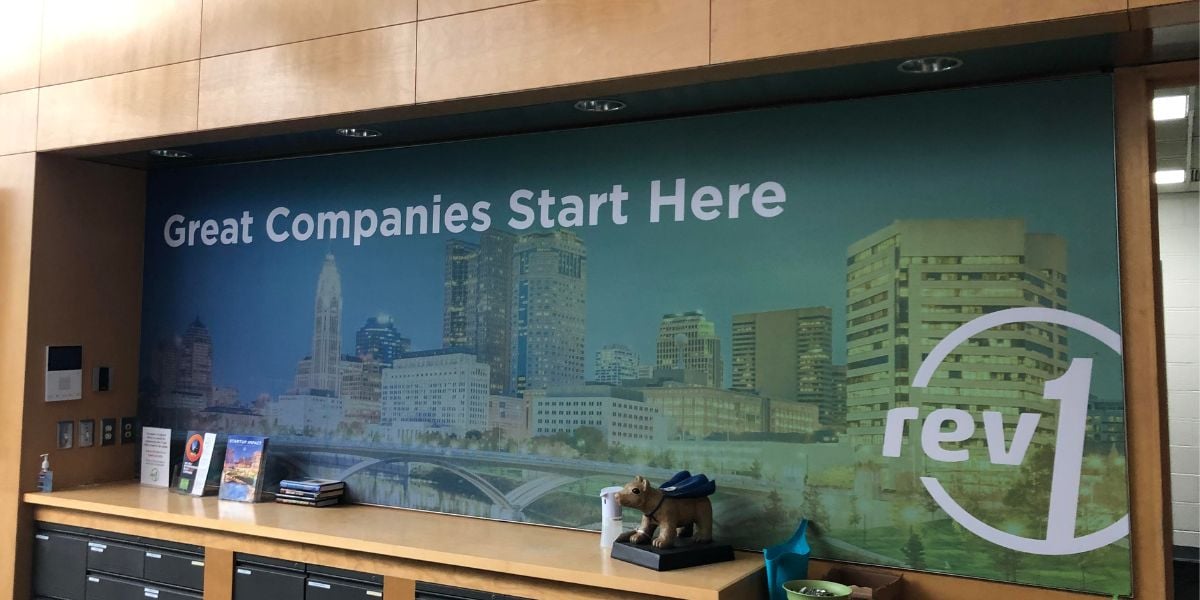 Rev1 office in Columbus, Ohio


Companies with diverse decision-making teams are 75% more likely to exceed financial targets, according to a Gartner study.
"Businesses with diverse leaders outperform their peers in almost every way," said Kristy Campbell, COO of Rev1. "Yet women and founders of color are playing from behind, especially when starting and growing tech-based businesses. Pairing hands-on advisory services with grant funding will increase the success rate for underserved founders in our own backyard."
Through its new grant fund, Rev1 has so far provided awards to three companies:
Fleri, a reliable, secure, and affordable way for immigrants to give their families back home access to high-quality healthcare from first-rate providers. "The continued support of Rev1 has been paramount in our ability to scale and maximize our opportunities for growth," said Sam Baddoo, founder & CEO at Fleri. "We have a very important mission and the capital, educational workshops and ongoing strategic counsel helps ensure we can deliver on our promise of delivering a cross-border insurance marketplace that brings peace of mind and financial security to immigrants and their loved ones back home."

Equitek, a company addressing the healthcare staffing and scheduling challenges that face the industry nationwide. Using proprietary artificial intelligence and machine learning technologies, Equitek's My Shift Health mobile application and technological infrastructure matches clinicians and other healthcare professionals directly with facilities to reduce staffing costs for facilities and improve work-life balance of healthcare professionals.

Color Coded Labs finds, trains, and places gritty, working adults from underrepresented communities in career pathways in the tech industry that promote generational wealth building. The 19-week bootcamp program helps fill the intense demand for diverse Full Stack software developers in tech organizations of every size.
Rev1 is an investor studio that strives to help startups scale and corporates innovate. Based in Columbus, Rev1 connects aspiring entrepreneurs to valuable resources ranging from talent and customers to physical space and funding.
"Ultimately, the goal is for more women and founders of color to access critical growth capital as we know they face disproportionate challenges as they start and build their business," Campbell said. "This program connects founders with experienced, culturally competent mentors who can help them tackle the tough challenges they face on a daily basis. We are committed to expanding this program and continuing to find ways to break down barriers and close the equity gap for women and black founders."