Even though Tandem has only been around for about ten months, CEO and co-founder Olivia Weinstock has been connecting families and babysitters for quite some time.
In 2010, at the age of 11, Olivia started a summer camp for kids in her backyard. By the end of high school, Kiddie Kamp was a huge interconnected network of 100 kids and their parents, and Olivia started helping these families find babysitters in Columbus, Ohio. In 2019, she would take this knowledge (and network) and turn it into Tandem.
With the help of technical co-founders McKenzie Kennelly and Natalie Amling, the three of them would launch the first free (yes, entirely free) marketplace for babysitting.
"When we were getting started we realized there were no other service-providing apps like this specifically for babysitting that were completely free to parents and sitters. So we wanted that to be one of the distinguishing factors about our company," Olivia said.
Tandem is a small startup in Columbus helping families connect with pre-vetted babysitters. Unlike care.com and other service marketplaces, Tandem is completely free and founded on the basis of trust.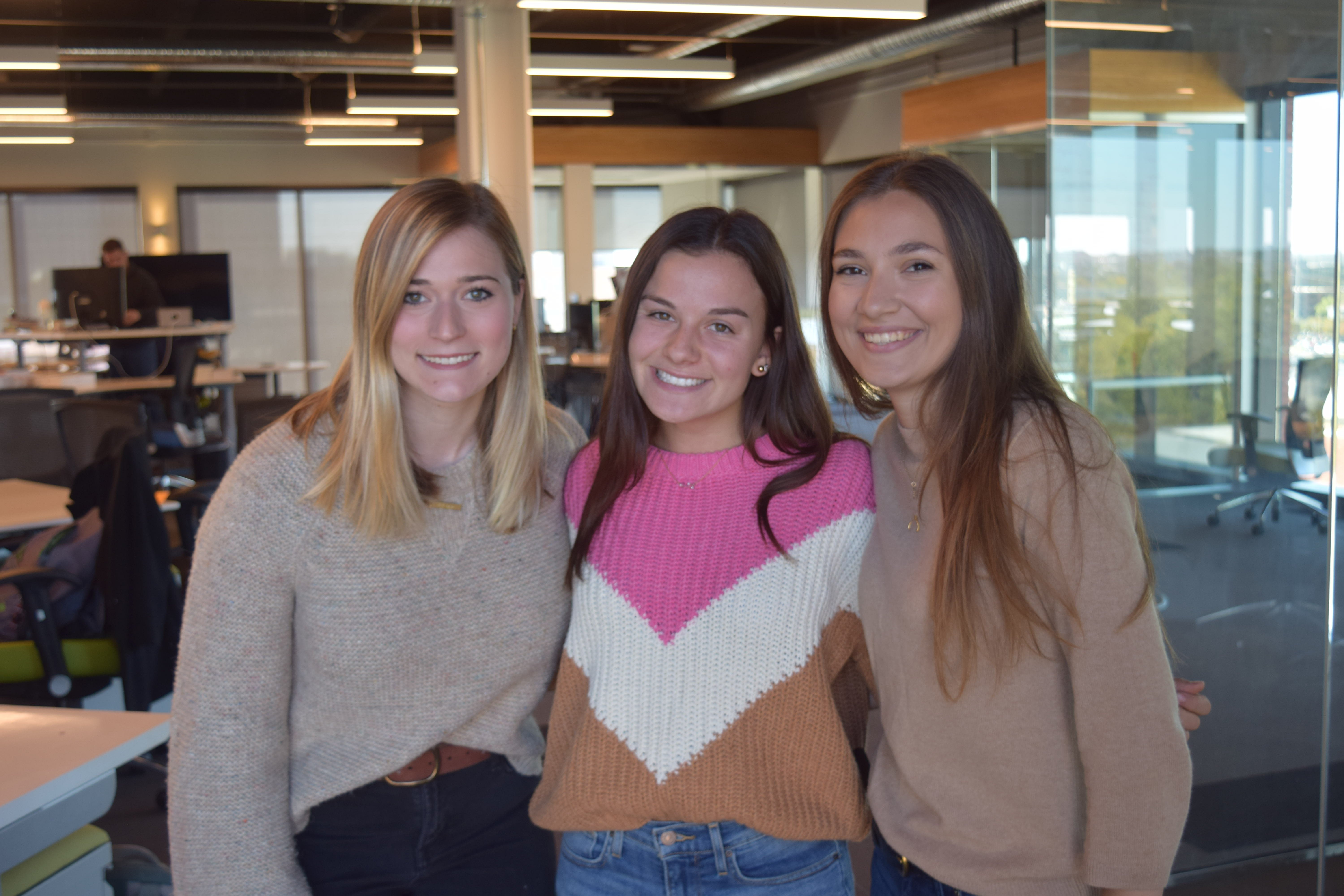 Tandem co-founders McKenzie, Olivia, and Natalie


Babysitting matchmaking
You know those posts on Facebook—we've all seen them: "Anyone know a sitter?" or "Looking for a sitter who's free on Friday…" It's exhausting and ineffective.
"On Facebook, you're just scrolling through posts and posts of people looking for sitters or jobs and it's hard to sift through all of that, so we work on a request basis," Natalie said.
Unlike Fiverr or other traditional marketplaces, parents send a job request to Tandem, whether it's for a recurring job or a one-off gig. Olivia will filter through all the sitters based on age, experience, pay rate, or whatever else the family has requested. She'll then hand-select people who would be a good fit and send them the job so that they can accept or decline it. If the parents prefer a sitter, the job will go straight to them. If not, the job gets sent to all the potential sitters and the first one to accept gets the job.
"We've found that very few parents don't accept the sitter we send them," Natalie said.
All the sitters on the platform have gone through background checks, and families have a chance to get to talk with the sitter beforehand to make sure they're a good fit. Because Olivia does it by hand, the matching experience is highly curated.
"One of the biggest problems with Facebook is that you end up with too many options," Natalie said. "It's the difference between making a decision and making a choice. Making a choice is when you have too many options and you just throw your hands up and don't think about who it is and just pick one. Instead, we give you a sitter and the parents can make a purposeful decision."
Once the matchmaking is done, it's up to the parents and sitters to work out the details by chatting on the platform. After the job is done, parents receive a notification to confirm pay. Sitters then receive their money immediately.


This is where the whole free thing (really truly free thing) comes in
Tandem operates on an alternative revenue model. Instead of charging parents subscription or booking fees or taking a portion of the sitters' earnings, revenue comes from debit card interchange. They issue all of their sitters debit cards on which they can spend their earnings. When a sitter spends money, there is a transaction fee, called the interchange fee, that the merchant must pay to the cardholder's bank, which in this case, will be Tandem. So, Tandem makes that small percentage from the sitters' card transactions.
"This allows us to still be free for all of our users and for us to still make money," Olivia said. "It's a pretty unique model, so we're working hard on creating the behavior and tracking how much people are using their cards and trying to figure out user feedback based on the model."
This model has started to take off in the past few years. Companies like Venmo, Apple, etc. are all coming out with their own debit and credit cards. When Olivia first started, the VC firm suggested this business model after seeing early success with it in other industries within their portfolio.
"It's a pretty up-and-coming model. A lot of other companies are starting to use it, and we're excited to be the first to do so in the care industry," Olivia said.


Diversity in growth
While the company of course is looking to grow their revenue under this model, they're also looking to grow their team.
"It's about diversity in a lot of ways," Natalie said. "Everyone is always really excited that we're a woman-founded company but if we're not purposeful with our decisions, we can run into the same problems that a lot of startups run into. From a technical perspective, we want to make sure we can be successful by having a diverse team of people. For us right now, that means finding more senior engineers, but it comes in a lot of different forms, too."
Things like attitude, passion, background.
"It's not so much about having a background in childcare or having an interest in babysitting, but more so an interest in our mission, goals, and business model," Olivia said. "It's more about finding someone who is passionate about our company and shares the values we have—things like working on a small team; being motivated, determined and hardworking; being open to other ideas; and being creative and passionate about your own ideas, too."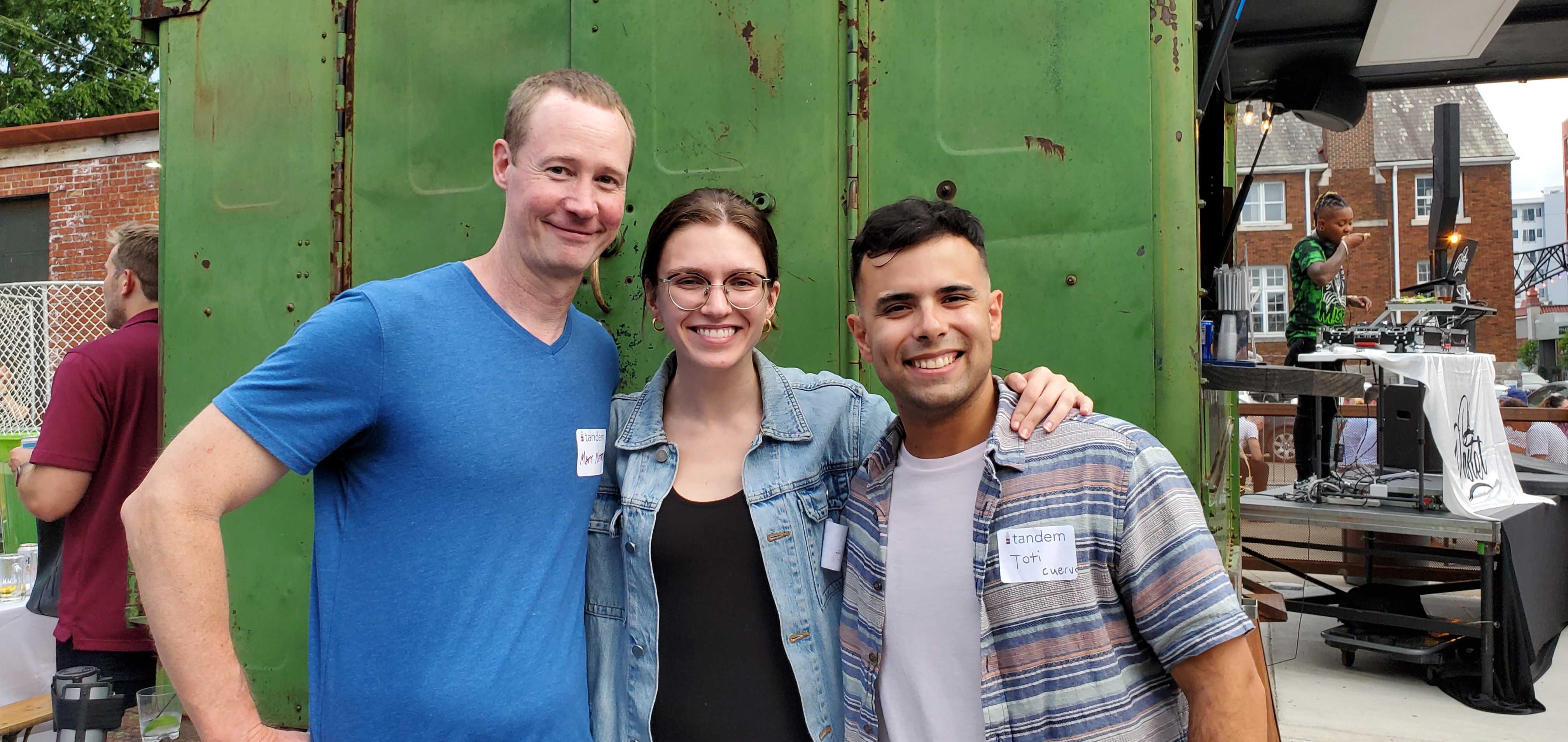 There are many working parts to their complex product, Olivia said, and they're still in the beginning phases of building their company, focused on gathering user feedback and iterating on and improving their product. In order to innovate better, they're looking for people with different perspectives who are technically strong with a couple years under their belts.
"Our team isn't founded on people who have 20 years of experience in the industry. We're looking for someone who can bring that experience to the table and be comfortable saying, 'Wait, maybe you guys have overlooked this or weren't thinking about this side of it.' As we scale, there are questions we haven't even started to answer yet, so anyone we hire we really want them to be super involved in that process," McKenzie said.
Because everything is still so new and they're deep in this phase of development, Olivia, Natalie and McKenzie are considering every new hire to be a founding member with a say in the product and culture of the company.
"You'll get a serious amount of ownership in what you're building here. Everyone we hire needs to be comfortable speaking their mind and contributing—someone we want to build this with," Natalie said.
As they build their product and their team, they also hope to build their reach. They plan to be in other cities within the next five years (Olivia went to the University of Michigan, so look out, Ann Arbor — Tandem could be coming for you next). They also hope to provide services in other industries too: housekeeping, petcare, tutoring, to name a few.


It's all about the relationships
As they continue to grow, the Tandem founders are always focused on building strong relationships. After all, strong connections and relationships is how this idea started.
But what's even more important is the relationships that parents foster with their sitters.
"Typically families request a specific sitter or someone that they've had before," Olivia said. "We really like to encourage that consistency because it's hard for families to have a different sitter each time. We like to see people forming strong relationships."
These kinds of relationships also formed when Tandem began offering free childcare to first responders.
At the onset of the COVID-19 outbreak and the stay-at-home orders that followed, Tandem found that no one had open jobs on the platform anymore.. But they knew that their sitters still needed work as many had lost their other jobs, so Olivia, Natalie and McKenzie thought about who still needed sitters: first responders.
"We wanted to help people who still had to work but couldn't use daycares since they were all shut down. We started reaching out to hospitals and let them know we were offering free childcare," Olivia said.
To make sure that the sitters still got paid, Tandem hosted a fundraiser through family, friends and users. They also made a company donation, and all of this helped provide first responders with free childcare for six weeks. One of the hospitals they partnered with continues to fund the care for their employees enrolled in the program.
"A lot of them had formed great relationships with their new sitters," Olivia said. "They have genuine connections, and we're really glad they can continue to use Tandem for free even though our program is over."
As things begin to slowly open back up, Tandem has definitely seen an increase in babysitting demand. Stay-at-home orders are lifted, people are starting to solidify their summer plans, or go back to work, and they need sitters again.
"So many sitters had other summer jobs that have been canceled," McKenzie said. "And our model makes it easy for them to jump on. If you want a babysitting job, come on, we'll vet you, we'll pair you with a family who wants to work with someone like you. It's really great in that sense of facilitation."
Of course there are people who try to take communication off an online marketplace platform. But the founders say that rarely happens with Tandem.
"There isn't a huge incentive to leave the platform because they're paying the sitter the same amount through us they would outside the platform. Ever since we've built out the platform, people have gotten on board, have their payment saved, and found it's easy to use and not a huge reason to leave," Olivia said.
Which is a true testament to their product, Natalie said, and their unique business model.


Interested in working at Tandem? They're hiring!