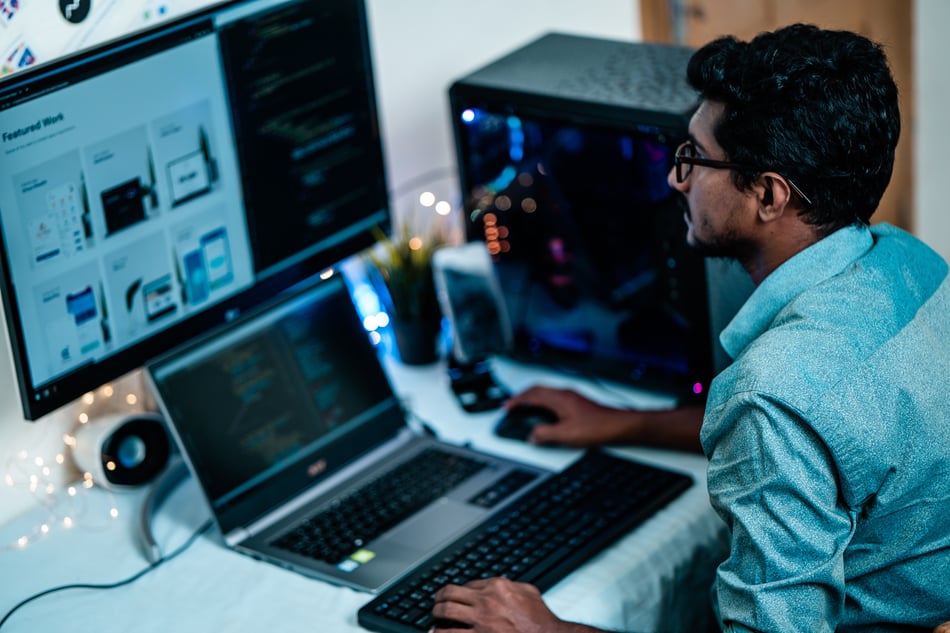 Companies everywhere are hiring for remote jobs.
And it's not just in engineering. From marketing to product development to UX, startups hiring tech talent have listed jobs by the dozen on the Purpose Jobs platform. We've seen a huge increase in remote Midwest jobs, but also in remote startup jobs at companies based on the coasts looking to tap into the top-notch Midwest talent pool.
Whether you're looking for a remote job for the flexibility (maybe you're a working parent or want the freedom to travel and work), or you want to work at a top company without worrying about commute times or having to relocate—check out our list of remote startup jobs. You might just find your next great opportunity.


19 Startups & Tech Companies Hiring for Remote Jobs
1. Aduro
Aduro is a wellness platform for companies that helps employees track and improve their wellness in key areas including lifestyle and health, mindset and resilience, prosperity, growth, relationships, and purpose. The company aims to "bring humanity back to employee wellness programs," through helping companies support their humans to thrive and be welcome in being fully themselves, healthy, and happy at work. If you love wellness, metrics, and software, this is a growing company to check out.
Currently Aduro is hiring for the following position:
2.
Vroom
Vroom is an early stage publicly traded company that reconditions used vehicles to a high standard, and delivers them to new owners across the U.S. Heavily tech driven in their approach, the startup aims to build a data-driven approach to revolutionizing the automotive sales process. The company already has over 1,000 employees but is continuing to grow and look for more "vroommates."
Vroom is hiring for the following positions:
3. Finite State
Finite State recognizes that supply chain security is the top problem in cybersecurity today. The startup detects IoT threats to networks to mitigate risks before data is compromised. This is a unique opportunity to work hands-on at the intersection of IoT and security.
Finite State is currently looking to fill the following remote startup jobs:
4. Signal Advisors
Have a passion for financial services and technology? Signal Advisors is a tech-enabled insurance distributor, which uses a new platform for financial advisors to scale their business by saving time on previously tedious processes from commissions to marketing, and coaching to annual reviews. Signal Advisors offers great benefits, including equity, flex time, and a real opportunity to grow a product, culture, and company—and of course, yourself.
Currently, Signal Advisors is looking for:
5. Benzinga
A profitable company, Benzinga is a financial media platform run out of Detroit that aims to help investors improve their financial literacy. News, investing tools, and data are all rolled into one massive set of financial information for investors looking to up their game.
The company needs marketing and business support, to further their growth:
6. Guardhat
Love IoT but more interested in the industrial space? Guardhat uses technology to make industrial work spaces safer and more productive. The startup's tech-enabled hardhat, the HC1 Communicator, was named a Time Best Inventions of 2020.
Guardhat needs product leads and developers:
7. SpotOn
SpotOn creates affordable small business tools for point of sale and payment processing. The company also creates scheduling tools and virtual terminals for the health and beauty, automotive, hospitality, and professional services industries. They already have over 1,200 employees and 2,000 businesses monthly, so working here means variety and quick growth. They have raised $170 million in financial backing. SpotOn prides itself in local customer service, but is hiring remotely. Corporate offices are in San Francisco, with additional offices in Chicago, Detroit, Denver, Mexico, and Poland.
SpotOn would like to hire:
8. Wisely
Wisely is a secure restaurant CRM used by P.F. Chang's and others to track customer loyalty and sentiment over time so they can manage their customers' restaurant experience or even customize it. If you love tech and are interested in data-driven customer service and hospitality, Wisely is a one-of-a-kind employer, on the forefront of new restaurant best practices coming out of one of the industry's toughest years ever.
Wisely would like to remote hire:
9.
Duo Security
Though Duo Security is a major tech company at Cisco, Duo maintains that startup vibe—and is still growing their team. While much of their hiring is still based in Ann Arbor, Duo is also hiring for a remote demand generation manager and technology partnerships manager. But why is Duo one of the best places to work? Well, Duo is known for creating leaders in tech. Since being acquired by Cisco, Duo has grown as a company and as a career opportunity for people who love working in a family-friendly tech company that famously puts its people first as insisted on by founder Dug Song. In just a decade, Duo has gone from launch to the leading multi-factor authentication and secure access provider in the world.
Duo Security is looking to hire remote workers for:
10. Ash & Erie
Ash & Erie designs clothes to properly fit shorter men. They have a great short men style blog with styling tips and stories about their journey, and the journey of their customers. It's an e-commerce company with a tech startup vibe. The company is headquartered in Detroit but hiring for fully remote positions.
Ash & Erie are hiring:
11. Vector
No industry has been untouched by technological disruption at this point, so Vector is creating technology to streamline the transport and logistics industry. This Series A Silicon Valley SaaS startup only has 30 employees at the moment. This is a chance to get in near the ground floor of building a software startup without even having to pay Silicon Valley rent, if you'd prefer to stay put in Detroit, Boulder, Milwaukee, or wherever you are.
Vector is looking to hire remote engineers and managers:
12. Bold Penguin
Insurtech startups are hot places to work at the moment, especially in the Midwest, and Bold Penguin is one of the best. If you're looking for a remote job as an engineer or analyst in insurtech, come help Bold Penguin build their commercial real estate insurance software. You'll be joining an amazing team if you do.
Bold Penguin is filling a number of roles remotely, as the company is based in Columbus:
13. Provi
We're not sure it can get much more fun than this tech startup. Provi is the new marketplace for bars and retailers to order alcohol. Ninety employees, an innovative online marketplace, and a trend-setting technology and entertainment venue blog, The Craft, means Provi must be one incredibly dour place to be a software engineer.
Provi is looking for a remote:
14.
Workit Health
Workit Health out of Ann Arbor has grown enormously quickly in the last few years since its founding. The company was started in 2015 by two friends who met in alcohol recovery meetings and decided to create a software product to bring remote addiction recovery services to an underserved space. The startup has had to weather long overdue health insurance regulation changes on how addiction treatment services can be rendered to make recovery convenient and private.
Workit Health is hiring for the following roles:
15.
Inspire11
Inspire11 was named one of the fastest growing private companies by Inc. Inspire11 is a consulting firm that uses agile development, UX expertise, data science, analytics, and product development experience to create custom software for clients from telematics solutions to solar industry loan apps. Many startups are hiring remote engineers, so if you have DevOps or other software development skills, you have your pick of the jobs right now.
Currently Inspire11 would like to hire a remote:
16. Honeycomb Credit
Honeycomb Credit helps businesses grow by borrowing loans from their own customers and fans via crowdfunding. This allows the community to invest directly in the businesses they love. Talk about a win-win. The company is early stage (12 employees), and venture backed.
Honeycomb Credit is hiring for a remote growth marketing expert:
17. ARCOS
This startup is a utility and critical resource management company, with cloud-based solutions for restoring service, keeping planes in the sky, or avoiding production line downtime. More relevant than ever in an era when even you and your next-door neighbors suddenly know a surprising amount about energy grid resiliency, ARCOS is working to improve the critical infrastructure we all depend on. ARCOS recently received investment from Vista Equity Partners.
ARCOS is hiring remotely for:
18. Near The Box
FootLocker, McDonald's, and Lay's are a few clients you'll work with at Near The Box, a software company that creates custom solutions for digital platforms. This startup is based solidly in the Midwest, with offices in Chicago, Detroit, and Indianapolis. If you want Midwest lifestyle or cost of living with an engineering opportunity, or want to work remote from somewhere else, this startup has lots of ways to make an engineering position in a software studio work for your career and your life.
Near The Box would like to hire a remote full-stack engineer:
19. Rev.io
Rev.io created a usage-based billing platform and customer management system for the advanced communications marketplace including telecommunications, Managed Service Providers, and IoT solutions providers. It's a subscription billing platform with easy integrations. Rev.io was named a 2020 Tech Culture Award recipient by TMCnet.
Rev.io is hiring remotely for these remote startup jobs:
Join one of these great hiring startups. Create one easy app, apply to hundreds of jobs, and get hired.