24 Best Companies for Work-Life Balance Jobs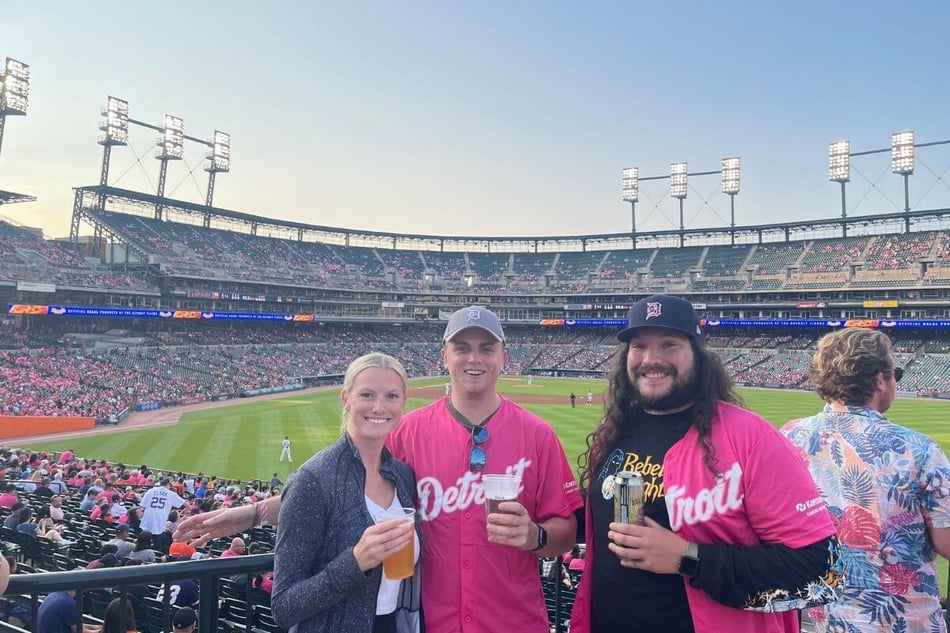 For an updated list, check out 2023's Best Companies for Work-Life Balance.
Work-life balance. It's been a buzz word for the last two years as the COVID-19 pandemic blurred the lines between work and home. As we enter a new era of benefits, the pandemic has made one thing clear: a healthy work-life balance is very important.
Whether you call it work-life balance, work-life integration, or total life balance, the end goal is the same: to be in an environment that leaves you refreshed and recharged. Maybe it's having time to spend with your family, or getting drinks with friends, climbing a mountain, or playing the banjo. Whatever it is, it's important to find a job that empowers you to do those things.
Work-life balance can take shape in many ways. Maybe it's on a day-to-day basis when you use your flexible working schedule to take care of your kids. Or maybe it's in a supportive PTO policy that allows you to take time off to rest and recharge. Or maybe it's in a wellness program that helps you take care of your mental health. Even having remote flexibility can offer work-life balance to spend less time commuting and more time having fun.
These are all great examples of the kind of work-life balance you can find at some of the best startup and tech companies. These 24 tech companies offer great work-life balance jobs to help you recharge, take care of yourself and your loved ones, and do meaningful work.
24 Midwest Companies Great for Work-Life Balance Jobs
1. Rocket Companies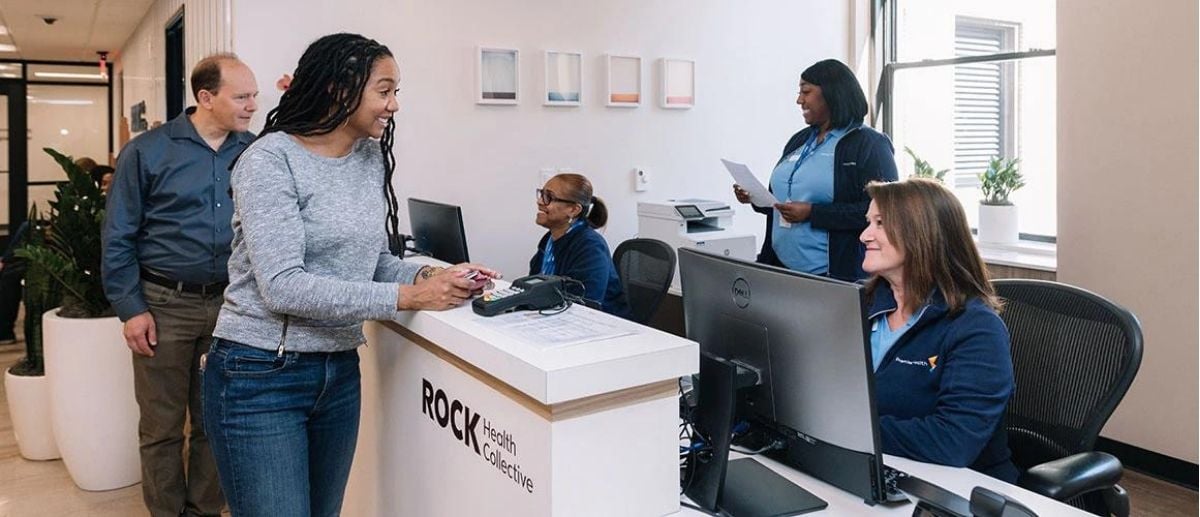 Rocket Companies® is a fintech company on a mission to make life's most complex moments (like buying a house or a car) as simple as possible. Driven by its core values and philosophies known as ISMs, Rocket has a people-first culture where employees know and understand that they can have a balance between work and family — which are both important parts of life.
To honor that balance, Rocket has some great benefits for its employees. In addition to PTO, Rocket empowers team members to take two additional days off as you need. These "Personal Significance Days" are days that matter to you. This is a part of Rocket's philosophy to be inclusive about the time they give and how team members can use it.
In addition, Rocket also offers the Rock Health Collective, a premium health and well-being center created exclusively for Rocket team members to use for a wide spectrum of health care needs. The Rocket Health Collective offers primary care, urgent care, a full-service pharmacy, behavioral health, physical therapy, chiropractic care, wellness coaching and health care navigation. This helps employees have access to premium and convenient care.
The Rock Health Collective also offers mental health services. Rocket understands that mental wellness is an important aspect of work-life balance, and that includes virtual mental health support and virtual mental wellness.
2. Veeva
Headquartered in Silicon Valley with a rapidly growing U.S. hub in Columbus, Veeva Systems is on a mission to help the global life sciences industry bring new medicines and treatments to patients faster.
And as a Public Benefit Corporation, Veeva is also a mission to do right by everyone involved, including their employees. They are creating an amazing place to work by offering fantastic benefits, growth opportunities, and a supportive and empowering work environment — and that includes creating some of the best work-life balance jobs. Here's how they're doing it:
Veeva's Work Anywhere policy allows for remote, office or hybrid work — whatever works best for employees. You can wake up and decide to work from home, go into an office, or work on top of a mountain. Although Veeva's offices are beautiful, productive places, you do not need to live near a Veeva office to join Veeva.

Flexible PTO (untracked) as well as Veeva Break: the last week of the year is off for all employees.

Veeva offers up to $500 annually for fitness and/or mental wellbeing fees, such as gym, classes, coaches, meditation apps, etc.

Up to 2% of your salary can be dedicated to career-related development and training.
3. Signal Advisors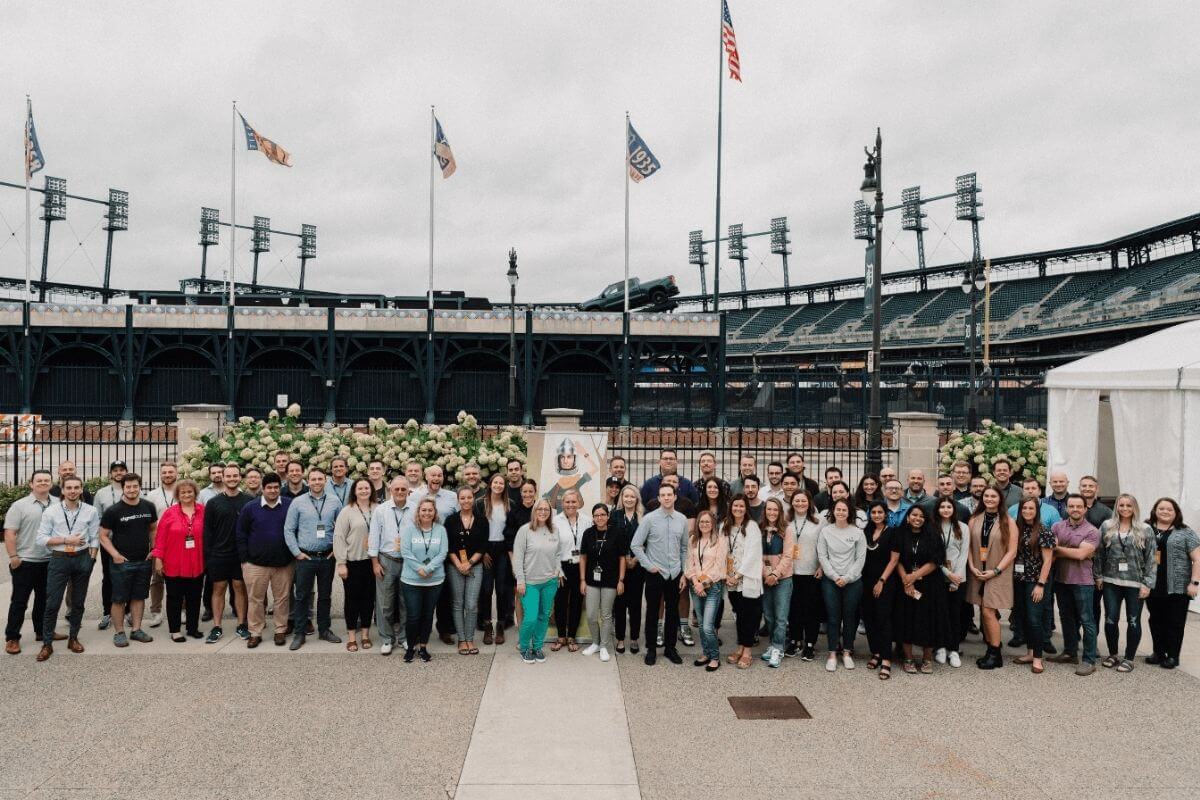 Signal Advisors is a Detroit-founded, remote-friendly software startup that helps financial advisors grow their businesses, with the ultimate goal of supporting Americans on their journey to retirement. The company has an open, people-first culture with some awesome benefits that make it a great place for work-life balance jobs.
Wellness Stipend: Signal's wellness program provides a $1,200 annual stipend for team members to use toward their mental and physical wellbeing. This could be used for a gym membership, therapy or counseling, childcare, exercise equipment, meditation apps and more.

Unlimited Paid Vacation: All full-time team members are eligible for unlimited paid vacation. Signal believes that time away from work is critical for personal satisfaction and mental health. Team members are required to take at minimum 3 weeks (15 business days) of paid vacation each calendar year.

Paid Health Days: All full-time team members are eligible for 10 paid health days each calendar year. You might be used to calling these "sick days," but at Signal they are called "health days." Health days are not meant to limit the time you can take for your health. Rather, Signal wants team members to feel like they can take time for their health AND still go on fun vacations. There's room for both!

Paid Holidays + Personal Significance Days: Signal encourages team members to take two days to observe days of personal significance each calendar year that may not be embodied in their company-wide holidays.

Summer Fridays: Extra time off on Fridays in the summer to enjoy sun and fun!
These policies solidify Signal's people-first culture and encouragement of total work-life balance.
4. SkySpecs
Based in Ann Arbor and hiring remotely, SkySpecs is using technology to change the way the world looks at renewable energy. They are also building a great place to work that encourages work-life balance.
Being 100% remote allows SkySpecs employees to work during their best time. In addition to remote work and flexibility, SkySpecs offers unlimited PTO. Take the time you need, whenever you need it, however many times you need to.
SkySpecs also encourages balance and wellness by offering an employee assistance program with access to therapy and other additional services to ensure you're doing well personally, not just in your work.
5. Petram Analytics
Petram Analytics is a ground-breaking data analytics consultancy with unparalleled access to data and algorithms. This Detroit-based startup has a small team that's built on flexibility and empathy. Here's how the team finds work-life balance at the company:
Petram's fully virtual workspace allows a team member to work from Puerto Rico for two months. He's logging in from the beachfront daily.
Another team member needed time off to move, and with unlimited PTO was able to move and take the time she needed without sacrificing other time for vacations.
The team is flexible and accommodating, so when one team member needed time to pick up his kids from school, the team moved some meetings around to make that work.
Petram gives its team the time, space and flexibility to truly have a balanced work-life experience.
6. Lower
Based in Columbus with remote team members across the country, Lower is a multi-channel fintech that has grown from its 2014 founding to more than 1,300 team members. They're an agile company that loves fostering strong team relationships and values forward thinking when it comes to innovation and culture.
Lower supports its employees' work-life balance in a variety of ways. Depending on the position, Lower employees have the opportunity for remote, hybrid, or flexible scheduling. The company also offers three weeks of PTO and free healthcare for employees, plus paid parental leave. Wellness rewards, including healthcare savings and gift card rewards, are offered through Go365 to customize wellness initiatives.
Supporting mental wellness is also an important part of Lower's work-life balance support. Their Employee Assistance Program (EAP), through Cigna, offers a multitude of services to help with any life situations, any time, any day. Coaches, counselors, and online programs are available face-to-face, by phone, and video. 24/7.

7. Workit Health
Workit Health is a telehealth platform helping people recover from addiction with better and more accessible tools and resources. The company approaches its mission — and its people — with empathy and compassion, and their benefits show it!
Workit Health offers all full time employees:
3 weeks of PTO available immediately upon hire

11 days of paid time off for national holidays

1 paid day off in the month of the team member's birthday

Encourages employees to fully disconnect during time off

2 personalized coaching sessions a month with a Boon Health Coach
8. Autobooks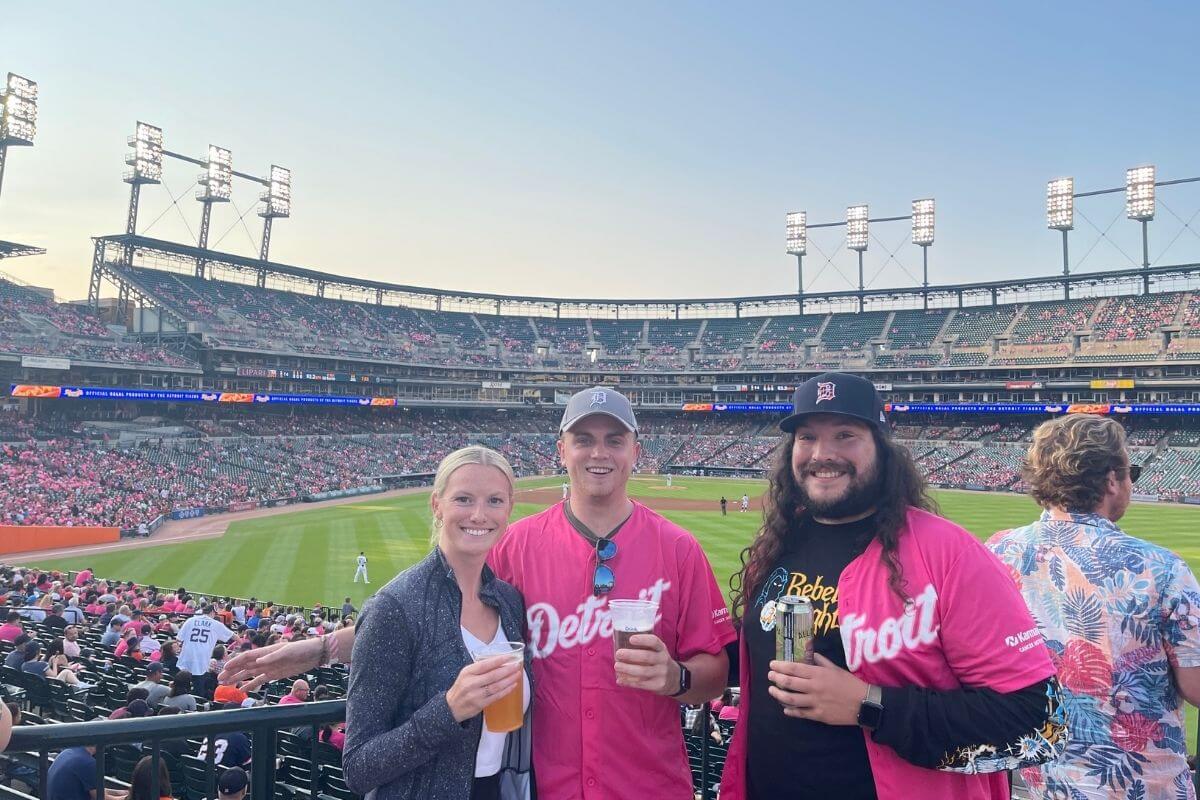 Detroit fintech startup Autobooks has remained almost fully remote since 2020. Team members are invited to return to the office when they prefer as they continue to keep their "Work From Anywhere" policy.
Over the last two years, many of Autobooks' employees have moved to new states and countries based on their own life choices. The company's flexible policies and people-first culture support big moves like that, which help employees live the lives they want to live.
In addition to flexible work, Autobooks offers ample PTO. All employees get four weeks per year but do not require employees to use that time for 1 or 2 hour increments. So if you're going to the doctor for an hour, you don't need to use PTO.
Autobooks also introduced new tools and apps to help team members feel supported outside of the office. Pocketnest (another top Detroit startup, by the way) helps employees achieve better financial wellness (debt planning, saving goals etc.). And HealthJoy, a medical concierge, is an app that stores your benefit details in a digital wallet to help you find cost savings. It also helps you schedule appointments for you and your family.
9. Hush
Detroit startup Hush is the always-on, always-learning comprehensive service that makes digital privacy as attainable as an Uber. This newer startup (founded in 2020) is building cool technology and a people-first company culture with great work-life balance jobs.
Hush has a robust PTO offering that includes weeks where the entire company is essentially shut down. This allows people to really relax and recharge because everyone else is doing the same thing.
Being intentional about work-life balance starts with the hiring process. The company selects and hires very carefully because they know that hiring really strong people means that they can give them a ton of autonomy in their roles, including deciding when, where and how they work. This trust in the team directly correlates to employee satisfaction and engagement and is essential to being able to create a work life balance.
Hush also measures and manages results. They don't care about face time, being visible on camera if you have a toddler in your lap during a meeting or if you're checking in from the beach. This is helped by the fact that the Hush team is global and working across different time zones.
10. Fund That Flip
Based in Cleveland, Fund That Flip is a fintech startup helping people with their real estate investments and renovations. The company has some very solid benefits that encourage a healthy work-life balance. Here are a few:
Unrestricted PTO for all employees (flexible and unlimited).

Flexible schedules to allow for child pick-ups/care, doctor's appointments, dog walking, errands, etc.

Hybrid work environment with the technology to support it. The team definitely utilizes technology solutions to make employees' jobs easier.
Fund That Flip has a culture focused around transparency — they acknowledge where they need to become more efficient and take action through technology, process, and more to improve. At the end of the day, the message from the executive leadership team is clear: Protect your time, use and respect your focus time (a great feature in Google Calendar), respect others' focus time.
11. Trustpage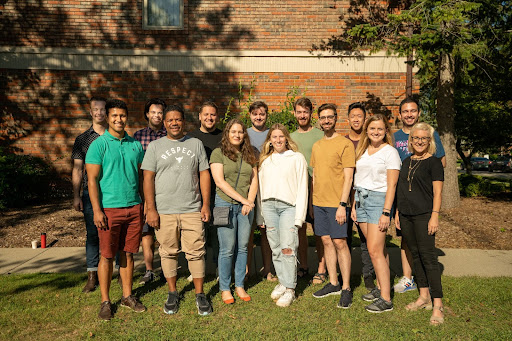 Trustpage is a remote-first, Detroit-founded startup on a mission to change the way the world looks at trust in software. On top of working on modern challenges in technology and creating real impact in a growing industry, working at Trustpage is a great opportunity to find work-life balance.
Trustpage has incredible benefits to emphasize the importance of work-life balance. The company offers two week-long breaks a year. In addition to these two weeks, Trustpage has one 3-day weekend each month of the year, unlimited time off, and two team off-site retreats. Trustpage also gives each employee $50 a month for wellness expenses and employees have used this money to cover meditation subscriptions, gym memberships, and even meal delivery services.
Since the company is fully remote, Trustpage offers a $500 stipend to cover home office equipment or supplies as well as up to $250 a month for co-working memberships. All of these benefits help support employees at work and at home.
And the team would agree! According to reviews on Glassdoor, Trustpage team members find the company to have a great emphasis on self-awareness and work-life sustainability. Even for those prone to burnout, Trustpage helps create an environment that keeps employee's work-life healthy.
12. Guideline
Since starting in 2015, Guideline is disrupting the retirement industry by creating a retirement platform that empowers people to invest in themselves, in their business, and in their future with confidence. This remote, mission-focused company is rapidly growing: to date, they've raised $344 million in venture capital and are opening new hubs around the country. As they grow, they are committed to supporting employees at work so you enjoy your life outside of it. Here's how they do it:
Workplace flexibility: Guideline has offices in California, Texas and Maine (and soon Georgia). But if you're looking for 100% remote, a hybrid work schedule, or something a little asynchronous, they can help make that work, too.

Impactful benefits: Fully funded health insurance premiums for employees with generous subsidies for dependents, generous parental leave, mental healthcare, commuter benefits, and a 4% 401(k) match, to name a few.

Real time off: Unlimited PTO and sick days - so you can take time to rest and recharge when you need it.

Company culture: Collaborative and approachable, eager to grow, learn and solve problems—these are traits Guideline employees all share. But there are two qualities in particular that they really look for in the people who work here: compassion and passion. Compassion for coworkers, partners, their clients and their employees. Passion to do right by all of them, even if it's harder. Guideline operates on trust, empowerment and support to drive your success, so you can help them drive their mission.
13. Provide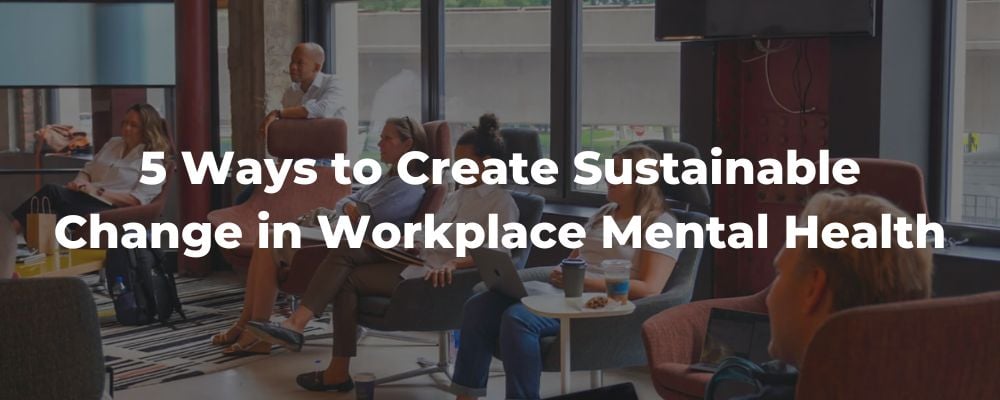 Provide is a fintech company on a mission to help healthcare providers achieve their practice ownership dreams. It is also a people-first company. At Provide, they believe that to be your best and most productive self at work, you also need to be happy and healthy at home – one can't exist without the other.
Provide leadership empowers team members to build their work day around their lives. If you want to go to the gym at 10 a.m. or take a break to soak in the sun at 2 p.m., you're encouraged to do so.
It also offers generous vacation time. And when team members are out of the office, that means completely offline – no checking email or Slack from the beach (or your couch if you're on a staycation).
To ensure team members bring their full selves to work, every Provide employee receives 56 hours of sick leave per year.
About 60% of Provide team members are full-time remote employees. When all COVID-19 restrictions are lifted, the rest of the team can choose to work at one of Provide's offices (in San Francisco, California, and Columbus, Ohio), or work remotely also, or a little bit of both!
14. Grand Circus
Grand Circus is a remote coding bootcamp that was born and raised in Detroit. They believe everyone should be able to access a career in tech, so they train full stack developers and then connect students to hiring employers.
Grand Circus has a flexible, people-first culture that makes it a great place for work-life balance. Here's a few things they offer to make it a reality:
Flexible work schedules

100% remote work — no in-office time or travel required

Unlimited vacation

A stipend and a week off to pursue professional development opportunities
15. Stansbury Weaver
Based in Columbus, Stansbury Weaver is a startup disrupting the legal industry. Stansbury believes there is a better way for entrepreneurs and investors — the billable hour is dead. That is why they created GCaaS, or General Counsel as a Service.
This small, tech-minded company is also building a great opportunity for people in the legal industry to — finally — have work-life balance in their job.
There is no specific PTO at Stansbury, so people take the time they need, whether it's for vacation, illness, or mental health. There is also a lot of overlap in team capacity, which helps people find balance. With multiple people on phone calls or working on cases, it's relatively easy to take a day off without feeling behind or as if there's no one to help out if you're taking time for yourself.
In that way, Stansbury is a great company for work-life balance, especially in an industry known for overworking and burnout. When you kill the billable hour, you also kill burnout.
16. NetWorks Group
NetWorks Group is an Ann Arbor cybersecurity startup on a mission to clear away the complexity and create a clear path forward for businesses to create a culture of security where they, their team, and customers feel safe, stable and free from threats.
As a totally remote company, NetWorks Group encourages employees to take the time needed for home and health priorities, including vacation time. This time does not need to be accounted for and is always paid. Breaks of a week or more just need to be confirmed ahead of time.
The company's flexible work schedule commitment includes working as few hours as necessary to complete projects, and scheduling creative time. Certifications and continuing education costs are also covered, making it a great place to grow in and out of the office.
17. T-CETRA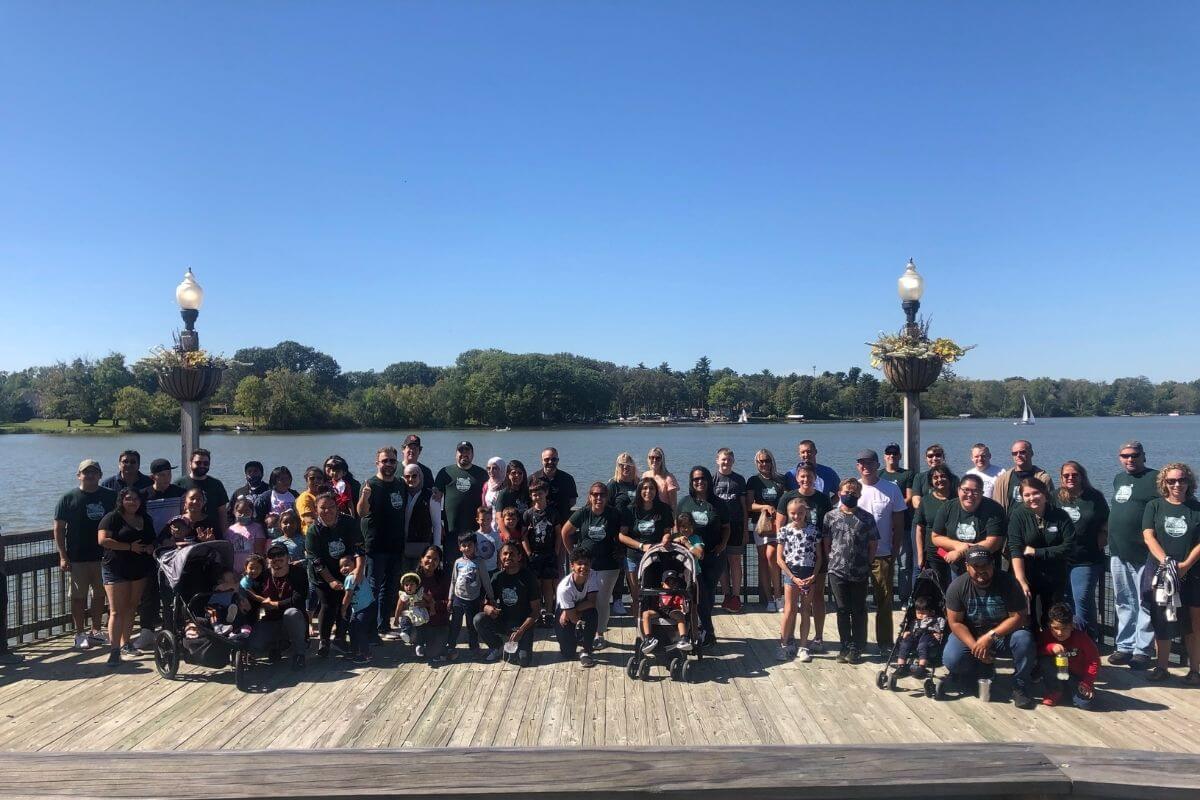 Columbus-based financial tech company T-CETRA is on a mission to bridge the digital divide. T-CETRA's payments platform, VIDAPAY, turns cash payments into cashless transactions, making sure the underbanked and cash-preferred don't get left behind as society moves forward digitally. They are rapidly growing and building a great place to work, and one that encourages a great work-life balance.
Work-life balance looks different for each person which is why T-CETRA's generous wellness stipend allows you to apply it to meet your unique needs. Whether that means taking advantage of their customized wellness challenges, participating in streaming wellness classes, or utilizing their Growth Reimbursement of up to $800 per year to take that art class you've always wanted to take, T-CETRA helps employees make life "work" in a way that feels good to them.
18. Root
Insurtech company Root provides work-life balance fulfillment and offers comprehensive resources to help team members maximize their well-being and development, including access to healthcare and therapy, online mediation tools, and extensive educational, feedback, and growth opportunities.
Work Where it Works Best
In 2021, Root launched a new way of working that empowers employees to determine what works best on an individual level. Root's "work where it works best" philosophy focuses on the what, who, and why of work, not the where.
Employees can work from anywhere — such as their home, the office, a cafe, or even by the pool on hot summer days. Through conversations between leaders and their teams, Root discovered that work and home life have new meanings, and many employees need the flexibility to work from home.
For those employees who choose to come into an office or for whom the nature of their role requires in-office work, Root realized the future of the workspace looks different, and so, Root has set out to provide a more inclusive strategy that includes collaboration spaces, quiet zones, and social spaces.
As a company committed to providing fairer insurance for our customers, it's core to Root's mission to provide employees with that same fairness. Allowing employees to bring their whole selves to work, and to share their voices and choices, is at the foundation of Root's culture.
Root also offers some great benefits that back up their work-life balance. Root offers unlimited PTO to employees, and leadership often encourages their direct reports to take time off to avoid burnout. Employees have a complimentary subscription to the Headspace app and access to EAP resources. The team also has different Slack channels for parents to connect with one another and for others to bond over their different hobbies like arts and crafts, pets, and mental health.
19. Red Ventures
Headquartered just south of Charlotte, NC with offices around the world, Red Ventures is a media titan helping people discover and decide. The remote-friendly tech company offers some great benefits that encourage a healthy work-life balance. Here are a few:
Red Ventures offers flexible PTO, observes 8 major holidays off per year including "Winter Week" (December 25th - January 1st), plus floating holidays to be used at teammate discretion

Mental health benefits through Lyra: All U.S. based teammates AND their eligible dependents have access to mental health coaching and short-term therapy in-person or via live video. (Up to 8 sessions each per calendar year)

Premium access to the Calm App's library of resilience tools (Mindfulness, Sleep Health, Meditation, and more.
20. BrandXR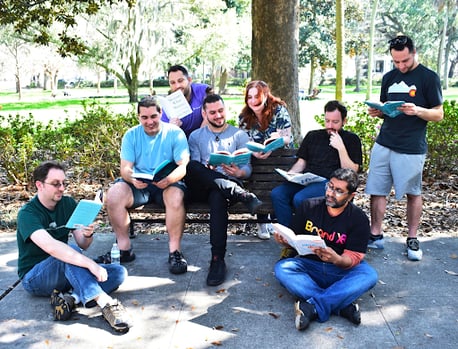 For BrandXR, work-life balance is at the forefront of what Co-Founders Moody Mattan and Kunal Patel want to instill in their team. They know that having teammates who are balanced on a personal and professional level only enhances their company's performance. It also helps the company build a camaraderie that leads to open conversations that can only improve a business' environment and standing.
The team behind the no-code augmented reality platform recently went on a company retreat to Savannah, GA. For some BrandXR team members, this was their first opportunity to meet in person for the first time!
BrandXR changed up their traditional weekly schedule for walks in Savannah's picturesque moss-lined Forsyth Park, tours of the world-class Savannah College of Art and Design, spooky ghost tours, and of course some famous Leopold's Ice Cream (try the Tutti Frutti).
Teammates bounced ideas off each other, created alignment and a clear path forward, and were empowered to share their own thoughts on the company's future. A retreat like the Savannah trip helps encourage work-life balance because it simplifies and aligns the company's direction and lays it out for everyone so they understand how their individual efforts contribute to the company's greater goal.
This was BrandXR's first company retreat and it was a huge success so much so that they're already planning our next one!
21. GreenLancer
GreenLancer is a remote-friendly, Detroit-based startup on a mission to accelerate the adoption of renewable energies. While the GreenLancer team truly believes in working hard, they also believe in working smart. That helps to keep their work-life balance in check. It's a huge part of the culture at GreenLancer that they aren't burning the candle at both ends.
A typical day at GreenLancer usually begins around 8:30am and ends around 5:30pm. It sounds very typical but because they have a lean team, they're able to get time back where other companies spend hours and hours in meetings.
Of course, sometimes things come up and the team has to put in extra time, but they work hard to prevent those situations from happening.
22. Sprout Social
Sprout Social is a Chicago-based tech company recognized for their growth and people-first culture. The team at Sprout encourages employees to explore the intersection of personal interest and professional experience. Everyone on the team is encouraged to pursue their passions both inside and beyond the office. It's about the whole person, not just the eight hours you put in at work.
Sprout also offers progressive policies to support work-life balance, like their flexible paid time off and parental leave program.
23. Formstack
Based in Fishers, Indiana, Formstack is a rapidly growing tech company (they raised $425 million in 2021!) helping organizations accelerate work with no-code productivity solutions. As an employer, Formstack is on a mission to help people reimagine their world of work—both inside and outside the remote "walls" of Formstack. It's all about growing your career, cultivating new relationships, and creating a balanced life.
The company's benefits also make it home to some of the best work-life balance jobs. Their unlimited PTO policy allows employees to rest and enjoy themselves outside of work — and they can take as much leave as they need.
Half-day Fridays also help prevent the burnout that can come from constantly being "on." With half-day Fridays, you get four hours back in your day to jumpstart the weekend, relax, and practice self-care.
24. Cameo
Based in Chicago and hiring remotely, Cameo is a rapidly growing startup (they raised $100 million last year and became a unicorn) that lets you send personalized videos from celebrities. The company offers some great benefits that support employees' work-life balance. Here's just a few:
Unlimited PTO policy

Generous Parental Leave Program (Birthing 4 Months / Bonding 2 Months)

Remote flexibility — as long as you have a strong internet, you can work from anywhere in the US