Why Purpose Jobs? There's never really one reason someone starts a company. As much as we love the romance of great lightbulb moments and dramatic founding stories, it's rarely one particular itch or one specific opportunity that sets the entrepreneurial wheels in motion.
To the contrary, it's a slow build.
A collection of experiences, failures, pains, and journeys that lead most founders to the point of starting a company. And it's that collection of things that help shape why the company exists, what the brand represents, and how it helps some group of people do something better.
That's my story anyway. And it's this company's story, too.


A Little Bit About My Journey
Before I get into who we are and why we exist, it's probably worth providing some context.
I've always believed in the incredible power that's generated when the right group of people come together. The connection is hard to explain and even harder to define, but you know it when you see it. You can feel the energy that's created.
I've witnessed this first hand throughout my career — first as the co-founder of Chalkfly (which was eventually acquired) and second as the VP of Talent at high-growth startup (Ambassador). In both places, I saw the importance of bringing the right people together to make something happen. Specifically, I saw that someone's purpose, values, and personality mattered just as much as the skills they brought to the table.
There's a great Jim Collins quote from "Good to Great" that captures this sentiment: "Whether someone is the 'right person' has more to do with character traits and innate capabilities than with specific knowledge, background or skills."
Eventually, I couldn't resist the opportunity to build a company around that.


Why Purpose Jobs? Why Now?
After I left Ambassador, I took a few weeks off and booked a trip to Patagonia.
I wanted to reconnect with the world and broaden my experiences, but I also wanted to clear my mind before stepping on the gas with Purpose Jobs.
The trip — in a not-so-surprising way — validated the whole reason I wanted to found this company, which was something I'd been thinking about building for a few years. When you think about the power of the right job, it gives people the ability to live. Functionally, by paying their bills and planning for the future. But also spiritually and philosophically, by giving them an opportunity to live their purpose, realize their potential, and experience the world.
Which leads me to Purpose Jobs.


What is Purpose Jobs?
As a business, Purpose Jobs will be a curated marketplace that matches the right candidates to the right startup companies. To do it, we'll leverage our placement algorithm and curation team to make matches based on culture, values, experience, and compensation.
But I want this business to be so much more than that.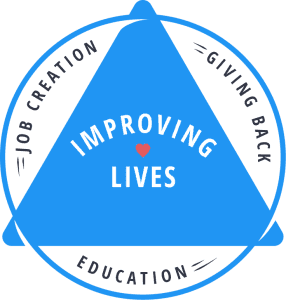 I want to have a profound impact on people's lives. We want everyone to be able to pursue their passions and be a part of something greater than themselves. We're going to do this by empowering people to find jobs they will love.
And we're going to do it by focusing on three key pillars:
Job Creation:

This is where we start. By creating relationships between candidates and companies that believe in each other's purpose and mission, we'll create jobs that have impact. And we'll be the only company in the world that matches based on culture. Yes, we'll match based on role and compensation, too. But that's the easy stuff.
Education:

We're also going to enrich people's lives through education. We'll do this in part by being thought leaders and creating

educational content. But we'll also do this by offering education courses that help people gain the skills to get a job. If everything goes according to plan, this company will be on the forefront of diversity & veterans hiring, closing the gender pay gap, and many other important social issues.
Giving Back:

At the end of the day, helping people will be at the core of everything we do. Purpose Jobs will be a registered

B Corporation

and we're going to launch an initiative called "1% for Education," where we donate 1% of all profits to grassroots educational organizations to help people prepare for the professional lives. This initiative was inspired by Patagonia's "

1% for the Planet

" and many other for-profit initiatives to give back. As Bob Dedman once said:

"The more you give, the more you live."
We're also going to push against this idea of a "deferred life plan" — where everything you do professionally and personally is engineered around retirement.
I want people — the ones we hire, the ones we place, and the ones we help — to follow their passions now, not sit around and wait.


One Last Thought
When I leave this world, I want to make a positive dent in it.
There are a lot of ways to do that, but the best way I know how is by building a business that genuinely helps people — customers, partners, employees, and the communities that surround us. Finding the right job — and the right career opportunities — just happens to be one of the best ways to do that.
The problem, as it stands, is that finding a job — whether you do it online or offline at career fairs, events, direct applications, etc. — is an extremely daunting task. Job boards like Monster and Indeed are flooded with dead-end opportunities and headhunters chasing the highest commission rate. And the application process at most companies often lacks transparency and feels impersonal.
We're going to offer a different experience.
We've set our sights on a more ambitious goal: We want to build a brand that people are proud of and want to be associated with. I can't wait for you to join us on our journey to the top of the mountain.
Click here to learn more about how Purpose Jobs can help you find a job you will love.