My own mental well-being journey began outside of the workplace because, well, most workplaces don't have sufficient resources for people.
It can be tricky to know the exact cost of poor mental health in the workplace, but the World Health Organization estimates that depression and anxiety alone cost the global economy $1 trillion per year in lost productivity. Beyond that, there are additional costs:
Absenteeism

High turnover (recruitment, training new hires, stress on current employees, etc.)

Rising healthcare costs
In the past, HR leaders and the executive team may have been having conversations about employee mental well-being, but it wasn't necessarily the priority.
The pandemic has certainly changed that. Stress and isolation from remote work led to an increase in reports of mental health issues such as anxiety and depression. And on top of that, many people were suddenly coping with family illness, death, educating their kids, and frankly, trying to survive.
And employees have been more open and vocal about their needs too. The conversation around mental health has not been industry-, location-, or role-specific. It's something so many are struggling with, and more and more people are growing comfortable talking about it (and that's a really good thing).
Now, there's a huge shift in priorities: one of the top conversations for company leaders is creating a healthy work environment—both physically and mentally. And it's something job seekers are looking for as well; over 85% of employees in America report that mental health benefits are important to them when evaluating new job opportunities.
So the mental health crisis has gotten worse. Employees are looking for support. We can all agree employers need to help out. But it can be overwhelming to build a workplace wellness program from the ground up. And we know that what has traditionally been offered isn't working anymore.


The Mental Health Benefits of the Past
When it comes to mental health support in the workplace, about 75-80% of companies use various Employee Assistance Programs (EAPs).
These programs definitely serve a purpose, but they're typically geared towards crisis management and intervention (suicide prevention, major life traumas, substance abuse, etc.). They are not designed to address the day-to-day proactive mental well-being needs of most workers.
There's also a heavy stigma associated with using these services, and they are quite often backlogged and unavailable. The average wait time to see a counselor through an EAP program is almost 30 days. This combination of stigma and suspect user experience has led to an average employee utilization of just 1-3% across the country.
Where these programs have failed in the past are in the day-to-day proactive mental well-being needs of most people. It's often not crisis management that we need.
That's why I set out to create Boon, an approachable, affordable employee mental well-being program for employers. We believe that consistent, goal-oriented, personal coaching relationships are the best way to proactively create mental well-being in the workplace and build a happy, productive, and engaged team. It's a whole new way to look at workplace wellness. We are in the midst of a mental health crisis, and 1-3% usage rates aren't cutting it.


A New Way to Offer Employee Mental Health Benefits
Traditionally, executive coaching and professional development have resided on one arm of resources, and behavioral health benefits on the other. When thinking about the best employee benefits to offer your team, it's critical to think about ways to converge the two. Mental well-being and professional development work hand in hand.
What I've seen at Boon is that when clients meet with their personal coach, they might start off talking about work or something "professional development" focused. But the conversation throughout the life of their coaching relationship almost always shifts between work and their personal life. As Jeff Bezos likes to call it: "work/life harmony." We call it "work/life integration." Through the lens of meeting employees wherever they're at in a confidential, goal-oriented coaching relationship, we've been able to achieve more than 30% average employee engagement (10x EAP). Here are some ways to make it happen.

Senior Leadership Buy In
Any founder knows that writing a company value on the wall won't change the culture of the organization. The same applies to a culture of mental well-being. Just because you offer a resource doesn't mean there's a culture in place around using it. One CEO told us, "I don't mind paying for it if my team uses it. I get a great return on my investment."
You aren't going to see true employee engagement unless you have senior leadership buy in. When HR leaders, executives, and the CEO are taking advantage of a mental health resource, the rest of the company will be more inclined to participate, too. The team is aligned, and it also helps eliminate the old stigma around mental health.

Start on Day One
The most common period of time for employees to turn over is within the first year of being at an organization. Especially during this age of remote work, good onboarding is more important now than ever.
When new hires are going from Zoom session to Zoom session (meeting people but not actually meeting people), feeling isolated and probably confused, it's a challenging environment.
Having a mental well-being resource in place like a personal coach can help new hires feel supported and give them the tools to navigate the new changes in their life.
It also shows your new employees right from the start that you genuinely care about them and their personal / professional development, and want to see them succeed. This is something Millennial and Gen Z workers are looking for in employers more and more, and it helps establish the culture and relationship on day one.


Track Resilience
Of course, mental well-being resources aren't just for onboarding. Other challenges come up in work and life. What's important is helping your employees build a toolkit to tackle new challenges. Just as you would support an employee with access to skill-building for their job, you should support them with skill-building for their mental well-being.
At Boon, we measure this through resilience. Right from the start we track an employee's resilience using the CD-RISC 10 survey from the Connor-Davidson Resilience Scale, which is one of the most widely accepted academic surveys for measuring resilience. It's a quick 10 question, 5-point Likert scale survey that measures resiliency — how quickly you bounce back from adversity. We use this as a starting point for each employee going through the Boon coaching program and track progress over time.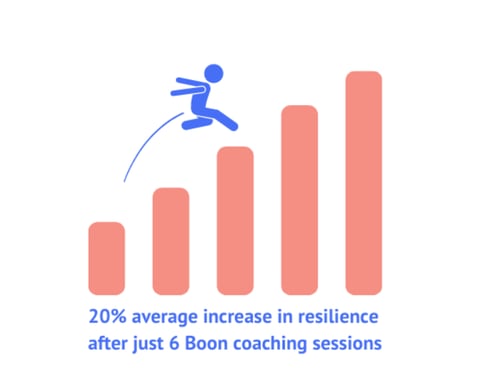 Why resilience? Well, resilient people with resilient skills (like communication, problem solving, teamwork and leadership) are more successful employees. There are decades of research that support a high level of positive correlation between levels of resilience and productivity, engagement, and employee well-being. In other words, more resilient employees help move the business forward, and they can better navigate difficult situations. Like a pandemic.
Resilience also helps with employee retention. Thus far, Boon has been able to achieve material improvements in employee retention levels for employees who are using Boon's services vs. the rest of the company. Ninety-five percent of the people using Boon's coaching services are still at their company today.
More success, business growth, higher retention — the ROI on mental wellness benefits is clear.

Inclusion is Key
One thing our team is very conscious of is the need for diverse coaches. If you're an employer offering mental well-being resources like coaching, it's imperative to make sure your coaches are diverse. The whole point is to offer support for you employees. If your employees are diverse, you need diverse resources.
This is also helpful if some of the issues BIPOC employees are working through are related to issues of inclusion. Creating a real inclusive environment means showing your employees that you care and that they are heard. That should extend to mental well-being resources, too.

Be Approachable
Having accessible, easy to use resources is key for participation. One of the hardest things about seeking mental health support is knowing where to go or who to talk to. Providing a program that makes it so easy, like getting matched with a coach, will help increase usage.
It's also important to be flexible. Having a tool that can work as a professional development program and a mental wellness program invites a lot of people in. No matter the reason why people are seeking out the resource, it's great that they're here, working on building their resilience and creating valuable relationships.
About 50% of the people we see using Boon have never used coaching or therapy before. What that means is that Boon's coaching tool has been an entry point for people to start talking about what is going in their life in a way in which they otherwise have not before. That is extremely powerful.
Beyond employee retention and productivity, these kinds of programs are also great for your recruiting strategy. More and more people are looking for employers that care about them as people, and that includes supporting their mental well-being. Having a workplace wellness program in place that is good for you, your employees and your business, shows top talent that they can be very successful and thrive at your company.

For more information on offering mental well-being resources like coaching, visit https://www.boon-health.com/.
About Alex Simmons: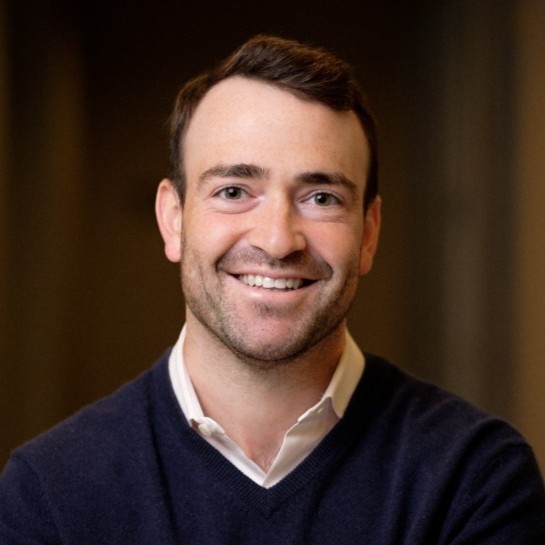 Alex is the co-founder and CEO of Boon, a Detroit startup that facilitates mental well-being in the workplace. Boon partners with businesses by connecting their employees with highly accredited coaches and licensed therapists from top-tier institutions and diverse backgrounds, creating a confidential one-on-one relationship for exploring the ins and outs of everyday life.