I love seeing #BlackTechFacts pop up on social media during Black History Month. But let's face it, we all know it's not enough.
In the tech world, Black and Brown software developers are still underrepresented, holding only 10% of development roles. And that disparity is even larger in Detroit, where the Latino/Hispanic and Black population make up 88% of the population.
But there's a group out there trying to change this.
Meet our friends at Detroit Black Tech who are empowering Black and Brown software developers in the city. DBT was founded by Mack Hendricks, Aubrey Agee, and Jeseekia Vaughn (fun fact: Jeseekia built V1 of the re:purpose platform back in 2017). These three Detroit tech pros wanted to create a community around Black tech in Detroit because, well, there wasn't one.
DBT's Nikki Evelyn experienced this firsthand when she moved to Detroit a few years ago. Imagine expecting a city full of people who look like you, but not finding them at work.
"When I moved here from Chicago, I was really excited because I knew Detroit is a very Black city, and I thought I would get to work alongside so many Black people," Nikki said. "But that wasn't the case."
She attended a photoshoot put on by DBT (because who doesn't love a good free headshot?). Luckily, she got more than just a new LinkedIn profile picture. At DBT she found a strong community focused on empowering Black people in the tech industry, and she's been a part of the group ever since.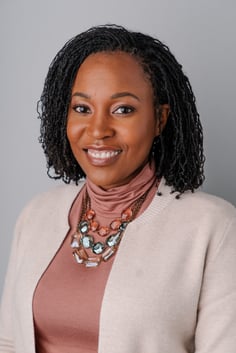 Nikki Evelyn from Detroit Black Tech
That photoshoot was actually for Black History Month four years ago. They took headshots of Black and Brown developers and highlighted them on social media to promote the amazing people who are a part of DBT. They've done this every year since, and this year, they asked everyone to answer a prompt: "In honor of Black history, what impact would you like to have on the tech industry?"
"We were very intentional about that wording because we didn't want it to just be Black History Month. Black history shouldn't just be remembered for one month. It should be considered all year round," Nikki said. "The fact that Detroit is experiencing a tech resurgence and the fact that Detroit is a predominantly Black city cannot be ignored. The two have to work together, and we have to work together to provide new opportunities for this community."
Events like a quarterly mixer where people can let their hair down, hang out and get to know each other help this community grow. And the biweekly Hacking With The Homies meetup (co-founded by Nikki) provides a co-working space where Black and Brown developers come together to work on projects, help each other with code questions, and support each other. This month celebrates one year of that meetup, and now Detroit Black Tech is taking it one (big) step further with the Hacking With The Homies Developer Conference on Saturday, February 29th.
The conference is the first of its kind with a complete focus on Black and Brown software developers. It brings the best and brightest from Detroit and beyond for highly technical talks. Each presenter is limited to three slides to leave time for live coding.
When Nikki heard Mack's idea for the conference, she jumped on board right away and used her event-planning background to chair the event.
"We didn't want to present the same things developers hear at every other conference. You rarely ever hear about super high-tech topics, especially at conferences for Black and Brown people," Nikki said. "The chance to work on examples will also be super valuable to all the attendees."
At the conference, you can find talks about AI, security, Kubernetes, GoLang, cloud infrastructure, DevOps, testing and more. There's no "fluff," as Mack put it. The talks are designed to help attendees really understand the tech. Live coding practice lets participants walk away with valuable skills that they can take back to work—and be more competitive in their field.
The presenters are super talented engineers who have done a ton of stuff. But more importantly, most of them are local.
"The mission of Detroit Black Tech is to highlight the talent in Detroit," Nikki said. "Detroit is experiencing a tech resurgence, and the talent is here."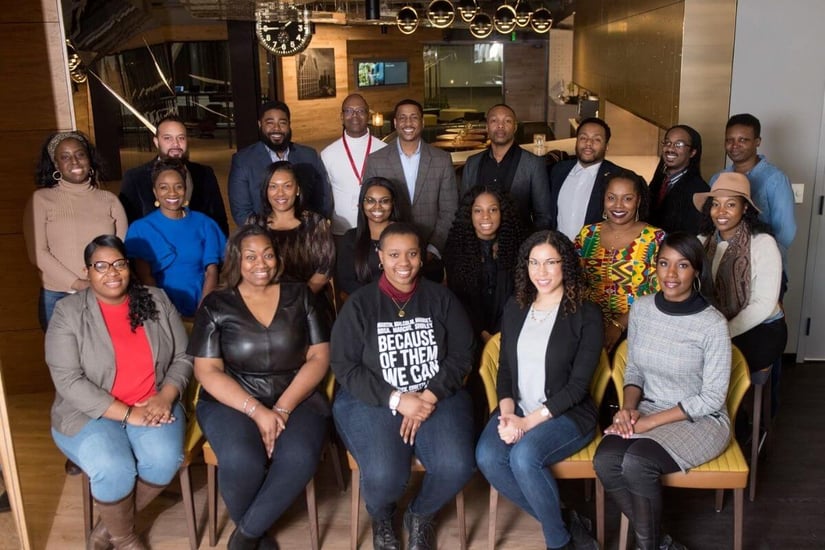 Part of this mission also involves giving back to the community. Many of their developers work with Black Girls Code or are a part of the Technology Education and Literacy in Schools (TEALS) program through Microsoft. With TEALS, developers go to different schools and help teachers in computer science classes. It's a good opportunity for students to see someone like them in these tech roles, which is something Nikki wishes she had been exposed to when she was younger.
"I didn't know that being a software developer was something that I could even do. But there were other coders who said they'd been coding since they were 8 years old," Nikki said.
She wasn't always a developer. In Chicago, she worked in politics and higher ed, but when her husband got a developing job in Detroit, she went through coding bootcamp at Grand Circus. Then she landed an apprenticeship with Detroit Labs and now works there full time—when she's not helping out DBT or planning the Hacking With The Homies Developer Conference.
She says she thinks a lot of space has been created for Black women in tech, but there were still times when she was the only Black woman developer on the floor out of 100 people.
"That is such a crazy thing to think about—out of 100 people," she said. "We actually have a lot of Black women involved at Detroit Black Tech. When I encounter other Black women developers, we want to come together and help each other grow. That was one of the reasons I was so drawn to this community. To be surrounded by other women of color who are developers is such an awesome feeling."
Hacking With The Homies provides a needed place for Black men in tech, too.
"Black men are still often overlooked," Nikki said. "It's important for men to come together and support each other, too, especially since there are no Black initiatives specifically trying to highlight Black men in tech."
None except for DBT of course. But they can't do it alone. "Changing the landscape of Black tech in Detroit is a team effort," Nikki said. "We have to make sure we give back, make sure Black and Brown children are prepared for the future. We have to work together to empower other Blacks in tech and make sure they are represented across roles. Because tech isn't going anywhere."
Having a diverse group of developers and designers brings new perspectives and more creativity to the team, which leads to better products that speak to more people. "The products that companies put out should represent all people, not leave Black and Brown people out," Nikki said.
This is why diversity work is something all companies should be engaged in, Nikki said. Celebrating Black History Month is great when you highlight overlooked people in your industry, but the work doesn't stop on March 1st.
Register for the Hacking With The Homies Developers Conference on February 29th to connect with talented Brown and Black developers in Detroit. Learn new coding skills—and try them out, too! Grab your spot today.
Want to know the best startup tech news and events like Hacking With The Homies? Get all the info you need sent right to your inbox.