Finding Balance with Julia Kimmel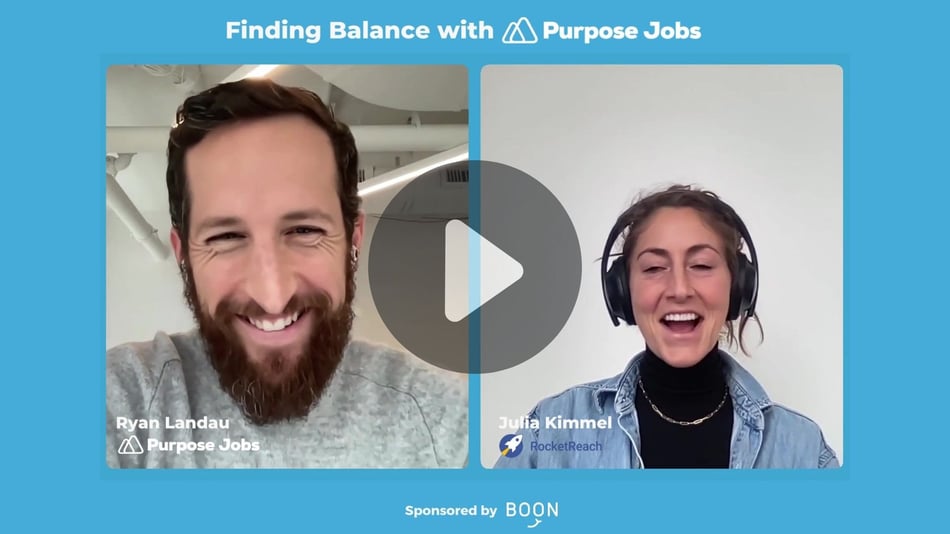 Talking about work-life balance in an interview isn't taboo anymore. Or at least, it shouldn't be.
Just take it from Julia Kimmel, VP of People at RocketReach. We chatted all about work-life balance in our latest episode of Finding Balance, a video series in which I sit down with startup leaders across the region to see different perspectives on work-life balance and how people achieve it. This month, we're partnering with our friends at Boon to make these episodes come to life.
Julia knows firsthand how important work-life balance is for employees. As a recruiter, it's something she's always prepared to talk about with candidates. As an employee herself, Julia makes sure she finds time to do the things that give her energy — like surfing in New York City. Yep. That's right.
"It directly impacts how much energy I have and how happy I am in my day at work. And if I don't prioritize it, I feel way more burnt out, and I haven't had the amount of play and relaxing and letting go that I need to show up to work as my best self," she says.
Check out the full conversation with Julia 👇


Finding Balance with Julia Kimmel
More about Rocket Reach
RocketReach is rare and unique; a startup that is in high-growth mode, already highly profitable, with a small team where you can make a gigantic impact. Started in 2016, the company was bootstrapped by its founders, focused on building a great product. RocketReach is on a mission to connect professionals to new opportunities, powered by the largest and most accurate contacts on this planet. In a few short years, they've grown organically to become one the largest business info-services platforms and the de-facto productivity solution for sales and recruitment teams at companies of all sizes, worldwide. Learn more about the One Rocket, One Crew.
---

Boon is the one-stop personal and professional growth tool for the modern day employee. They offer 1:1 personalized coaching, group coaching, company-wide seminars and workshops, and more. To learn more about Boon and what they offer, visit their website.