When it comes to tech jobs, there is rarely news quite like this.
Intel Corp. on Friday confirmed reports that it will invest $20 billion to build a pair of semiconductor manufacturing plants about 30 minutes outside of Columbus, representing Ohio's single-biggest economic development project of all time. The computer chip "fabs" will employ 3,000 people in high-paying jobs, at an average salary of $135,000, plus create another 7,000 temporary construction jobs and thousands of indirect jobs.
The announcement, coming amid a global chip shortage that has affected the production of everything from personal computers to vehicles, made national news and garnered a press release from the White House.


"I truly believe this is our time. This is our time in history," Ohio Gov. Mike DeWine told TIME.
Intel will build the facilities on 3,190 acres in Jersey Township being annexed by the City of New Albany. Intel expects the site could eventually grow to include eight chip fabs. Construction will begin this year and is expected to be completed in 2025.
Offering key infrastructure upgrades, plenty of land, and economic incentives, the Columbus region beat out 40 other sites around the country to land the investment.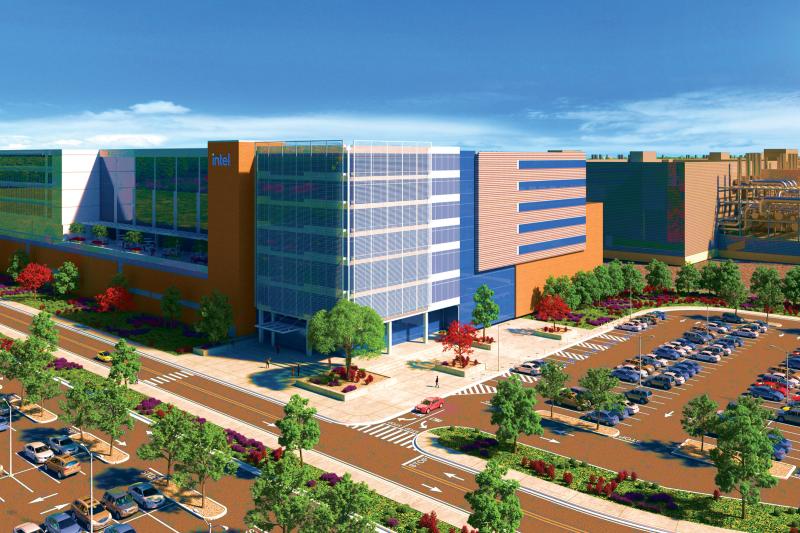 Talent proved a key differentiator, as well. Working closely with local colleges and universities, including Ohio State University, Intel plans to spend $100 million over the next decade to create an Intel Ohio Semiconductor Center for Innovation.
"Semiconductors make almost every facet of modern life possible – from computers and smart phones to cars and appliances – and they played an integral role in the technologies that enabled us to stay connected throughout the pandemic," Ohio State President Kristina M. Johnson said. "They will also be integral to a wide range of applications in which Ohio State is actively involved from a research perspective, including artificial intelligence, quantum computing, vaccine development and more. So, it's a natural fit for Ohio State, along with our fellow institutions of higher education, to partner on this game-changing investment in semiconductor manufacturing. Today's announcement is significant for Ohio, for Intel and for the national interest, as we are still in the midst of a global chip shortage. But it also presents a remarkable opportunity for current and future students. It will cement Ohio as a top magnet for retaining and attracting a new generation of talent and build on numerous opportunities under development within our state's colleges and universities, including at Ohio's innovation districts, which are already taking shape in partnership with JobsOhio."
In an interview with TIME, Intel CEO Pat Gelsinger recognized just how big this is for the region — and for Intel: "Our expectation is that this becomes the largest silicon manufacturing location on the planet," he said. "We helped to establish the Silicon Valley. Now we're going to do the Silicon Heartland."