There's no doubt that 2020 will go down in the history books. A once-in-a-lifetime pandemic, a national reckoning with racial injustice, record unemployment, a divisive election, and a lot of other news that seems so small compared to everything else.
It can be easy to forget the good. And looking back on definitely the strangest year, there's a lot of good to celebrate.
In the Midwest startup space, of course there were major challenges. Entrepreneurs and startups faced all kinds of difficult decisions. But 2020 was also the year that shone a spotlight on the Midwest tech scene as a vibrant—and affordable—startup tech hub.
Major Midwest startups raised some major funding: Olive in Columbus, raised $158 million, Pittsburgh's Duolingo raised $45 million which brought their valuation up to $2.4 billion, and all major players in the Ann Arbor/Detroit cybersecurity scene had multi-million dollar funding rounds. In Ann Arbor, supply chain AI tech startup Llamasoft was acquired for $1.5 billion, and in Columbus, insuretech startup Root raised $724 million in their IPO.
And of course, we can't forget the people. The amazing humans that make this startup community all that it is.
We're excited to announce the winners of the 2020 Purpose Awards. All of these individuals worked hard this year to do great things in our Midwest startup community.
Without further ado 🥁


The Winners of the 2020 Purpose Awards


Top Midwest Diversity, Inclusion & Belonging Leader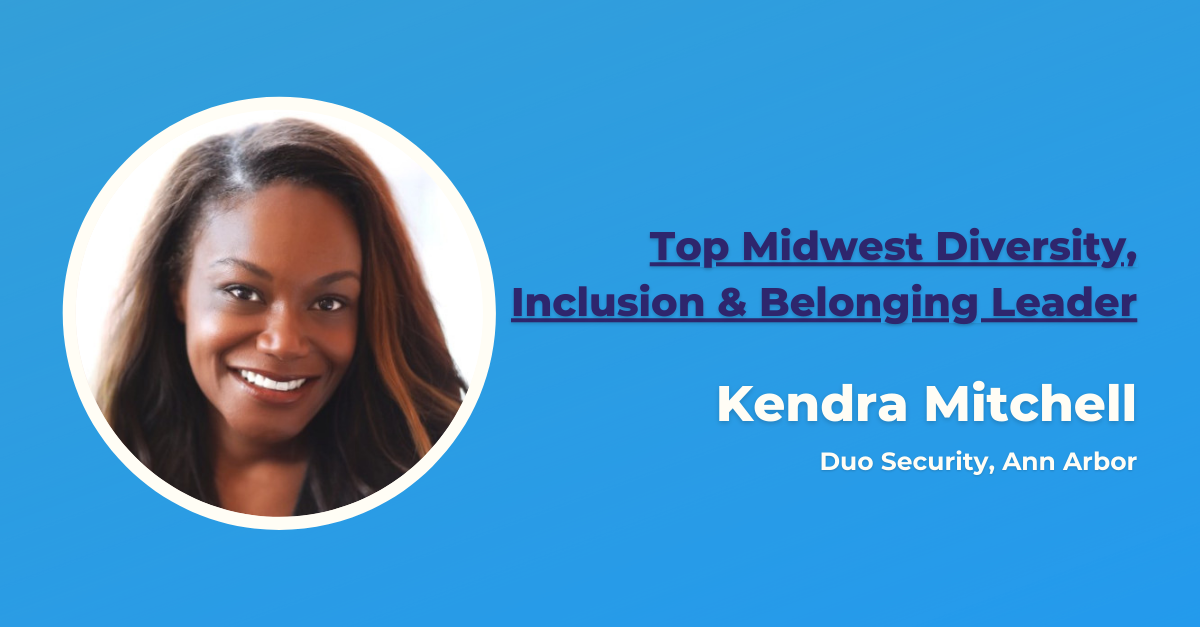 That national racial reckoning I mentioned is only just getting started, and it requires the work of all us. Luckily, we have leaders in our community like Kendra Mitchell who are dedicated to fostering communities of diversity, inclusion and belonging (and lucky us, she shared her expertise at our Panel on Diversity & Inclusion).
Kendra is the Chief of Staff at Duo Security at Cisco, and prior to becoming Chief of Staff of Duo Security in March of 2019, Kendra held a leadership position on Duo's legal team. Now, as the leader of the team that's responsible for belonging, she spearheads leadership development, diversity and inclusion, community engagement and social impact, as well as internal communications. She's focused on creating a culture that's kinder than necessary, and one that's rooted in transparency, inclusivity and equity for all of Duo's employees and throughout Duo's diverse communities. At the panel, Kendra said, "It's about bringing everyone to the table in a way that respects their beliefs and values."
We also wanted to mention that it was Kendra who helped us rethink our own language around culture "fit." She said, "Culture fit is a reinforcer of homogeneity and bias. At Duo, we think of cultural contributions in light of culture being something that's living and breathing and becoming richer and more nuanced and complex as we all contribute to it and make it better and grow from it." Thank you, Kendra, for pointing this out! It's important to think about culture as something everyone contributes to and helps bring to life.


Top Midwest Marketing Leader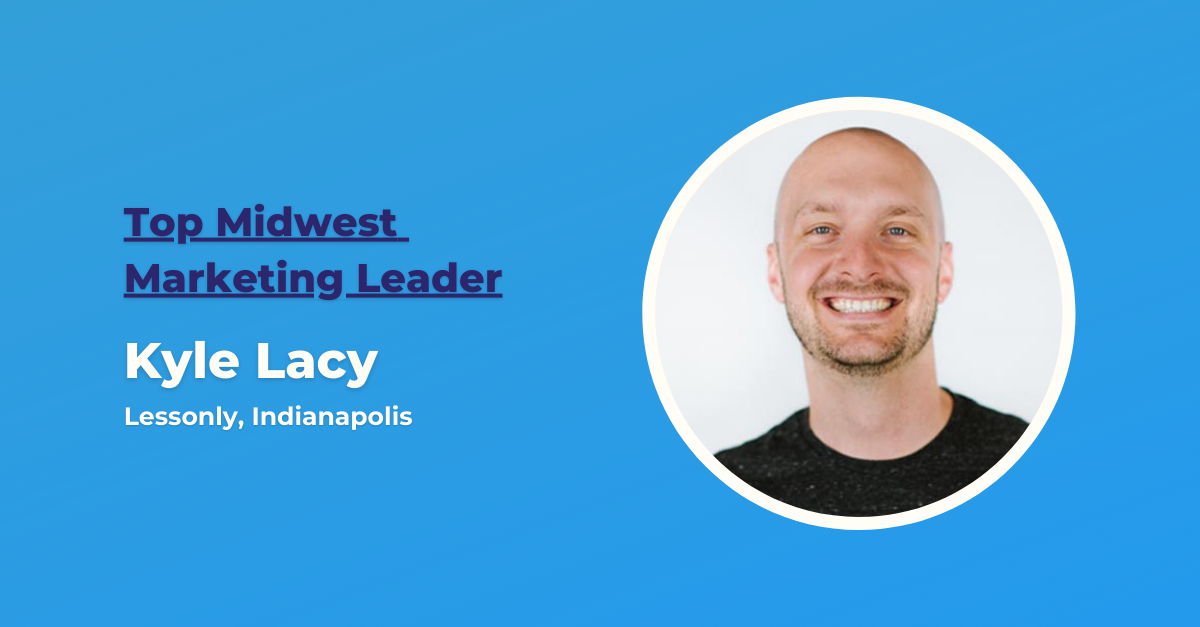 As CMO at Lessonly, one of the top startups in Indianapolis, Kyle Lacy has helped the company do some serious growing. This year, Lessonly raised over $15 million and their platform is used by over 3 million learners. Kyle's unique revenue-focused approach to marketing has made him an invaluable leader at Lessonly, as well as in the Midwest startup community. Kyle is also the Indianapolis Chapter Head of The Revenue Collective, which is an invitation-only community of the best sales and marketing leaders.
Kyle and the Lessonly team also partnered with Vote Safe Indiana and a few other Indy orgs to create a website that tracked voting wait times in Marion County. This kind of resource was especially important during the pandemic when people were worried about coronavirus exposure at the polls and record voter turnout.
In the fall of 2020, Kyle also launched a new Podcast called the Revenue Diaries, in which he interviews the top revenue leaders from the fastest growing companies. But they talk about anything other than work. Family, life, fears, anything goes. Whether he's leading himself and others in a week of detox/exercise via LinkedIn or sharing the very human stories behind some of the world's biggest companies, Kyle is having a positive impact on the community.
By the way, Kyle spoke at the State of the Midwest Startup Community 2020. If you missed it (and all the cool things Kyle had to say), check it out.
Top Midwest Startup Community Builder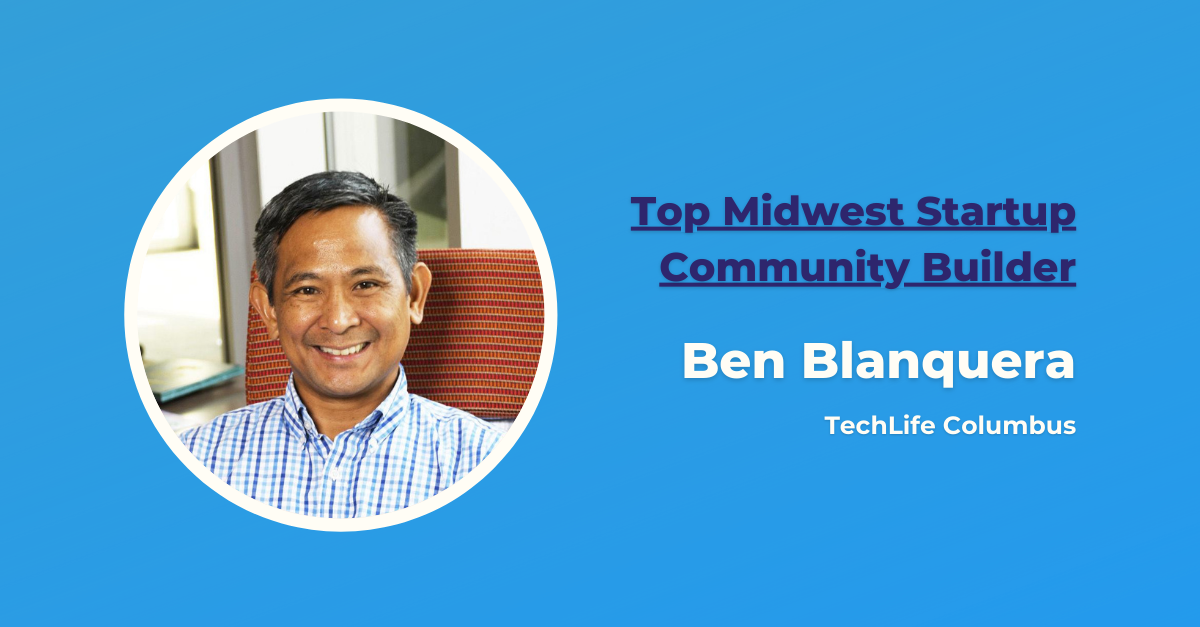 Based in Columbus, Ben Blanquera is the guy who always knows what's going on in the community. And a big reason for that, is because he's so involved in building it. As the founder of TechLife Columbus, a grassroots group whose mission is to foster a culture of innovation and entrepreneurship in the city, Ben helps bring the community together for events, training, mentoring, and everything in between. The group hosts technical coaching events, networking opportunities, shares tech news, and keeps everyone in the community connected.
Ben is an active member on LinkedIn, where every week he shares the top headlines, events, and startup activity. Not only does he share the cool things that are going on at startups, but he also uses his platform to celebrate the amazing people in the community. Whether they're hosting an event or celebrating a promotion, Ben is right there, making sure the community comes together for it.


Top Midwest Entrepreneur
Beatrice Wolnerman knows a thing or two about pivoting. In 2018 when the building she purchased for her new Detroit coworking space needed to be completely rebuilt, she started selling lemonade on the Dequindre Cut in the meantime. But when Beatrice opened Bea's coworking space in February, 2020, she never imagined a pandemic would throw a wrench in the plan just a few weeks later. Of course, that's what happened, and as we all know, coworking spaces took an especially hard hit in our startup community.
That didn't stop Beatrice from moving forward. Her team created virtual memberships to offer mentorship, education, and other virtual resources for the community. And once restrictions were lifted, she saw the beautiful space she created in Eastern Market and knew she couldn't let it go to waste. So instead of hosting busy bea workers, she began hosting tiny weddings for couples whose wedding plans were affected by the pandemic.
On the rooftop of Bea's Detroit, Bea and her team hosted safe, tiny weddings, providing everything from florals to sweets. They've brought in over $200,000 in sales in just a few months and have booked over 50 tiny weddings. Bea participated in Detroit Demo Day and won $50,000 for a semi-permanent tent for winter events. Bea's still continues to operate a coworking/co-creating space and their in-house cafe, now alongside their newly developed events program.


Top Midwest Venture Capitalists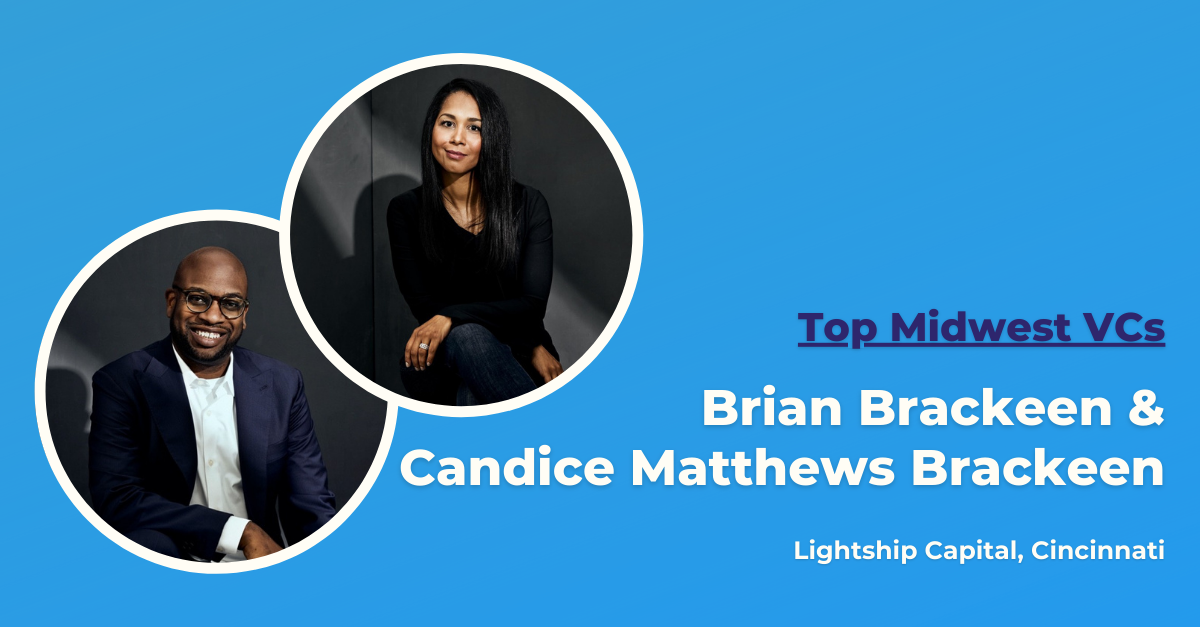 The husband and wife VC team made some major headlines this year. Lightship Capital, based in Cincinnati, is a VC firm owned by Candice Matthews Brackeen and Brian Brackeen. In a country where only 4% of venture capitalists are Black, it's safe to say their Black-owned and run VC firm is pretty rare. This year, they launched a $50 million fund for underrepresented founders in the Midwest.
According to a report by RateMyInvestor, just 1% of venture-backed startups in the U.S. have Black founders. This fund they created is history making—it's the largest-ever venture capital fund dedicated to growing Midwest, minority-led startups.
In addition to this historic fund, Lightship Capital also made headlines this fall, when they announced that they were expanding to another Midwest city: Indianapolis. This will help them continue to invest in Midwest startups that are making this region the place to be.
Fun fact: Candice was a judge for Detroit Demo Day this year.


Top Midwest CEOs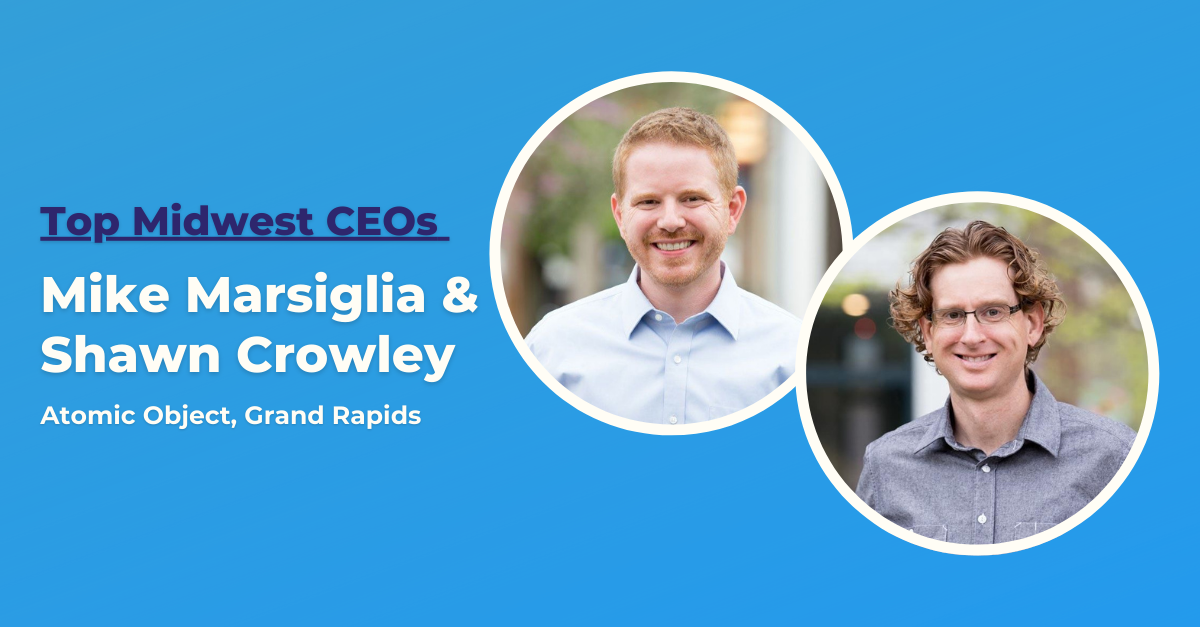 Co-CEO might be an unconventional approach to an organization's structure, but it's becoming more common, especially in successful companies like Atomic Object. Mike Marsiglia and Shawn Crowley are co-CEOs of this top Michigan-based company, and the joint structure has been working well. As co-CEOs, Mike and Shawn broaden their perspectives as leaders, hold each other accountable, offer each other energy to stay resilient and ultimately work through a more sustainable model.
"Being relentlessly dissatisfied with the status quo is one of Atomic's traits, and we've never shied away from unconventional approaches to our work," Shawn wrote on the founder's blog.
As co-CEOs, Mike and Shawn play an important role in living out the values and cultivating a great culture at Atomic Object. Many of their values, like "Think long term," and "Share the pain," are lived out in this very co-CEO structure. But they've also made some important steps in 2020. In February, they added a Socially Responsible Fund to Atomic's 401(k) because employees valued it and asked for it. They've also been focused on cultivating an inclusive environment, not only internally but also in how they design their technology.


Top Midwest Rising Star


CEO and co-founder of Tech Elevator, Anthony Hughes is helping innovate the way people learn—and making sure more people have access to getting involved in the tech industry. Tech Elevator, headquartered in Cleveland, provides tech education for individuals and companies to acquire in-demand tech skills, boasting an industry-leading job placement rate of 92%. Founded in 2015, the company just announced they were acquired by Stride, a provider of K-12 education for students, schools, and districts, including career learning services through middle and high school curriculum. They're expected to acquire Tech Elevator in a $23.5 million all-cash transaction, and the acquisition will help expand access to tech careers to more people.
"Stride and Tech Elevator share a core belief in the ability of education to transform lives," Anthony said. "Stride will accelerate our ability to help people, to strengthen communities, and to help companies grow with diverse talent."
Diversity has also been a big focus for Anthony this year. Back in June, Tech Elevator announced a $1 million pledge to increase diversity in tech. Because Anthony and his team at Tech Elevator are passionate about education and believe that not everyone has access to it, they set up the Represent Tech Scholarship. This will award one seat, per cohort, at every campus, including Live-Remote, to a deserving candidate. Each recipient of the scholarship will be responsible for just 15% of tuition.


Congratulations to all the winners, and thank you for all the work you do in our Midwest startup community!
Who would you honor this year with a Purpose Award? Share your honorees with us on LinkedIn using #purposeawards